When the Texas Shouts were reprinted in the late 90s Tex Wyndham decided against reprinting Texas Shout #36 and added the following explanation. The lack of need to reprint this column serves as a reminder of why it is important to support the small periodicals covering your areas of interest.
I would like to add that if you really want to read it you can buy the book where it is reprinted in full.
---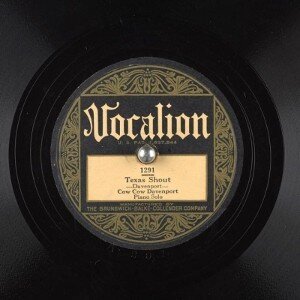 In an effort to assist readers who wanted to understand the Dixieland and ragtime scenes in more depth, the thirty-sixth "Texas Shout," published in the February 1993 issue, dealt with then-current periodicals devoted primarily to these musics. I mentioned the ones I favored, described their coverage, and listed their addresses and subscription prices.
I am eliminating that essay from this current series of reprints because the changes since 1993 with respect to this type of periodical have been quite dramatic, thereby reducing the article to a purely historical snapshot. For example, at this writing, I receive only two of the six Dixieland periodicals covered.
Jazz Journal International became prohibitively expensive to import from England.  Storyville is no longer published. Jersey Jazz, like much of the Dixieland scene, started to de-emphasize Dixieland in favor of swing and progressive, jazz styles in which I have much less interest. The Second Line stopped appearing regularly, becoming a once-in-a-while compendium, too much of which consisted of reprinted articles by Floyd Levin that I had previously seen in other periodicals.
The changes referred to above in the Dixieland periodical scene occurred for two reasons. First, the continuing steep, steady diminution of the audience for Dixieland causes increasing difficulty in justifying the work required to produce a quality periodical aimed at its audience. Second, most periodicals in this field are basically labors of love created by one person, sometimes with a few helpers, and are likely to fold or sharply change direction if that person, for whatever reason, leaves the helm.
As I write, the two largest-circulation independent U.S. periodicals dealing with older-style jazz are The American Rag (now The Syncopated Times) and The Mississippi Rag (no longer printed). Although they have many of the same ads and listings for upcoming events, they have very little overlap in textual coverage. I recommend both.
---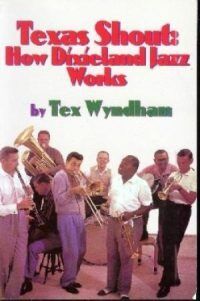 The full run of "Texas Shout" has been collected into a lavishly illustrated trade paperback entitled Texas Shout: How Dixieland Jazz Works.  This book is available @ $20.00 plus $2.95 shipping from Tex Wyndham,   On request, Tex will autograph the book and add a personalized note (be sure to tell him to whom the note should be addressed).
Tex Wyndham's 3 CD Guide to Dixieland with music and commentary is available for $20 plus $2.95 shipping. The separate CD, A History of Ragtime: Tex Wyndham Live At Santa Rosa, is available for $13.00 plus $2.00 shipping. On request, Tex will autograph the inner sleeve and add a personalized note (be sure to tell him to whom the note should be addressed).
Send payment to Tex Wyndham, P.O. Box 831, Mendenhall, PA 19357, Phone (610) 388-6330.
---
Note: All links, pictures, videos or graphics accompanying the Shouts were added at the discretion of the Syncopated Times editorial staff. They did not accompany the original columns and do not necessarily reflect the opinion of Tex Wyndham.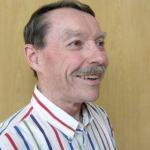 Tex Wyndham is an authority on ragtime and early jazz. Between 1966-1997, he wrote more published reviews of ragtime, Dixieland jazz and related music than any other U.S.-based writer.
He has authored columns and reviewed ragtime and classic jazz recordings for several publications including The American Rag, The Mississippi Rag, Coda, The Second Line, and Rag Times.