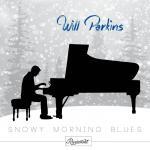 Will Perkins, 23 at the time of recording Snowy Morning Blues, is a talented ragtime and stride pianist from California. He has a relaxed style and, while not that much of an improviser, his melodic interpretations of standards mix in well with his repertoire of classic and contemporary rags.
Perkins' wide-ranging set includes such highlights as Scott Joplin's "Gladiolus Rag" (one of Joplin's most beautiful if often overlooked compositions), "Golden Wedding" which is reminiscent of Donald Lambert, Joseph Lamb's delightful if obscure "Excelsior Rag," a joyful rendition of Fats Waller's "Keeping Out Of Mischief Now," and "After You've Gone." Perkins plays flawlessly throughout the rags and is tasteful on the jazz pieces.
With the bonus of extensive liner notes in the 16-page booklet by fellow pianist and friend Vincent Johnson, Snowy Morning Blues is an excellent acquisition for ragtime collectors.
Snowy Morning Blues (Rivermont BSW-2239, 16 selections, TT = 65:35) www.rivermontrecords.com