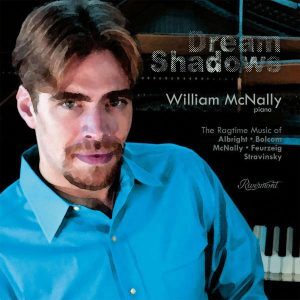 A brilliant pianist who first played at Carnegie Hall when he was nine, William McNally is not only an expert on ragtime but on its later developments and its influence on classical music (and vice versa). For his second recording for Rivermont (following Chicken 'n' Kittens: A Ragtime Coup), he performs works that certainly stretch the ragtime format beyond the structure and format that it followed during the classic ragtime era (1899-1915).
Dream Shadows starts with McNally performing William Albright's three "Dream Rags" and William Bolcom's "Three Ghost Rags." Albright and Bolcom were among the first significant new ragtime composers who were writing adventurous rags as early as the late 1960s.
The "Dream Rags" are particularly intriguing with the 10 ½ minute "Nightmare Fantasy Rag" being quite episodic and violent in spots yet also including some joyful moments. Bolcom's "The Poltergeist" (just 3 ½ minutes in length) almost matches it in intensity. While Albright and Bolcom kept the ragged rhythms of ragtime, their works generally did away with the AA-BB-A-CC-DD format of the rags from Scott Joplin's era and they are much more harmonically advanced and dissonant. But no matter their difficulty, McNally's interpretations sound effortless and reasonably accessible.
Particularly intriguing is getting to hear McNally revive two Igor Stravinsky's works: "Ragtime" (1917) and "Piano-Rag-Music" (1919). While including some of ragtime's rhythms, these unique pieces would never be mistaken for Joplin rags. Stravinsky was influenced by the written-out scores of ragtime pieces but had never actually heard ragtime at the time that he composed these works yet, it in its odd cubist way, he kept the spirit of ragtime intact.
A perfectly logical work to follow the Stravinsky pieces is David Feurzeig's "Stride Rite," a rag that quotes liberally from "The Rite Of Spring." Dream Shadows concludes with three McNally pieces that he calls "Curious Creatures": "Blue Donkey Rag," "Mocha Monkey Rag," and "The Black Unicorn." In his compositions, he builds upon the legacy of Albright and Bolcom. Rather than seeking to recreate the past, William McNally succeeds in creating fresh and colorful new rags for the 21st century.
Dream Shadows
(Rivermont BSW-2246, 12 selections, TT = 57:27)
www.rivermontrecords.com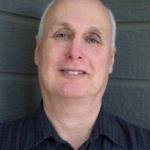 Since 1975 Scott Yanow has been a regular reviewer of albums in many jazz styles. He has written for many jazz and arts magazines, including JazzTimes, Jazziz, Down Beat, Cadence, CODA, and the Los Angeles Jazz Scene, and was the jazz editor for Record Review. He has written an in-depth biography on Dizzy Gillespie for AllMusic.com. He has authored 11 books on jazz, over 900 liner notes for CDs and over 20,000 reviews of jazz recordings.
Yanow was a contributor to and co-editor of the third edition of the All Music Guide to Jazz. He continues to write for Downbeat, Jazziz, the Los Angeles Jazz Scene, the Jazz Rag, the New York City Jazz Record and other publications.