Avant-garde trumpeter Ted Daniel had been blowing jazz licks for more than a half-century when he experienced an unexpected epiphany while touring Europe in 2009. Quite by chance, the veteran jazzman rediscovered the music of King Oliver's Creole Jazz Band.
A leading figure in the New York City loft scene in the 1970s, Daniel—a lifelong resident of the Hudson Valley—has recorded and performed with such artists as Sam Rivers, Archie Shepp, Dewey Redman, Billy Bang, and Henry Threadgill while also leading groups of his own, including the International Brass & Membrane Corps.
"I started out in the 1950s, and I was listening to guys like Miles Davis," he says.
Daniel knew the history of jazz but never thought much about the music of the 1920s until he discovered a King Oliver 78 in a small shop in Sheffield, England in the fall of 2009 while on an overseas tour with clarinetist Michael Marcus.
"I'd kind of been looking for something different to do musically, and when I got that Oliver record, even though I'd never really investigated the 1920s before, I could see the connection, which is something I always knew about—collective improvisation," Daniel explained in a recent telephone interview.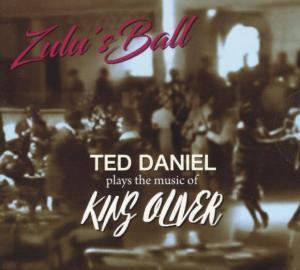 The following year he introduced Oliver's seminal 1923 Gennett recordings to some of his colleagues in Ossining, New York, and in 2015 he cut a record titled Zulu's Ball: Ted Daniel Plays the Music of King Oliver (Altura, 2017). The tracks include modernized arrangements of "Riverside Blues," "Mabel's Dream," "Buddy's Habit," "Just Gone," "Zulu's Ball," "Working Man's Blues" and "Tears."
"I enjoy King Oliver's sense of rhythm and timbre," Daniel said. "I like the way he made his horn sort of speak." As an avant-gardist, the 75-year-old Daniel has always been interested in taking his horn to new horizons. "We like to expand the language of the instrument, and so did King Oliver. So it's a continuum."
On July 21, Jazz at Atlas presented Ted Daniel and his International Brass & Membrane Corps performing material from Zulu's Ball, at Atlas Studios, in Newburgh, New York. An attentive audience filled the room and rewarded the musicians with a standing ovation at the concert's conclusion. "We had a ball," Daniel said.
Last year, The Syncopated Times record reviewer Scott Yanow assessed the disc for the Los Angeles Jazz Scene:
"The music is a bit ragged and loose at times but quite effective," Yanow wrote. "Daniel does not attempt to recreate the early recordings and successfully pays homage to King Oliver in a fresh way."
Rather than trying to recreate the Creole Jazz Band—a core of seven musicians that could expand to nine when needed—Daniel's disc features five experienced instrumentalists. Daniel plays cornet accompanied by guitarist Marvin Sewell, violinist Charlie Burnham, drummer Newman Taylor Baker and tuba player Joseph Daley.
"Playing this music is a balancing act of sounding traditional and contemporary at the same time," Daniel observes in the CD liner notes. "This recording is by no means an attempt to recreate 1923. It is not a 'Trad Band.'"
Such categories, Daniel observed, "are always a problem." The important thing to him is the music as created by collective improvisation. "The connection stream runs all the way through there," he insisted.
So, for this project, Daniel dutifully put aside his more-strident trumpet in favor of the cornet, the instrument played in the Creole Jazz Band by both Oliver and his protégé, Louis Armstrong. "I love the sound of the cornet," Daniel mused. "Its conical bore gives it a mellow, softer sound."
While the quintet reinvents Oliver's classic tunes with sparser instrumentation, the ensemble aptly captures the Creole Jazz Band's carefree exuberance. The opening track, "Riverside Blues," is a romping, rollicking performance punctuated by hard stop times. Daniel and Daley each take daring leads on cornet and tuba complete with growling and groaning effects that would've made Oliver smile. These meticulous musicians faithfully follow the King's approach, using tone color for nuance and shading, not simply as novelty effects.
Daley shines again on "Mabel's Dream," a tune percussively embellished by Baker's clicking stickwork. Charlie Burnham's violin sounds dreamy indeed before leading the combo into a wild climax. Daley, the versatile brass bassman, also overdubbed a euphonium to play the trombone part on Daniel's yearning version of "Tears."
Of course, the Creole Jazz Band had no fiddle, no tuba and certainly no electric guitar. But the sound of early jazz owes much to both the violin and the tuba, and Oliver often hired Johnny St. Cyr to strum a banjo or an acoustic guitar.
Which brings us to Daniel's right-hand-man, Chicago-born guitarist Marvin Sewell whose electric instrument belies the material's 1920s origins. A valuable team-player, however, Sewell bonds with Daley and Newman to provide solid rhythmic support throughout. And by the way, Newman's drum rolls and paradiddles fondly recall brass band turnarounds with a hint of cutting-contest machismo.
On the disc's final two tracks—"Zulu's Ball" and a duet version of "Riverside Blues" —Sewell soars effortlessly, returning Oliver's music to its rawest blues roots. The duet is an especially expressive exercise as Sewell—who plays a 1957 Gibson hollowbody ES 225TD—masterfully coaxes melodic runs and marvelous tone from that instrument while the leader blows buoyantly over the top.
Over the course of this project, Ted Daniel has come to fully appreciate King Oliver's contributions to American music, contributions made against all odds.
"He had a tragic life," Daniel noted, pointing to the massive scar Oliver carried over his left eye and his untimely death in 1938 at age 52. "But he was strong and determined to make a positive statement in a world that was negative all around him," he said. "So there's a beauty, a kind of majesty to his music and his affirmative look at life."
Russ Tarby may be reached at russtarby@netscape.net.
Subscription Options
---
Or get the Print Edition with Online Access. To get the print edition of The Syncopated Times use this Paypal link. After you pay you will be issued a coupon for free online access.