Quinn Bachand is a name to watch. He's an electrifying acoustic guitar player and fiddler from Victoria, British Columbia, who leads a worldly gypsy jazz ensemble called Brishen. The band warmed up an icy January night with a supremely entertaining house concert at the Canaan Institute, an intimate private venue outside Ithaca, New York, where four unicycles, a fiddle, and an oud hang from ceiling hooks.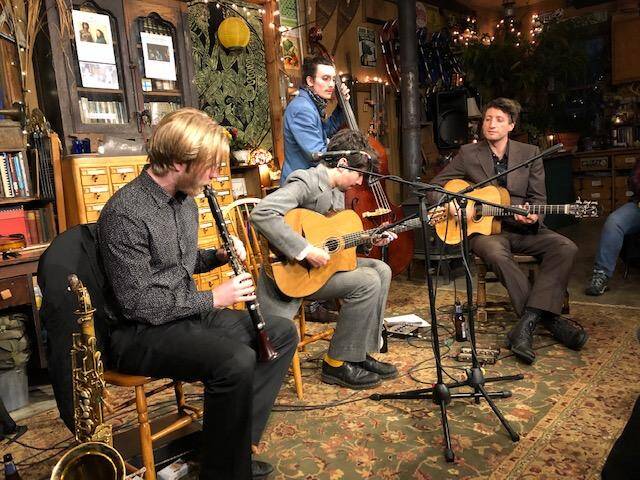 The mercurial Bachand, a recent Berklee College of Music grad still in his early twenties, is already well-known as a Celtic musician. He tours with the Cape Breton stars Ashley MacIsaac and Natalie McMaster and has won two Irish Music Awards for his duet act with older sister Qristina. Brishen—a word from the Romany language, meaning "bringer of the storm"—is anchored in Django Reinhardt's Parisian jazz tradition but sketches in a wide palette of musical influences, from schmaltzy pop to polka to western swing and bluegrass. One of the group's imaginative medleys illustrates its range and buoyant spirit. Beginning with Django's lovely composition "Blue Drag," it took off into the lush saxophone atmospherics of Bernard Herrmann's plaintive score from Taxi Driver, then veered into a rousing traditional Romanian tune Bachand calls "Coreagasca."
Three extremely talented young musicians shared the stage with Bachand. Reuben Wier, also from British Columbia, provided a jauntily percussive rhythm guitar. Eric Vanderbilt-Mathews, who hails from the islands of the Puget Sound, played alto sax, clarinet, and piano. The group was joined on upright bass by Toronto's Alan Mackie, an in-demand sideman. Vanderbilt-Mathews says Brishen is "kind of a modular band," with personnel and instrumentation evolving to match its leader's musical whims. Nevertheless, this quartet exuded an audible musical rapport, seamlessly shifting moods in unpredictable gypsy style. Highlights of the evening included a smoking rendition of Tony Murena's musette classic "Indifference"; a tune from the Jimmie Lunceford band's book, "Dream of You"; and several nods to Django, including "Clouds," "Minor Swing," and a faithful rendition of the Hot Club's head arrangement on "Exactly Like You." The group also offered a few nice original tunes with vocals, including "Begging You to Stay" and "Lonely Star."
Throughout the night, Bachand's solos provided a master class in jazz phrasing with authoritative runs across the fretboard. The band kept the crowd enraptured with frequent instrument switches and amusing stage business. All four musicians took a turn at the fiddle on the traditional "Hummingbird Waltz." It was easy to imagine these young men busking their way through the plazas of European capitals. In fact, three of the four had just returned from a tour of Belgian concert halls and culture cafes. They will play a few more dates in the northeast before Bachand heads back to B.C.. Brishen returns in May to Rhode Island, Massachusetts, and upstate New York after playing the New Orleans Jazz Fest. More information at www.brishenmusic.com.