Some months ago, when I first saw the musician lineup for the 2023 Charles H. Templeton Ragtime and American Music Festival, Scott Kirby was listed. For some reason, he was not familiar to me, so I googled him. With all the things he has accomplished over the years, I was at a loss to know why I had not heard of him. So I resolved to remedy that shortcoming and contacted him to request an interview. Here is the result of that query.
Since you can read about him for yourself on his website, scottkirby.net. I wanted to explore in greater depth what brought him to where he is today, and also to relate what he presented at the Templeton festival held on March 23-25 at Mississippi State University in Starkville. We spoke by phone in mid-January and in person at the festival. My original thought was to conduct the interview there, but he felt he would not have time to do it there. After our phone conversation, I understood why.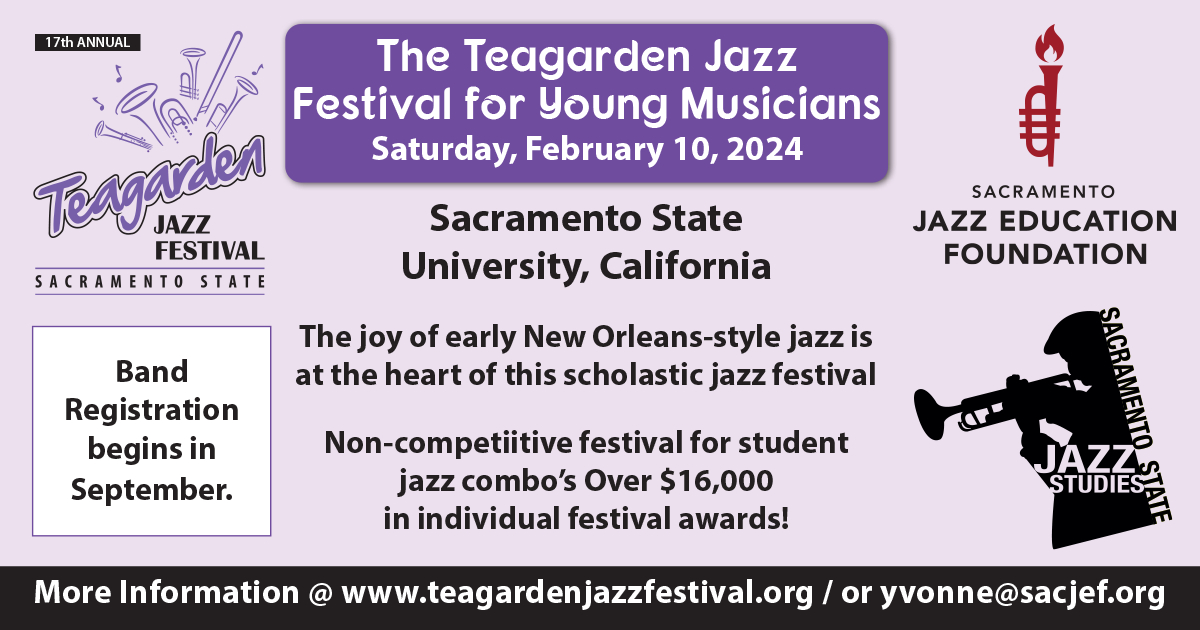 Prior to speaking, Scott sent me YouTube links to several programs he's created. I watched them and was intrigued by the approach he takes. So that became the starting point for our conversation.
Unknown to me, Scott was briefly the music director for the Scott Joplin Ragtime Festival in Sedalia, MO; this occurred in the '90s, prior to my attendance there. He also directed the Rocky Mountain Ragtime Festival in Boulder, CO for about eight years, which ended in 2005. He has also performed at other ragtime festivals.
Bill Hoffman: First, let's talk about what you're going to do in Starkville.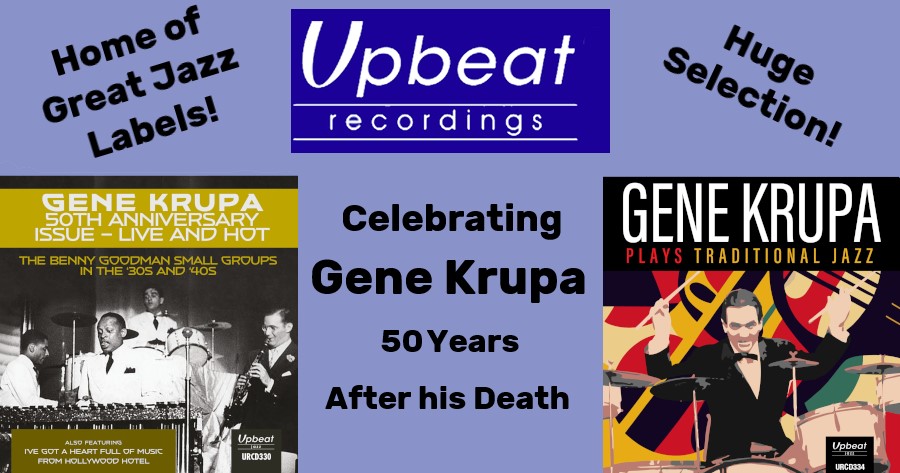 Scott Kirby: The festival requested a version of my Main Street Souvenirs which would incorporate a lot of local material. What I have is a template for the multi-media show which I call Main Street Souvenirs. I have two halves. The first half focuses on small-town America, the second half focuses on the Great Plains. What I do is I play the piano, tell stories, and show images on the screen which help to support the thematic material of each chapter, whether it's archival video or photographs. A lot of them consist of my original paintings which also support the integrated narrative of the chapter I'm in. Much of it focuses on the Great Plains, but I also do a lot of main streets.
In Starkville the program will include five or six chapters of new material that's weaved into the regular template. There'll be interviews of local people and tours through local museums. This will be part of the video in the first half of the program. There will be two different shows—a few chapters of Starkville, a few of main streets, a few of prairies—plus watercolor paintings I'm working on right now.
So you'll be in town before the festival to do these interviews, correct?
Yes, but I've already done some. I passed through Starkville in November, and I'll do more when I return. I present the program as a full integrated multi-media show. I wouldn't consider it a lecture. I don't know if I'll be playing the piano as part of the show, but I'll be prepared if asked. I think the program will be open to the public but I'm not sure exactly where it will be held.
Have you been to the Templeton before?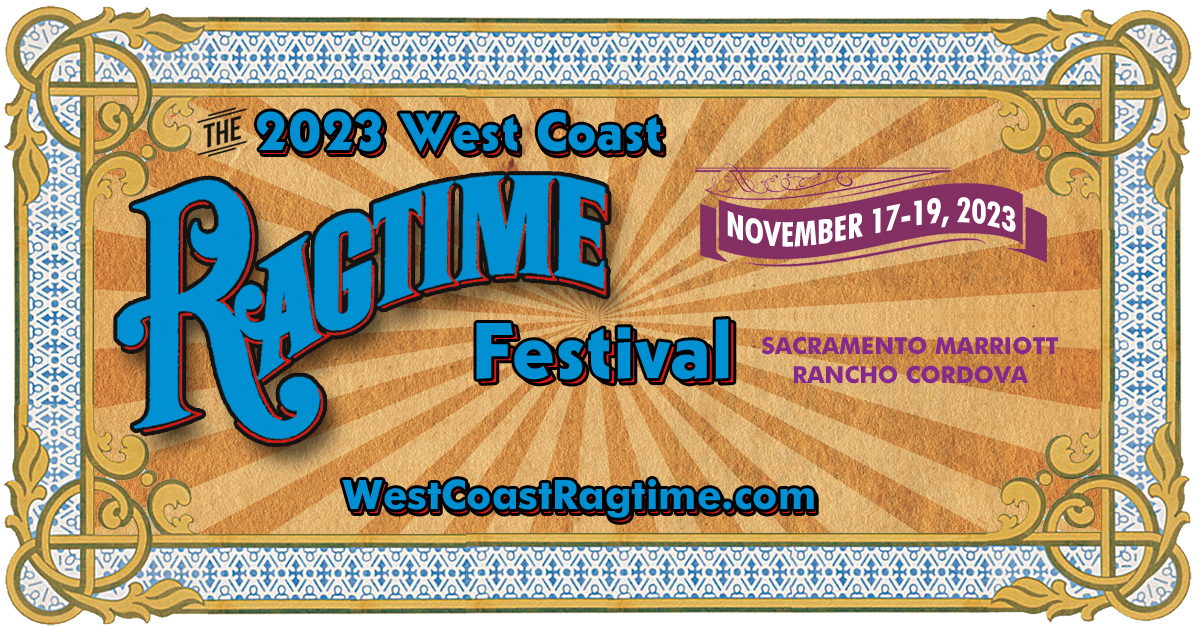 Yes, in 2015 as a solo pianist.
Was that the reason they invited you back?
I'm not sure. I did a short version of my presentation then. But I know Jeff Barnhart (the festival's current musical director) and have worked with him many times.
Jeff is the music director of several festivals. Has he had you at any of them?
Yes. I've been to the Eagles and Ivories festival in Muscatine, IA. It's a great festival and a great little town.
Let's talk about your musical background and how you became involved in ragtime and any other styles you perform.
I went to New Orleans for Mardi Gras in 1988 and wound up staying 12 years. Initially I was a street performer. But I had a piano that I dragged around the French Quarter, and I played a lot of ragtime, but that's where I learned traditional jazz and blues. I was playing with other people around town, and then I started playing at ragtime festivals. I also started to compose. I've written 150 pieces. Only some of them are ragtime; quite a few are not but there's a great deal of overlap.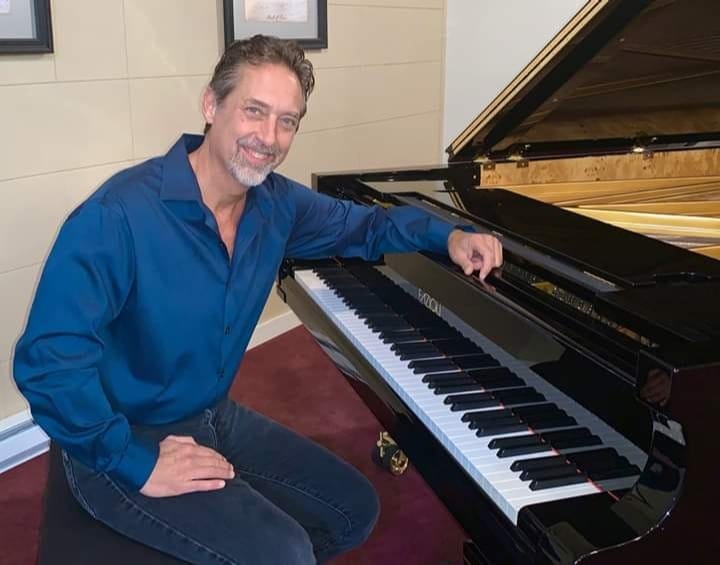 In my Main Street Souvenirs you'll hear a wide variety of what I call Americana. Ragtime is part of it, also pieces by Stephen Foster and John Philip Sousa. It's rather eclectic but it's not wild esoteric stuff; it's harmonically familiar American music with a good dose of ragtime-related styles.
Is the music you compose for your shows intended to be mostly applicable to those shows? Is that a fair question?
It depends on the chapter. Some of the pieces I compose are very specific to the chapter I'm in. For example, if I'm doing a chapter on the Great Plains, some of my pieces and paintings are impressionistic, romantically based. Some are minimalist. Most, however, are in the larger family of styles in which ragtime is included, so it's familiar to the audience. In the second half of the program it's all my own music.
The Main Street idea is also about gatherings. There's a chapter on Scott Joplin. There's one on baseball. There's one on concerts in the park, another on the American song tradition—in other words, connections between people.
Did your interest in art evolve about the same time as your interest in music?
I've played piano since age five. I started painting at age 40, quite unexpectedly. I didn't come up with the idea of integrating the two until I was at the West Coast Ragtime Festival in, I think 2013, and Max Morath suggested it. He liked my music and my art and said I should combine the two and make a multi-media show. That's when I did it. He's been a great inspiration to many of us.
What drew you to Boulder? Was it the Rocky Mountain festival?
No, that festival was over by then. I was living in northern Idaho for 13 years and I wanted to be in a more centrally located place.
I guess Covid pretty much shut down your musical endeavors, but maybe not your painting.
Yes. It's great to be back. We were told not to gather during Covid, so yes, I did a lot of painting. I didn't need to travel to do my art, even if the subject is not located nearby. A lot of it comes from my imagination.
Well, I look forward to meeting you and seeing the results of your work in Starkville. Thanks very much, Scott.
---
Find more information about Scott Kirby's art and music at www.scottkirby.net.