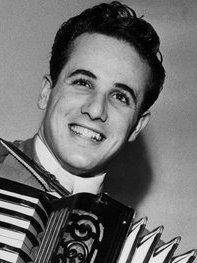 DICK CONTINO, 87, on April 19 in Fresno, California. A hip-swiveling accordionist and singer as a teenage star in the 1940s, he won $5,000 in winning the Horace Heidt Talent Contest (1948-49).
Best known for his rendition of "Lady of Spain," he performed for 60 years, well into his 80s, earning $4,000 a week at the height of his career playing his "stomach Steinway." He appeared on the Ed Sullivan Show 48 times and starred in the 1959 movie, Daddy-O as well as several B-rated films.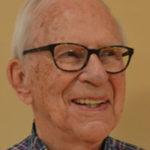 Lew Shaw started writing about music as the publicist for the famous Berkshire Music Barn in the 1960s. He joined the West Coast Rag almost thirty years ago and has been a guiding light to this paper through the two name changes since then as we became The Syncopated Times.  47 of his profiles are collected in Jazz Beat: Notes on Classic Jazz. Volume two, containing profiles from 2013-2016 will be available on Amazon soon. He taps his extensive network of connections and friends throughout the traditional jazz world to bring us his Jazz Jottings column every month.