While in her teens Alex Pangman became enthralled with the jazz of Louis Armstrong and Jack Teagarden and period singers including Mildred Bailey, Julia Lee, and Maxine Sullivan. As an adult, she has become a leading swing vocalist in Canada touring with her band the Alleycats to venues nationwide the stage of the Montreal Jazz Festival. She's won too many honors and awards to count.
She has released eight albums since 1999. From the beginning she was recognized for her unique voice and phrasing which does not imitate any particular classic age singer. She has had the opportunity to play and record with numerous stars of jazz, including an album with Bucky Pizzarelli, but she has always maintained her artistic independence.
Her two most recent albums have been her most ambitious and occurring after a second double lung transplant, they are pretty amazing just for existing.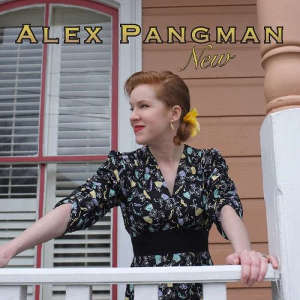 Both albums took her away from familiar territory to record in the cradle of jazz. Her 2014 album New finds her backed by a collection of musicians from the New Orleans; Charlie Halloran, John Rodli, Tom Saunders, Matt Rhody, Bruce Brackman, John Royen, Robert Snow, and Kevin Clark, recording in a church turned studio across the river in Algiers. She performs titles from Annette Hanshaw, Ella Fitzgerald, and others, that are new to her repertoire.
Several titles were chosen in recognition of her recent lung transplant. The album kicks off with the optimistic "Fit as a Fiddle", before recognizing fear and sadness in "I'll Never Smile Again" by Canadian composer Ruth Lowe. "The World Is Waiting For The Sunrise" is also a Canadian composition. You'd think a Canadian singer releasing an album on a Canadian label would be enough to meet Can-Con rules but apparently not. She nails the song which was ubiquitous in its time but is not often heard today.
Other titles include "Sweet Substitute", "When I Get Low I Get High", and "Rhythm is Our Business". My album pick is a clever and poignant delivery of "You Let Me Down".  The addition of  Matt Rhody's violin adds nice touches throughout the album. The production really achieves a 1940s 78rpm sound on some numbers, which is interesting considering where she goes with the next album.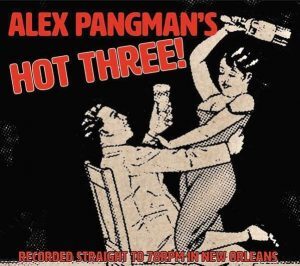 In 2017 she returned to New Orleans to record an album direct to 78 with Toronto transplant Twerk Thomson. We've covered several of these endeavors, including Twerks own direct to 78rm album, and a Carribean release from Charlie Halloran. Alex Pangman's Hot Three is far and away the most successful of these sonically. The recording process used is closer to the home recording techniques popular in the late 40s than to a 20s studio session. But some of the same rules apply. Its an education for the musicians involved. Proper positioning around the microphone is vital, and you're playing against a three-minute clock, watching the actual record being cut as you play.
The Hot Three are Matt Rhody on violin, Tom Saunders, bass sax, and Nahum Zdybel guitar. The unique instrumentation and unfamiliar recording process put the sort of demands on everyone that make them shine. The titles are on the naughty side, appropriate to a down low recording session of some party records. Nothing over the top, "It's The Talk of the Town", "Little White Lies", "Hurry on Down to My House Baby", and "You've Got The Right Key But The Wrong Keyhole" are among seven quick tracks. The album has a live excitement to it that fans of Alex Pangman and of that 78 sound will enjoy.
Find out more at www.alexpangman.com