Of the many activities disrupted by the 2020 COVID-19 pandemic, partner dancing might not have been the biggest loss, but it was among the most poignant. Because social dancing—yes, even in open position—ran the risk for spreading coronavirus, blues and jazz dance enthusiasts were confined to their homes, where they danced in their front rooms and waited for quarantine to end. Even the titles of popular standards, like "A Kiss to Build a Dream On," "I've Got You Under My Skin," and "Cheek to Cheek," have a touch of melancholy in our pandemic era.
Boston ukulele queen Amy Kucharik has stepped in to fill this unexpected void with a song for our time of social distancing. Taking its cues from "Cheek to Cheek", her new single "Dancing in My Dreams" is a thoughtful, but ultimately optimistic, song about waiting to dance again after a long pause. The video features some of the best lindy and balboa dancers from Boston and beyond, including some funny and touching surprises.
Kucharik has been a musician all her life, playing in her high school's concert band and taking guitar lessons. A fateful party nudged her in a different direction. "A friend had brought a ukulele (to the party), and I had learned three chords in about five minutes. He taught me how to play 'Ghost Riders in the Sky.' [I thought] 'this is the instrument for me' because this so much more fun and pleasant." The humble four-stringed instrument "brought together a bunch of different pieces," including songwriting, busking, teaching, and playing for swing dance nights. "I bring a little bit of folk to the jazz world and a lot of jazz to the folk world. There's always that blues influence and vaudeville influence."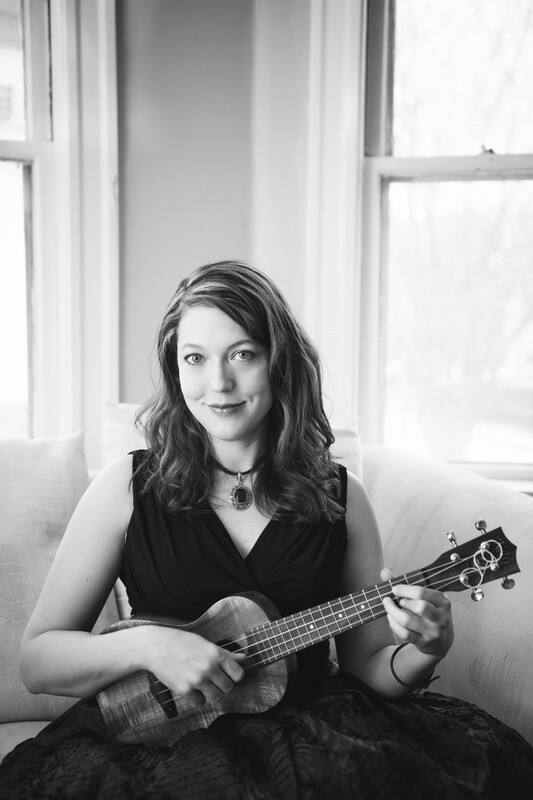 After fronting a band for her solo songwriting and a blues cover band called Tiger Moan, Kucharik had started to make a creative breakthrough with her swing band the Mezzcats. "We did two gigs (at Boston Swing Central)," she recalled. "The first gig they were like 'yeah, it's pretty good, but it's not quite exactly what we want,' because the drummer didn't sound quite like that era of swing… I asked this friend of mine, Frederick, who was from Sweden, and he was a dancer. I said 'do you want to play drums with us?' He said 'I don't really have a kit, but I have this miniature kit that I carry around.' I said 'that's cool. Let's go with it.' It was perfect.
Then, before the pandemic, Frederick moved back to Sweden. I was like 'oh no, it's the end of the Mezz Cats, or we have to find a new drummer.' Our bass player is from New Hampshire, so he wasn't close, either. I said 'well, if we're not geographically limited here, I guess we can record from home.'"
This pre-pandemic ingenuity guided her through a series of songwriting and video projects. Though she'd written the song "Alone Together" before the pandemic, "it took on a whole new meaning" in the COVID-19 era. Inspired by the popular software Zoom—which experienced a surge of popularity in the spring of 2020—Kucharik and her band shot a video for the song that was broadcast on CNN in the early days of the pandemic.
"We didn't know at the time that what you should really do is shoot everybody and then you edit it to look like you're in Zoom! We were in a Zoom session and we were like '1, 2, 3, play!' Listening to the song and jamming along to it, lipsyncing."
For her follow-up, Kucharik found inspiration in a dream. "I had a dream about someone," she said. "It was a very vague dream, but I thought 'what if "dancing in my dream" is a song?' It clearly needs to be a song. I needed to write something that, even though it was specific to this time and place in terms of what I was feeling, I didn't want to write about the quarantine and the pandemic. I've written those songs. I wanted to write something that could have been written in 1938 or whatever. I tried to keep the mood of now, but in a more vague and general sense." She describes the universally appealing lyrics as "inspired a little bit by 'Cheek to Cheek' and just generally music of that era—music of the '30s and '40s, classic vibe."
When Kucharik made the video, she went in a different direction from the split screens of "Alone Together." "I don't have a professional camera. I have this vision of this really complex video I want to make, and I'm working with a phone to shoot the video," she notes. "So everybody was shooting on their phones, and I thought 'well, we're really going to have to lean into that.'"
As a prominent member of the Boston swing-dance community, she was able to tap a well of talented, enthusiastic dancers. "I reached out first to the Lindy Bomb Squad," she said. "They organize dances in public spaces, like a flash mob of dancing. They evangelize swing dancing, and they also do performances and stuff. They also create these little phrases of lindy hop choreography. Instead of choreographing an entire routine, they choreograph eight-bar phrases that they can put together in a modular way to make a routine. We have a little bit of their choreography that shows up in the video.
It gets a little lost because people were shooting in different camera angles, but you do see a little bit of that happening—people swinging out at the same time. It started out with (founders) Kelliann and Brian (Pletcher), and they said 'do you want us to get some other people from the squad?' And I said 'yeah, let's get the Lindy Bomb Squad!' Then they asked 'should we open it up to all the dancers?' I posted it on Facebook and other different dance-related Facebook pages."
The video stitches together several videos of swing-dancing couples in unusual outdoor locations—like a brick concourse on the campus of Tufts University—into a cohesive clip of swing dance moves and couples and singles dance. The context of the pandemic gives it a sense of poignance that Kucharik describes as "heartening." "There's a couple in Dallas, Texas, who have a dance studio they can go to any time they want and dance together," Kucharik notes. "They were like… 'You gave me an excuse to put on makeup and dance!'"
In addition to her songwriting and videos, Kucharik has found "a lot of silver linings" during the pandemic. "Lately I've been putting together a few showcases through the Gaithersburg Uke Fest," she says, mentioning one such showcase with recent Syncopated Times profile subject Christopher Davis-Shannon. "Geography didn't matter. Even though we couldn't be together in person, suddenly we were together with people from all over the country and all over the world. I've met uke players from Brazil and Germany and England, and we're doing some collaborations."
In Kucharik's hometown of Boston, residents have been quick to get vaccinated, and live venues have started opening for business. "Booking is picking up and it's a mad scramble to get some live in-person gigs," she observes. "And everybody's like 'they don't want to come to the Zoom show anymore, they want to see you in person!' But of course people don't want to see you indoors. And there's just limited opportunities. It's a real weird, tricky time."
Currently Kucharik "still (has) some of these remote collaborations we're trying to roll out," including a Bon Jovi cover she's performing with a ukulele player in England. As she and her band get ready to perform, however, the ghost of the pandemic still haunts her set list. "I can't wait to play this song live with my band."
Visit Amy Kucharik online at www.amykucharik.com. Hear and download "Dancing in My Dreams" and Amy's other music at amykucharik.bandcamp.com.