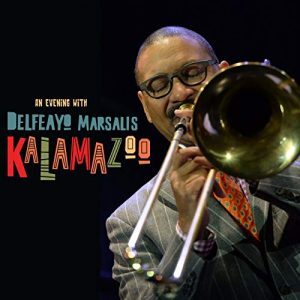 Trombonist and record producer Delfeayo Marsalis has produced his first live album. The group here group includes father Ellis Marsalis on piano, Reginald Veal, bass, and Ralph Peterson, drums. The album was recorded at a concert in Kalamazoo during a week's tour promoting a previous CD, The Last Southern Gentleman. That CD, too, included Ellis on piano.
On this excellent live CD, those in the audience are audibly enjoying the music. On "Blue Kalamazoo," a standard 12-bar blues, good performances are heard by the drummer and voice students (coached by Delfeayo) from Western Michigan University.
The brief comments from Delfeayo to the audience exude warmth and rapport. Delfeayeo's use of various mutes as well as open horn give the listener a course in the multitude of sounds from the trombone in the hands of an expert.
In all, this delightful concert performance makes a wonderful CD. Also look for Mr. Marsalis' previous CD, Make America Great Again. This worthy, themed project was recorded in New Orleans with local musicians as well as some NOLA natives imported from New York.
Most readers likely know that the entire Marsalis family—pianist-father Ellis, trumpeter Wynton, saxophonist-bandleader Branford, and Delfeayo —were named NEA Jazz Masters in 2011, the first and only family so-honored.