A Banjo Soundtrack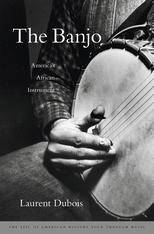 In October's issue, I'll have a review of The Banjo: America's African Instrument by Laurent Dubois. He traces the prehistory in Africa, the coalescence, earlier than you might think, of a relatively standardized form for the instrument in the Caribbean, and then meanders through the cultural interactions and playing styles, all that is knowable, as the banjo grows to become the representative instrument of America.
Preparation for this review has given me banjomania and I'd like to share something to give you Banjo on the Brain as well.
Today I made a recording of one of my favorite banjo records. I have a few Vess L. Ossman and Fred Van Eps banjo records but this one, from a less known Fred really gets me. Rather than upload my own copy here is one of the two versions on Youtube. Uploaded by our own R. S. Baker, when she was barely a teenager. What good taste!