Larry Karp (1939–2016), whose last completed project was his biography of Brun Campbell,1 based it on a critical discussion of Brun's autobiographical statements. (Numbers in parentheses in the main text refer to pages in this book.) The following is an attempt to further deepen this discussion.
Brun's paternal grandfather, born in New York state but later a resident of Wisconsin, where his son Luther (Lute) was born in April 18672,bought land in Washington, Kansas, in 1880 and was township clerk there from early 1883 until July 1884. In June 1883 his wife eloped, and a few days later Lute married her former maid, Brun's mother.3Brun was born in Washington on 26 March 1884.
In 1886 his grandfather became a land agent and notary in Allison, Kansas, a town that he helped build but that was later given up and vanished.4Lute opened a barber shop there as a sideline to his main occupation as an employed barber in nearby Oberlin, Kansas.5Brun's grandfather left Allison in 1888,6when the Rock Island line failed to connect with the town, and died in Rochester, New York, in May 1891 (14). Lute, who by then ran his own barber shop in Oberlin, sold it in late 1891, became a competitor of its buyer soon thereafter, and sold his second shop in August 1892 "with the stringent stipulation not to engage again in the barber business in the city of Oberlin."7His family moved to St. Joseph, Missouri, but was living in Washington when Lute accepted a job as a barber in Arkansas City, Kansas. Brun, his mother, and his little brother joined him there in June 1893.8
For the next seven years Brun lived in Arkansas City, where the family was listed in the 1895 Kansas state census and where Brun took piano lessons (20). In late 1898, according to Brun, or in summer 1898, as he sometimes claimed,9he visited Oklahoma City and met Otis Saunders there. Unlike statements that only turn up in Brun's unpublished writings, this one was made publicly and repeatedly. We do not know how "The Story of Brun Campbell and 'The Maple Leaf Rag'" was first told in the radio broadcast of 12 May 1944 (87–88),10 but soon thereafter Brun was contacted by Arna Bontemps and supplied him with writings on this subject (89–90).
The book in which Bontemps used this information appeared in June 1945 and said that as "a young man, playing over some popular numbers in the Armstrong Byrd music store in Oklahoma City," Brun had "been handed his first Joplin score by Otis Saunders, friend of the composer" (109). In The Jazz Record of February 1946 Brun wrote that in "the later part of 1898" he "met Otis Saunders in Oklahoma City, Oklahoma and he started me to play the 'Maple Leaf Rag' from pen and ink manuscript." A "pen and ink manuscript" of the piece had first been mentioned in a radio broadcast of 17 March 1944 as part of a Joplin collection that Brun's mother had allegedly burned (227).11 In The Jazz Record of June 1946 Brun claimed that Saunders was in Oklahoma City because he had "followed a colored girl from Sedalia, Missouri, with whom he was really in love, and who was also a fine pianist […] in about two or three weeks they made up and returned to Sedalia."12
In Nesuhi Ertegun's article about Brun in July 1946 it was said that "a crowd began to gather" around Brun at the "Armstrong–Byrd" shop and encouraged him to keep playing when "a young Negro who had been listening to him came forward" and handed him a "pen and ink manuscript" of the "Maple Leaf Rag."13This became the standard version. It was repeated in an article by Roy Carew in April 1947 ("there emerged from the crowd a young mulatto")14 and in They All Played Ragtime,15 and Brun included it in an unpublished article for Esquire (160),16 in an autobiographical text that Paul Affeldt published in 1967,17 and in his unpublished autobiography (20–21).18 In another unpublished piece, however, he wrote that at the "Armstrong–Byrd" shop Saunders "worked behind the counter as a salesman and player of popular sheet music" (148–149). This seems to predate the standard version19 and would have provided a more plausible background for the meeting.
The problem with all of it is that there was no "Armstrong–Byrd" shop in Oklahoma City in 1898. The shop was then run at 118 Grand Avenue by Armstrong, Smith & Co. and moved three times before it became Armstrong, Byrd & Co. on 218 Main Street in July or August 1902. We would need to imagine that Brun also patronized this later shop, for which he had ample opportunity, as we will see, and that he mixed them up in his memory.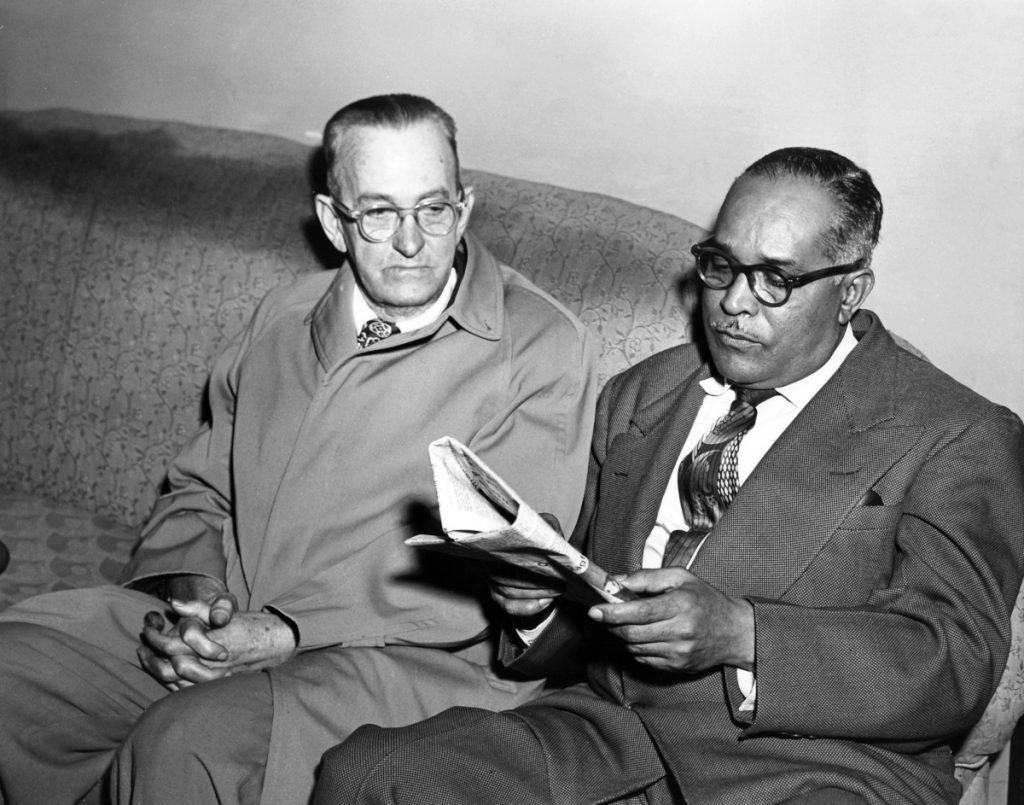 Saunders's stay in Oklahoma City was short, according to Brun,20 whose own stay would have been even shorter. Enthused by the "Maple Leaf Rag," as he claimed, and having learned from Saunders where Scott Joplin lived, he traveled to Sedalia in summer 1899, or in late 1898, as he sometimes dated it,21 and took lessons from Joplin and Saunders "for about three weeks" (21–23, 145). Down Beat referred to Brun as a "personal friend of Joplin" on 15 February 1944,²²22 but the radio broadcast of 17 March 1944 (225–227) presented him as a "fan" and collector of Joplin music without any reference to personal contacts. The broadcast of 12 May 1944 (87–88) may then have introduced the visit to Sedalia.
Bontemps wrote that Brun "met Joplin personally and learned how the music should be played" (109). The label of Brun's memorial record of "Maple Leaf Rag" claimed that Joplin taught it to him "in 1899," an article in June 1945 said that he "learned the 'Maple Leaf Rag' from him as it was first written,"23 and in The Jazz Record of February 1946 Brun wrote that Joplin taught him in Sedalia "a few months" after the meeting with Saunders in Oklahoma City. The detailed standard version of this story – Brun running away from home, traveling to Sedalia, finding Joplin and Saunders there and being accepted as Joplin's pupil – emerged in print, again, in Ertegun's article of July 1946.
It can be found in the same sources as the standard version of the meeting with Saunders, whereas the description in the version with Saunders as an "Armstrong–Byrd" employee was shorter (149). Brun returned to his family in Arkansas City (23, 160), where the census of June 1900 found him "at school." This does not contradict his story. In some of the shorter texts the Sedalia episode was followed by the statement that Brun became a wandering "kid ragtime pianist," but in his unpublished autobiography he made clear that this developed later. Brun was still in Arkansas City in September 1900, more than a year after his alleged excursion to Sedalia, when a newspaper reported that "Deay Wagner and Brun Campbell, two young boys, were arrested on the charge of petty larceny. This morning in police court they pleaded guilty to the charge and were fined $5 each which they paid."24 It is the first of Brun's documented encounters with the police, which seem to have escaped Karp's attention.
Newspapers in Arkansas City, a small town with only 6,140 inhabitants in 1900, covered everyday life in a detailed manner, as the report just mentioned shows. They also dealt with three musical barbers and a black porter of whom Brun said that they worked at Deets's barber shop, where Lute had found a job in 1893 (15). What Brun described mainly concerns barbers at La Flower's shop about six years later, but unlike other parts of his narration it can be shown to be authentic.
The four individuals existed and were all active musically: Will Roberts, born c. 1877, a barber who played cornet and clarinet in Professor Greenleaf's band, left town repeatedly to join traveling shows, and died of an overdose of chloroform in 1901; violinist William Stickler, 1868–1948, a barber who "furnished music" for countless events in and around Arkansas City, sometimes in a trio with Roberts and Robert's wife; Albert Faulconer (Brun: "Bert Faulkner"), 1874–1958, who sang and worked as a barber before he took his exam and established himself as lawyer; and Jim Johnson, born 1880, "probably the best known colored boy in town."
Johnson was porter and bootblack in several barber shops, a performer of cakewalks, and a member of the "colored mandolin and glee club" of Arkansas City; having lost his eyesight in 1903 he became a traveling musician in other parts of the country. Visits to his former hometown were celebrated in the local papers, and in 1915 it was said that he owned "a half interest in the 'Dixie Minstrels,' a colored minstrel which is known everywhere." He later settled in Kansas City, where he worked in night clubs but was unemployed at the time of his draft registration in 1942.
From Arkansas City, where they would later live again, the Campbells moved to El Reno, 25 miles west of Oklahoma City, in late 1900.25 It is not credible, as Brun claimed apparently only once, that "in 1900" he "landed" in St. Louis, met Joplin and Saunders "again," and made the acquaintance of Tom Turpin (160).26 Joplin did not move to St. Louis before 1901, and by then Brun lived in El Reno. He wrote that he had a job there as a night clerk at the Kerfoot Hotel and that he now began playing in saloons for money (24, 27). In late December 1901 an Arkansas City paper mentioned that "Brummie [sic] Campbell, of El Reno, is visiting in the city."27
Brun claimed that pianist and composer Egbert Van Alstyne "got stranded in El Reno" with a traveling show and stayed with the Campbells "until he got funds to return to his home" (28). This is, strangely, confirmed by a Van Alstyne researcher whom Karp quotes indirectly, but it cannot be true.28 Van Alstyne's show, A Wise Member!, came to El Reno twice while the Campbells lived there, on 9 March 1901 in its first and on 14 December 1901 in its second season. The show moved on both times with numerous appearances elsewhere, leaving El Reno far behind.
The Campbell family split up in El Reno apparently in early 1902, though only temporarily, as pointed out by Karp (29). Brun's mother and his brother returned to Arkansas City, Lute was said to be "of Guthrie" in May 1902,29 and Brun, according to his account, now "struck out" on his own (28). It was the beginning of his alleged life as a traveling ragtime pianist which, according to Brun, lasted until 1908.
The nearest larger town was Oklahoma City, where Otis Saunders made the following appearance in the city directory of June 1902: "Saunders O W (col), musician, r 324 w 1st." He is spelled "Saunders," as Brun spelled him,30 listed as "colored," as Brun described him,31 and shown living in a city with which nothing but Brun's story connected him so far. 32No earlier directory is available for comparison, but Saunders was not enumerated in Oklahoma City in the 1900 census.
Did Brun, who never mentioned Saunders's presence there in 1902,33 fail to notice his return? One feels tempted, instead, to connect the entry of June 1902 with the opening of an "Armstrong–Byrd" shop in summer 1902 and with Brun's unpublished reference to Saunders as its employee and not merely a visitor. In those months after the split-up of his family Brun could have come there as a customer, Saunders could have recommended the (by then, published) "Maple Leaf Rag" to him, and they could have become acquainted. It would mean that Brun never went to Sedalia to meet Joplin.34
Brun was in Arkansas City when he made news again in mid-October 1902: "Last night the police arrested Brunnie Campbell on the charge of assaulting H. D. Pratt with an ice pick. He pleaded not guilty in police court this morning and his trial was set for this afternoon." "Yesterday afternoon in police court Brunnie Cambell [sic] pleaded guilty to the charge of assault and was fined $5 and costs. He paid out." Pratt was a piano tuner.35 Karp, for whom Brun "went out of his way to avoid violent confrontations" (25), cannot have seen these reports.
Brun himself speaks of a "visit" to Arkansas City and says that he played for a Fourth of July celebration and for a black cakewalk and dance at Highland hall, indeed a venue where such events took place. His "furnishing music for the colored people" was frowned upon by "some of the townsfolk, so I left there and went down to Guthrie, in Indian Territory, to see Buffalo Bill's Wild West Show" (31–32). Buffalo Bill was in Guthrie only once in the period discussed here, on 8 October 1902. Brun could well have been in the audience, but I doubt that Bill gave him a twenty dollar gold piece and a diamond stickpin (32–34).36
From Guthrie, Brun continues, he worked his "way down through the southern states." We need to first let him return to Arkansas City for the assault with the ice pick, but what then follows (34–35) in a relatively short and unembellished part of Brun's narration sounds true and may represent his one extended tour as a wandering pianist. He mentions playing "in a Negro restaurant on 19th Street" in Birmingham, at Hotel Biloxi on the gulf front, on a nameless pleasure boat that ran up (the Mississippi and Ohio rivers) to Owensboro, Kentucky, and thereafter on the City of St. Louis, which seems to show that he was there.37 The tour then took him to Bowling Green and finally to St. Louis, where he worked "at a honkytonk on Chestnut Street" before returning to Arkansas City. There is, surprisingly, no reference to meeting or missing Scott Joplin in St. Louis.
Brun was back in Arkansas City in time to be included in the city directory for 1904, which was published in January.38 He was listed at the same address as his parents, who now lived together again: "Campbell, Brunson, r 324 1-2 s Summit." Lute was listed as a barber, but no occupation was mentioned for Brun.
"While there" in Arkansas City, Brun claims, he "joined up with the Spooner Dramatic Company […] I played with them for about three months until the season ended, then headed home again" (35). This would refer to sometime in spring 1904, but it seems to be a lie. The Spooners had been in Arkansas City for one-week engagements in May 1897 and May 1899, where Brun may have seen them, but they do not seem to have returned thereafter. Their bookings in 1903/04 were in Texas, Arkansas, Louisiana, and Arizona, with a one-nighter in Muskogee, Oklahoma, in between.
In February 1904 Lute took a job as a barber in Kansas City, Kansas, and in June it was reported there that "his son, of Wichita" had visited him.39 This may have been Brun and not his brother, but the reference to Wichita is puzzling. In August 1904 an Arkansas City paper mentioned that "Brunnie Campbell was a Winfield visitor this afternoon," which implies that he was living in Arkansas City.40
In December 1904 Brun was arrested there once more: "In police court this morning Burnie [sic] Campbell was before Judge Rarick charged with being drunk and disorderly. He was fined $6 and costs, which amount he paid." "This morning in police court, Brune [sic] Campbell was fined $6 and costs making a total of $10, for being drunk and disorderly. He was arrested last night and just as Policeman Brandenburg was putting him in jail he turned around and struck the officer in the face. The officer reciprocated and there was no further trouble."41
Brun wrote that during his years as an itinerant pianist he "met and played ragtime for George Evans (Honey Boy Evans) and Lew Dockstader the great minstrel men. These were mostly auditions. Salary differences kept me from signing contracts with them as a featured ragtime piano act with their great minstrels" (29).42 We do not learn where or when this took place.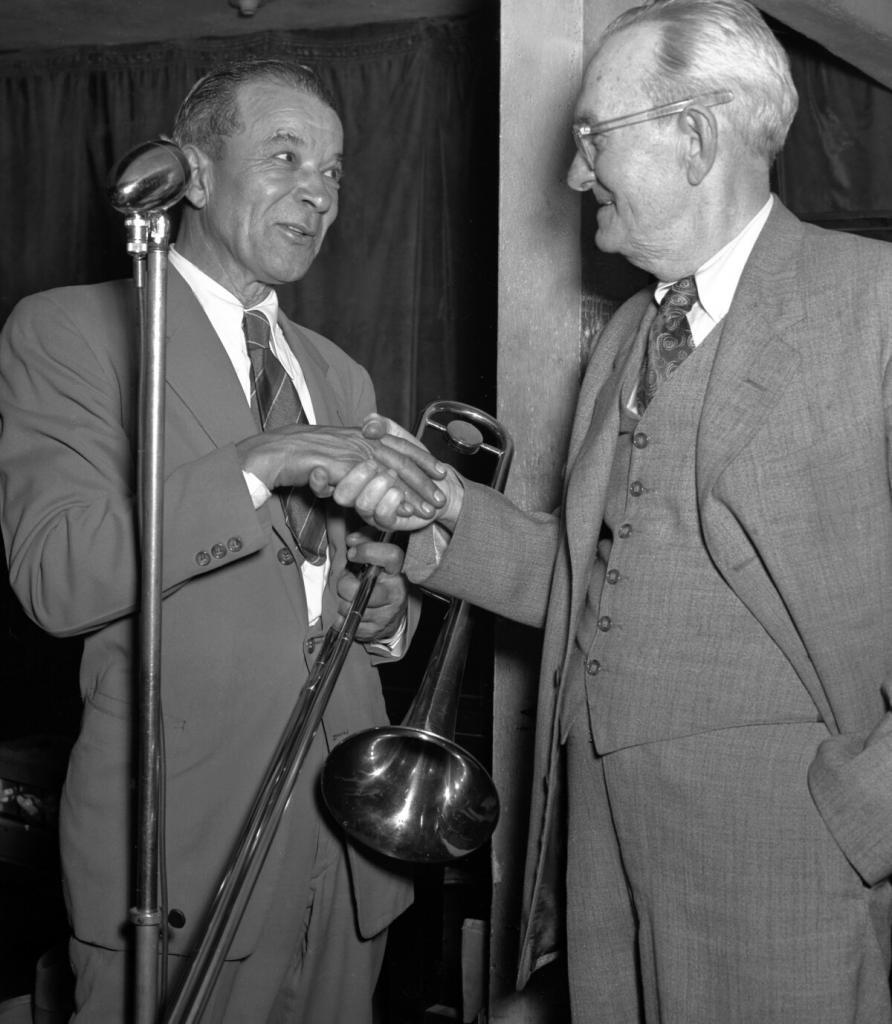 Dockstader (1856–1924) traveled the country as the owner and star of a huge minstrel company in the early 1900s. They came to Arkansas City for one-nighters on 4 January 1905, 24 April 1906, and 21 April 1908 and to nearby Winfield on 22 April 1907. These were top events, highlights of the year in this part of the country, and it seems likely that Brun attended all four of them. But he may not have exchanged words with Dockstader, whose schedule used to be extremely tight. The company would arrive by train towards noon on the day of their evening performance, would hold a parade in the afternoon, and would leave early next morning. It would seem foolish to believe that a young local ragtime pianist engaged in salary negotiations with Dockstader on such an occasion, rejecting his offer as too low.
It is even stranger concerning Evans (1870–1915) who, as far as I could establish, was an actor in comedies and not leading a minstrel show during Brun's alleged wandering years. This changed again later, but only after Brun's marriage. Brun, who then moved to Tulsa, Oklahoma, must have remembered the Honey Boy Minstrels with whom Evans came to Tulsa in November 1912 and December 1913 and perhaps more often.
The Kansas state census of 1 March 1905 found Brun ("Branson") in Arkansas City, but not as a barber like Lute, as claimed by Karp (29, 53). Brun was still not shown to practice a profession.
In mid-March 1905 Brun witnessed the spectacular arrest of a bank robber who called himself "Barney." This took place in Arkansas City almost exactly as described by Brun, who, however, wrote himself into the story (35–36). After the bank robbery in Renfrow, Oklahoma, where a safe was blown open with dynamite, "Barney" was seen spending money freely in Arkansas City. Brun transplants this to nearby Newkirk, Oklahoma, where he says he played in a saloon run by "Cap White" (in fact Charles A. "Dad" White) and where "Barney," according to Brun, filled Brun's pockets with coins some of which were "bent." "Barney" was, however, not seen in Newkirk, which would have been reported, and Brun must have read about the dynamite-damaged money in the papers. It was found in "Barney's" room after his arrest.43
Brun also was in Arkansas City in late September 1905, when "Brunson Campbell, who has been quite sick," was "reported to be improving slowly," and in late November 1905, when it was mentioned that "Brunnie Campbell has gone to Parsons, Kansas, for a few days visit."44
When "the newness had worn off my visit home," Brun wrote, he "decided to hit the road again." "By this time" he "had played to many notable persons, such as Teddy Roosevelt and his staff in the Parlor of the Lee Hotel at Oklahoma City while he was there with his Rough Riders" (36). Karp finds this credible because Roosevelt and the Rough Riders met there in July 1900 (36: "Chalk one up for The Kid"). Brun, however, was "at school" in Arkansas City in June 1900, pleaded guilty there in September to a charge of petty larceny, and began performing in public only after the move to El Reno. How could he have played for Roosevelt in Oklahoma City in July 1900? In one version he tried to connect it with his alleged early Otis Saunders experience, claiming that the Rough Riders reunion in Oklahoma City took place in 1898 and that Roosevelt congratulated him on his performance of "the parts of 'Maple Leaf Rag' he had learned from Saunders."45
The following – and last – tour that Brun described ended in winter and could, therefore, have been long if Brun returned before early December 1906, when he was mentioned again in Arkansas City, but less long if it began thereafter. This tour is said by Brun (38–52) to have started from Wichita ("in 1907") and to have led him via Hutchinson to San Francisco, where he remained a while before he returned to Arkansas City via Colorado Springs, Denver, and Kansas City, with extremely cold weather in the last two towns. The chapter includes tourist's descriptions in particular but not only of San Francisco, and Karp (45) shows that Brun used Herbert Asbury's book about the Barbary Coast.
There is little of musical interest, except that Brun claims that at Purcell's in San Francisco he "heard the best ragtime piano player I believe I ever heard," a nameless "little black negro" who played "one of the best 'rags' I believe I had ever heard" and who, asked about its title, said it was the "No Name Rag" (46). Karp devotes more than a page to thoughts about this but my impression is that the whole tour did not take place as described. Brun may have made excursions to some of the cities mentioned, but the chapter as such ("The Ragtime Kid Goes West") seems to have mainly served the purpose of fleshing out Brun's planned book about himself.
In this process Brun also mentioned "two old friends," the "Arkansas Kid" and the "Hominy Kid," gamblers who now allegedly lived and prospered in San Francisco and with whom he reunited there. He says that they gave him "a hundred dollars as a stake," that he roamed San Francisco's saloons with them, and that they hated to see him leave (42–49). These two gamblers existed and were well known in Arkansas City, where each of them was arrested at times, but they were not associated and are not likely to have lived in San Francisco in 1906/07.
James Harmon, the "Arkansas Kid," was convicted of rape and sent to Lansing prison for ten years in 1905. Claud Harmon (no relation), the "Hominy Kid," a man with a history of violent behavior, tried to kill his wife by cutting her throat in 1904. The case against him was dropped in 1905, because his wife was living with him again, but nothing indicates that they ever moved to California. Brun must have known what made these two gamblers famous, except gambling, and his use of them in his story appears frivolous.
In early December 1906 Brun was placed under bond, together with a "Buster" Howard and a "Red" Robinson, as a witness in a murder investigation in Arkansas City.46 The killing of a police officer and a double murder soon thereafter led to a public outcry. Under headlines like "Time for Concerted Action" it was declared that the city suffered under "a number of worthless characters," that "too many young men, without visible means of support" were "wearing tailor made clothes," and that a "general round-up" was needed "of all those who cannot give a good account of themselves and are not engaged in a legitimate means of earning a livelihood."47 Brun, now twenty-two years old and apparently not working, could have fit this description.
By 1907, he put it later, "things had become a little tough for pianists, as a kind of reform wave was on." Seeing "the handwriting on the wall for the ragtime pianist," he "gave it up as a profession" (53).48 Brun reformed, took a wife, and became a barber. This happened in 1907, as he knew well (59), but he extended his musical career by claiming that he stopped playing and married in 1908, after an alleged "five years' absence from Arkansas City" (53).
Notes about the marriage in June 1907 said that Brun now lived in Joplin, Missouri, that he was "a traveling salesman for a Kansas City house," and that the newly-weds had taken "the noon train to Kansas City, their future home."49They did, however, not stay there, and Brun did not remain a salesman. In January 1908 it was reported in Arkansas City that he had gone "to Tulsa, this morning, where he will probably buy a barber shop. He has been working in Roy Levick's shop in this city."50 Brun returned from Tulsa without having bought a shop and continued to "hold a chair" in Levick's and later in another barber shop in Arkansas City.51 His move to Tulsa, where his parents now also lived, took place before October 1908, when Brun's wife ran this ad: "Wanted – Lady to solicit orders and deliver hair goods. Good Pay. Write Mrs. S. B. Campbell, 219 No. Cin. Ave., Tulsa."52
Brun, who had no high opinion of the piano playing of Ben Harney (1871–1938), the white "originator of ragtime," claimed that when Harney "was touring the Middle-West in 1908, I met him and we had quite a visit" (159). He may have caught a performance when Harney came to Tulsa in 1912.53
The Tulsa city directory for 1910, which Karp (64) does not seem to have examined, listed Brun as "foreman" in Lute's "Grand Central Barber Shop" on 15 East Second Street and the whole Campbell family, Brun and his brother with their wives and parents, residing at 412 South Frisco Avenue. Later in 1910 Brun had his own barber shop, according to the 1910 census, but he was working in shops owned by others in Tulsa in 1912 and thereafter. In 1914 he seems to have visited San Francisco with his second wife (59, 62–63). In 1917 they lived in the same rooming house in Tulsa as Brun's brother and his parents, as mentioned by Karp, and the census of 1920, the year when Brun sought divorce from his second wife,54 found him in Los Angeles, again with his brother and his parents (65). Lute had, by then, long given up barbering.
In 1921 Brun was back in Tulsa, where he married his third wife in time for her inclusion with him in the 1923 city directory. They moved to Venice, California, with their little daughters in late 1925 or early 1926 (66) perhaps leaving behind debts, according to notes in the Tulsa Daily Legal News.55 Lute, strangely absent from Brun's narration after El Reno, had remained in California and still lived there with Brun's mother. He was a resident of Los Angeles when he died in Chicago on 15 January 1931.56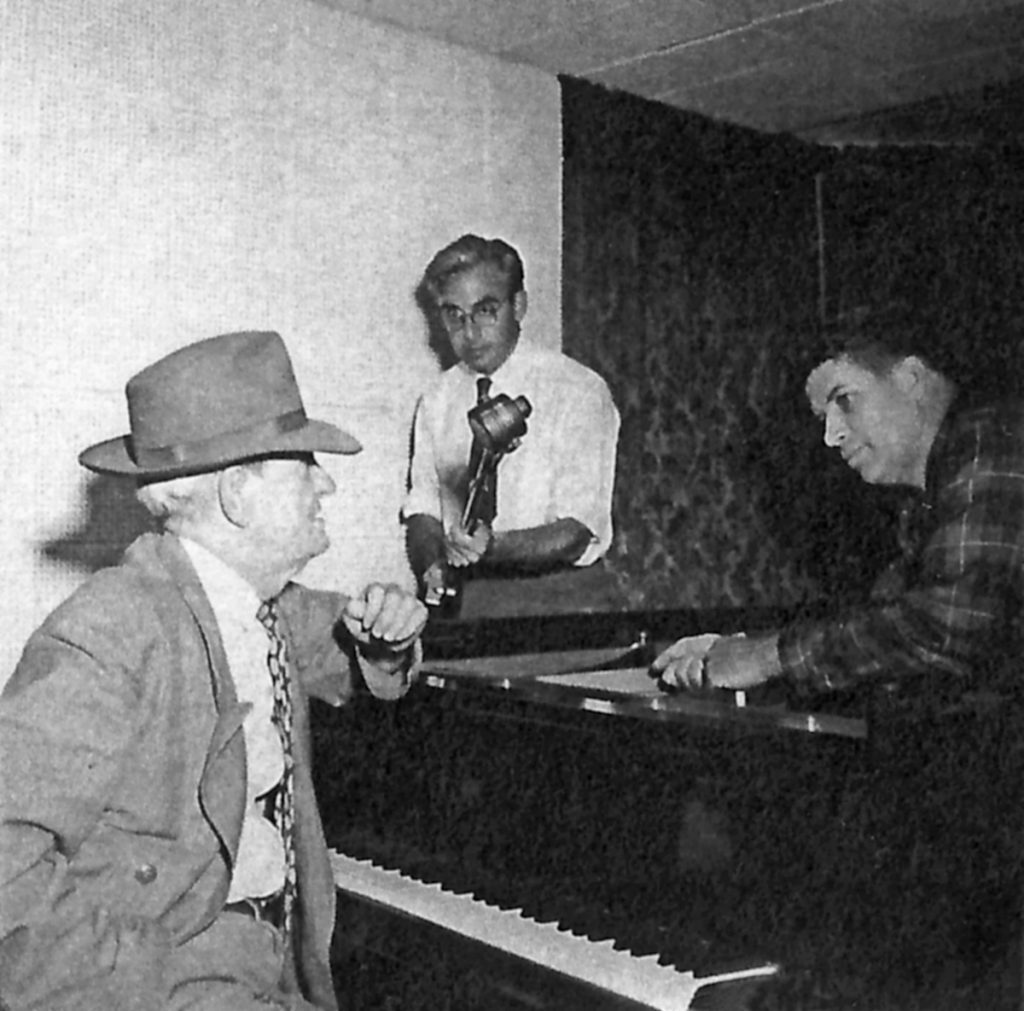 I do not believe, as Karp (27–28, 38, 57, 64) assumes, that Brun's life after early 1907 included periods of supporting himself as a pianist. The extent to which this had ever been the case remains unclear. Brun was far more firmly anchored in Arkansas City, where his parents could feed him, than he admitted. Local newspapers dealt with musical barbers and with the singing and dancing of a black youth like Jim Johnson, but notes concerning Brun never acknowledged any musical activities. We do not get closer than to an ice pick attack on a piano tuner. Friends like Charm Berkey57 must have known that Brun played piano, but even Brun himself may not have considered this a professional activity, according to the city directory of 1904 and the 1905 census.
Two questions arise from all these findings. The first is how to judge Brun's claim to have been "one of the best-known of the early ragtime pianists," the "first white ragtime pianist," who "led the way" and "pioneered the playing of Joplin's rags all through the Mid-West," so that Joplin was "very proud" of him.58 This seems farther from the truth than one had to suspect. Brun did not just exaggerate. He pictured himself in a role that he had not played at all in the early 1900s.
The second question is more specific: did he ever see Scott Joplin? Even skeptical scholars tended to believe this,59 but we may have to view it from a new perspective. The question is no longer whether Brun was a complete fraud, which always seemed unlikely. With Saunders in the Oklahoma City directory we have proof that it was not the case. What we have to ask is whether Brun met Saunders in time for a subsequent friendship with Joplin in Sedalia, where Joplin only lived until early 1901.
A continued belief in this would now require the following assumptions: Brun made the two early excursions to Oklahoma City and Sedalia, but he could not remember in which part of the year ("late" or "summer") he was in which of these cities;60 he met Saunders at the Armstrong and Smith shop but mixed it up with the later Armstrong and Byrd shop elsewhere in Oklahoma City; "things looked bright" to Saunders because he had the "good job" at the music shop, but he returned to Sedalia soon thereafter;61 he showed Brun a "pen and ink manuscript" of the unpublished "Maple Leaf Rag," but Brun could not remember whether it was inscribed "by Scott Joplin" or "by Scott Joplin and Otis Saunders" or not at all with the name of a composer;62 Brun was in Sedalia in late 1898 or summer 1899, but he remembered Tony Williams as a "tavern keeper," pianist, and piano teacher and did not see the connection when he was told about the Black 400 Club;63 in the second half of 1902 or later he patronized the Armstrong and Byrd shop in Oklahoma City, but Saunders was not there and Brun never knew that he lived in Oklahoma City in 1902.64
Brun and Charm Berkey65 invite us to assume all this, but some will find the alternative scenario more convincing: Brun met Saunders in 1902, as suggested above, and did not get to know Joplin.
This article first appeared in Names & Numbers 94, July 2020. N&N is a quarterly magazine devoted to the discographical research of jazz, info about classic jazz and blues from the period 1900 till 1970, published in The Netherlands. Visit N&N online at www.names-and-numbers.nl; for more information write [email protected].
I am indebted to Anthony Barnett, Edward A. Berlin, David Reffkin, Cynthia Sesso, and Karl Gert zur Heide for their good advice and kind help.
---
End Notes