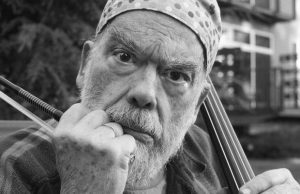 BUELL NEIDLINGER, 82, March 16, Widbey Island Washington. Famous for his work with Cecil Taylor, he also made contributions to free jazz and worked with classical orchestras. After first studying cello he switched to upright bass at 13 and was tutored by Walter Page. While briefly at Yale he was a member of Eli's Chosen Six, a Dixieland band. He moved to New York City in 1955 where he subbed for Page in the house band at Eddie Condon's in Greenwich Village. His recording career began in 1956 when he appeared on a Dixieland album led by trumpeter Johnny Windhurst and also appeared on Cecil Taylor's first album, a turning point in his artistic sensibility. He went on to record five more albums with Taylor while also making notable recordings with Steve Lacy, Archie Shepp, Roswell Rudd, and in a trio with Herbie Nichols.
After leaving New York in 1967 he joined the Boston Symphony Orchestra while founding a university jazz program. He then relocated to Los Angeles for a position as a jazz educator. While there he began a 30 year engagement with the Warner Brothers Orchestra, worked with the city's chamber orchestra and began a collaboration with saxophonist Marty Krystall that would produce 16 albums and continue for the rest of his life. As a studio musician he appeared on releases from Tony Bennett's "I left my Heart in San Francisco" to The Eagles "Hotel California" and the Village People's "Y.M.C.A."
Upon retirement in 2000 he moved to Whidbey Island, Washington and again took up cello which he played at his local coffee shop and on occasional releases from his K2B2 record label. On his last album, released in December, he played the compositions of his early trio mate Herbie Nichols with guitarist Howard Alden and his long time collaborator Marty Krystal.