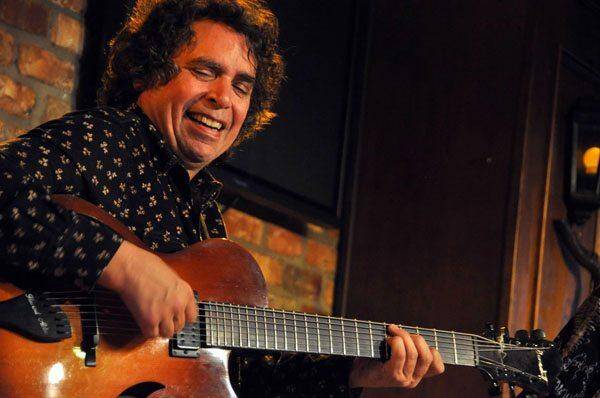 Howard Alden: Master of the Guitars
Editors Note: Our October 2018 issue features a review of one of Howard Alden's current projects: The Great Banjo Summit & Other Things with Strings
Howard Alden: Master of the Guitars
A bibliography of Howard Alden's career provides some interesting benchmarks that delineate the impressive accomplishments of a musician who has been called "the most impressive and creative member of a new generation of jazz guitarists." To illustrate:
In 1990, Jazz Times designated him the "Best Emerging Guitar Talent."
Downbeat cited him four times as a "Talent Deserving of Wider Recognition" as well as including him on their list of Top 100 Guitarists of All Time.
The American Guitar Museum named him "Guitar Player of the Year" in 2003.
He was chosen as the music director and guitarist for an all-star lineup selected to commemorate the 50th anniversary of the fabled Newport Jazz Festival that went on a tour of 50 U.S. cities in 2004.
Among his many accolades, one writer extolled: "His playing is classic, yet full of invention; distinctive, yet inspired by the work of the giants of jazz who were his tutors."
– Began Playing the Banjo at 10 –
Growing up in Newport, California, Howard began playing the tenor banjo at the age of 10. He had lessons with Charles Shortino a retired banjo player who taught him to read and introduced him to many of the vintage tunes commonly associated with the banjo. His first professional gigs were working pizza parlors in Southern California.
"As a 12-year-old, I was considered a curiosity," he recalled.
He soon gravitated to a 4-string guitar, and after hearing recordings by Barney Kessel, Charlie Christian, and Django Reinhardt, got a 6-string guitar, which he taught himself to play. In his late teens, he came under the tutelage of studio musician Howard Roberts and attended classes at the Guitar Institute of Technology in Hollywood.
Howard Alden made his first trip to the East Coast in the summer of 1979 to play in a trio led by Red Norvo at Resorts International in Atlantic City and continued to play with the legendary vibraphonist frequently for several years. He moved to New York City in 1982, and his skills both as a soloist and accompanist were soon recognized by such established musicians as Joe Bushkin, Woody Herman, Dick Hyman, Ruby Braff, and Joe Williams, resulting in a busy schedule of appearances and recordings.
– Dealt with Health Issues –
In 1997, he ran into some health issues that sapped his energy, gave him almost constant vertigo, and caused him to lose consciousness temporarily ("blackout") on occasion. Six months later his condition was finally diagnosed as Sarcoidosis, which is defined as "the growth of tiny collections of inflammatory cells in different parts of the body, resulting from the body's immune system responding to an unknown substance, most likely something inhaled from the air."
Various treatments over a number of years, including a year of chemotherapy proved unhelpful, and his condition steadily deteriorated, causing him to curtail or cancel a lot of traveling engagements, but fortunately the condition did not affect his motor skills, and he actually felt best when he was playing music when he was able to make it on stage. A top specialist in Sarcoidosis at Emory University in Atlanta, Georgia, gave him no encouraging prognosis, but did recommend he see a nutritionist to help with the side effects of the drugs/steroids he was being given.
Fortunately, Howard found a brilliant nutritionist/bio-chemist/naturalistic healer who was able to turn Howard's condition around slowly over a few years to total remission, and happily, he has been off medications for the past 15 years.
– Influence of George Van Eps –
He signed with the Concord Jazz record label in 1988, an association which led to Alden recording with one of his all-time heroes, 7-string guitar master George Van Eps, on the album Thirteen Strings and three follow-up albums. Inspired by Van Eps, and recognizing that the 7-string imparts a greater range and harmonic richness, Howard has been playing the 7-string guitar since 1992.
"I'd been listening to George's records for many years and knew about the 7-string," he explained, "but I was never really motivated to start playing one because I was perfectly comfortable on the 6-string. It wasn't until I spent a few days in the studio with George and seeing how he handled the instrument was when it all suddenly clicked in for me. Bucky Pizzarelli was another who encouraged me to take up the 7-string guitar."
"An additional thing that drew me to the 7-string was when I would hear tunes by some of the great piano players that I wanted to play on the guitar, but needed a little extra range. One of my favorites was Bill Evans who often played in clusters of four or five notes in one octave, which is impossible when you're playing a 6-string guitar."
– Like Learning a Language –
"Learning to play the guitar effectively is like learning a language. It's similar to opening a grammar book and memorizing every single rule of conjunctions and where the verb and adjective go. So it is with the guitar where you learn how to speak in phrases and how to utilize that approach correctly and to your advantage."
His advice to novice guitarists: "Young people need to build a repertoire of songs so that what they are playing isn't just technical ideas. Then they should commit that repertoire to memory to make it part of their musical language. If you have to look at a fakebook, you don't really know the tune. It's important to be more than an entertainer. I love to play what I call 'sincere music' that gets a response from the audience. Do your homework, and be prepared when that big opportunity comes along."
– Introduction to Choro Music –
Howard was introduced to choro music when the late clarinetist Kenny Davern gave him a tape (that he had received from guitarist Charlie Byrd) by Jacob do Bandolim, the Brazilian composer and mandolin master who launched a choro revival in the 1940s. Choro music is referred to as "the New Orleans jazz of Brazil" and is described as "fast, happy rhythm full of syncopation and counterpoint."
"I fell in love with that cassette and didn't even know there was a genre called choro," Howard said. "It's such infectious music and has so many parallels with early jazz, ragtime, and bebop." He subsequently discovered a small choro scene in New York City and enthusiastically joined some Brazilian musicians and fellow converts like clarinetist Anat Cohen (who has recorded several choro-inspired albums) in performing the music. He has since made six trips to Brazil to indulge in his expanding repertoire and exposure to this South American jazz hybrid.
– Working with Sean Penn –
Howard took his talents to the silver screen when he was asked to work with actor Sean Penn in his role as a tormented musician who describes himself as "the second greatest guitarist in the world" (obviously surpassed by the real guitar legend, Django Reinhardt) in Woody Allen's 1999 film, Sweet and Lowdown.
As Howard tells the story, "I got a call from Dick Hyman, with whom I have worked since 1983 and who does the music for most of Woody's films, asking if I "could play exactly like Django Reinhardt". I responded jokingly, 'Of course, Dick, doesn't everybody.' I was then asked to coach Sean on how to play the guitar. At first, I thought that would be a two or three day assignment, but it turned out to be five months of coaching."
"Sean had never touched a guitar before, so I helped him select the instruments for the movie. He was very serious and dedicated to learning what he had to do to play the part. I think he did an amazing job. When they would shoot a scene where Sean was playing the guitar, I would sit off camera and play the tune so Sean could see where my fingers were going."
"Dick Hyman wanted the combo in the film be a Hot Club of France with a violin. I mentioned that this was America in the 1930s, and the violin wasn't all that popular then. I suggested they have a clarinet and drummer, and they went with that idea. We picked Bucky Pizzarelli for the rhythm guitar on the soundtrack. It was a great experience to see a film made from the ground up and to be on the set every day."
After living in New York City for 33 years, Howard now resides in Arizona with his wife Diane. He's not resting on his laurels and continues to seek out new opportunities and experiences, maintaining a busy travel schedule with national and international performances If there is such a thing as a complete jazz guitarist, then Howard Alden is it.
---
Online Only
For Online Only Access without delivery of the print paper sign up below.
Subscription Options
---
Print Edition
 If you'd like the PRINT EDITION, (12 monthly issues) use the following PayPal link. After your payment is complete you will be allowed to create an online account. You will receive the next mailed copy, usually shipping around the 22nd of the month. See a PDF Sample Here.