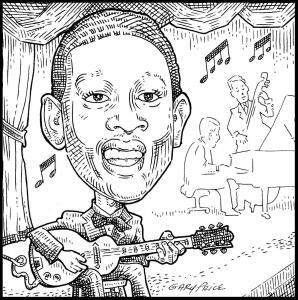 Charles Henry "Charlie" Christian was born in Bonham, Texas on July 29, 1916. After moving the family to Oklahoma City while Charlie was still a young child, his father Clarence Henry went blind as the result of a fever. To support his family, Clarence would take Charlie and his two brothers, Edward and Clarence, into the more prosperous neighborhoods to panhandle as street entertainers. Charlie learned the rudiments of guitar from his father, who died in 1928.
Charlie really wanted to play tenor sax. His school music teacher insisted he take up trumpet, but that didn't last long. He kept up his guitar playing and by the early 1930s was learning to solo on jazz standards and sitting in with his brother Edward's band.
By 1936 he was playing electric guitar, which allowed him to emulate and compete with horn players. In so doing, he became locally famous in Oklahoma City and jammed with nationally known jazz musicians (such as Art Tatum and Teddy Wilson) who passed through town. His great renown came when John Hammond heard about him (through Kansas City pianist Mary Lou Williams) and set up an audition with Benny Goodman in August, 1939. It took a couple of sessions before Goodman realized that Christian was a good fit with his band, and made him a key member of his new Sextet.
Charlie could swing, and he made the Metronome All-Stars for 1940. Meanwhile, he was experimenting with new forms of jazz in venues like Minton's Playhouse. He is said to have coined the term "Be-Bop"–and was certainly one of the originators of that form of jazz. As he was lighting out for that uncharted musical territory, his health failed. Charlie Christian died at age 25 on March 2, 1942.
Charlie is being celebrated this year in a series of centennial concerts featuring the excellent guitarist Glenn Crytzer and his Savoy Seven. We celebrate Charlie Christian, too—for his innovative spirit and his impeccable musicianship. But we do wish that some of those who have followed in his footsteps would turn it down just a hair.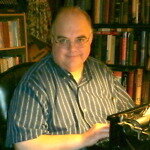 Andy Senior is the Publisher of The Syncopated Times and on occasion he still gets out a Radiola! podcast for our listening pleasure.