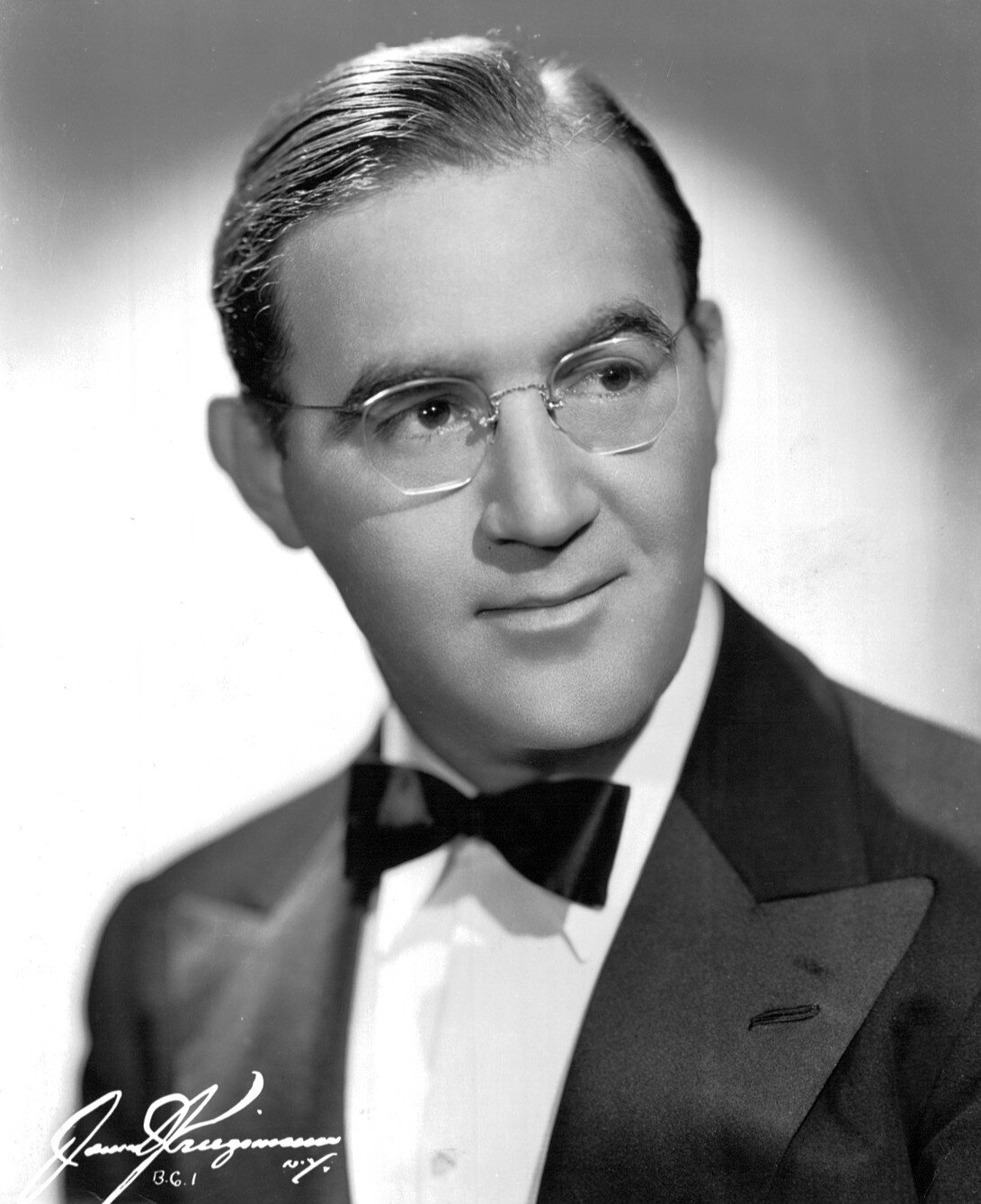 He was the "King of Swing," one of the greatest clarinetists of all time, and an international celebrity by 1936 who is still a household name 84 years later. Benny Goodman achieved all of that not by overly commercializing his music, wearing funny outfits, jumping into the latest trends, or even developing an outgoing or particularly friendly personality. He became world famous simply by playing the music he loved and spending his life practicing his clarinet.
He was born May 30, 1909 in Chicago, Illinois, to a relatively poor Jewish family. His parents were not musical but, when Goodman began playing clarinet at the age of 10, he found his lifelong passion and developed very fast. He took lessons from Franz Schoepp who also taught Jimmie Noone (an early influence on BG) and Buster Bailey. By the time he was 12, Goodman had won an amateur contest imitating Ted Lewis, the corny but colorful clarinetist who was becoming a big name in show business.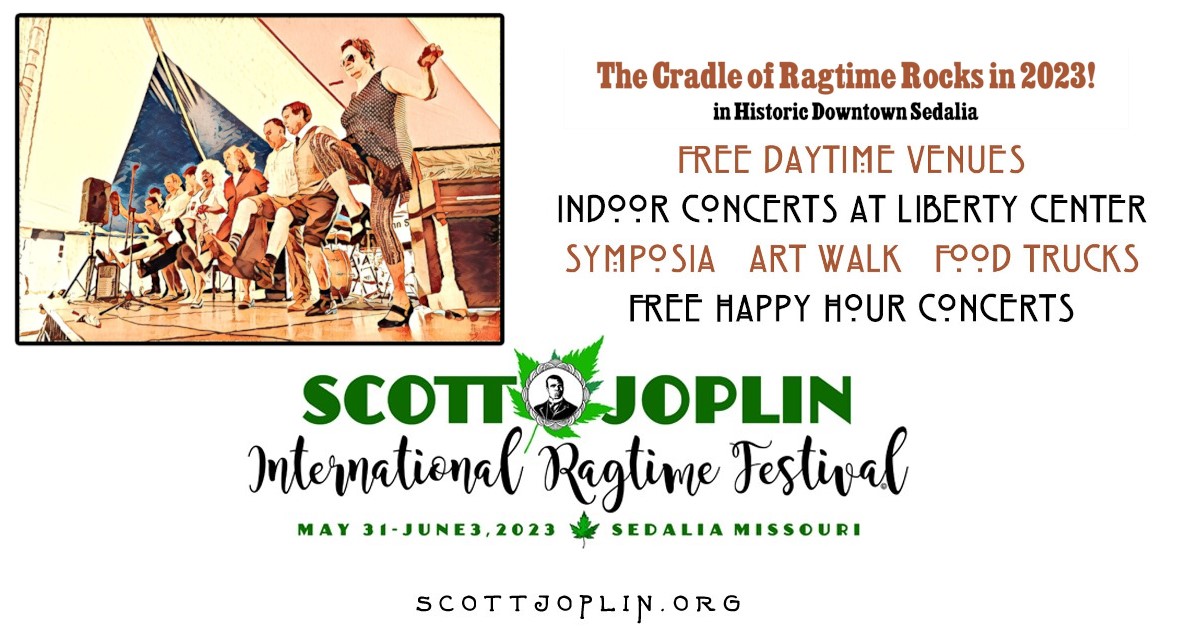 When he was 14, Goodman joined the Musicians Union and began working locally in the Chicago area including with the bands of Murph Podalsky, Chuck Walker, Jules Herbevaux, Arnold Johnson, and Art Kassel. He met Bix Beiderbecke while playing on a steamboat and played gigs with Bud Freeman, Frank Teschemacher (another early influence), and Jimmy McPartland.
In August 1925, the 16-year old joined the Ben Pollack Orchestra with whom he made his recording debut in December 1926. Goodman worked on and off with Pollack until the fall of 1929 and, even as a teenager, he was outgrowing his influences and sounding distinctive. Already a brilliant technician and an expert sight-reader, he led four small-group record sessions during 1928-29 including his very first trio date (with pianist Mel Stitzel and drummer Bob Conselman).
After leaving Pollack and settling permanently in New York, the clarinetist worked with Red Nichols for a few months and then became a very busy studio musician, making a lucrative living during the Depression. He became part of a core of technically skilled (and white) young jazz players who could be relied upon to read music perfectly and contribute short jazz solos when they were needed. Among those who fit into that category were trumpeters Bunny Berigan and Manny Klein, trombonist Tommy Dorsey, altoist and clarinetist Jimmy Dorsey, clarinetist Artie Shaw, violinist Joe Venuti, guitarists Eddie Lang and Dick McDonough, and drummer Gene Krupa.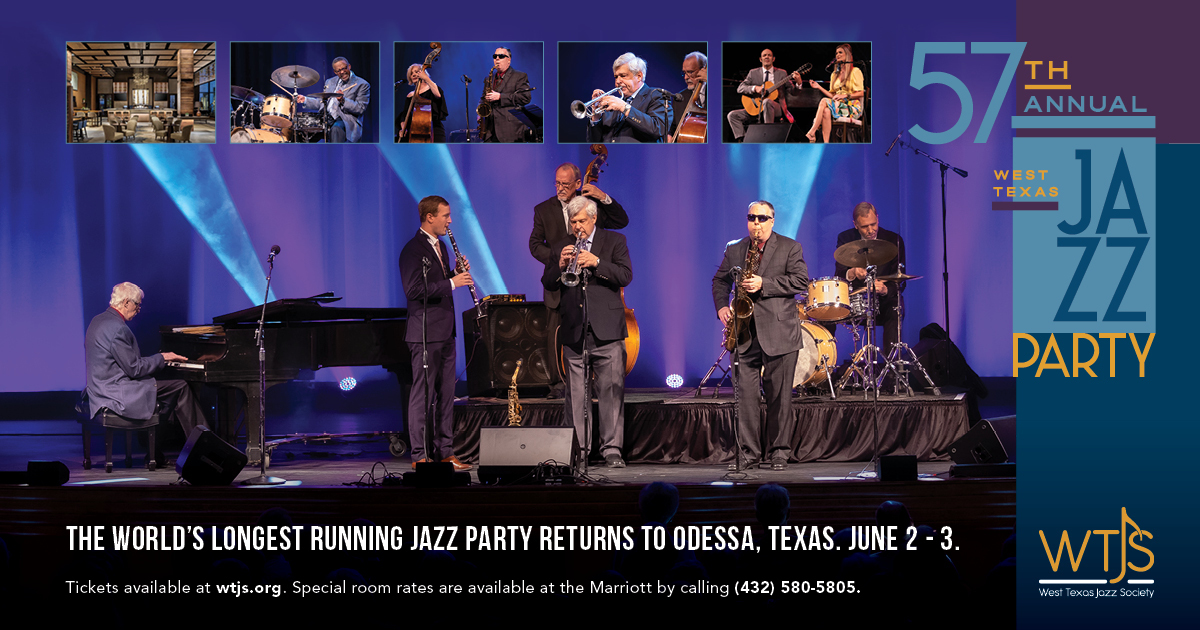 During 1930-34 Goodman played with a countless number of radio orchestras, studio orchestras, pit bands for Broadway shows, and occasional jazz combos, working with Sam Lanin, Nat Shilkret, Meyer Davis, Ben Selvin, Johnny Green, and even Ted Lewis. He led six sessions during 1930-31 that were commercial dance music but during 1933-34 was involved in more jazz-oriented dates including using Jack Teagarden, Billie Holiday (on her recording debut), Mildred Bailey, and Coleman Hawkins.
As with most of the other young jazz studio players, Goodman was largely bored during those years, getting a healthy paycheck while being stuck performing dull dance music anonymously. In 1934 the 25-year old decided that he needed to play jazz on a fulltime basis. He dreamt of heading a big band that would play swinging arrangements, superior songs, include some hot solos, and would always have impeccable ensembles.
Goodman led a big band on a series of radio transcriptions in February 1934 and then organized his first working orchestra in the summer of 1934, playing at Billy Rose's Music Hall and recording some worthwhile but not overly memorable songs for the Columbia label. In November he auditioned and won a spot as one of three bands featured on the NBC radio program Let's Dance. From then until the show ended in May 1935, he developed his orchestra, utilizing the arrangements of Deane Kincaide, Spud Murphy, and Fletcher Henderson (whose own big band had broken up), and such musicians as trumpeter Pee Wee Erwin, altoist Toots Mondello, tenor-saxophonist Arthur Rollini, his brother Harry Goodman on bass, drummer Gene Krupa, and singer Helen Ward.
When the radio show ended, Benny Goodman was at the crossroads of his career. The great Bunny Berigan had been persuaded to join the band, Goodman was now recording for the Victor label and, thanks to Berigan's trumpet solos, he had minor hits with "King Porter Stomp" and "Sometimes I'm Happy."
In addition, producer John Hammond had persuaded Goodman to record some trio numbers with Krupa and the African-American pianist Teddy Wilson (including "After You've Gone" and "Body And Soul"). The clarinetist enjoyed the experience, soon featuring the interracial trio in his performances as a contrast with the big band. But there was very little work in New York (Goodman was still an unknown) and the whole venture was on the verge of breaking up.
Benny Goodman and his musicians decided to go for broke and were booked on a cross-country tour. While there were some successes when they played in metropolitan areas, many of their performances in smaller towns found them playing for empty seats and unhappy club owners who demanded that Goodman play tangoes and waltzes. Most of the public was more accustomed to the sweet dance band music that they had been hearing since the 1920s ended and things looked bleak for Goodman.
After reaching the West Coast, the band was decently received in Oakland but the end seemed to be near. At the Palomar Ballroom in Los Angeles, Goodman played it safe during the first set; the audience was polite. Finally, knowing that this could be his last stand, he had the band cut loose and, to everyone's surprise, the crowd exploded, engaging in wild dancing and giving the musicians a big ovation.
Not only did that performance save the Benny Goodman Orchestra, but it was the start of the swing era. While some big bands had swung starting with Fletcher Henderson in 1924 and including many in Harlem in the early 1930s, the success of Goodman resulted in scores of new jazz orchestras being formed and fueling what became a frenzy. Swing was king for the next decade, dominating the pop charts and becoming the soundtrack in the lives of teenagers and young people.
Benny Goodman led the way as his big band evolved from an ensemble-oriented unit to one that featured such attractions as trumpeters Harry James and Ziggy Elman, pianist Jess Stacy, and, most of all, Gene Krupa, the first superstar drummer.
Helen Ward's surprise departure to get married in 1936 resulted in her eventually being ably succeeded by Martha Tilton. As a regular specialty act, the Benny Goodman Trio and the Quartet with vibraphonist Lionel Hampton gave Goodman opportunities to stretch out. While there were many competitors by 1937 (with Tommy Dorsey coming the closest), the constant radio broadcasts, recordings, and live performances kept Goodman at the top.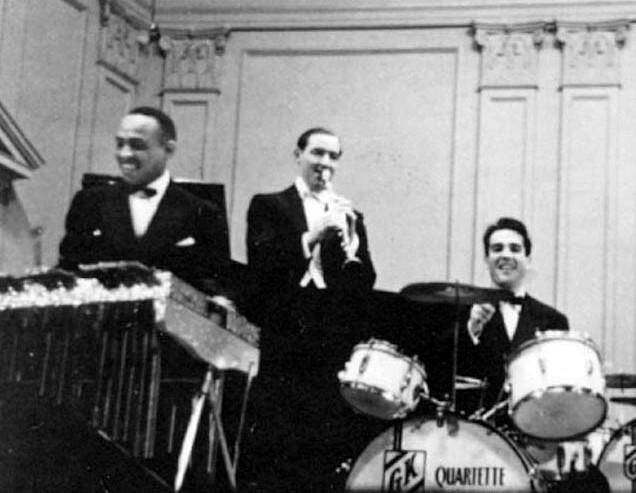 The climax was reached on January 16, 1938, when Goodman's orchestra performed the first full-length jazz concert at Carnegie Hall. Amazingly enough it was recorded although it had to wait until the LP era before the music was released. Goodman's band was quite inspired that day, guest artists (including Lester Young, Buck Clayton, Johnny Hodges and Count Basie) joined in on a lengthy "Honeysuckle Rose," and "Sing Sing Sing" (propelled by Gene Krupa's drumming) was the highpoint. Goodman was still just 28.
While some could argue that the rest of Benny Goodman's career was anti-climactic, he would perform a great deal of rewarding music during the next 48 years without altering his style or sound. Gene Krupa departed two weeks after the Carnegie Hall concert and Harry James left the following year. They would become competitors of the King of Swing. Artie Shaw (1938-39), Glenn Miller (1939-42), and Harry James (1942-46) led what were considered the most popular swing bands during those years yet Goodman's outfit always ranked near the top (as did Duke Ellington, Count Basie and Tommy Dorsey).
The Benny Goodman Trio and Quartet were succeeded in 1939 by the Benny Goodman Sextet featuring the first great electric guitarist, Charlie Christian. After taking a few months off in 1940 to battle sciatica, Goodman returned with a new orchestra that included trumpeter Cootie Williams and tenor-saxophonist Georgie Auld, both of whom played with BG and Christian in the new Goodman Sextet (which was really a septet). While retaining many of the Fletcher Henderson arrangements that he loved in his book, Goodman also performed some challenging works during the era by arranger Eddie Sauter including "Benny Rides Again" and "Clarinet A La King," and featured such new discoveries as pianist Mel Powell and singer Peggy Lee.
With the outbreak of World War II, Benny Goodman traveled less, appeared in a variety of movies, and led his big band on a more infrequent basis. In 1944 he had a notable sextet with Teddy Wilson, vibraphonist Red Norvo, and (by 1945) bassist Slam Stewart. His orchestra of 1945-46 was excellent even though Goodman was starting to slip behind the times. Bebop was beginning to catch on while BG's band was playing music that was little different than his late 1930s edition. Compared to the orchestras of Dizzy Gillespie, Stan Kenton, and Woody Herman, Goodman's sounded more like an exercise in swinging nostalgia.
Benny Goodman was not unaware of bebop although it did not interest him much. However during 1948-49 he gave it a chance. He was impressed by the young Swedish clarinetist Stan Hasselgard who, while inspired by BG, was playing bop by 1948. Goodman organized a septet featuring two clarinets, tenor-saxophonist Wardell Gray, and a four-piece rhythm section with Teddy Wilson that played clubs that summer.
Unfortunately due to the recording strike, that particular unit made no commercial recordings although luckily some of their radio broadcasts have been released. Goodman did make one recording in 1948, a boppish rendition of "Stealin' Apples" with Gray and trumpeter Fats Navarro. BG gives it a good try but sounds more like he is playing with bebop then actually playing bop.
Late in the year he organized a new big band that included bop-oriented soloists (including trumpeter Doug Mettome) and used some advanced arrangements by Chico O'Farrill and others. The repertoire balanced updated version of swing standards with some bebop and more commercial material. But by 1949 it was very difficult economically for any big bands to survive, and the Benny Goodman Orchestra broke up by year-end. He would never lead a long-term big band again.
For the next 35 years, Benny Goodman was most frequently heard playing with small swinging combos that put the focus on his still-brilliant clarinet playing, occasionally putting together a big band for special occasions and recordings.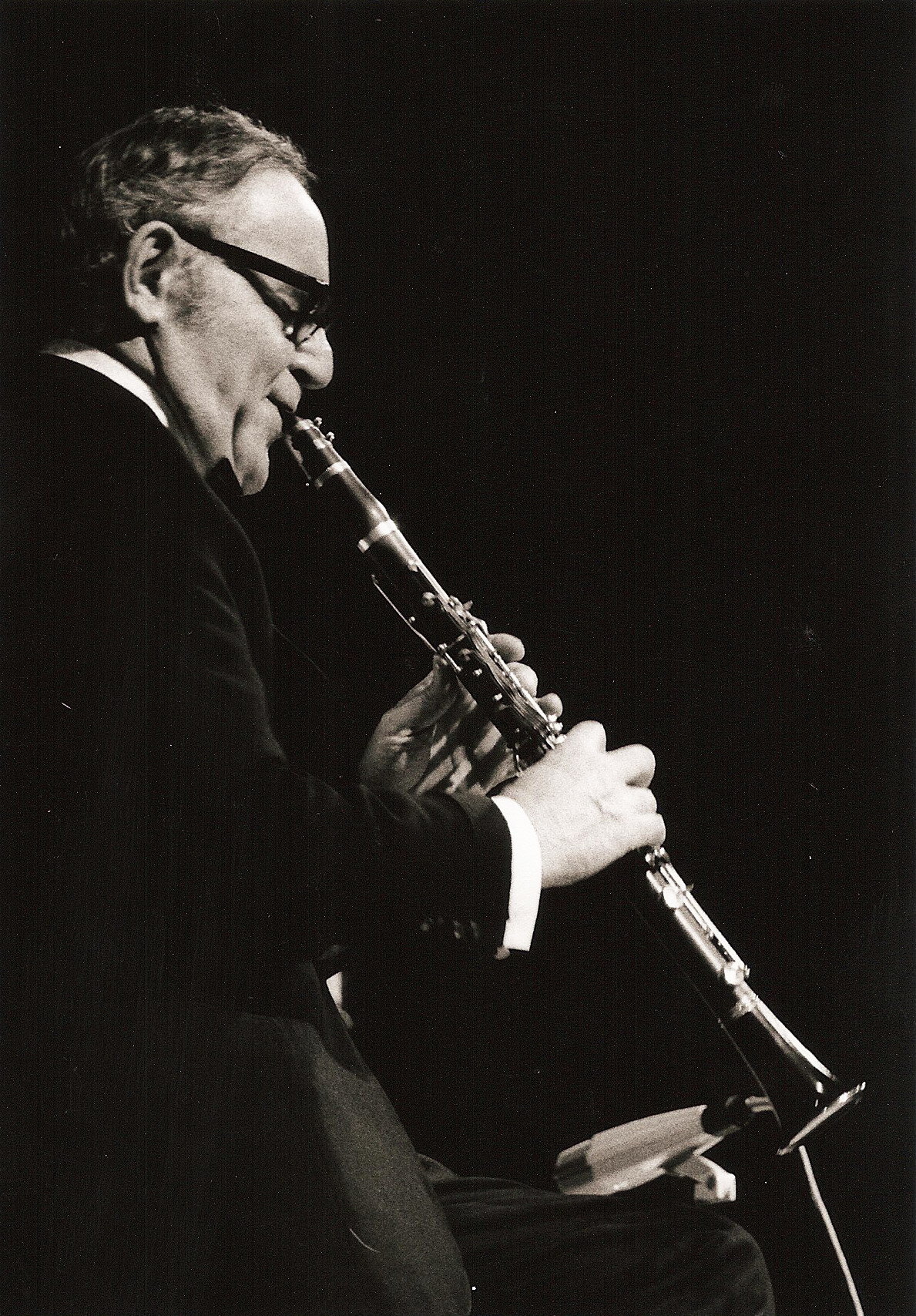 Always self-centered and focused in the extreme, Goodman's personality could be odd. One time he got into a taxi, had a blank expression for 30 seconds, and then asked the cabdriver how much he owed him! He never seemed to remember other musicians' names, calling nearly everyone "Pops."
Although he remained world famous, if one of his musicians seemed to be getting more applause than him, Goodman would feature that player less in the future. He also had an icy stare onstage (called "The Ray") that intimidated some of his sidemen even though he might not have even been thinking about them at the time that he was looking at them.
Despite his eccentricities, Benny Goodman nearly always played in prime form throughout his long career. Among the many sidemen who passed through his band after 1950 were trumpeters Buck Clayton, Ruby Braff, and Jack Sheldon; Paul Quinichette, Flip Phillips, and Zoot Sims on tenors; altoist Phil Woods; trombonist Bill Harris; vibraphonist Terry Gibbs; pianists Dick Hyman, Andre Previn and Hank Jones; guitarists Johnny Smith, Toots Thielemans and Bucky Pizzarelli, and even Herbie Hancock and George Benson.
The clarinetist's life was told in fictional but entertaining fashion in the 1954 film The Benny Goodman Story (with Steve Allen in the lead role), he made headlines by touring the Soviet Union in 1962, there were regular reunions with Lionel Hampton, Teddy Wilson, and Gene Krupa, and in 1978 he had his 40th anniversary Carnegie Hall concert which was recorded.
In his later years he utilized such younger players as cornetist Warren Vache, trombonist Dan Barrett, tenor-saxophonist Scott Hamilton, and Ken Peplowski (on alto). In 1985 he put together his final big band, playing vintage arrangements from the 1930s and still showing enthusiasm while creating solos in his classic swing style.
Benny Goodman passed away on June 13, 1986 at the age of 75. As always, on the day that he died, he practiced his clarinet.