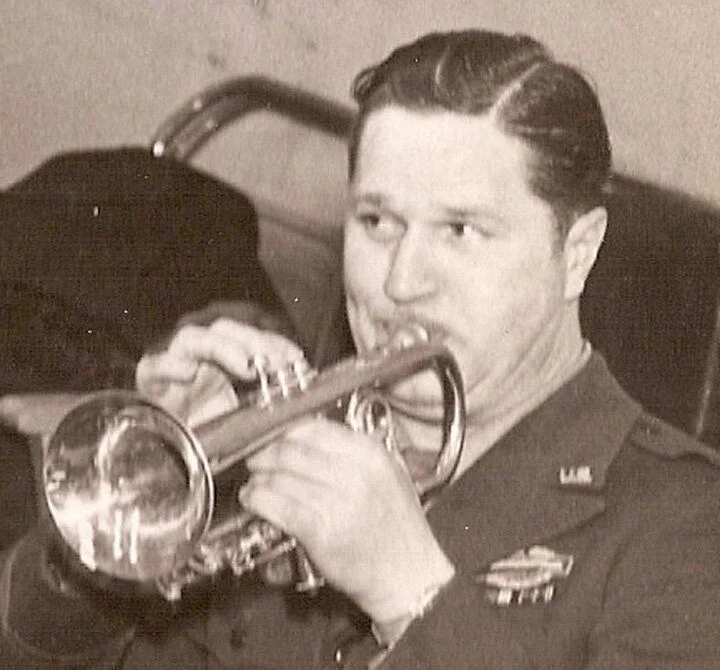 Jimmy McPartland
(March 15, 1907 – March 13, 1991) was a member of the group of young White Chicago Jazz musicians known as the
Austin High Gang
. This group consisted of Jimmy and his brother Dick, 
Frank Teschemacher
, 
Bud Freeman
, 
Eddie Condon
, Dave Tough, Jim Lanigan and 
Joe Sullivan
.
In 1924 Jimmy took Bix Beiderbecke's place in the Wolverine Orchestra after Bix recommended him for the job. He made his first recordings with the band in 1925. In 1926 McPartland worked with Art Kassel and others before joining Ben Pollack in 1927. That same year he took part in a famous recording session with some members of the Austin High School Gang under the name McKenzie and Condon's Chicagoans.
He left Pollack in 1929 and he worked in and around New York with a variety of bands. He played with Harry Reser from 1933 to 1935 and led his own group from 1936 to 1941, until he was drafted for World War II. As a soldier he took part in the Normandy invasion (D-Day). He was discharged in 1945, but stayed to play with the USO. While in Europe he married the English Jazz pianist Marian Turner. The two continued to play music together up until 1990. Jimmy continued to play a cornet given to him by Bix Beiderbecke throughout his career.