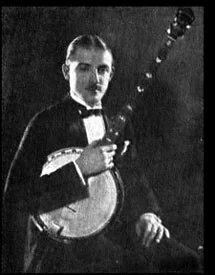 Harry Reser
(January 17, 1896 – September 27, 1965) was perhaps the greatest banjoist of the 1920s if not the greatest banjoist of all time. He got his start playing in dance bands in his home state of Ohio and in the Midwest, moved to Buffalo, New York in 1920 and then to New York City in 1921, where he soon became a sought-after session musician. Reser released a series of solo banjo records starting in 1921 which proved that the banjo was not just a rhythm instrument.
In 1925, he was picked to become the director and frontman for the Clicquot Club Eskimo Orchestra on the NBC radio network. This weekly half-hour show, sponsored by Clicquot Club ginger ale, made Reser quite well known and was on the air until 1935.
During the 1920s and 1930s, he also led MANY bands using an amazing number of pseudonyms. Reser continued to be quite active in music for the rest of his life, touring, leading television studio orchestras, playing in Broadway orchestras, recording and writing several popular banjo, guitar and ukulele instruction books. He died of a heart attack in 1965 while tuning up in the orchestra pit before a performance of the Broadway stage version of "Fiddler On The Roof".

Title

Recording Date

Recording Location

Company

An Island Made For Two
(w/ Frank Banta at the piano)
2-12-1926
New York, New York
Brunswick
Bimini Bay
(w/ Rega Dance Orchestra)
10-1-1921
New York, New York
Okeh
Boll Weevil Blues
(w/ Vernon Dalhart and Ed Smalle on kazoos)
7-1-1924
New York, New York
Okeh
Bringing Home The Bacon
(w/ Thomas Griselle at the piano)
6-23-1924
New York, New York
Gennett
Calling
(Piano by Bill Wirges)


(Klagan / Golden)

3-2-1927
New York, New York
Brunswick
Collette
(w/ Bill Wirges at the piano)
3-2-1927
New York, New York
Brunswick
Cracker Jack
(w/ piano accompaniment)


(Harry Reser)

10-28-1930
New York, New York
Brunswick
Crazy Jo'
(w/ orchestra)


(Harry Reser)

8-1-1922
New York, New York
Brunswick
Crazy Jo'
(w/ Ferde Grofe at the piano)


(Harry Reser)

4-1-1923
London, England
Columbia
Crazy Joe


(Harry Reser)

1-1-1922
New York, New York
Okeh
Don't Say Good-Bye
(w/ Phil Ohman at the piano)
4-4-1922
New York, New York
Columbia
Easy Goin'
(w/ piano accompaniment)


(Harry Reser)

11-1-1923
New York, New York
Okeh
Easy Goin'
(w/ M. Scalzo at the piano)
5-1-1924
New York, New York
Paramount
Everybody Step
(w/ Rega Dance Orchestra)
10-1-1921
New York, New York
Okeh
Fair And Warmer
(w/ Milton J. Rettenberg at the piano)


(Harry Reser)

7-17-1928
New York, New York
Columbia
Flapperette
(w/ piano accompaniment)


(Jesse Greer)

10-28-1930
New York, New York
Brunswick
Frosted Chocolate
(w/ Wm. F. Wirges at the piano)


(Harry Reser)

5-3-1928
New York, New York
Brunswick
Hard Hearted Hannah
(w/ Thomas Griselle at the piano)
6-23-1924
New York, New York
Gennett
Heebe Jeebes
(w/ Bill Wirges at the piano)


(Harry Reser)

6-19-1925
New York, New York
Columbia
Heebie Jeebies
(w/ Bill Wirges at the piano)


(Harry Reser)

10-15-1925
New York, New York
Vocalion
Heebie Jeebies
(w/ Paul Rickenback at the piano)


(Harry Reser)

3-28-1927
New York, New York
Edison
I Gave You Up Just Before You Threw Me Down
(w/ Phil Ohman at the piano)
4-4-1922
New York, New York
Columbia
Jade
(w/ Russell Carlson at the piano)
7-11-1929
New York, New York
Edison
Lolly Pops
(w/ piano accompaniment)


(Harry Reser)

11-1-1923
New York, New York
Okeh
Lolly Pops (take 1)
(w/ M. Scalzo at the piano)


(Harry Reser)

5-1-1924
New York, New York
Paramount / Triangle
Lolly Pops (take 2)
(w/ M. Scalzo at the piano)


(Harry Reser)

5-1-1924
New York, New York
Paramount
Lolly Pops
(w/ Bill Wirges at the piano)


(Harry Reser)

10-19-1926
New York, New York
Victor
20439-B
Lolly Pops
(w/ Paul Rickenback at the piano


(Harry Reser)

3-28-1927
New York, New York
Edison
Oh ! Boy, What A Girl
(w/ Bill Wirges at the piano)
9-25-1925
New York, New York
Vocalion
Page-Paderewski
(w/ Henry Lange at the piano)
7-1-1923
London, England
Columbia
Pickin's
(w/ orchestra)


(Harry Reser)

8-1-1922
New York, New York
Brunswick
Pickin's
(w/ Ferde Grofe at the piano)


(Harry Reser)

4-1-1923
London, England
Columbia
Sugar Blues
(w/ Frank Banta at the piano)
2-1-1923
New York, New York
Okeh
Symphanola
(w/ Henry Lange at the piano)
7-1-1923
London, England
Columbia
Tamiami Trail
(w/ Frank Banta at the piano)
2-12-1926
New York, New York
Brunswick
The Cat And The Dog
(w/ Milton J. Rettenberg at the piano)


(Harry Reser)

7-17-1928
New York, New York
Columbia
The Clock And The Banjo
(w/ Bill Wirges at the piano)


(Harry Reser)

10-19-1926
New York, New York
Victor
20439-A
The Clock And The Banjo
(w/ Paul Rickenback at the piano)


(Harry Reser)

1-1-1927
New York, New York
Edison
The Old Town Pump
(w/ Paul Rickenback at the piano)


(Harry Reser)

1-1-1927
New York, New York
Edison
Trainin' The Fingers
(w/ Russell Carlson at the piano)
7-11-1929
New York, New York
Edison
Turkey In The Straw
(w/ Frank Banta at the piano)
2-1-1923
New York, New York
Okeh
Ukulele Lady
(w/ Bill Wirges at the piano)


(Whiting / Kahn)

6-19-1925
New York, New York
Columbia
When The Robert E. Lee Comes To Town
(w/ Russell Carlson at the piano)
2-3-1928
New York, New York
Brunswick

Ambassadors Dance Orchestra
American Dance Orchestra
Apex Syncopators
Ariel Dance Orchestra
Frank Arnold and His Orchestra
Frank Auburn and His Orchestra
The Badgers
The Blue Jays
The Blue Kittens
The Blue Room Club Orchestra
The Bluebirds
The Bostonians
Brenan's Broadway Band
Broadway Melody Makers
Broadway Music Masters
Broadway Syncopators
George Brooks and His Syncopators
The Caberet Dance Orchestra
The Campus Boys
The Caroliners
Casino Dance Orchestra
The Century Serenaders
Chicago Redheads
The Clevelanders
The Clicquot Club Eskimos
The Collegians
Jerome Conrad and His Orchestra
Corona Dance Band
Cosmopolitan Players
Matty Crawford's Orchestra
Cuban Rumba Orchestra
Curry's Dance Orchestra
Bert Dalan's Orchestra
Denza Dance Band
Diplomat Orchestra
Diplomat Novelty Orchestra
Dixie Daisies
Dixie Jazz Band
Eldon's Dance Orchestra
Embassy Dance Band
Jerry Fenwyck and His Orchestra
The Five Musical Blackbirds
Florida Harmony Kings
The Four Minstrels
Frisco Syncopators
Nathan Glantz and His Dance Orchestra
Lew Gold and His Orchestra
Golden Gate Orchestra
Grafton Orchestra
Grand Pree Novelty Band
Grand Pree Novelty Dance Orchestra
Grand Pree Novelty Orchestra
Eden Hall and His Band
Hannan Dance Band
Frank Harrison's Banjo Band
Billy Hays and His Orchestra
Fletcher Henderson's Collegians
Si Higgins and His Sodbusters
Hollywood Dance Orchestra
Phil Hughes and His High Hatters
Imperial Dance Orchestra
Al Jack and His Crackerjacks
Jack's Fast Steppin' Bell Hops
The Jazz Band Pilots
The Jazz Pilots
Jimmy Johnston's Rebels
Rex King and His Sovereigns
Sam Lanin U.S. Orchester
Sam Lanin's Famous Players
Chester Leighton and His Sophomores
Phil Lewis Joy Boys
Los Angeles Ambassadors
Majestic Dance Orchestra
Marlborough Orchestra
Earl Marlow's Orchestra
Martin's Dance Orchestra
Maxsa Dance Orchestra
Mayfield Dance Orchestra
Memphis Melody Boys
Metropolitan Dance Orchestra
Midnight Ramblers
Midnight Serenaders
Mills Merry Makers
Mimosa Dance Orchestra
Missouri Jazz Band
Monarch Orchestra
Jimmy Murray Melody Masters
Sam Nash and His Orchestra
New Jersey Dance Orchestra
The New York Syncopators
The New York Twelve
Night Club Orchestra
Odeon Syncopators
Okeh Syncopators
The Okeh Trio
Earl Oliver's Jazz Babies
Original Dixie Rag Pickers
Palm Beach Serenaders
Park Lane Orchestra
Parlophone Syncopators
Pavilion Players
Pennington Orchestra
Will Perry and His Orchestra
Pierrot Syncopators
The Plantation Players
The Plaza Band
The Radio All Star Novelty Orchestra
The Rambling Ragadors
Earl Randolf's Orchestra
Raymond Dance Orchestra
The Red Dandies
The Red Hotters
Regal Dance Orchestra
Regent Dance Orchestra
Rendezvous Cafe Orchestra
Harry F. Reser's Novelty Trio
Harry F. Reser's Trio
Harry Reser and His Eskimos
Harry Reser and His Jumping Jacks
Harry Reser and His Orchestra
Harry Reser's Banjo Boys
Harry Reser's Dance Orchestra
Harry Reser's Orchestra
Harry Reser's Quartette
Harry Reser's Radio Band
Harry Reser's Rounders
Harry Reser's String Orchestra
Harry Reser's Syncopators
Harry Reser's Radio Band
Reser Trio
Reser's Banjo Orchestra
Reser's Dance Orchestra
The Rhythmic Troubadours
Harry Richards' Orchestra
Rieser Trio
Rio Trio
Tom Rock and His Orchestra
The Rounders
The Roving Romeos
Roxy Dance Orchestra
Al Royal Collegians
The Royale Dance Orchestra
The Royale Dance Trio
The Royale Trio
Eddie Russell's Kings of Syncopation
San Francisco Dance Orchestra
Savoy Dance Band
Savoy Marimba Boys Orchestra
Savoy Sinkops Okiestra
The Seven Blue Babies
The Seven Little Polar Bears
Seven Rag Pickers
Seven Wild Men
Sheridan Entertainers
The Six Hayseeds
Six Jumping Jacks
Southern Dixie Syncopators
Tom Stacks and His Minute Men
Tom Stacks and His Orchestra
The Ten Freshmen
Tennessee Happy Boys
The Tickle Toe Ten
The Troubadours
Tuxedo Orchestra
University Boys
University Jazzmasters
University Six and Their Orchestra
The Vagabonds
Varsity Four
The Victorian Syncopators
The Volunteer Firemen
George Wells and His Orchestra
Ted White's Collegians
Jay Wilbur Orchestra
Windsor Orchestra
Bill Wirges and his Orchestra
Will Wirges and his Orchestra
Bill Wirgis and his Orchestra
Barney Zeeman's Kentucky Cardinals

| | | |
| --- | --- | --- |
| Title | Director | Year |
| Harry Reser and His Eskimos | Roy Mack | 1936 |

| | | |
| --- | --- | --- |
| Title | Author | Year/Publisher |
| The Great Harry Reser | W. W. (Bill) Triggs | 1978, H. G. Waker |