The Clicquot Club Eskimos was a banjo orchestra under the direction of 
Harry Reser
. The band was quite well known because of its nationwide weekly half-hour radio broadcasts sponsored by Clicquot Club, which was a popular brand of ginger ale. Clicquot is pronounced "Klee-Ko" and was the fictional name of the Eskimo Boy that was pictured on the bottle and in the company's advertising.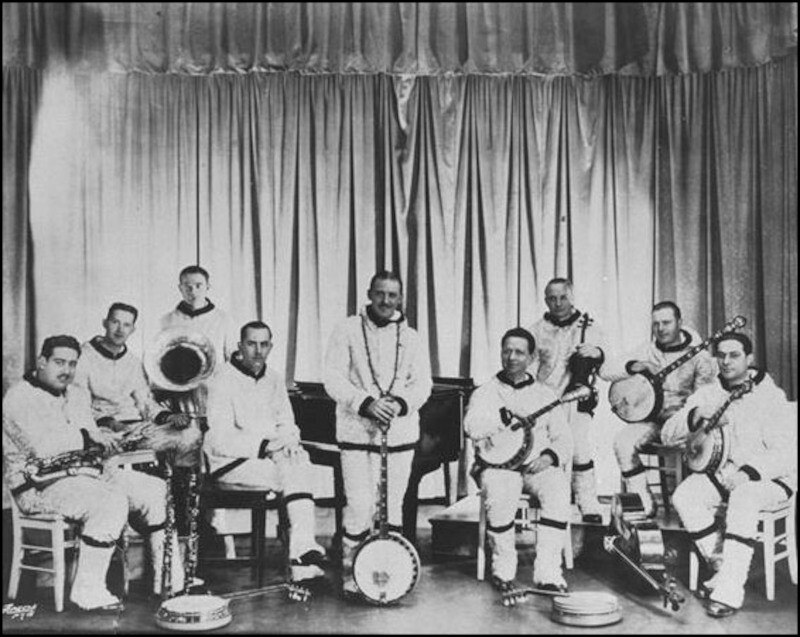 The Clicquot Club radio program was on the air from 1925 to 1935. The Clicquot Club Eskimos wore eskimo suits when playing live and before a studio audience. The same basic band recorded under a dizzying array of pseudonyms for dozens of different record labels. You will find a list of those sessions by clicking here.
Thanks to Dennis Pereyra, Bob Palmer, Owen Miller and James Gallup for the recordings on this page.

Title

Recording Date

Recording Location

Company

Adorable


(Tom Ford / Ray Wynburn)

5-28-1926
New York, New York
Columbia
687-D
Always


(Irving Berlin)

3-8-1926
New York, New York
Columbia
599-D
At Sundown
(When Love Is Calling Me Home)
(Tom Stacks vocal)


(Walter Donaldson)

2-25-1927
New York, New York
Columbia
921-D
Avalon Town
(Tom Stacks vocal)


(Brown / Clark)

10-1-1928
New York, New York
Columbia – American
Clicquot Club Eskimos
Columbia – French
Harry Reser's Syncopators
Regal – Australian
Stellar Dance Band
Beautiful Face, Have A Heart
(Tom Stacks vocal)
6-14-1928
New York, New York
Columbia
1445-D
Chick, Chick, Chick, Chick, Chicken
(Lay A Little Egg For Me)
(Tom Stacks vocal)


(Holt / McGhee / King)

9-10-1926
New York, New York
Columbia
766-D
Chinky Butterfly


(David Lee / Billy Rose)

1-29-1926
New York, New York
Columbia
570-D
Clicquot


(Harry Reser)

5-28-1926
New York, New York
Columbia
687-D
Come On, Baby
(Tom Stacks vocal)


(Gottler / Clare / Maceo Pinkard)

10-1-1928
New York, New York
Columbia – American
Clicquot Club Eskimos
Columbia – French
Harry Reser's Syncopators
Cross Roads
theme song from the motion picture, Show People
(Tom Stacks vocal)


(Axt / Mendoza / Klages)

11-5-1928
New York, New York
Columbia
147388
Crying For The Carolines
(From "Spring Is Here")


(Lewis / Warren / Young)

12-17-1929
New York, New York
Banner, Regal,
Domino, Perfect,
Pathe – American,
Apex – Canadian,
Clifford – Australian
Clicquot Club Eskimos
Broadway – American
The Collegians
Gee ! I'm Glad I'm Home
(Tom Stacks vocal)
1-25-1928
New York, New York
Columbia
1281 -D
Hallelujah! (2)
(From "Hit The Deck")


(Robin / Grey / Youmans)

1-15-1930
New York, New York
Oriole 1840

Hallelujah! (3)
Domino 4485-A


(Robin / Grey / Youmans)

1-15-1930
New York, New York
Banner, Regal,
Domino, Perfect,
Pathe – American,
Vocalion – Australian
Clicquot Club Eskimos
Embassy – Australian
Jose Alvarado Orchestra
Harlem Madness
2-20-1930
New York, New York
Apex (Canadian)
Hello Bluebird!
(Tom Stacks vocal)


(Cliff Friend)

10-28-1926
New York, New York
Columbia
795-D
Henry's Made A Lady Out Of Lizzie
(Tom Stacks vocal in trio)
1-25-1928
New York, New York
Columbia
1281-D
Hittin' The Bottle


(Harold Arlen / Ted Koehler)

7-16-1930
New York, New York
Banner, Perfect, Regal – American
Clicquot Club Eskimos
Edison Bell Winner – British
Paramount Rhythm Boys
Honolulu Moon (waltz)
(Tom Stacks and Vaughn de Leath vocal)


(Fred Lawrence)

5-31-1927
New York, New York
Columbia
1026-D
Humoreskimo
(Tom Stacks vocal)
2-23-1928
New York, New York
Columbia – American,
Regal – Australian
Clicquot Club Eskimos
I Want To Be Happy


(Irving Caesar / Youmans)

1-15-1930
New York, New York
Banner, Conqueror,
Regal, Conqueror,
Perfect, Pathe – American,
Apex – Canadian,
Vocalion – Australian
Clicquot Club Eskimos
Embassy – Australian
Embassy Dance Orchestra
I Wonder Who's With You When I'm Not There
(Tom Stacks vocal)


(Monaco / Dixon)

5-31-1927
New York, New York
Columbia
1060-D
I'd Rather Be Alone


(Ager / Dixon)

1-29-1926
New York, New York
Columbia – American
Clicquot Club Eskimos
Columbia – British
Denza Dance Band
I'm Happy When You're Happy
2-11-1931
New York, New York
Perfect – American,
Apex, Melotone,
Royal – Canadian,
Vocalion – Australian
Clicquot Club Eskimos
I'm In Love With You, That's Why
3-8-1926
New York, New York
Columbia
599 -D
I'm So Afraid Of You
2-11-1931
New York, New York
Perfect – American,
Apex, Crown,
Melotone – Canadian
Clicquot Club Eskimos
In A Little Town Called Home, Sweet Home
(Tom Stacks vocal)


(Walter Donaldson)

1-28-1929
New York, New York
Columbia
1718-D
'Leven-Thirty Saturday Night


(Earl Burtnett / Andrew Grantham)

5-9-1930
New York, New York
Oriole, Perfect – American,
Angelus, Clifford,
Embassy, Vocalion – Australian
Clicquot Club Eskimos
Lingering Lips
12-28-1925
New York, New York
Columbia
544-D
Little White Lies


(Walter Donaldson)

7-16-1930
New York, New York
Perfect – American,
Imperial – British
Clicquot Club Eskimos
Broadway – American
Midnight Ramblers
Oriole – American,
Apex, Crown,
Sterling – Canadian,
Angelus, Clifford,
Embassy – Australian
The Rounders
Lonesome And Sorry


(Davis / Conrad)

4-20-1926
New York, New York
Columbia
637-D
Look At The World And Smile
(Tom Stacks vocal)
2-8-1927
New York, New York
Columbia
912-D
Marianne
(Tom Stacks vocal)


(Roy Turk / Fred Ahlert)

8-13-1929
New York, New York
Columbia – American, Australian
Clicquot Club Eskimos
Columbia – British
Harry Reser's Syncopators
My One And Only
(Tom Stacks vocal)
12-5-1927
New York, New York
Columbia
1213-D
My Sunday Girl
(Tom Stacks vocal)


(Stept / Ruby / Cooper)

2-25-1927
New York, New York
Columbia
921-D
Olaf (You Oughta Hear Olaf Laff)
(Tom Stacks vocal)


(Baer / Gilbert)

1-28-1929
New York, New York
Columbia
1718-D
On The Sunny Side Of The Street


(Dorothy Fields / Jimmy McHugh)

5-9-1930
New York, New York
Banner, Perfect – American,
Imperial – British,
Vocalion – Australian
Clicquot Club Eskimos
One Little Raindrop
2-11-1931
New York, New York
Perfect – American,
Apex, Melotone,
Royal – Canadian,Vocalion – Australian
Clicquot Club Eskimos
Out Of Breath (And Scared To Death Of You)
7-16-1930
New York, New York
Perfect – American
Clicquot Club Eskimos
Broadway – American
Midnight Ramblers
Ro-Ro-Rollin' Along


(Billy Moll / Harry Richman)

5-9-1930
New York, New York
Perfect – American,
Imperial – British,
Clifford – Australian
Clicquot Club Eskimos
Filmophone – British
Phil Regent and His Orchestra
Sing, You Sinners
2-20-1930
New York, New York
Perfect, Pathe – American,
Sterling – Canadian – American
Clicquot Club Eskimos
Broadway – American
The Collegians
Imperial – British
Missouri Jazz Band
Somebody's Lonely


(Davis / Gold)

4-20-1926
New York, New York
Columbia
637-D
Someday
10-28-1926
New York, New York
Columbia
795-D
Songs Of Long Ago (intro. "When You And I Were Young, Maggie"/"Silver Threads Among The Gold"/"In The Gloaming")
12-24-1925
New York, New York
Columbia
544-D
The Two Of Us
(Tom Stacks vocal)
9-10-1926
New York, New York
Columbia
766-D
There Must Be Somebody Waiting For Me (In Loveland)
(Tom Stacks vocal)
8-13-1929
New York, New York
Columbia
1936-D
Too Busy !
(Tom Stacks vocal in duet)


(Cohn / Miller)

6-14-1928
New York, New York
Columbia
1445-D
Under A Texas Moon


(Ray Perkins)

1-15-1930
New York, New York
Banner, Conqueror,
Domino, Regal,
Perfect, Pathe – American,
Apex – Canadian,
Angelus, Clifford,
Vocalion – Australian
Clicquot Club Eskimos
Watching The Clouds Roll By
(from "Animal Crackers")
(Tom Stacks vocal)


(Kalmar / Ruby)

11-5-1928
New York, New York
Columbia
147388
Where The Golden Daffodils Grow
2-20-1930
New York, New York
Oriole, Conqueror – American,
Kristall – German
Clicquot Club Eskimos
Broadway – American
The Collegians
Imperial – British
Missouri Jazz Band
Wings
(Tom Stacks vocal)
2-23-1928
New York, New York
Columbia
1322-D
You And I Love You And Me (intro. "Just Around The River From Queens")
(Tom Stacks vocal)
2-8-1927
New York, New York
Columbia
912-D
You Do Something To Me
12-17-1929
New York, New York
Domino, Perfect,
Pathe, Regal – American
Clicquot Club Eskimos
You've Got That Thing
12-17-1929
New York, New York
Perfect, Pathe,
Oriole, Regal – American,
Apex – Canadian
Clicquot Club Eskimos

| | |
| --- | --- |
| Artist | Instrument |
| Maurice Black | Brass Bass |
| Andy Bossen | Trumpet |
| Matthew Collen | Trombone |
| Joe Davis | Clarinet, Alto Saxophone |
| Clarence Doench | Clarinet, Tenor Saxophone |
| Scrappy Lambert | Vocals |
| Paul Redmond | Banjo |
| Harry Reser | Banjo, Leader, Arranger |
| Paul Rickenbach | Piano |
| The Strollers Quartet | Vocals |
| Tom Stacks | Drums, Vocals |

| | | |
| --- | --- | --- |
| Title | Director | Year |
| Harry Reser and His Eskimos | Roy Mack | 1936 |