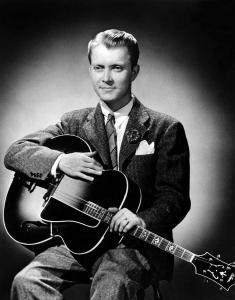 Eddie Condon took extremely few guitar solos in his career (all very early), did not sing after the 1920s, and only wrote a couple of songs and arrangements. But despite that, he was one of the most important figures in classic jazz.
Condon's talents were as an organizer, musical choreographer (although it was never called that), and propagandist for the music that he loved. He was expert at setting tempos and was a fine rhythm guitarist who, although barely audible to the audience, set a swinging rhythm that inspired his musicians.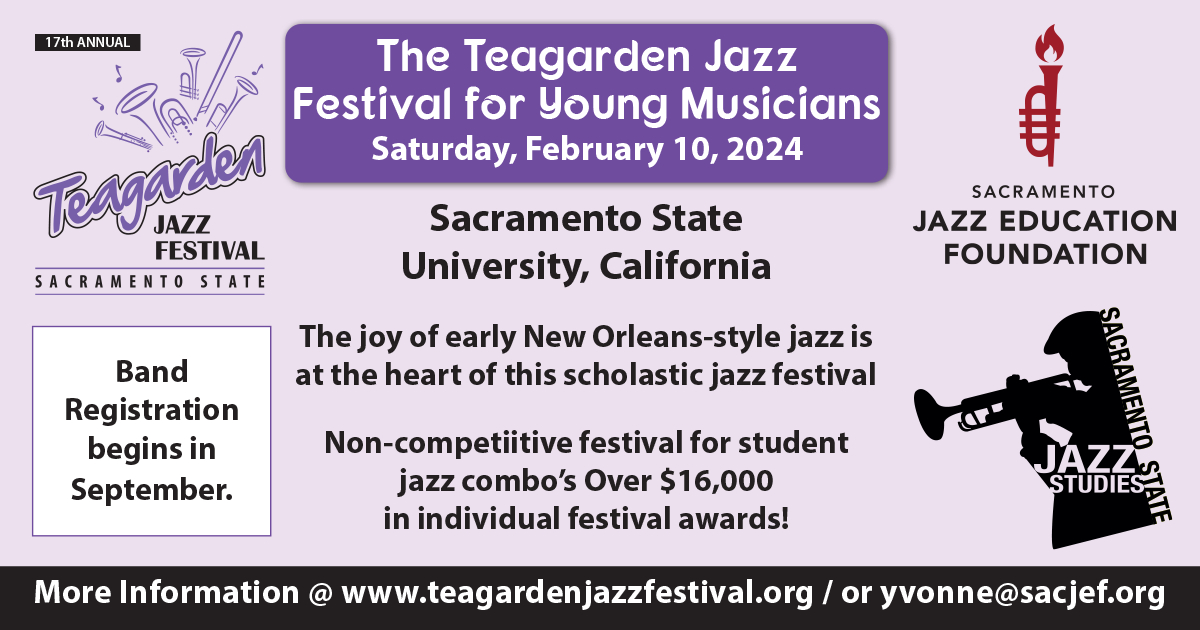 When faced with leading a 10-piece all-star band, he knew who to feature when and for how long, leaving everyone satisfied. Condon was a wise-cracking emcee with a love for his musicians, he was always great for publicists and the press with his quotes and quips, and he symbolized the hard-drinking, hard-driving music. Condon also helped form and formalize what came to be known as Dixieland even though he never liked the name.
Early Years
Albert Edwin Condon was born in Goodland, Indiana on November 16, 1905, growing up in Momence and Chicago Heights, Illinois. His first instrument was the ukulele, soon switching to banjo. He was playing professionally by 1921 when he was 15. Among his early gigs were strumming for Bill Engleman's group in Cedar Rapids (in September 1921), Hollis Peavey's Jazz Bandits, Bob Pacelli, Charlie Pearce, Charles "Murphy" Podolsky, Irving Rothschild, Roy Peach, Louis Panico, and Jack Gardner.
Condon was one of the Austin High Gang, young up-and-coming white musicians who went to the jazz clubs in Chicago, learning from King Oliver's Creole Jazz Band and the New Orleans Rhythm Kings. The group of upstarts included drummer Gene Krupa, clarinetist Frank Teschemacher, tenor-saxophonist Bud Freeman, cornetist Jimmy McPartland, and pianist Joe Sullivan, all of whom met and loved Bix Beiderbecke and Louis Armstrong.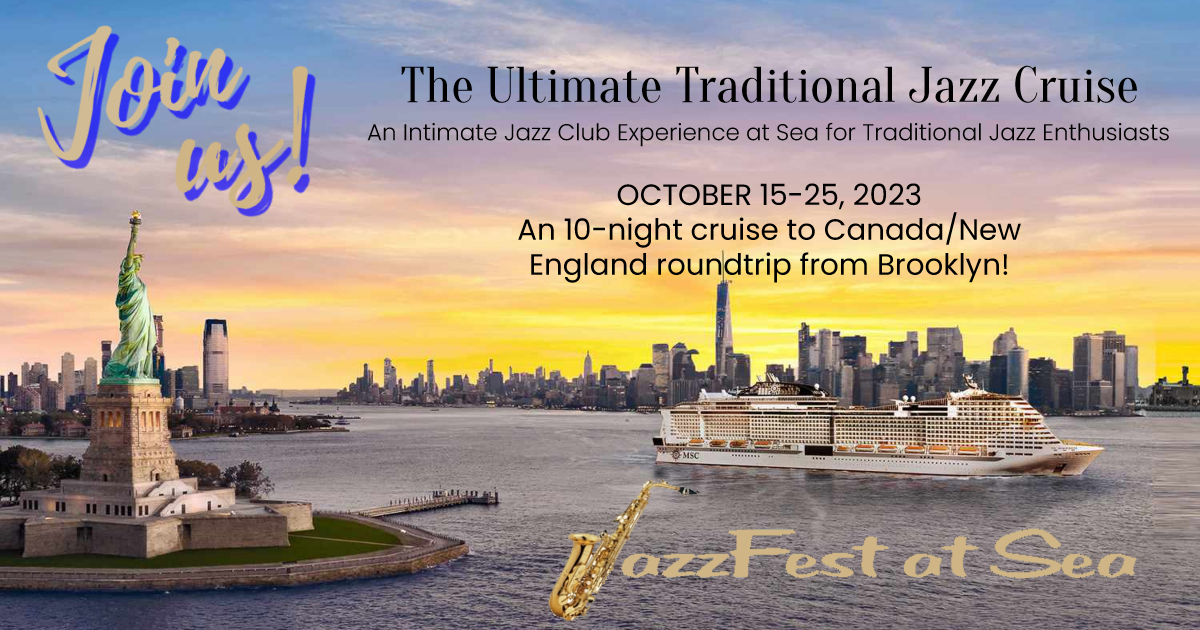 First Recordings
On December 8 and 6, 1927, Eddie Condon and the Austin High Gang had their first opportunities to record. As the McKenzie-Condon Chicagoans (co-led by singer-comb player Red McKenzie who is absent from the recordings) they cut versions of "Sugar," "China Boy," "Nobody's Sweetheart" and "Liza." The music, which featured highly individual soloists, hot ensembles and the feel of spontaneity, was later called "Chicago jazz." It was the beginning for Eddie Condon although it would be a decade before much of the public began to know his name.
Condon recorded a handful of hot numbers with the Chicago Rhythm Kings (a similar group as the Chicagoans but with Muggsy Spanier on cornet), the Jungle Kings, and Frank Teschemacher ("Jazz Me Blues") before following most of the Chicago gang to New York in May 1928. He became part of Red Nichols' Five Pennies and can be seen singing two numbers during a 1929 film short.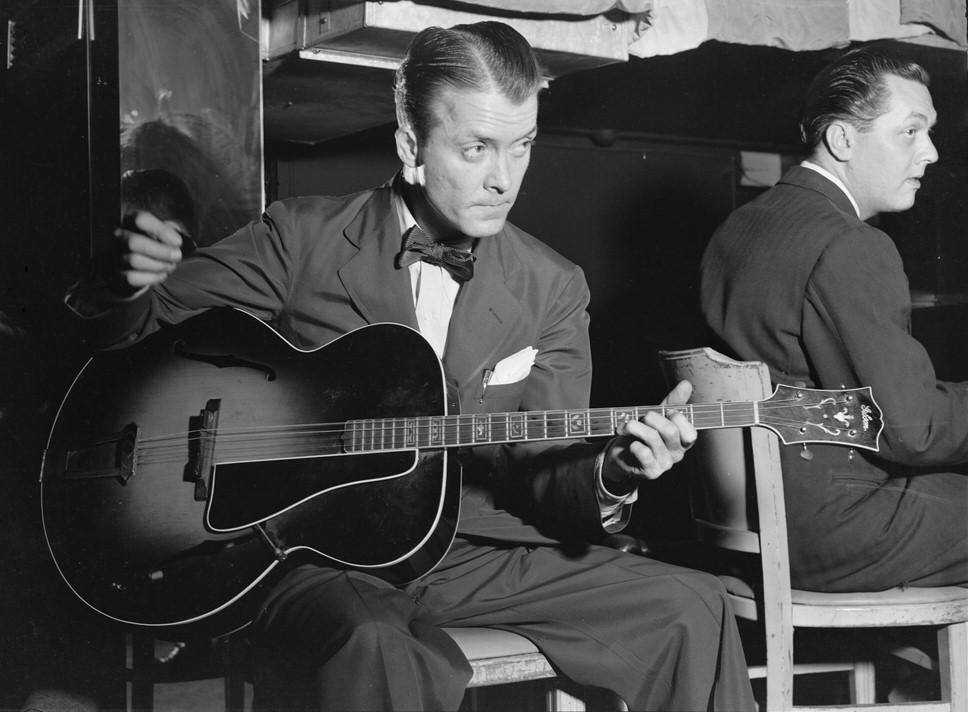 As a banjoist, Condon was on quite a few enjoyable record sessions during 1928-33 including leading three dates (featuring Jack Teagarden on "I'm Gonna Stomp Mr. Henry Lee" and "That's A Serious Thing," and Bud Freeman on "The Eel"), and on sets by Red McKenzie's Blue Blowers (including "Hello Lola" and "One Hour" which included Coleman Hawkins, Pee Wee Russell, and Glenn Miller), Miff Mole, Louis Armstrong ("Mahogany Hall Stomp"), Fats Waller, Billy Banks ("Oh Peter" and "Bugle Call Rag" with Henry "Red" Allen), Jack Bland, and Red Nichols. On the one number that exists from a December 1933 session with Red McKenzie, Condon can be heard playing rhythm guitar for the first time. From then on, his banjo mostly stayed in the closet.
Unlike many of his contemporaries, Eddie Condon did not spend the 1930s working with big bands. He somehow made it through the Depression years and the earliest period of the Swing era playing with pickup combos, in low-profile units, and in 1935 with the comedy band of Mike Reilly and Eddie Farley (who made "The Music Goes Round And Round" famous). 1936 found him freelancing on small-group swing dates including sessions by Bud Freeman, Bunny Berigan, Putney Dandridge, Tempo King and his Kings Of Tempo, pianist Dick Porter, and Sharkey Bonano. Condon co-led a group with clarinetist Joe Marsalis in 1936-37 and began working regularly as a leader at Nick's in New York in 1937.
The Commodore Years
Impressive as it was, all of this activity was just a prelude to the Eddie Condon story. In 1938 Condon began a very significant and prolific association with the new Commodore label and soon was also recording for Decca. The January 17, 1938 session with cornetist Bobby Hackett, trombonist George Brunies, Pee Wee Russell, Bud Freeman, pianist Jess Stacy, bassist Artie Shapiro and drummer George Wettling set the standard for what was to come with memorable versions of "Love Is Just Around The Corner," "Ja Da," and "Carnegie Jump.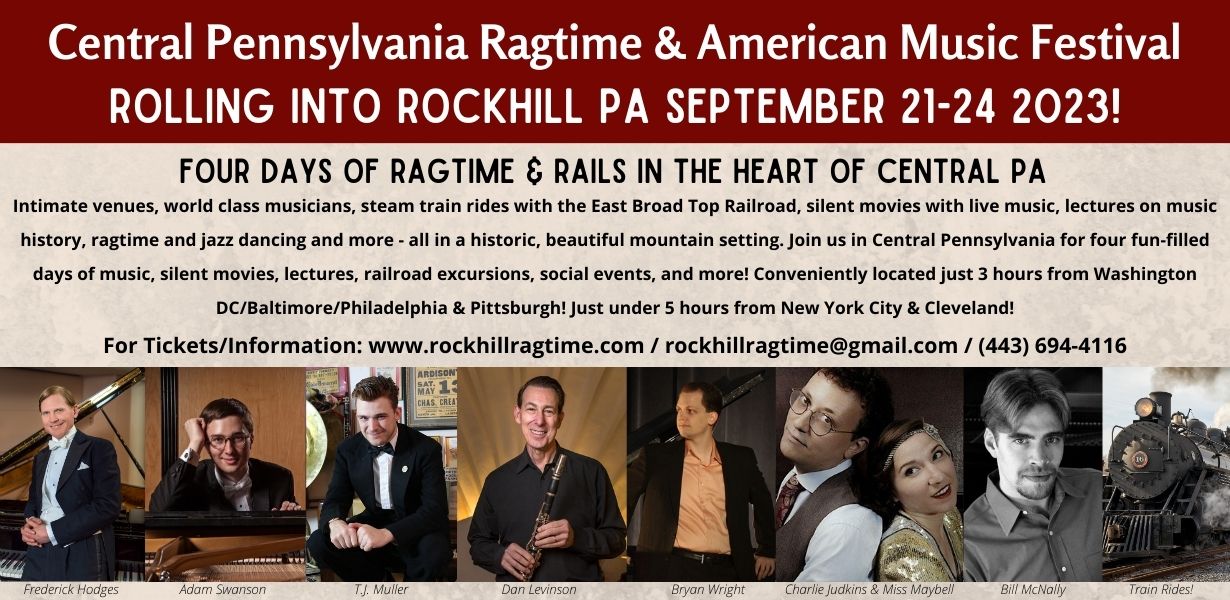 From that point on, Condon led his own freewheeling combos on record on a regular basis. His brand of "Chicago jazz" usually featured an opening ensemble, solos from a large assortment of colorful players (often backed by riffing from the other horns), and a couple of closing ensembles. While the music would soon be called Dixieland or, because it was featured at Nick's on a nightly basis, Nicksieland, Condon simply called it music; his first memoir was titled We Called It Music. The routines set by his bands became an influential force, fueling the Dixieland revival movement.
The musicians who Condon used not only always played in tune (unlike some of those in the revival bands) but they included many of the top musicians of the 1930s and '40s, some of whom also worked in big bands.
Among those who worked and recorded with Condon during the 1938-44 period were cornetists/trumpeters Bobby Hackett, Max Kaminsky, Marty Marsala, Billy Butterfield, and (starting in 1943) Wild Bill Davison, trombonists George Brunies, Jack Teagarden, Vernon Brown, Lou McGarity, and Benny Morton, valve trombonist Brad Gowans, clarinetists Pee Wee Russell and Edmond Hall, tenor-saxophonist Bud Freeman, baritonist Ernie Caceres, pianists Jess Stacy, Dave Bowman, Joe Bushkin, Joe Sullivan, and Gene Schroeder, bassists Artie Shapiro, Bob Haggart, and Bob Casey, drummers George Wettling, Dave Tough, Zutty Singleton, and Sid Catlett, and singer Lee Wiley; Fats Waller guested on some numbers. Each of these musicians had their own strong musical personalities which blended together during the often-riotous ensembles.
Town Hall Concerts
During 1944-45, Condon (playing what was called his "Americondon Music") and his all-star groups broadcast on a weekly half-hour program, the Town Hall Concerts. Fortunately all of the 46 broadcasts have been reissued on 23 volumes (10 double CDs and a triple-disc set) by Jazzology.
These shows are remarkable not just for the consistent excellence of the music but for the way that Condon managed to feature all of the key members of his large ensembles. A typical program, from December 16, 1944, had the guitarist showcasing seven different horn players (Hackett, Kaminsky, and Dick Cary on trumpets, Teagarden, Russell, Sidney Bechet on soprano, and Caceres), pianist Schroeder and Lee Wiley; every performer is heard from during the 30 minutes. In addition to the Condon regulars, such illustrious guests as trumpeters Hot Lips Page, Wingy Manone, and Yank Lawson, trombonists Miff Mole and Tommy Dorsey, clarinetists Jimmy Dorsey and Woody Herman, and pianists James P. Johnson and Cliff Jackson clearly enjoyed being on the programs.
Condon at Condon's
Nationally famous, Eddie Condon opened his nightclub Condon's in 1945. It would be at three different locations in New York before closing in 1967, and there would be a fourth Condon's in the 1970s after his passing. In 1948 Condon wrote his first (and best) of his three memoirs, We Called It Music. For a year during 1948-49, he hosted a regular television series, The Eddie Condon Floor Show. While tapes of many of the performances have been issued on albums, unfortunately no films of the programs have ever been discovered.
Eddie Condon stayed busy during the 1950s, running his club, recording a series of excellent LPs for Columbia (which, as with his Commodore and Decca recordings, have been released on limited-edition box sets by the Mosaic label), and appearing at jazz festivals including Newport.
Among the later all-stars who joined the world of Condon were cornetist Rex Stewart, clarinetists Peanuts Hucko and Bob Wilber, trombonist Cutty Cutshall, pianist Ralph Sutton, bassist Walter Page and drummer Cliff Leeman. The revival of interest in Dixieland resulted in many amateur bands playing a repertoire that overlapped with Condon's, but Eddie Condon's recordings and nightly performances outshone the competition. It was said that at Condon's (particularly when Wild Bill Davison was in the band), "every night was like New Year's Eve." Condon saw no need to modernize his music, once saying that "The beboppers play flatted fifths: we drink them."
Eddie Condon and his groups made occasional television appearances through the years, some of which can be found on You Tube. 1961's Chicago And All That Jazz (which teams Condon in a reunion with McPartland, Teagarden, Russell, Freeman, and Krupa) was released as a DVD as was a special sponsored by Goodyear Tires that has him leading a group with Wild Bill Davison, Cutshall, and Hucko.
Slowing Down
Inevitably, due to age and many of his top sidemen having their own solo careers, things slowed down for Condon in the 1960s. A 1964 tour of Australia with a group that included trumpeter Buck Clayton, trombonist Vic Dickerson, and singer Jimmy Rushing was one of his last hurrahs. There were no recordings at all during 1965-67 although Jazzology and Fat Cat Jazz continued to document Condon during 1968-71. His final recording, a Chiaroscuro album from 1972 called Live At The New School, had Condon playing some of his favorite songs with Wild Bill Davison, Kenny Davern on soprano, pianist Dick Wellstood and Gene Krupa.
Eddie Condon retired soon after that recording, passing away on August 4, 1973 at the age of 67. To the very end he stood up for the music that he believed in, made witty comments, and avoided taking any solos.