Ricky Riccardi, director of research collections for the Louis Armstrong House Museum and author of What a Wonderful World: The Magic of Louis Armstrong's Later Years, is considered the 21st century's foremost authority on Louis Armstrong.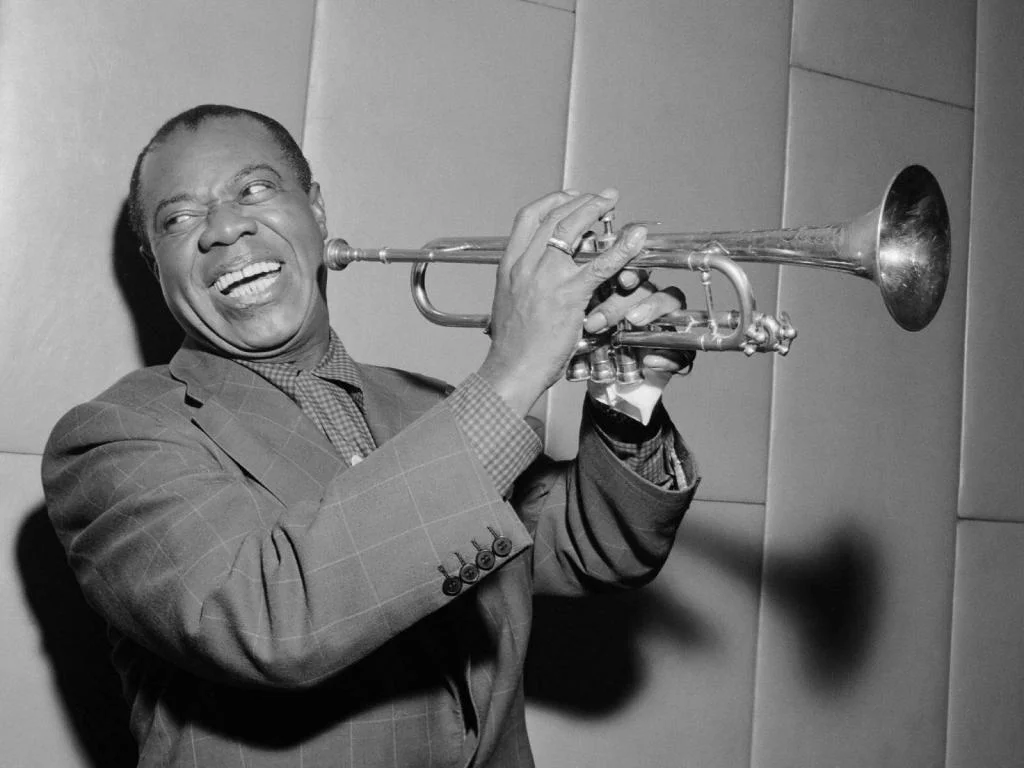 He was asked by Jazz at Lincoln Center to create a playlist of 20 essential Armstrong recordings, covering Louis Armstrong's full career from his early days as a sideman in the 1920s to the late masterpieces that have cemented his immortal status. "Culling the list down to 20 is the hardest thing I have ever done," he says.
His final document, with the rationale for selecting each tune, consumes 16 pages and can be found at tinyurl.com/armstrongin20. In the interest of space, the following summaries highlight his take on each of the 20 recordings.
Eva Taylor is the vocalist, with leader Clarence Williams on piano and Sidney Bechet on soprano sax. "Bechet seized the spotlight until the 2:12 mark when Armstrong hits an angry note, asserting his presence. For the next minute, Armstrong swarms Bechet with an endless torrent of fiery playing, including a pair of dazzling, mind-bending breaks. Bechet is barely heard for the rest of the performance."
2. Potato Head Blues
Louis Armstrong & His Hot 7 (Okeh, 1927)
Armstrong began making records under his own name and assembled a studio group made up of his wife Lil on piano and three elders from his New Orleans days: trombonist Kid Ory, clarinetist Johnny Dodds and banjoist Johnny St. Cyr. "Because of their familiarity with each other, the Hot 5 represented some of the finest examples of the traditional ensemble-based New Orleans style ever captured on record. When it came to taking improvised solos, Armstrong was light years ahead of his contemporaries in every way: command of his instrument, harmonic knowledge, a swinging rhythmic feel, and simply put, the ability 'to tell a story.'"
3. Hotter Than That
Louis Armstrong & His Hot 5 (Okeh, 1927)
"Here the New Orleans ensemble sound is mostly gone, and it is now a string of solos from start to finish. We hear Armstrong's distinctive voice for the first time in a stunning display of scat singing. (Armstrong had put scat on the map with his 1926 record of 'Heebie Jeebies' and now turns 'nonsense singing' into high art.) Armstrong's playing was now simulated by younger contemporaries who grasped his concept on how to solo and how to swing. Having transformed jazz from ensemble-based music into a soloist's art, Armstrong bid adieu to the original Hot 5 shortly after this session."
4. West End Blues 
Louis Armstrong & His Hot 5 (Okeh, 1928)
"Armstrong began recording with a brand new Hot 5 made up of younger musicians he was regularly playing with in Chicago, chief of them being pianist Earl 'Fatha' Hines and drummer Zutty Singleton, here playing the hand-cymbals. Using a simple blues written by his mentor, Joe 'King' Oliver as a framework, Armstrong created a miniature masterpiece. The opening unaccompanied cadenza, fueled by the trumpeter's love of opera, might well be the most famous 12 seconds in jazz."
5. Ain't Misbehavin'
Louis Armstrong & His Orchestra (Okeh, 1929)
"The Hot 5s and 7s are the most influential recordings in jazz history, but to Armstrong, they represented a little over a dozen recording dates in a span of three busy years. Working relentlessly in Chicago, he was perfecting not only his trumpet playing, but also his singing, scatting, showmanship and overall stage presence. He was destined to be a star and got that chance in 1929 when he was featured on the Fats Waller-Andy Razaf song, 'Ain't Misbehavin'' in the Broadway reveue, Connie's Hot Chocolates."
6. I'm a Ding Dong Daddy (from Dumas)
Louis Armstrong & His Sebastian New Cotton Club Orchestra (Okeh, 1930)
"After a successful run on Broadway, Okeh moved Armstrong's recordings from their 'race' series to their general 'pop' category. Armstrong began touring the country as a leader, often fronting different bands from city to city. He ended up in California, making Sebastian's Cotton Club his base. He took over Leon Elkins's orchestra with two future stars in it: trombonist Lawrence Brown and drummer/vibraphonist Lionel Hampton, and made some of his greatest recordings. He was extending the range of the trumpet, not only just playing high notes, but playing them in a powerful, firm, golden tone."
7. Stardust
Louis Armstrong & His Orchestra (Okeh, 1931)
"Okeh found great success by having Armstrong put his own unique spin on the tunes of the day. 'Stardust' was one of the most popular songs of the period and one of the most recorded of the century, but there's not another version quite like Armstrong's. Over an insistent, almost hypnotic beat, Armstrong turns Hoagy Carmichael's melody into his own rhapsody, getting particularly operatic towards the end. It's the vocal where Armstrong's genius really shines, boiling the melody down to a single pitch in many places and bolstering Mitchell Parish's poetic lyrics with a series of mumbles, grunts and moans that somehow never disrupt the mood of the text. If you ask me to create a playlist of just one essential Louis Armstrong recording, this would be the one."
"After recording definitive treatments of so many current pop songs, it was only a matter of time before the artisans of Tin Pan Alley began looking to Armstrong for inspiration in crafting their latest songs. On this Harold Arlen tune, the vocal fits him like a glove, but it's the trumpet that commands attention. Confronted with a two-bar break leading into his solo, he hits a single note, perfectly placed and with enough vibrato that it appears to swing. Barely 32 years old, Armstrong has discovered that less is more, heralding a stylistic change that required a deeper focus on tone, an even more extended range, and a singable sense of lyricism, all carried off by an almost inhuman amount of endurance and made to sound easy. It's not."
9. Laughin' Louie
Louis Armstrong & His Orchestra (Victor, 1933)
"This might seem like a bizarre choice, but it's another one I would select for someone if they wanted to understand the totality of Louis Armstrong. We know he's a great trumpeter and a great singer, but his comic ability is something about which jazz purists have been uncomfortable for decades. Armstrong didn't apologize for it; he knew he was funny and was starting to use it in motion pictures. A natural actor, he got emotional responses from his audience, and this tune covers the gamut from laughter to tears."
"Armstrong embarked on a tour of Europe where he was treated like a god in many places. But his fabled chops gave out in England, and he had to take six months off to recuperate. When he returned to the United States in 1935, he no longer had a band or a record contract. With the help of new manager Joe Glaser, Armstrong began fronting Luis Russell's big band, obtained a record contract with Decca, and soon became a mainstay in films and on radio, as well as a box office sensation, breaking Benny Goodman's record at the Paramount Theater in New York City in 1937. On this remake of a Hot 5 classic, with an imaginative new arrangement, Armstrong's chops had more than healed as he soars in the final two choruses, hitting high note after high note, and more importantly, holding them, creating a masterful solo few could pull off even today."
"Armstrong's Decca period yielded not only many classic recordings, but also the opportunity to hear him in a variety of settings: with his big band, small groups, a reunion with Sidney Bechet, with Hawaiian musicians, a choir, etc. Armstrong now had a sizeable backlog of hits, and Decca did their best to record new versions of songs he first introduced in the 1920s and early 30s. He first recorded 'Sleepy Time Down South' in 1931, and it immediately became his theme song. This 1941 Decca recording is strictly an instrumental and is my all-time favorite recording of the song by any artist."
12. Rockin' Chair
Louis Armstrong & His All Stars (Town Hall concert, NYC, 1947)
By 1947, the Swing Era had come to an end, making it harder for Armstrong to make ends meet leading a big band. Promoter Ernie Anderson wished Armstrong would return to his small group roots and paid Joe Glaser for Louis to perform a one-night engagement at New York's Town Hall backed by some of the finest musicians of the era. (Jack Teagarden, Bobby Hackett, Peanuts Hucko, Dick Cary, Bob Haggart, and 'Big Sid' Catlett). The result was one of the most famed concerts in jazz history, one which definitely reshaped the direction of his career and led to the formation of Louis Armstrong & his All Stars."
"The first edition of the All Stars was captured in scintillating form at Boston's Symphony Hall. Armstrong chose many old favorites to perform, including 'Black and Blue,' which he originally recorded in 1929 and which turned into what is now known as the first protest song. A new, more complex form of jazz known as bebop had sprung up, populated by musicians who admired Armstrong's trumpet-playing, but were embarrassed by his use of showmanship. Many of these musicians criticized Armstrong in the jazz press, which hurt him because he had broken down numerous barriers for his race and had several highly-publicized outbursts about racial injustice. Armstrong is still not given enough credit in some circles for his role as a civil rights pioneer."
"In 1949, Armstrong was back with Decca after a few years with RCA Victor. With Milt Gabler supervising his recordings, Armstrong embarked on a string of covers of then-current hits, much as he did for Okeh in the early 1930s. The results were some of the most popular recordings of his career ('Blueberry Hill,' 'La Vie En Rose,' 'A Kiss to Build a Dream On'). Gabler also realized Armstrong was a natural duet partner and was the first to team him up with Ella Fitzgerald. Possessing the most different voices imaginable, the two intermingle sublimely, trading scat obbligatos and teaming up for some heavenly duetting at the end, backed by Sy Oliver's Orchestra."
15. St. Louis Blues
Louis Armstrong & His All Stars (Columbia, 1954)
"Though Armstrong was selling more records than ever before in the early 1950s, Columbia Records producer George Avakian was unhappy with his Decca output. Avakian wanted him to spend less time covering the hits of Frankie Laine and Tony Martin and more time recording no-frills jazz with the All Stars. He got his wish in the mid-50s with a series of recordings that are undeniable highlights of Armstrong's entire recording output. The first, Louis Armstrong Plays W.C. Handy, is, in my opinion, his finest album, opening with this nearly nine-minute version of St. Louis Blues." The All Stars included Trummy Young (trombone), Barney Bigard (clarinet), Billy Kyle (piano), Arvill Shaw (bass), Barrett Deems (drums), and Velma Middleton (vocals).
16. Blue Turning Grey Over You
Louis Armstrong & His All Stars (Columbia, 1955)
"For a follow-up, Avakian selected a program of music written by Armstrong's old pal, Thomas 'Fats' Waller, which proved to be another critical and commercial success and highlighted Armstrong's mastery of ballads in this part of his career. He originally recorded this song in 1930 with Luis Russell's big band, a fine performance, though one marred a bit by Armstrong's somewhat nervous energy. On the 1955 version, the tempo slowed down to a crawl, and it's Armstrong's show from start to finish: the gentle, muted opening chorus, the deeply-felt vocal, and the final, passionate, open-trumpet statement."
17. When You're Smiling
Satchmo: A Musical Autobiography (Decca, 1956)
"Armstrong was feeling his oats in 1956, telling Voice of America, "'I'm playing better now than I've ever played in my life.' As if to prove it, he embarked on one of the most ambitious and challenging projects of his career: a 4-LP Decca set that found him recreating his triumphs from the 1920s and early 1930s. Critics by this point thought Armstrong was nothing more than a clown who had 'gone commercial', but he proved them wrong on Autobiography, the definitive showcase of his awesome trumpet-playing abilities in the 1950s."
18. Mahogany Hall Stomp 
Louis Armstrong & His All Stars (Newport Jazz Festival, 1957)
"By the mid-1950s, Louis Armstrong was achieving new peaks of popularity, and his All Stars were busier than ever, routinely performing 300 nights a year and becoming quite a sensation overseas. These were the years Armstrong led his most exciting edition of the All Stars. Trombonist Trummy Young, pianist Billy Kyle and drummer Barrett Deems had already been a potent team, but the missing ingredient was clarinetist Edmond Hall, a New Orleans native with an aggressively incendiary tone. The Armstrong-Young-Hall frontline was Armstrong's greatest, showcased here at the 1957 Newport Jazz Festival. It's in the ensembles where the temperature really rises, everyone pushed along by Squire Gresh's propulsive bass."
19. Azalea
Louis Armstrong & Duke Ellington (Roulette, 1961)
"A heart attack in 1959 temporarily slowed Armstrong down, but he was right back to touring at a grueling pace in the 1960s. 'Azalea' is from Armstrong's sessions with Duke Ellington, who wrote the tune decades earlier with Armstrong in mind, but it never got off the ground with any of Duke's vocalists. For their 1961 collaboration, Ellington sprung it on Armstrong in the studio. Always a quick study, it didn't take long before the two old icons turned in this masterful take. Armstrong's trumpet takes the melody with a more burnished, but still golden, tone before he sings Ellington's wistful lyrics with great warmth. Mature, challenging, life-affirming music from two immortals."
20. What a Wonderful World
Louis Armstrong's Orchestra & Chorus (ABC-Paramount, 1967)
"In a recording career that spanned 48 years, it's almost hard to believe that a song with no trumpet and a melody based on 'Twinkle Twinkle Little Star' is Louis Armstrong's best-loved song. His heartfelt interpretation is indicative that the song clearly meant a lot to him. 'There's so much in "Wonderful World" that brings me back to my neighborhood where Lucille and I have lived since we were married. Everyone keeps their little homes up like we do, and it's just like one big family. I saw three generations come up on that block. It is a wonderful world!'"
---
When Ricky Riccardi had to cull his list down to 20 essential Armstrong recordings, he admits he winced when he had to eliminate the following five tunes: "Beau Koo Jack" (1928), "Swing That Music" (1936), "A Kiss to Build a Dream On" (1951), "You Rascal You" (with Louis Jordan (1950), and "Hello, Dolly! (1964).
---
Edited by senior Syncopated Times reporter Lew Shaw for the August 2017 issue.