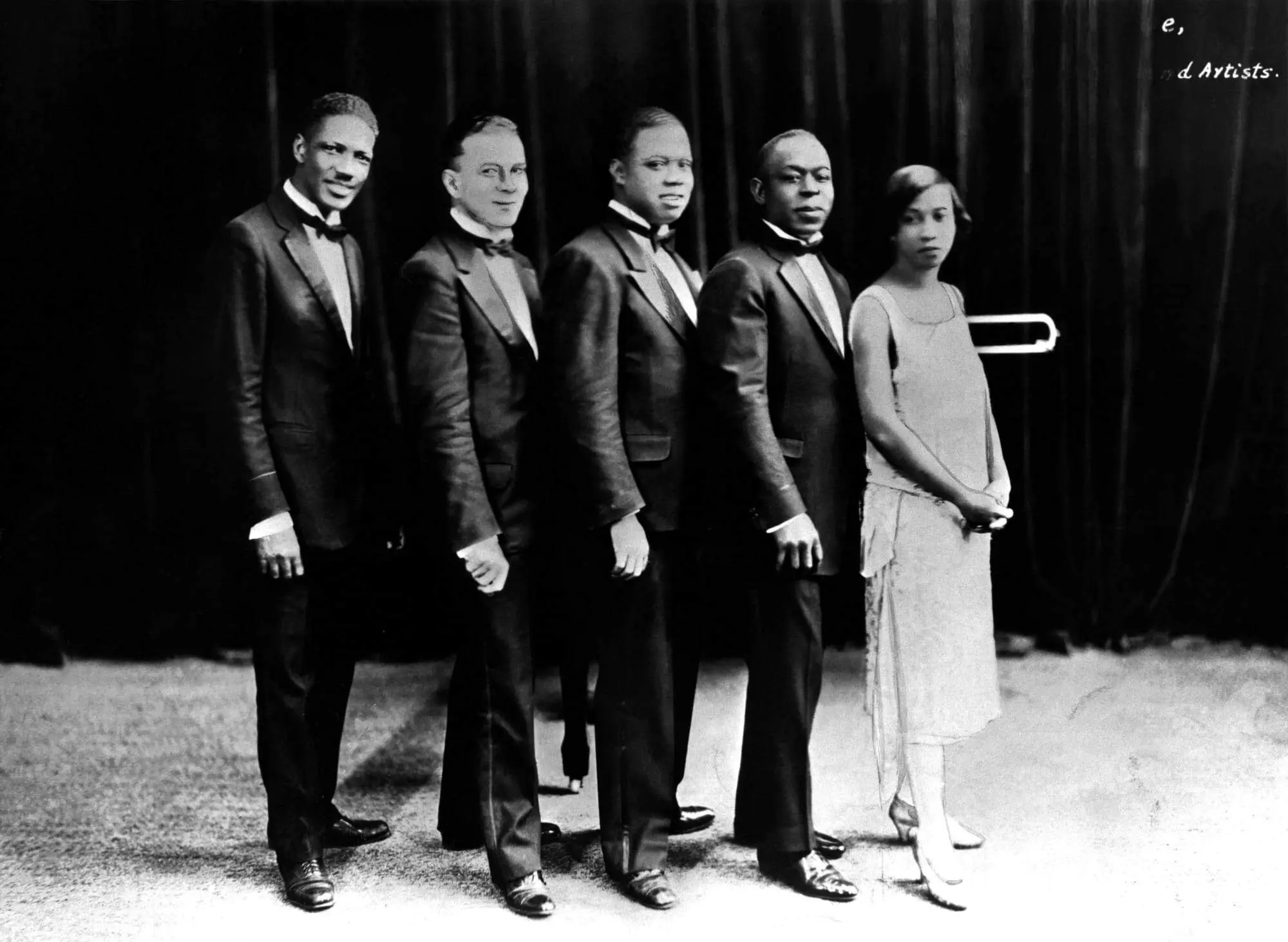 The music of the Hot Five and the Hot Seven is considered by most critics to be among the finest recordings in Jazz history.
On November 12th, 1925 Louis Armstrong made his first records that bore his name as bandleader. The songs on the Okeh 78 rpm record were "My Heart", and "Cornet Chop Suey". The band was made up mostly of musicians from King Oliver's Creole Jazz Band. The first version of the band featured Johnny Dodds on clarinet, Kid Ory on trombone, Johnny St. Cyr on banjo and Louis's wife, Lil Hardin-Armstrong on piano.
These were informal settings that all concerned remember as a good time. Louis picked all the musicians that he wanted to play on the sessions and the record company generally left them alone to do what they wanted. The song "Heebie Jeebies" is generally the first recorded example of scat singing, although there are several examples on records that predate this recording. On the December of 1927 sides Lonnie Johnson joins the band for three tracks, "I'm Not Rough", "Hotter Than That", and "Savoy Blues". Earl Hines plays piano on all of the 1928 sessions, and the beautiful celeste parts on "Basin Street Blues".

Title

Recording Date

Recording Location

Company

A Monday Date


(Earl Hines)

7-27-1928
Chicago, Illinois
Okeh
8609
Basin Street Blues


(Spencer Williams)

12-4-1928
Chicago, Illinois
Okeh
8690
Big Butter and Egg Man
Vocal Chorus By May Alix


(Percy Venable / 

Louis Armstrong

)

11-16-1926
Chicago, Illinois
Okeh
8423-A
Big Fat Ma And Skinny Pa
Vocal Chorus by Louis Armstrong


(Richard M. Jones)

6-23-1926
Chicago, Illinois
Okeh
8379-A
Come Back Sweet Papa


(Paul Barbarin / Luis Russell)

2-22-1926
Chicago, Illinois
Okeh
8318-B
Cornet Chop Suey
((Louis Armstrong)
2-26-1926
Chicago, Illinois
Okeh
8320-A
Don't Forget To Mess Around
Vocal Chorus by Louis Armstrong
(Paul Barbarin)
2-26-1926
Chicago, Illinois
Okeh
8343-A
Dropin' Shucks
Vocal Chorus by Louis Armstrong


(

Lil Hardin)

6-16-1926
Chicago, Illinois
Okeh
8357
Fireworks


(Spencer Williams)

7-27-1928
Chicago, Illinois
Okeh
8597
Georgia Grind
Vocal Chorus by Louis Armstrong and Lillian Armstrong


(Spencer Williams)

2-26-1926
Chicago, Illinois
Okeh
8318-A
Got No Blues


(

Lil Hardin)

12-9-1927
Chicago, Illinois
Okeh
8551
Gut Bucket Blues


(Louis Armstrong)

11-12-1925
Chicago, Illinois
Okeh
8261-A
He Like It Slow
Vocal Duet Butterbeans and Susie


(W. Benton Overstreet)

7-18-1926
Chicago, Illinois
Okeh
8355-B
Heebie Jeebies
Vocal Chorus by Louis Armstrong


(Boyd Atkins)

2-26-1926
Chicago, Illinois
Okeh
8300-A
Hotter Than That


(Lil Hardin)

12-13-1927
Chicago, Illinois
Okeh
8535
I'm Gonna Gitcha
Vocal Chorus by Louis Armstrong


(Lil Hardin)

6-16-1926
Chicago, Illinois
Okeh
8343-B
I'm Not Rough


(Lil Hardin / Louis Armstrong)

12-10-1927
Chicago, Illinois
Okeh
8551
Irish Black Bottom


(Percy Venable)

11-27-1926
Chicago, Illinois
Okeh
8447-B
Jazz Lips


(Lil Hardin / Louis Armstrong / S. Robbin)

11-16-1926
Chicago, Illinois
Okeh
8436
Knee Drops


(Lil Hardin)

6-29-1928
Chicago, Illinois
Okeh
8631
Lonesome Blues
Vocal Chorus by Louis Armstrong


(Lil Hardin)

7-23-1926
Chicago, Illinois
Okeh
8396-B
Okeh
41581
Muskrat Ramble


(Kid Ory)

2-26-1926
Chicago, Illinois
Okeh
8300-B
My Heart


(Lil Hardin)

11-12-1925
Chicago, Illinois
Okeh
8320-B
No Papa No


(Victoria Spivey)

6-29-1928
Chicago, Illinois
Okeh
8690
Once In A While


(Butler)

12-10-1927
Chicago, Illinois
Okeh
8566
Oriental Strut


(Johnny St. Cyr)

2-26-1926
Chicago, Illinois
Okeh
8299-B
Ory's Creole Trombone


(Kid Ory)

9-2-1927
Chicago, Illinois
Okeh
8503
Put 'Em Down Blues


(E. Bennett)

9-2-1927
Chicago, Illinois
Okeh
8503
Savoy Blues


(Kid Ory)

12-13-1927
Chicago, Illinois
Okeh
8535
Skid-Dat-De-Dat
Scat Chorus by Louis Armstrong


(Lil Hardin)

11-16-1926
Chicago, Illinois
Okeh
8436
Skip The Gutter


(Spencer Williams)

7-27-1928
Chicago, Illinois
Okeh
8631
Squeeze Me


(Clarence Williams / Thomas Waller)

6-29-1928
Chicago, Illinois
Okeh
8641
Struttin' With Some Barbecue


(Lil Hardin)

12-9-1927
Chicago, Illinois
Okeh
8566
Sunset Cafe Stomp
(From "Sunset Cafe Revue")
Vocal Chorus By May Alix


(Percy Venable / 

Louis Armstrong

)

11-16-1926
Chicago, Illinois
Okeh
8423-B
Sweet Little Papa


(Kid Ory)

6-23-1926
Chicago, Illinois
Okeh
8379-B
The King Of The Zulus
(At A Chit' Lin' Rag)
Talk by Clarence Babcock


(Lil Hardin)

6-23-1926
Chicago, Illinois
Okeh
8396-A
Okeh
41581
Two Deuces


(Lil Hardin)

6-29-1928
Chicago, Illinois
Okeh
8641
West End Blues


(King Oliver)

7-28-1928
Chicago, Illinois
Okeh
8597
Okeh
41078
Who' Sit


(Richard M. Jones)

6-16-1926
Chicago, Illinois
Okeh
8357
You Made Me Love You


(Percy Venable / 

Louis Armstrong

)

11-27-1926
Chicago, Illinois
Okeh
8447-A
You're Next


(Louis Armstrong)

2-26-1926
Chicago, Illinois
Okeh
8299-A
Yes! I'm In The Barrel


(Louis Armstrong)

11-12-1925
Chicago, Illinois
Okeh
8261-B