Joseph "King" Oliver: Profiles in Jazz:
One of the most important of the New Orleans jazz pioneers, cornetist Joe "King" Oliver is perhaps best remembered today for leading the best jazz band of 1923 and for his connection with Louis Armstrong. However, there was much more to the King Oliver story than that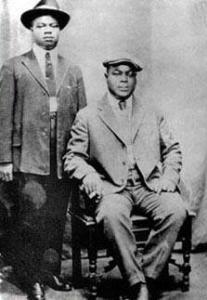 King Oliver was born May 11, 1885 in Abend, Louisiana, and was raised in New Orleans. He grew up around music, originally took up the trombone, and as a young teenager switched permanently to the cornet. He heard the greats of his time including the first cornet kings: Buddy Bolden, Manuel Perez, and Freddie Keppard. One of his first musical jobs was with Walter Kinchin's Melrose Brass Band but he also had a day job for a time as a butler. By 1907 Oliver was mostly playing full time and during the next decade he performed with the who's who of New Orleans jazz, working with the Olympia Band, the Onward Brass Band, the Magnolia Band, the Eagle Band, The Original Superior Band, Allen's Brass Band, and Richard M. Jones' Four Hot Hounds among many others. The most prestigious job was playing with Kid Ory's band which was considered the finest jazz group in the Crescent City. He gained the lifelong title of "King" after he defeated both Freddie Keppard and Manuel Perez in cornet battles. A popular figure in New Orleans, Oliver became a father figure to the young Louis Armstrong who was most impressed by how he carried himself and the way that he led ensembles.
The closing of the Storyville district in 1917, the gradual exodus of New Orleans musicians up North, and the unrelenting racism of the South convinced Oliver that it was time to leave New Orleans in 1919. He had two job offers in Chicago and for a time worked with the bands of clarinetist Lawrence Duhe and bassist Bill Johnson. He eventually took over Duhe's group which was renamed King Oliver's Creole Jazz Band. His unit, which featured clarinetist Johnny Dodds, trombonist Honore Dutrey, and pianist Lil Hardin, worked in Chicago clubs, mostly at the Dreamland Café. In the summer of 1921, he took the band to the West Coast where they played in San Francisco, Oakland, and briefly in Los Angeles.
After returning to Chicago in 1922, the Creole Jazz Band was based at the Royal Gardens which was soon renamed the Lincoln Gardens. Feeling prosperous and thinking that a second cornetist would add excitement to his group, Oliver sent to New Orleans for the 21-year old Louis Armstrong. He thought highly of the youth who he had recommended three years earlier as his successor with Kid Ory's group. His suspicions were correct for the interplay between the two cornetists, who were able to create perfectly harmonized breaks while they playing onstage, amazed audiences which were often filled with young musicians. With the group also including Dutrey, Dodds, Hardin, banjoist Bud Scott, and drummer Baby Dodds, the Creole Jazz Band made their recording debut on April 6, 1923. Not only did they prove to be the best jazz group on records that year, but they were the best in jazz history up to that point, topping the performances of the Original Dixieland Jazz Band and the New Orleans Rhythm Kings.
Buddy Bolden and Manuel Perez never recorded and Freddie Keppard only appears on a handful of worthwhile performances. While one cannot hear King Oliver when he was the pacesetter of New Orleans in 1915, his recordings of 1923-31 (starting when he was 37) display a strong musical legacy. Oliver, who was more flexible than most cornetists of his generation, was masterful at bending notes and was one of the first to be expert at using plunger mutes. He was able to create a variety of wa-wa sounds and could even imitate a baby crying. His tonal distortions inspired Bubber Miley, Tommy Ladnier, and Muggsy Spanier among others. Even Paul Mares, the leader of the New Orleans Rhythm Kings, modestly said that he got his style from Oliver. Strangely enough, Louis Armstrong (who would praise Oliver's playing and inspiration throughout the rest of his life) never really sounded like him and already by 1923 was quickly developing his own style.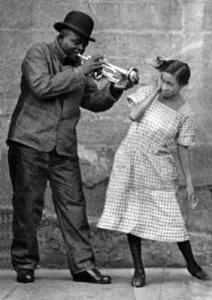 In 1923, King Oliver's Creole Jazz Band recorded 37 performances, setting the permanent standard for ensemble-oriented New Orleans jazz groups. Recording for the Gennett, Okeh, Columbia and Paramount labels, their output included such classics as two versions of "Dippermouth Blues," (which is highlighted by Oliver's much-emulated three-chorus solo), "Canal Street Blues," "Sobbin' Blues," "Snake Rag," "Froggie Moore," "Jazzin' Babies Blues," "Riverside Blues," and "Buddy's Habits." Nearly two decades later, Lu Watters' Yerba Buena Jazz Band would take the Creole Jazz Band as its original musical model, but there was no topping the original.
Despite its success, the Creole Jazz Band made no recordings the following year and did not survive 1924. A money dispute resulted in Johnny and Baby Dodds departing. Lil Hardin, who had married Louis Armstrong, convinced him that he had surpassed his hero and that he should go out on his own, accepting an offer to join Fletcher Henderson in the fall. Bob Shoffner and Tommy Ladnier were short-term replacements for Armstrong, but when business declined at the Lincoln Gardens, Oliver was given his notice and the band broke up. King Oliver only appeared on two record dates in 1924: a session with the vaudeville team Butterbeans & Susie and two fascinating duets ("King Porter Stomp" and "Tom Cat Blues") with his friend, pianist Jelly Roll Morton.
After a few months working as a featured soloist with Peyton's Symphonic Syncopators, in February 1925, Oliver formed the Dixie Syncopators to play regularly at Chicago's Plantation Café. He recorded blues dates accompanying Ida Cox and Sippie Wallace in 1925 and the following year began a series of exciting sessions with the Dixie Syncopators. The ten-piece group that he led for the March 11, 1926 recordings includes such notables as trombonist Kid Ory, clarinetist Albert Nicholas, Barney Bigard (on tenor and clarinet), and a rhythm section with pianist Luis Russell, who would eventually use some of the musicians as the nucleus for his own orchestra in 1929. Musicians on some of the later sessions by this group included Stump Evans on soprano and alto, clarinetists Darnell Howard and Omer Simeon, and drummer Paul Barbarin.
While some of the Dixie Syncopators' recordings find the many horn players overwhelming the recording equipment a bit, the results are generally quite rewarding. Oliver takes a famous cornet break on "Snag It" (one quoted by countless others for decades), slightly modernizes "Dippermouth Blues" as "Sugar Foot Stomp," and performs such numbers as "Doctor Jazz" (his composition which Jelly Roll Morton would make famous), "Too Bad," and "Deep Henderson." The mixture of written arrangements with jammed ensembles and heated solos works quite well. In addition, along with some of his sidemen, the busy cornetist accompanied Teddy Peters and Irene Scruggs on a couple of blues dates.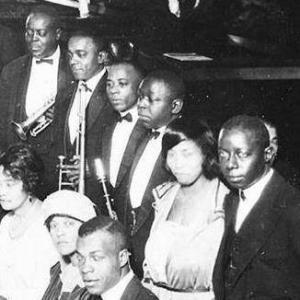 In the summer of 1927, Oliver took his Dixie Syncopators on a tour of the Midwest and then decided to follow many of his fellow musicians and relocate to New York which was in the process of replacing Chicago as the center of jazz. At 42, Oliver was at the peak of his powers and seemed to be in a good position to have a prosperous career. However he started off by making a major mistake. While his group was playing at the Savoy Ballroom, he was offered a long-term contract with the Cotton Club. Oliver did not feel that he was being offered enough money and he turned it down; Duke Ellington soon got the job and become famous due to the elaborate stage shows and the regular radio broadcasts. In contrast, the Savoy Ballroom job did not last long and after it ended the Dixie Syncopators broke up.
Due to his friendship with pianist-bandleader Clarence Williams, Oliver appeared on a variety of record dates in 1928 including with Williams ("Bozo" and "Bimbo" are highpoints) and a few sessions released under his own name including one in which he introduced his "West End Blues," made immortal by Louis Armstrong when he recorded it 17 days later. Oliver also made welcome appearances on sessions with blues singers Elizabeth Johnson, Lizzie Miles, Hazel Smith, Victoria Spivey, Eva Taylor, Katherine Henderson, Sara Martin, and Texas Alexander.
Things seemed to be looking up as 1929 began. King Oliver, who switched to trumpet from cornet that year, signed a contract with the Victor label that resulted in regular recording sessions during the next two years. The King Oliver Orchestra heard during these performances was usually 10-11 pieces, modern for the period, performed high-quality hot dance music, and included top-notch young musicians. But there was a major problem. Oliver's teeth were causing him a lot of problems. He had neglected his teeth for years (and had enjoyed "sugar sandwiches" as a youth) and it was becoming quite painful for him to play trumpet. His solos became briefer and safer and he often featured his other trumpeter on record dates. He did not play a note during his three sessions of January and February 1929 which have Louis Metcalf or George Mitchell leading the group. His nephew Dave Nelson played some of the trumpet solos from late 1929-1931 with guest spots for Henry "Red" Allen, Bubber Miley, and Ward Pinkett.
Occasionally King Oliver came through. "Too Late" from October 8, 1929, which has two hot Oliver solos, is an absolutely perfect performance by the entire band; every note fits. Other worthy recordings include "Sweet Like This," "Edna," and "Struggle Buggy." But after the February 18, 1931 session (which ironically included "Sugar Blues"), the recordings stopped altogether due to weak sales and the onset of the Depression.
The rest of the King Oliver story is tragic. Unable to find much work in New York and no longer recording, Oliver took his band on the road, touring the South and Midwest. He lost his life savings in a bank that went bust during the Depression. No longer having a major name, the quality of his group's jobs declined as did the pay, the band bus broke down many times, and it was a losing battle. Making matters worse was that Oliver was suffering from the gum disease pyorrhea, barely could play anymore, and had no real chance to make a comeback. When he would run across old friends (including Louis Armstrong), he put up a brave front, refused much financial assistance, and kept both his pride and his poverty. Somehow he kept his band together into 1937 but it was all for naught. Stranded in Savannah, Georgia, he pawned his trumpet and suits, running a fruit stall before spending his last months working as a janitor and poolroom attendant in Savannah, Georgia.
King Oliver passed away on April 8, 1938 from arteriosclerosis when he was still just 52 and too impoverished to get treatment. If only there had been a collection to raise money to buy him a new set of teeth, which a few years later made Bunk Johnson's comeback possible. If only he could have been hired as a music teacher, even if few seemed to remember him at the height of the swing era. If Oliver had lived five years longer, he would have been celebrated as a New Orleans pioneer and an inspiration for the Dixieland revival movement as his fame rose again. But it was not to be.
---
Online Only
For Online Only Access without delivery of the print paper sign up below.
Subscription Options
---
Print Edition
 If you'd like the PRINT EDITION, (12 monthly issues) use the following PayPal link. After your payment is complete you will be allowed to create an online account. You will receive the next mailed copy, usually shipping around the 22nd of the month. See a PDF Sample Here.