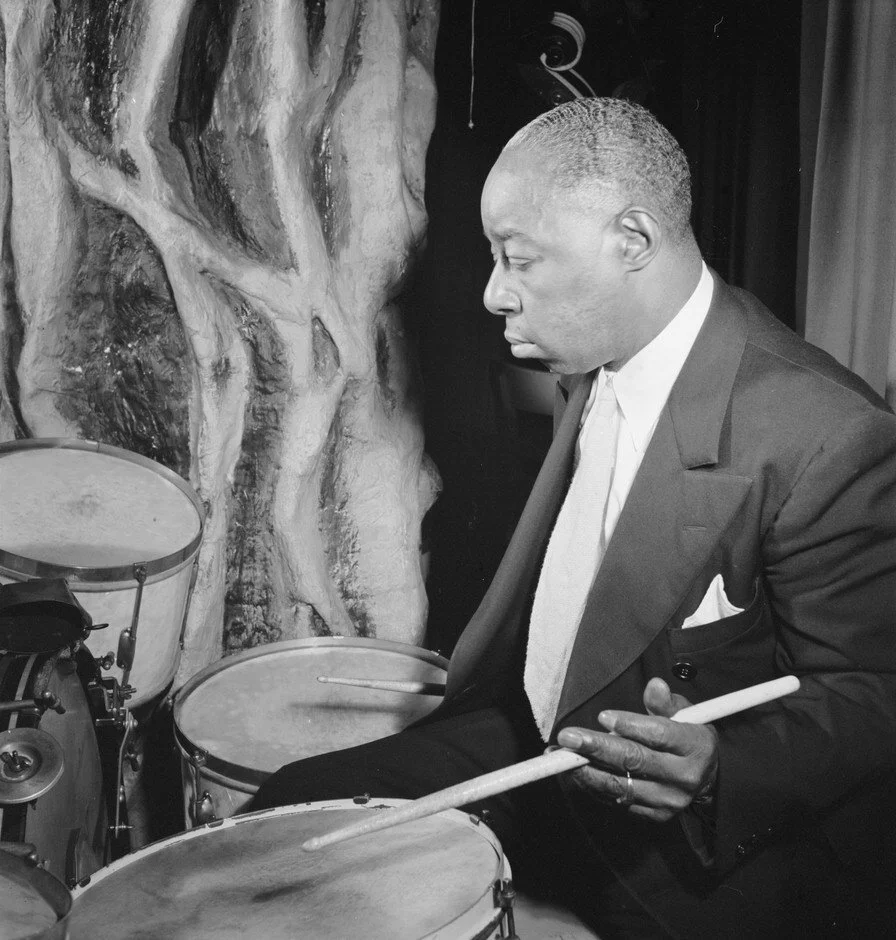 Baby Dodds (December 24, 1898 – February 14, 1959) was one of first great drummers of Jazz and the brother of Johnny Dodds. Baby got his start playing in parades in New Orleans, occasionally with Frankie Dusen's Eagle Band. He played briefly with his brother in Kid Ory's Band, but was embarrassed when all the musicians walked off stage because of his poor playing. This incident spurred him on to become a better musician.
He played in several other bands in New Orleans before joining Fate Marable's riverboat band in 1918. While working on the riverboat he played with Louis Armstrong, Johnny St. Cyr, Pops Foster, among others.
He stayed in Marable's band until King Oliver asked him to join his band in San Francisco in 1921. Dodds followed Oliver to Chicago and was the drummer in King Oliver's Creole Jazz Band. After the breakup of that band Dodds worked with Honore Dutrey at the Dreamland in Chicago and with several other bands in the city. From 1927 to 1929 Baby Dodds played in his brother's band at Kelly's Stables along with Freddie Keppard. He was the drummer on many of the classic Chicago Jazz recordings of Jelly Roll Morton's Red Hot Peppers and Louis Armstrong's Hot Seven. Throughout the Depression, Baby played in many of the small groups led by his brother Johnny Dodds and helped run a taxi cab company in Chicago. When his brother died in 1940, he went on to play with Jimmie Noone and with Bunk Johnson. After 1949 Dodds had a series of strokes that left him partially paralyzed, but still managed to play from time to time up until his death in 1959.
Thanks to Bob Smith for his help with this page.


Title

Recording Date

Recording Location

Company

Maryland, My Maryland
1-10-1946
New York, New York
Disc
6006
Melodisc
EPM 7-80


167

Rudiments With Drumstick Nerve-Beat


(Baby Dodds)

1-10-1946
New York, New York
Disc
6007
Melodisc
EPM 7-80


168

Spooky Drums


(Baby Dodds)

1-10-1946
New York, New York
Disc
6007
Melodisc
EPM 7-80


166

Tom-Tom Workout


(Baby Dodds)

1-10-1946
New York, New York
Disc
6006
Melodisc
EPM 7-80


169

The Baby Dodds Story as told to Larry Gara, Louisiana State University Press, 1959