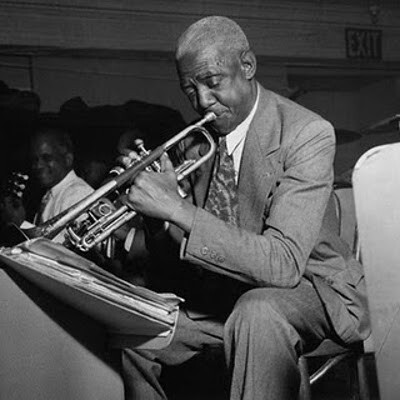 There have long been two extreme schools of thought about trumpeter Bunk Johnson. His most partisan fans thought of him not only as a genius, but the last important living link to the beginnings of what they considered "real jazz." To them, he not only performed with Buddy Bolden and was part of jazz's founding, but was one of the few artists in the mid-1940s to play New Orleans jazz as it originally sounded, prior to its "corruption" from swing and the emerging bebop music.
To his detractors, Bunk Johnson was a fraud, a braggart who could barely play his horn in tune, and a drunk who told tall tales that had little connection to reality.
Both sides were wrong and the truth is somewhere in between.
One problem was Bunk Johnson's birthdate. He claimed to have been born Dec. 27, 1879, which meant that he was old enough to perform with Bolden in 1895. While he did look like he was in his sixties when he made his comeback, it is now believed that he was probably born on Dec. 27, 1889, which would make him just 16 when Bolden stopped playing; Bunk apparently always looked old for his age due to his hard life.
In addition to saying that he worked with Bolden during 1895-98 and Jelly Roll Morton at several jobs in 1900, Johnson also claimed to have been one of Louis Armstrong's teachers (which Satch later denied) and to have introduced jazz to Mexico in 1900, New York in 1903, San Francisco in 1905, and also England, Australia, and Asia during the era. Being born in 1889 made that not only unlikely but impossible. In 1937 when he applied for a Social Security card, Johnson listed his birthdate as 1889, so that would seem to discredit the 1879 birthdate and some of his claims about his life.
However Bunk Johnson's bragging and storytelling should not overshadow his real accomplishments and contributions to New Orleans jazz. When he emerged in 1942, his playing gave listeners an opportunity to hear what jazz probably sounded like back in the early days before it was recorded and before Louis Armstrong and even King Oliver had influenced the phrasing of trumpeters.
Early Life
Many of the details of Johnson's life before 1940 are not known, and if he had passed away that year, he would be as forgotten today as such unrecorded New Orleans legends as cornetists/trumpeters Buddy Petit and Chris Kelly.
The son of a slave, Johnson was the last of 14 children; his grandmother had given birth to 22 children! Growing up in New Orleans, he had music lessons and sang for four years before taking up the cornet, later switching to the trumpet. Bunk gained experience playing marches, overtures, and waltzes with his school band. He claimed to have earned a degree from New Orleans University but there was never any proof of that. However he was well trained, read music well, and knew how to improvise from an early age.
Johnson worked with a variety of New Orleans jazz bands starting in 1910 including the Superior Orchestra and the Eagle Band. His playing during this period was later remembered as being laid back with a pretty tone and an attractive improvising style.
By 1914 Bunk had become a traveler, freelancing throughout the South, working in Texas, Kansas City and many rural areas, often with minstrel shows and carnival troupes. While other musicians have said that Bunk usually played quite well, his alcoholism resulted in him missing many jobs in the early 1930s, and serious problems with his teeth resulted in him having to stop playing trumpet by the end of 1934. Johnson worked as a field laborer and a truck driver, taught music in local schools near his home in New Iberia (130 miles from New Orleans), and he occasionally managed to play bass horn on jobs.
Revival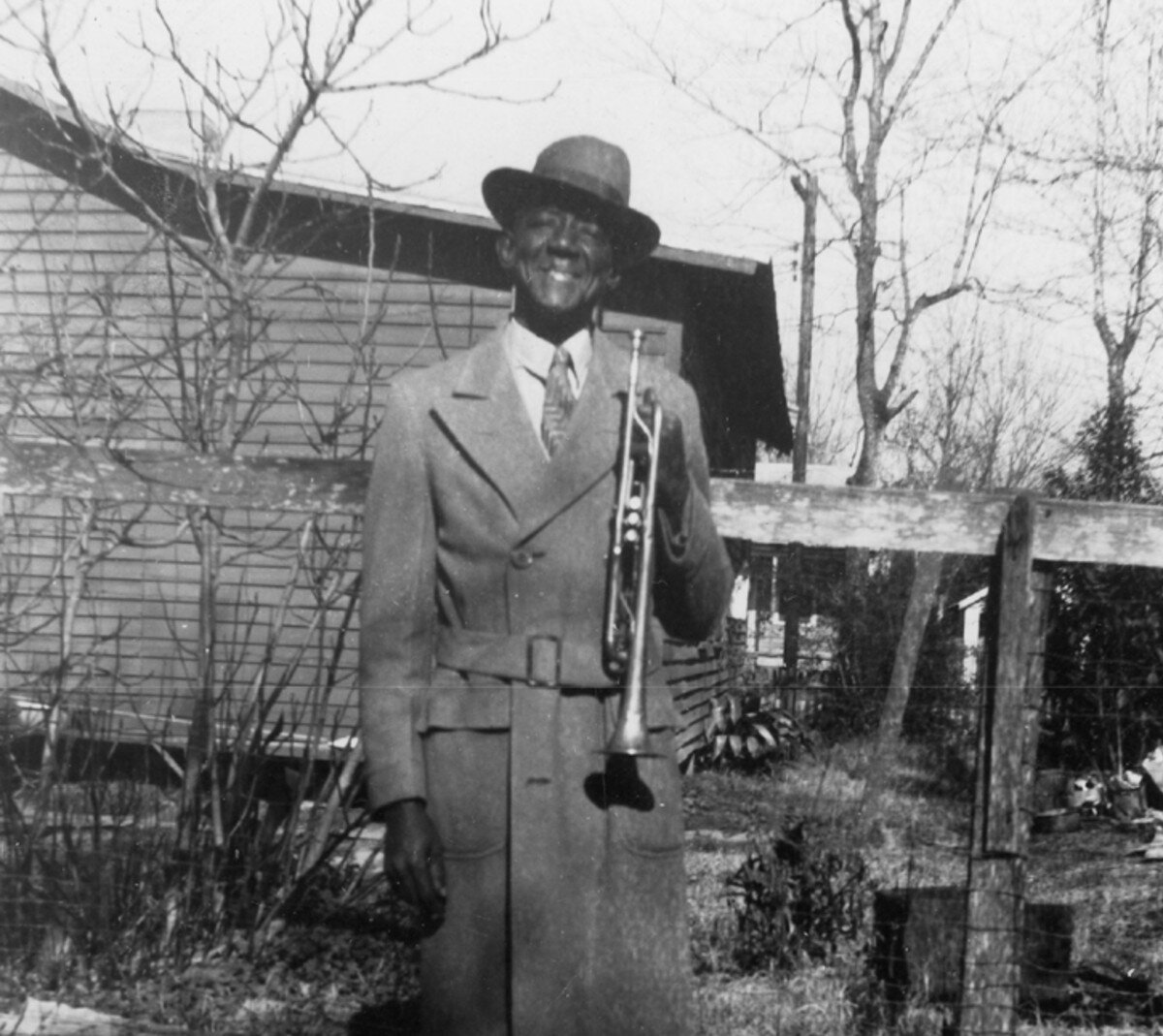 Bunk saw and talked to Louis Armstrong at a concert in New Iberia in the fall of 1938. Six months later Bill Russell, who was writing the pioneering book Jazzmen, heard about Johnson from several of the veteran musicians he was interviewing including Armstrong. Russell wrote Bunk a letter and when he received an enthusiastic reply (which included Johnson reminiscing about his playing with Bolden), that was the beginning of his unlikely comeback. In a second letter, Johnson mentioned that he needed a new set of teeth and a trumpet. After some more letters, a collection was launched to raise money for Johnson's dental work which was performed successfully by Dr. Leonard Bechet, Sidney's brother.
Bunk Johnson was well featured in Jazzmen (which came out in 1939) where his claims were printed as facts, generating a large amount of interest in the formerly forgotten trumpeter. Soon another collection resulted in him getting a trumpet. While he was now practicing regularly and even sat in once with Louis Armstrong's big band in 1940 when it passed through New Iberia, Johnson continued at his day jobs and did not fully emerge in the music world until 1942.
Visited by a pair of New Orleans jazz fans from the North on February 2, 1942, Johnson made his first recordings, playing unaccompanied trumpet on four numbers (including "Maple Leaf Rag") and delivering verbal greetings to Sidney Bechet, Bill Russell, and others. While those recordings were made on acetate discs, on June 11 Johnson made his official recording debut, leading a septet that included clarinetist George Lewis and trombonist Jim Robinson, cutting 11 numbers of which nine were released on 78s by the Jazz Man label.
An extensive session was recorded in New Orleans on Oct. 2 with a similar group and the following year Bunk spent a lengthy period in San Francisco where the revival of New Orleans jazz was underway. Getting steadily stronger as a trumpeter, Johnson recorded excellent duets with pianist Bertha Gonsoulin, sat in with Kid Ory's band for a radio broadcast, and in January 1944 recorded one of his finest sessions with the wartime version of the Yerba Buena Jazz Band (which included trombonist Turk Murphy and pianist Burt Bales).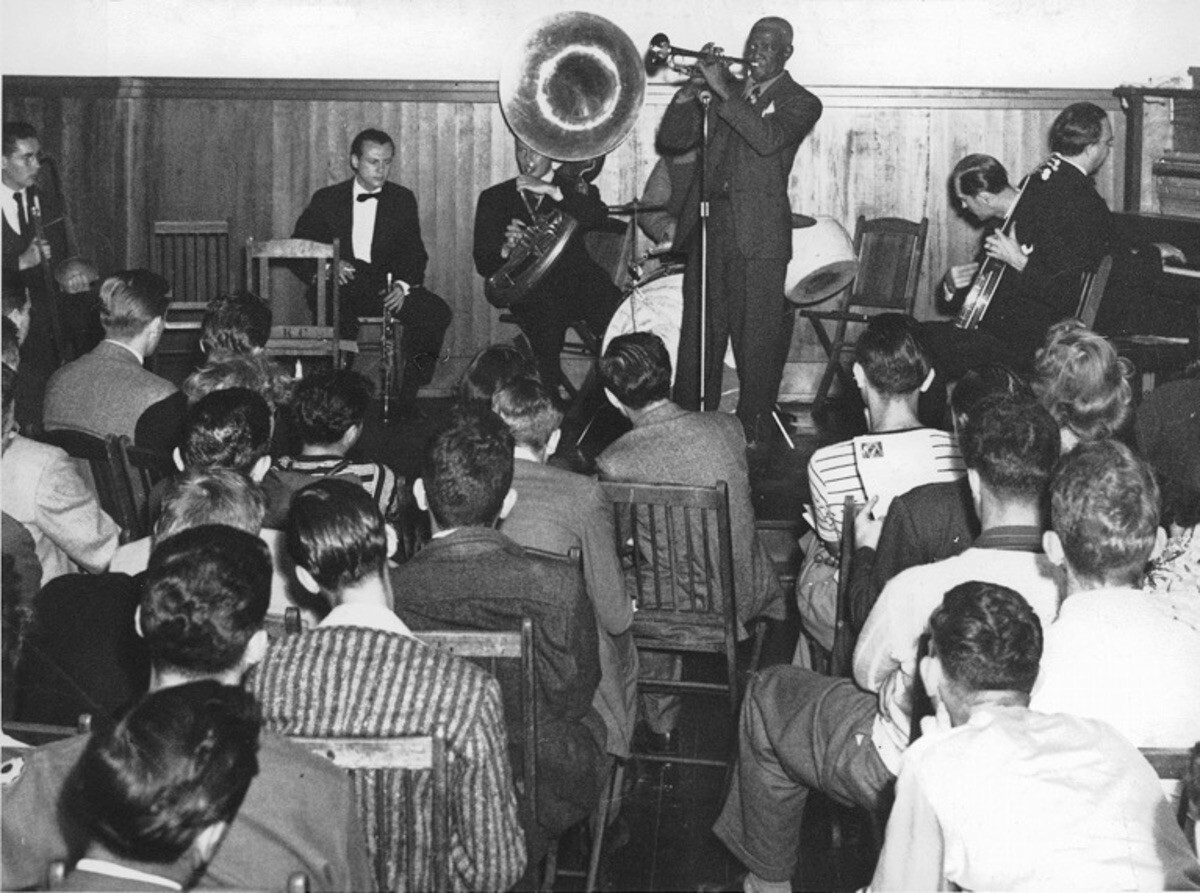 While Johnson had been struggling with his trumpet chops a bit on the 1942 sessions, the professionalism of the Yerba Buena musicians inspired him to play in top form. He also made radio transcriptions with a sextet before returning to New Orleans.
While back home, Bunk gathered together a band that in the 1950s would be the nucleus of George Lewis' group. The sextet with clarinetist Lewis, trombonist Big Jim Robinson, banjoist Lawrence Marrero, bassist Slow Drag Pavageau, and drummer Baby Dodds was extensively recorded in the summer on sessions later released by American Music.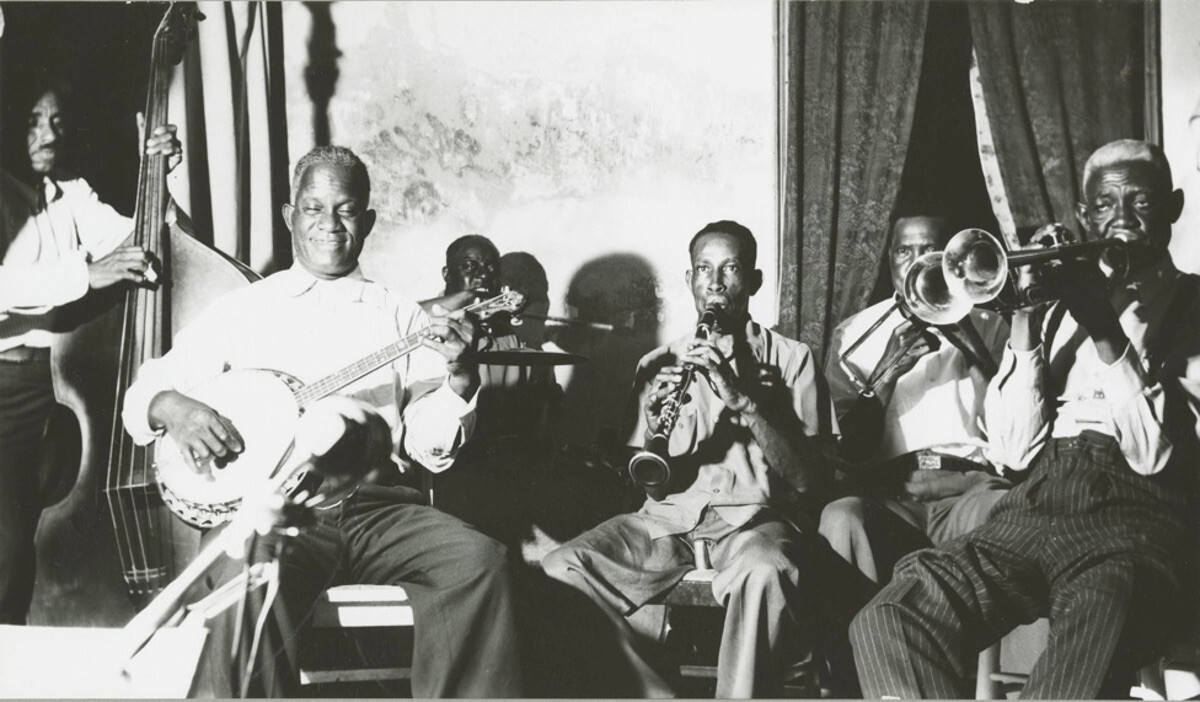 1945 would have its highs and lows. It began with Bunk Johnson getting to sit in with Louis Armstrong at the Esquire All-Stars jazz concert, playing behind Armstrong on "Basin Street Blues," the only documentation of the two trumpeters playing together. In March he renewed his friendship with the great soprano-saxophonist Sidney Bechet who had worked with Bunk in their earlier years.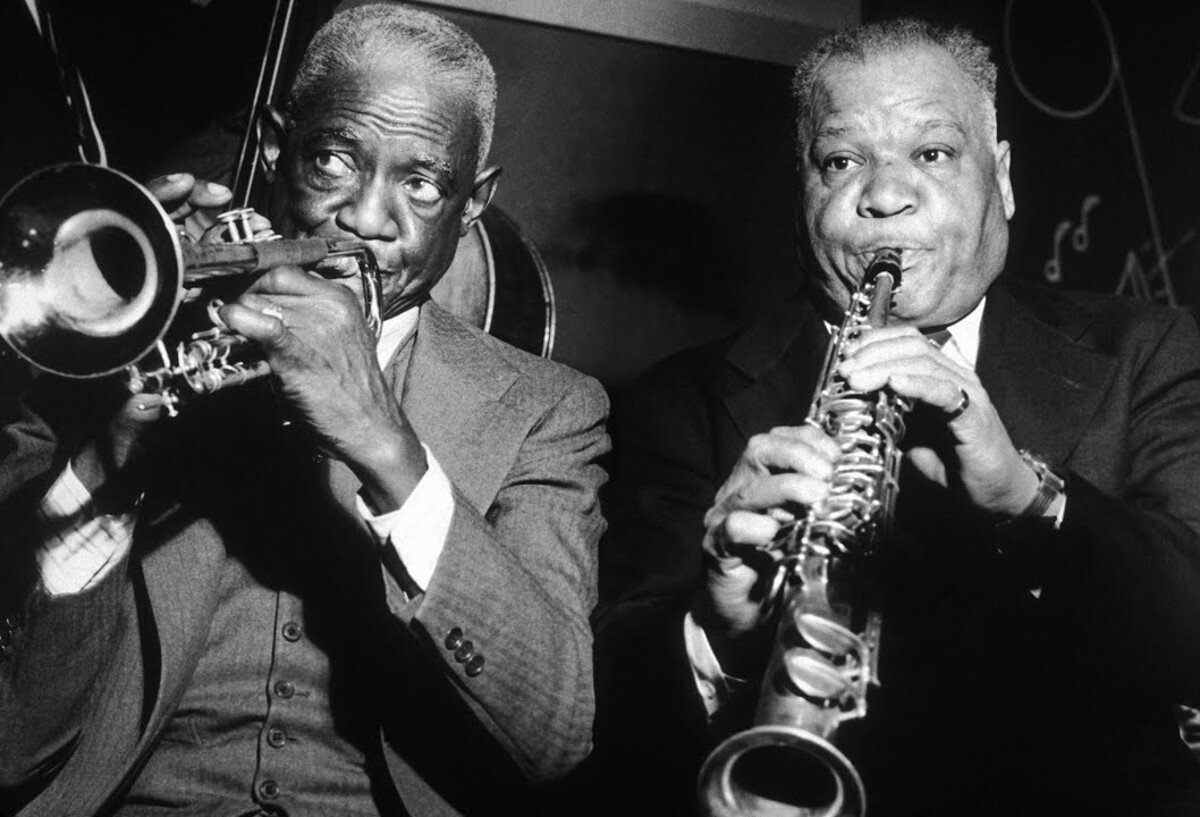 Bechet wanted to have an old-style New Orleans jazz band and he enlisted Bunk for a recording session that turned out quite well before they began a regular engagement at Boston's Savoy Cafe. Unfortunately it ended up being a disaster. Bechet wanted Johnson to provide a strong melodic lead that he could play his soprano around, but Bunk was drinking excessively during the period. Often when he missed his cue, Bechet quickly took over the lead and then Bunk jumped in, resulting in plenty of musical clashes. The band was fully documented on their regular radio broadcasts which have been released by the Fat Cat and Jazz Crusade labels. Bunk did not even last a month in the group and was succeeded by Johnny Windhurst.
Returning to New Orleans, Johnson recorded with a brass band and again with the Lewis-Robinson group in May. After much negotiation, he brought the New Orleans group (which also included pianist Alton Purnell) to New York where they played regularly at the Stuyvesant Casino from Sept. 1945 to January 1946 and again during April-May 1946, making recordings for the Victor label.
Bunk Johnson's appearance on the New York jazz scene at the same time that Charlie Parker and Dizzy Gillespie were introducing bebop caused a bit of a sensation, and a "jazz war" that was fought by factions of the press.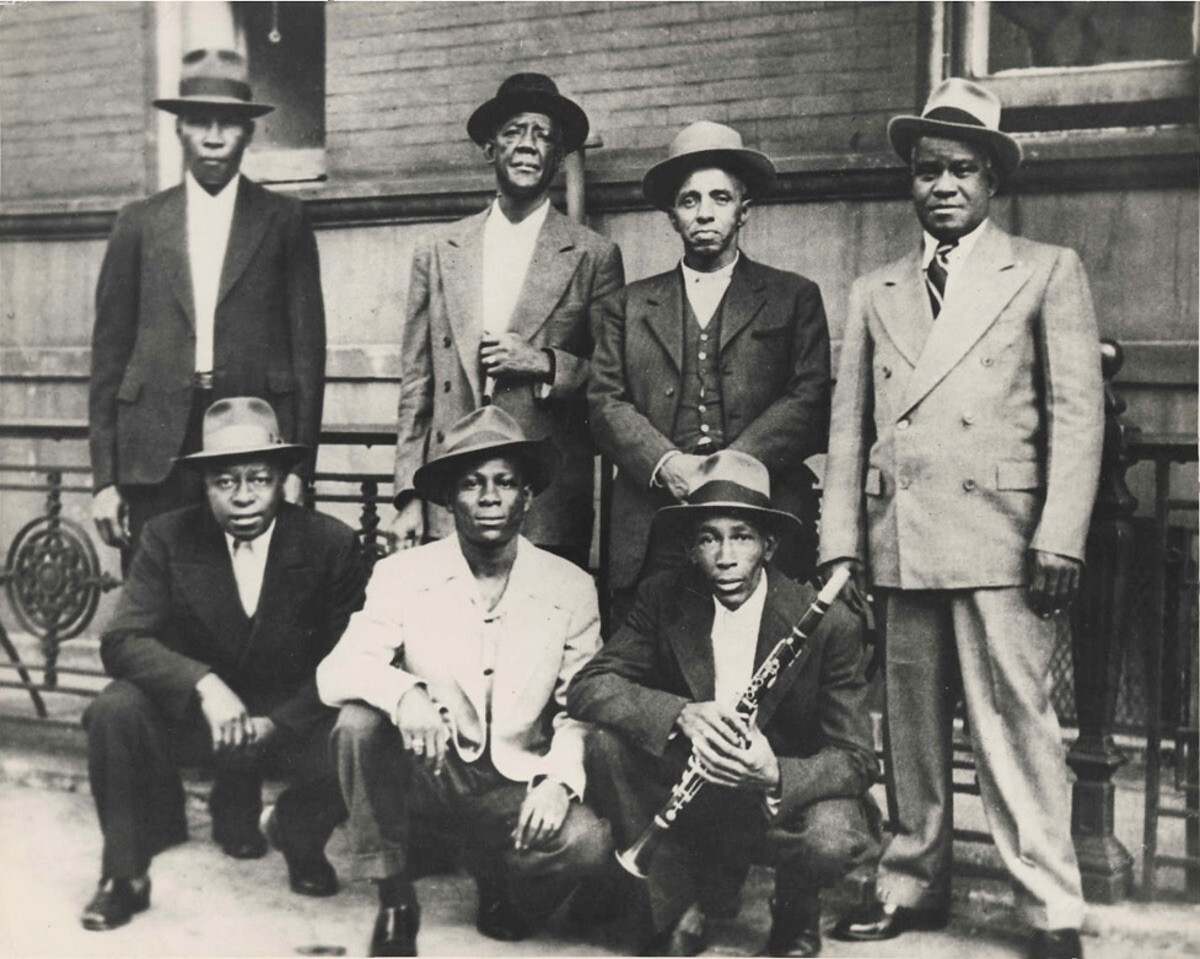 Ironically Johnson's playing and repertoire did not completely satisfy the more purist New Orleans jazz fans because he was open to performing current pop tunes and jazzed versions of rags rather than just the blues and early standards that his more fanatical supporters wanted him to stick to playing. Bunk was also not satisfied with the playing of his sidemen.
A bit spoiled by performing with the Yerba Buena musicians and being aware of the many great musicians then currently active in New York, Bunk Johnson did not feel inspired by his New Orleans band which could be quite erratic. His excessive drinking also resulted in him not treating his musicians with much respect and they became disgruntled with his behavior. The band dissolved after the second Stuyvesant Casino engagement.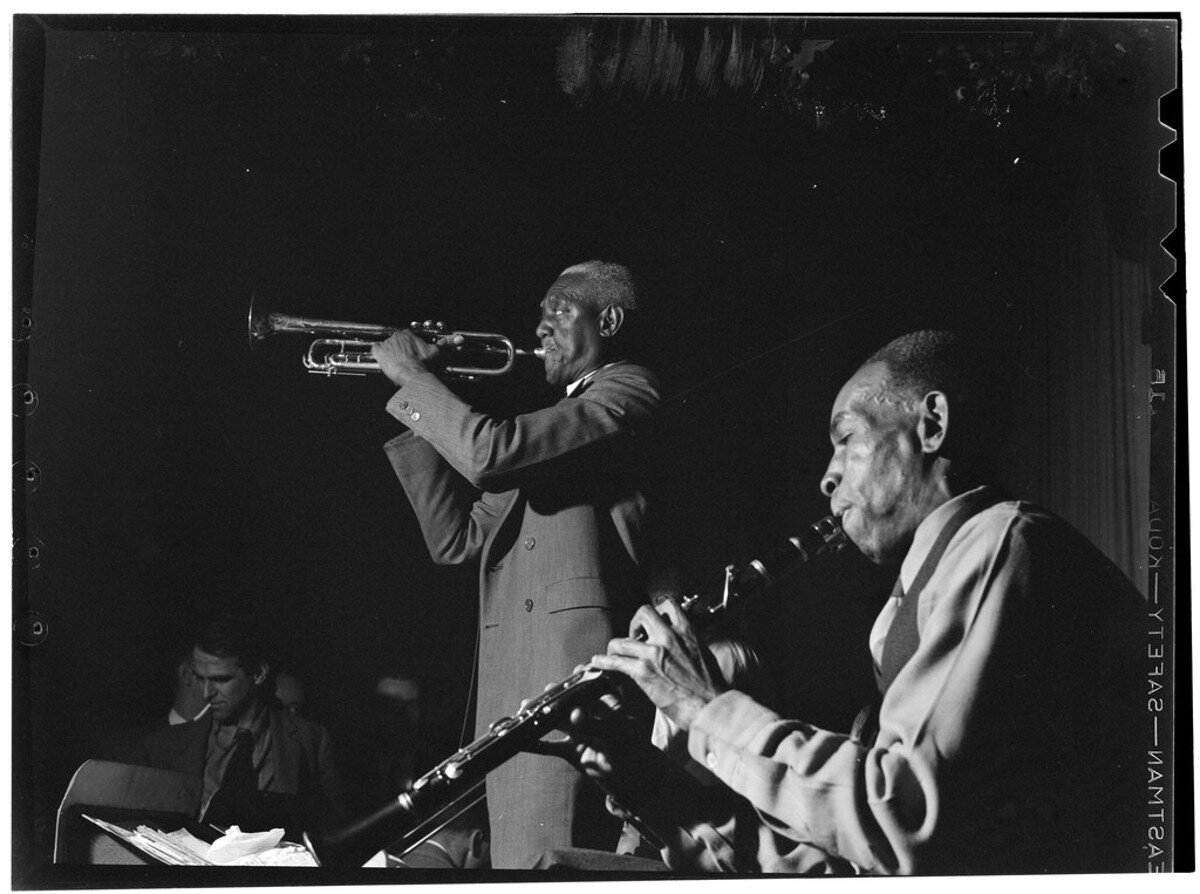 Despite the turmoil, on June 3, 1946, Bunk Johnson was in excellent form on a notable trio session with pianist Don Ewell and drummer Alphonse Steele. After some months back in New Iberia, in 1946, Johnson returned to the North. He performed in Chicago, in Minnesota with cornetist Doc Evans' group, and then he came back to New York.
Bunk appeared at a Town Hall concert on September 6. During that event which was recorded, Johnson can be heard in a trio with pianist Ralph Sutton and banjoist Danny Barker, leading a sextet that also includes clarinetist Edmond Hall, trombonist Jimmy Archey, drummer Freddie Moore, and sometimes Cyrus St. Clair, and playing behind folk singer Leadbelly on "Good Morning Blues." It was the beginning of Bunk Johnson's last hurrah.
Live recordings from several concerts were released decades later, finding the trumpeter in mostly fine form. During December 23-26, 1947 for an album that would later be released as Last Testament, Bunk Johnson is at the head of an excellent New York septet that includes clarinetist Garvin Bushell and trombonist Ed Cuffee, performing rags, swing songs, and other melodies that he enjoyed. Bunk is particularly memorable on "The Entertainer," "You're Driving Me Crazy," "Some Of These Days," and "Till We Meet Again."
In January 1948, Bunk Johnson left New York for what was supposed to be a short visit to his home in New Iberia. Unable to find much work, he struggled during the year and in November suffered a stroke. His health steadily declined and on July 7, 1949, at the age of just 59, Bunk Johnson passed away.
A definitive biography, Bunk Johnson – Song Of The Wanderer by Mike Hazeldine and Barry Martyn (which includes a CD of rare material), has been published by Jazzology Press. For listeners who are wondering what all of the fuss was all about, nearly all of the trumpeter's recordings are available, with the Yerba Buena session being on Good Time Jazz, Last Testament coming out most recently on Delmark, and just about all of his other sessions being reissued on American Music (put out by GHB/Jazzology). Even with some weak moments, the music is a delight for lovers of classic New Orleans jazz.
Bunk Johnson's life would make for a great if slightly unbelievable Hollywood movie.
---
Also See:
Bunk Johnson Rare & Unissued Masters 1943-46
Bunk Johnson Bio-Play Premieres at The Shadows
Bunk Johnson: Out of the Shadows