The music teaching career of Peter Davis began when he was hired as the warden at the Colored Waif's Boys Home in New Orleans and later became the Director of Music there. The facility was used to house African American boys who had been incarcerated by court order. Prior to the establishment of the boys' home, these teenagers were housed in the New Orleans parish prison along with men.
The exact birth date of Peter Davis is uncertain, depending on which source you accept. During an interview conducted on October 28, 1965, Davis stated his date of birth as October 25, 1887 and his place of birth as Conti and Robertson near the French Quarter in New Orleans, Louisiana. At the date of his death, the New Orleans States-Items reported in an article: "Peter Davis, Jazz Teacher, is Dead at 90." Further, in an article by George Kay, his interviewer, Davis' life span is noted as 1880-1971.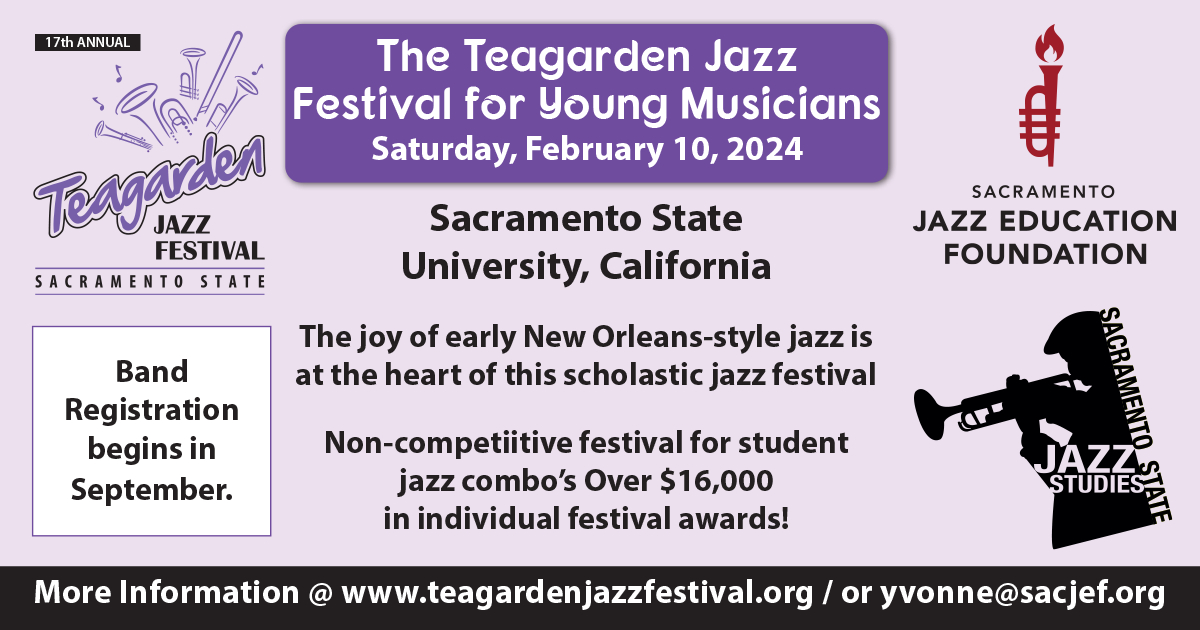 According to interviews given by Peter Davis, he was first introduced to music training with lessons from the celebrated music teacher, William J. Nickerson. Davis stated that, "well, I played the piano, and then I went to the cornet." Having learned to play several instruments, Davis became a very popular music teacher in New Orleans. The New Orleans States-Item wrote of Davis' life-long involvement in music: "Through the years, Mr. Davis was one of New Orleans' better known musicians, playing all instruments and always busy with engagements until age forced his retirement."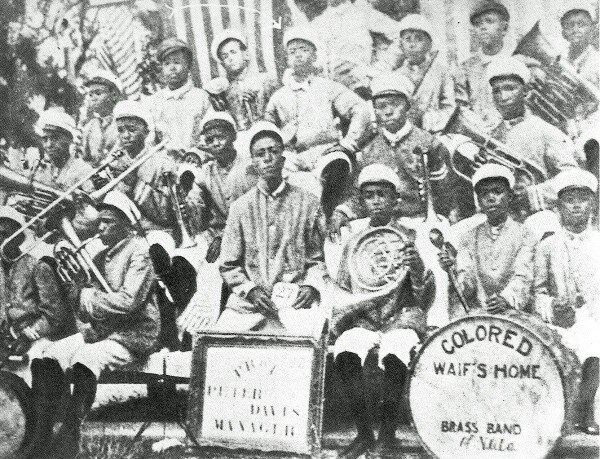 Peter Davis became an accomplished musician focusing primarily on the cornet. Most of his students were given lessons on the cornet or the trumpet. However, many others took lessons on a variety of instruments including the piano, clarinet, bass tuba, saxophone, snare drum, bass drum, and the trombone.
Although Peter Davis taught thousands of youngsters during his lifetime, he did not become well-known like his famous student, Louis Armstrong. With the exception of one entry which can be found on the website blackpast.org, there are no published books or journal articles written to describe the contributions that Davis made to the world of music through his lessons. However, in nearly every article or book published on the life of Louis Armstrong, acknowledgment is given to the genius of Peter Davis; the man who had the ingenuity to recognize the innate talents of Armstrong and others. A man perhaps ahead of his time in having the insight to redirect negative energy into positive outcomes through his willingness to give someone a second chance, or as it was for many, a first chance.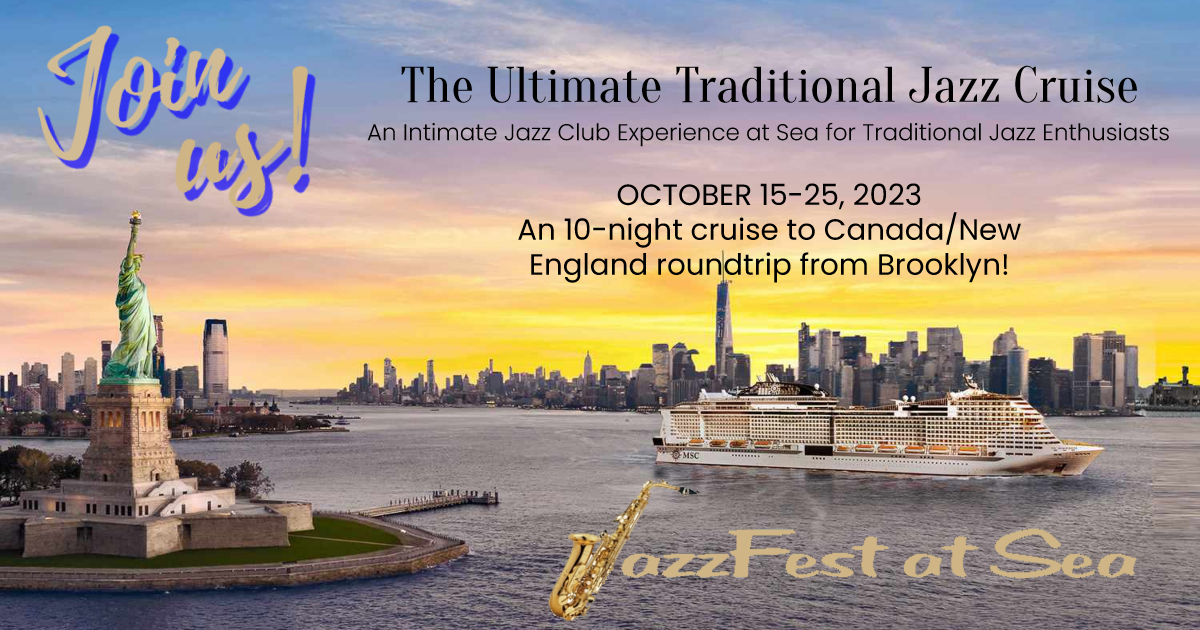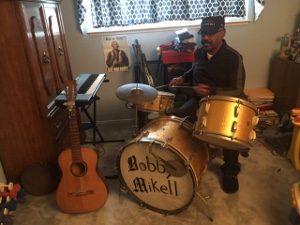 Upon his retirement from the Waifs Home, Davis volunteered as a scoutmaster in the African American community. My brother Calvin and I became cub scouts under Mr. Dave, as us boys affectionately called him. He would take us camping, and during the mornings, hiking through the woods of New Orleans teaching us survival skills. During the afternoons, he would offer music lessons to the interested boys on an instrument of choice. Thus, he taught my brother how to play the trumpet and he taught me how to play the drums. My first instrument was actually the vibraphone because as a kid I admired Lionel Hampton, whom I had seen on television. However, because New Orleans has a parade for any and all occasions, I quickly switched to the drum because I wanted other kids to see that I could play an instrument.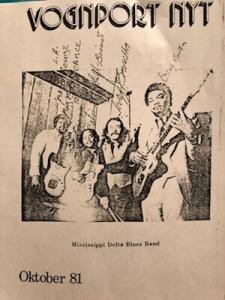 Both Calvin and I went on to play music in our high marching and concert band under the directorship of Dr. Ernest Chachere at Booker T. Washington Senior High School in New Orleans, LA. Calvin's music lessons continued under the tutelage of Mr. Dave after my parents hired him to come to our house and provide private lessons.
Later, when our family moved to California, Calvin became a professional musician and played with a number of groups in the Oakland-San Francisco Bay Area. By then as an adult, Calvin had switched to the electric bass. Eventually, he was recruited by a music promoter to join an R&B band that would go on tour throughout several European countries. In a postcard to me Calvin described the tour in this manner:
"We have toured Iceland, Italy, Belgium, Denmark, Norway, and now Sweden. And they love us. So far, we have had only sellout crowds. We Have to make return visits to Iceland and Belgium. Also to Rome, to make another T.V. show. This time a live show."
Calvin concluded the postcard with a postscript stating jokingly, "I would write more, but my fingers are tired from signing so many autographs."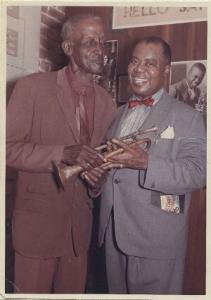 When I was nineteen years old and now living in Oakland, CA., I joined the Ephesians Church of God in Christ. Shortly after my baptism, the church drummer decided to retire from her duties and place her Ludwig drum kit up for sale. After consulting with my Mother, my parents, (William and Leona Mikell) agreed to purchase the drum kit via taking over the payments. I still own the drum set but only play them occasionally for self-gratification. More importantly, I am teaching my great-grandson, Najee, how to play. This is but one of the many examples of how Peter Davis created a multiplier effect through music lessons that transcend the generations; each one teaches one.
My primary interest in music these days is as a jazz radio host on station KFSR, all of which I attribute to the lessons learned from Peter Davis, who was a strict disciplinarian. My show is titled, "Red Beans and Jazz" and airs Friday morning from 9 a.m. to 12:00 p.m. PST. The program streams on kfsr.org or on the smartphone app Tune-In Radio. The focus of my Jazz show is traditional Jazz genres developed from 1920-1970. When I was a university professor, I developed and taught several courses on African American music (Evolution of African American Music; Rap/Hip Hop Culture).
Who we are as children will certainly have a big impact upon who we become as adults. The socialization process through which every child goes has been theorized by numerous social psychologists in an effort to understand how the environment influences or shapes who we become. The transmission of culture, the use of language forms, and certainly the role of a significant other, were all a part of the world of Peter Davis. Mr. Dave was deeply concerned about the transmission of culture as was clearly demonstrated in his dedication to maintaining the presence of music in the African American community.
The style of music taught by Peter Davis took full advantage of language as a technique in the process of socialization. Although important, his teaching method went beyond providing instructions in the mere rudiments of music. He taught young boys how to live life. For Davis, music was the medium employed to enhance the socialization process. It served as a self-esteem builder. He was able to use music as an effective communication device between mentor and student. Through his instructional methodology, Mr. Dave was able to incorporate the fundamentals of life in socializing young boys to become men. Through verbal expressions and his imposing body language, the lessons of discipline were clearly delineated and enforced.
Some of the other students taught by Peter Davis who became famous for their music included: Dave Bartholomew; Henry "Kid" Rene; Willie Humphrey; Percy Humphrey; Danny Barker; Chester Zardis; Thomas Jefferson, and many more.
Fortunately for Peter Davis, his most famous student, Louis Armstrong, never forgot the mentor who gave him a second chance. On several occasions, Armstrong acknowledged the prominent role that Davis played in shaping his life as a musician and as a person. During the 1960s, the two men appeared together as teacher and student on two national television programs and at one public event, the presentation of Armstrong's first trumpet to the City of New Orleans. The television programs were the popular, "I've Got A Secret" and "You Asked For It."
Perhaps the most memorable meeting took place when Davis and Armstrong were reunited at the Waif's Home. In 1931, Armstrong's manager arranged for an engagement at the Suburban Garden in New Orleans. The word spread rapidly throughout the Third Ward (the area in New Orleans where Louis grew up) that Armstrong was coming home. On the date of his arrival, more than ten thousand screaming fans greeted him as he stepped from the train. As he rode in an open top car through his old neighborhood, thousands of people yelled and cheered for his attention. The reunion of Davis and Armstrong was described, in part, by Kenneth G. Richards who wrote:
"The car came to a halt for a few moments, and Louis found himself looking at an old familiar banner that brought tears to his eyes. It read "Waif's Home Colored Band." Then suddenly he was shaking hands with the home's director, Mr. Jones, and the entire staff. Mr. Davis came up to the car, too deeply moved to speak. But, his eyes reflected the way he felt for his former student."
As Davis turns and beckons for the Waif's band sporting their uniforms so proudly, Kenneth gives this account of the conversation between the two men:
"They are walking in your footsteps, Louis. You are their hero and inspiration. Will you come out and see us while you're here? Louis grinned and waved to the wide-eyed youngster and said to Mr. Davis, "I wouldn't miss that chance for all the world!"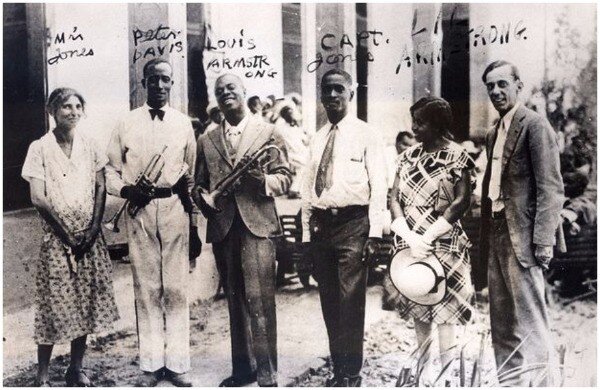 Another of Mr. Dave's famous students was the late Dave Bartholomew (December 24, 1918 – June 23, 2019). While researching the life and times of Peter Davis in 1995, I learned that Bartholomew was a former student of Davis. Upon making contact with Bartholomew, he granted me an interview that took place over a two day period. Dave invited me into his home where we talked at length about his life in music. He indicated that he had met Mr. Dave at his father's barbershop where he would come in for a haircut and engage in lengthy conversations. Eventually, Bartholomew would start taking trumpet lessons from Mr. Dave.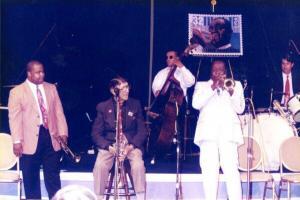 Bartholomew's career spanned an incredible 83 years as a musician, bandleader, composer, and arranger in the genres of R&B, big band, swing, rock and roll, and Dixieland. He was most popular for his collaborations with Fats Domino. The two men wrote songs such as "Ain't That A Shame," "Blue Monday," and I'm Walkin," and produced several other Fats Domino hits. Bartholomew also collaborated with Chuck Berry on "My Ding-a-Ling" and with Lloyd Price on "Lawdy Miss Clawdy." Dave attributed his success to his early interest in music and his fondness for Peter Davis.
Bartholomew was a very generous man who not only invited me into his home, but he also bestowed upon me two of his musical treasures. The first was a copy of his LP, Dave Bartholomew's New Orleans Jazz Band, which in the liner notes mention that Dave was taught to play the trumpet by Peter Davis. Bartholomew also gave me one of the jackets that he received when he was inducted into the Rock and Roll Hall of Fame in 1991. I still treasure both of these items and I am forever grateful for the friendship extended to me by Dave Bartholomew.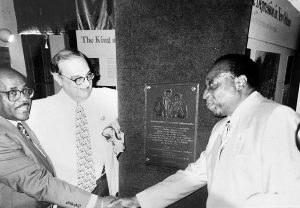 Peter Davis is interned at Holt Cemetery, a potter's graveyard in New Orleans. After learning that Davis had no grave marker, I decided to have a plaque made in his honor. The plaque features a picture of Peter Davis and Louis Armstrong as they presented to the City of New Orleans the cornet that Armstrong took his first lessons on under Davis' tutelage.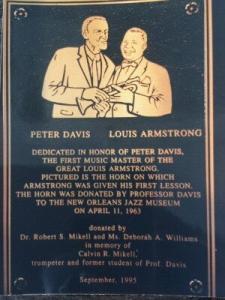 By invitation from Donald M. Marquis, author of In Search of Buddy Bolden First Man of Jazz, whom I adopted as my research mentor and who was then serving as the Curator of the New Orleans Jazz Collection.
The plaque was presented to the Jazz Collection located in the Louisiana State Museum by me at a reception in 1995 when the City of New Orleans was selected as the city for the first day of issue of the Louis Armstrong stamp.