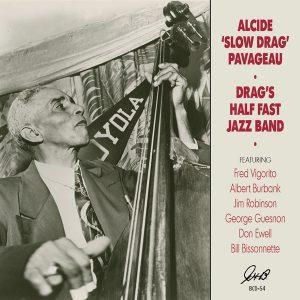 Bassist Alcide "Slow Drag" Pavageau was a member of Bunk Johnson's band during 1944-46 and was a regular fixture with clarinetist George Lewis for decades. Although not really a soloist, he could be counted on for a solid beat and a big sound that drove Lewis and others. Drag's Half Fast Jazz Band contains Pavageau's only album as a leader, a set from Apr. 21, 1965 that ironically was his final recording (although the bassist lived until 1969).
The nine selections team him with cornetist Fred Vigorito, trombonist Jim Robinson, clarinetist Albert Burbank, banjoist George Guesnon, pianist Don Ewell, and Big Bill Bissonnette who was normally a trombonist although he proves quite effective on drums.
While Burbank sometimes slips a little out of tune, Vigorito provides a solid lead and Robinson (always a superior ensemble player) is in top form. Their ensemble-oriented music leaves room for solos although Pavageau does not take a single one. Highlights include "Struttin' With Some Barbecue," two versions of "I Can't Escape From You" and "Climax Rag."
Also included on Pavageau's CD are three alternate takes by the Kid Thomas-George Lewis Ragtime Stompers from 1961. Since Vigorito was influenced by Kid Thomas Valentine and Burbank often hints at Lewis, there is a definite unity on this reissue.
The three Thomas-Lewis numbers which are labelled "Bucket's Got A Hole In It," "Salty Dog" and "Battle Hymn Of The Republic" are out of order and are actually "I've Been Working On The Railroad" (rather than "Battle Hymn"), "Salty Dog" and "Bucket's Got A Hole In It." But, no matter, the music is fun and spirited.
Drag's Half Fast Jazz Band (GHB BCD-54, 12 selections, TT = 43:16) www.jazzology.com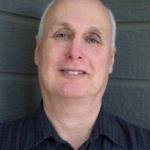 Since 1975 Scott Yanow has been a regular reviewer of albums in many jazz styles. He has written for many jazz and arts magazines, including JazzTimes, Jazziz, Down Beat, Cadence, CODA, and the Los Angeles Jazz Scene, and was the jazz editor for Record Review. He has written an in-depth biography on Dizzy Gillespie for AllMusic.com. He has authored 11 books on jazz, over 900 liner notes for CDs and over 20,000 reviews of jazz recordings.
Yanow was a contributor to and co-editor of the third edition of the All Music Guide to Jazz. He continues to write for Downbeat, Jazziz, the Los Angeles Jazz Scene, the Jazz Rag, the New York City Jazz Record and other publications.