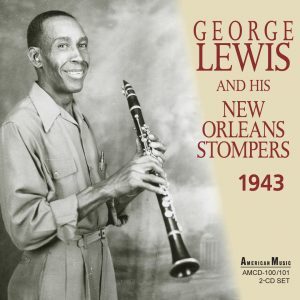 Clarinetist George Lewis, who would become one of the most popular of New Orleans jazzmen in the 1950s when he toured the world, was a complete unknown outside of New Orleans in 1943. Although he had been musically active since at least the 1920s, his only previous recordings were two historic but so-so sessions with trumpeter Bunk Johnson in 1942. While Bunk had moved up North, Lewis was still in the Crescent City when William Russell recorded him during May 15-16, 1943 with his New Orleans Stompers.
The two-CD set The Complete Climax Recording Sessions has five songs from a rehearsal and all 20 performances (including nine alternate takes) made during the planned session. Lewis, trombonist Jim Robinson, trumpeter Kid Howard (who was absent for the rehearsal), banjoist Lawrence Marrero, bassist Chester Zardis (his place during the rehearsal was taken by Sidney Brown on tuba), and drummer Edgar Mosely form a spirited if occasionally erratic group.
George Lewis' is easily recognizable and his high notes (particularly during the rehearsal) are quite impressive. Jim Robinson is his usual reliable self while Kid Howard is both colorful and a bit inconsistent, never sounding boring!
The pianoless rhythm section is monotonous in spots but keeps the momentum flowing. Among the songs performed by this ensemble-oriented group are "Climax Rag," "Careless Love," "Dauphine Street Blues," "Milenberg Joys," and "Fidgety Feet."
George Lewis would not record again for over a year. The clarinetist, Robinson and Marrero would form the nucleus of Bunk Johnson's band during 1944-46 and, after a few years in obscurity, would (along with Howard) reunite in Lewis' 1950s band. This very spirited reissue shows how they sounded at the start. It is a must for George Lewis fans.
George Lewis and his New Orleans Stompers 1943 (American Music AMCD 100/101, 25 selections, TT = 98:20) www.jazzology.com