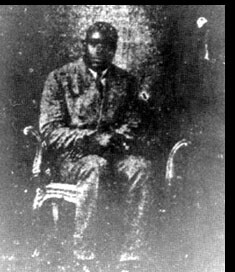 As his name implied, Blues singer Texas Alexander (September 12, 1900 – April 18, 1954) was from the Lone Star State. He started performing at local parties and picnics in the early 1920s, sometimes working with Blind Lemon Jefferson.
In 1927 he started recording and made some very good Blues records with such Jazz luminaries as Lonnie Johnson, Eddie Lang, Clarence Williams and King Oliver. He continued to record until 1929 and then after a five year break made a number of recordings in 1934. He didn't record again until 1947.
Throughout his career Alexander often performed with his guitarist cousin Lightnin' Hopkins. During the Depression and afterwards Hopkins and Alexander often resorted to working as street musicians or outside of music altogether.
Alexander didn't play an instrument so he always performed with accompanists or in a band setting. In the late 1930s he worked with Lowell Fulson and Howlin' Wolf among others. In 1939 Alexander murdered his wife and was sentenced to prison from 1940 to 1945. When he got out of prison he hit the streets again with Lightnin' Hopkins and the pair recorded in 1947 on the Aladdin label. Texas Alexander made his last recording in 1950 with Benton's Busy Bees and died of syphilis in 1954.


Title

Recording Date

Recording Location

Company

Awful Moaning Blues – Part 1


(Texas Alexander)

6-15-1929
San Antonio, Texas
Okeh
8731
Awful Moaning Blues – Part 2


(Texas Alexander)

6-15-1929
San Antonio, Texas
Okeh
8731
Bantam Rooster Blues (a)


(Texas Alexander)

3-9-1928
San Antonio, Texas
Okeh
8591
Bantam Rooster Blues (b)


(Texas Alexander)

3-9-1928
San Antonio, Texas
Okeh
8591
Bell Cow Blues


(Texas Alexander)

3-9-1928
San Antonio, Texas
Okeh
8603
Blue Devil Blues


(Texas Alexander)

11-16-1928
New York City, New York
Okeh
8640
Boe Hog Blues


(Texas Alexander)

3-10-1928
San Antonio, Texas
Okeh
8563
Broken Yo Yo
11-27-1929
San Antonio, Texas
Okeh
8764
Corn-Bread Blues


(Texas Alexander)

8-12-1927
New York City, New York
Okeh
8511
Days Is Lonesome


(Texas Alexander)

Okeh
8835
Death Bed Blues
3-9-1928
San Antonio, Texas
Okeh
8578
Deceitful Blues


(Texas Alexander)

9-30-1934
Fort Worth, Texas
Vocalion 02912
Deep Blue Sea Blues


(Texas Alexander)

8-12-1927
New York City, New York
Okeh
unissued
Deep Blue Sea Blues


(Texas Alexander)

3-9-1928
San Antonio, Texas
Okeh
8591
Don't You Wish Your Baby Was Built Up Like Mine ?
3-9-1928
San Antonio, Texas
Okeh
8603
Double Crossing Blues


(Texas Alexander)

6-15-1929
San Antonio, Texas
Okeh
8745
Easy Rider Blues
9-30-1934
Fort Worth, Texas
Vocalion 02856
Evil Woman Blues


(Texas Alexander)

8-17-1927
New York City, New York
Okeh
8688
Farm Hand Blues


(Texas Alexander)

8-16-1927
New York City, New York
Okeh
8526
Frisco Train Blues


(Texas Alexander)

11-20-1928
New York City, New York
Okeh
8658
Gold Tooth Blues


(Texas Alexander)

6-15-1929
San Antonio, Texas
Okeh
8705
Good Feelin' Blues
9-30-1934
Fort Worth, Texas
Vocalion 02876
I Am Calling Blues


(Texas Alexander)

11-20-1928
New York City, New York
Okeh
8801
Johnny Behrens Blues


(Texas Alexander)

6-15-1929
San Antonio, Texas
Okeh
8745
Justice Blues


(Texas Alexander)

9-29-1934
Fort Worth, Texas
Vocalion 02856
Katy Crossing Blues
9-29-1934
Fort Worth, Texas
Vocalion 02894
Levee Camp Moan Blues
8-12-1927
New York City, New York
Okeh
8498
Lonesome Blues
9-29-1934
Fort Worth, Texas
Vocalion 02894
Lonesome Valley Blues


(Texas Alexander)

9-29-1934
Fort Worth, Texas
Vocalion 02876
Long Lonesome Day Blues


(Texas Alexander)

8-11-1927
New York City, New York
Okeh
8511
Mama, I Heard You Brought It Right Back Home


(Texas Alexander)

8-16-1927
New York City, New York
Okeh
8542
Mama's Bad Luck Child
3-10-1928
San Antonio, Texas
Okeh
8578
Ninety-Eight Degree Blues


(Texas Alexander)

6-15-1929
San Antonio, Texas
Okeh
8705
No More Women Blues


(Texas Alexander)

3-9-1928
San Antonio, Texas
Okeh
8624
One Morning Blues
9-29-1934
Fort Worth, Texas
Vocalion 02912
Peaceful Blues
11-27-1929
San Antonio, Texas
Okeh
8751
Penitentiary Moan Blues


(Texas Alexander)

11-16-1928
New York City, New York
Okeh
8640
Range In My Kitchen Blues


(Texas Alexander)

8-11-1927
New York City, New York
Okeh
8526
Rolling Mill Blues
11-27-1929
San Antonio, Texas
Okeh
8751
Sabine River Blues


(Texas Alexander)

8-17-1927
New York City, New York
Okeh
8542
Section Gang Blues
8-12-1927
New York City, New York
Okeh
8498
Sittin' On A Log


(Texas Alexander)

3-10-1928
San Antonio, Texas
Okeh
8624
Someday, Baby, Your Troubles Is Gonna Be Like Mine


(Texas Alexander)

6-15-1929
San Antonio, Texas
Okeh
8771
St. Louis Fair Blues


(Texas Alexander)

11-20-1928
New York City, New York
Okeh
8688
Tell Me Woman Blues


(Texas Alexander)

11-20-1928
New York City, New York
Okeh
8673
Tennessee Blues


(Texas Alexander)

9-30-1934
Fort Worth, Texas
Vocalion
unissued
Texas Got The Blues Blues
9-30-1934
Fort Worth, Texas
Vocalion
unissued
Texas Special


(Texas Alexander)

11-27-1929
San Antonio, Texas
Okeh
8771
The Risin' Sun


(Texas Alexander)

11-15-1928
New York City, New York
Okeh
8673
Thirty Day Blues
11-27-1929
San Antonio, Texas
Okeh
8785
Water Bound Blues
6-15-1929
San Antonio, Texas
Okeh
8785
West Texas Blues


(Texas Alexander)

3-9-1928
San Antonio, Texas
Okeh
8603
When You Get To Thinking
11-27-1929
San Antonio, Texas
Okeh
8764
Work Ox Blues


(Texas Alexander)

11-15-1928
New York City, New York
Okeh
8658
Yellow Girl Blues


(Texas Alexander)

3-9-1928
San Antonio, Texas
Okeh
8801