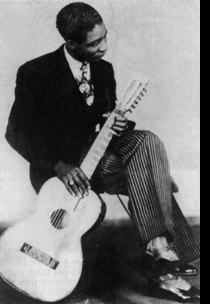 Lonnie Johnson (February 8, 1899 – June 16, 1970)was a pioneering Blues and Jazz guitarist and banjoist. He started playing in cafes in New Orleans and in 1917 he traveled in Europe, playing in revues and briefly with Will Marion Cook's Southern Syncopated Orchestra. When he returned home to New Orleans in 1918 he discovered that his entire family had been killed by a flu epidemic except for one brother.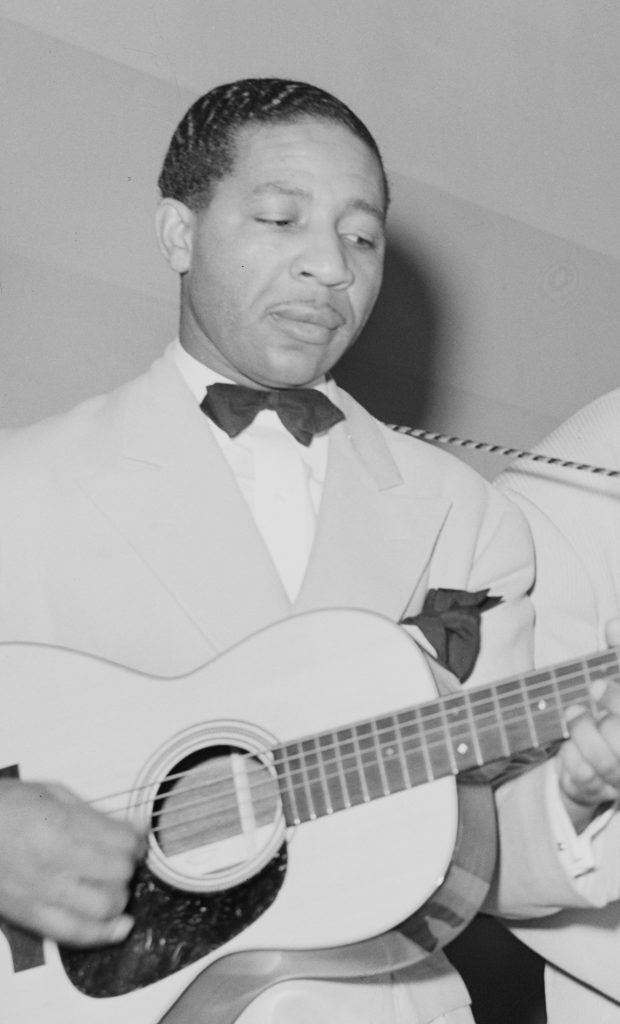 He and his surviving brother, James "Steady Roll" Johnson moved to St. Louis in 1920 where Lonnie played with Charlie Creath's Jazz-O-Maniacs and with Fate Marable in their Mississippi riverboat bands. In 1925 Johnson married Blues singer Mary Johnson and won a Blues contest sponsored by the Okeh record company. Part of the prize was a recording deal with the company.
Throughout the rest of the 1920s he recorded with a variety of bands and musicians, including Eddie Lang, Louis Armstrong and his Hot Five and the Duke Ellington Orchestra. In the 1930s Johnson moved to Cleveland, Ohio and worked with the Putney Dandridge Orchestra, and then in a tire factory and steel mill. In 1937 he moved back to Chicago and played with Johnny Dodds, and Jimmie Noone. Johnson continued to play for the rest of his life, but was often forced to leave the music business for periods to make a living. In 1963 he once again appeared briefly with Duke Ellington.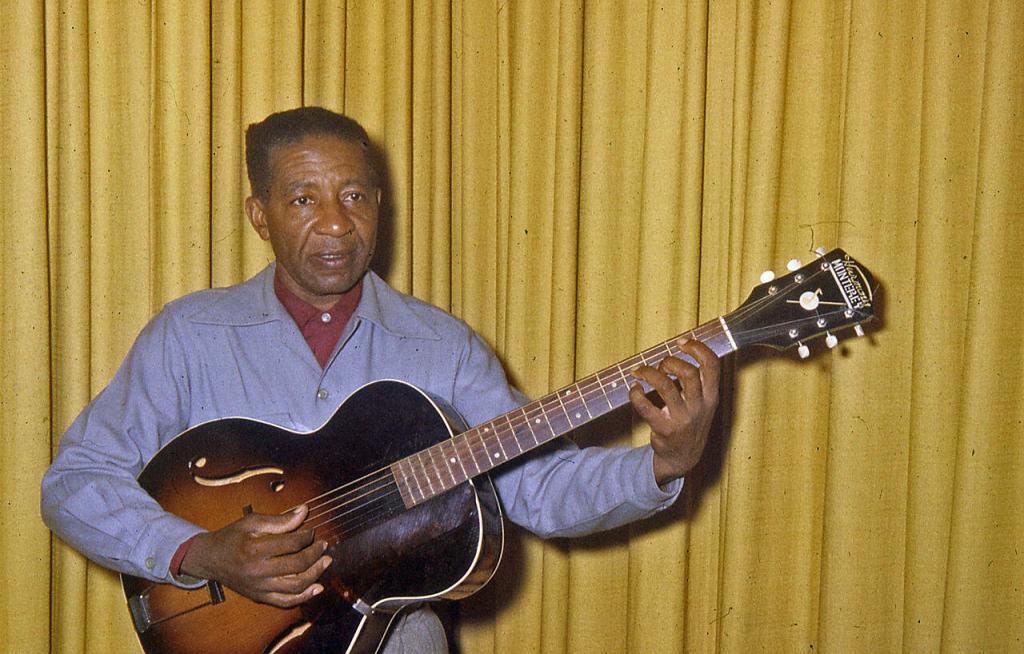 The MP3 files will open a new tab. The .ra files will download.
Title

Recording Date

Recording Location

Company

A Broken Heart That Never Smiles


(Lonnie Johnson)

4-27-1927
St. Louis, Missouri
Okeh
8601
A Good Happy Home
5-14-1926
St. Louis, Missouri
Okeh
8340
Another Woman Booked Out And Bound To Go
1-7-1930
New York, New York
Okeh
8886
Away Down In The Alley Blues


(Lonnie Johnson)

2-21-1928
Memphis, Tennessee
Okeh
8575
Baby Please Don't Leave Home No More


(Lonnie Johnson)

6-11-1929
New York, New York
Okeh
8754
Baby, Please Tell Me
8-13-1926
New York, New York
Okeh
8376
Baby, Remember Me


(Lonnie Johnson)

2-13-1942
Chicago, Illinois
Bluebird
34-0714-B
Baby, Will You Please Come Home


(Lonnie Johnson)

4-25-1927
St. Louis, Missouri
Okeh
8484
Baby You Don't Know My Mind
5-14-1926
St. Louis, Missouri
Okeh
8340
Back Water Blues
5-3-1927
St. Louis, Missouri
Okeh
8466
Ball And Chain Blues


(Lonnie Johnson)

8-13-1926
New York, New York
Okeh
8435-B
Be Careful
5-22-1940
Chicago, Illinois
Bluebird
B-8564
Bearcat Blues
12-14-1927
Chicago, Illinois
Gennett
6378
Beautiful But Dumb


(Lonnie Johnson)

3-16-1931
New York, New York
Okeh
8898
Bed Of Sand
Piano Accompaniment by James P. Johnson


(Lonnie Johnson)

1-19-1926
New York, New York
Okeh
8291-B
Bedbug Blues Part 2


(Porter Grainger)

10-3-1927
New York, New York
Okeh
8586
Best Jockey In Town


(Lonnie Johnson)

8-21-1931
New York, New York
Okeh
8916
Bitin' Fleas Blues
11-9-1927
New York, New York
Okeh
8524
Blue Ghost Blues


(Lonnie Johnson)

11-9-1927
New York, New York
Okeh
8557
Blue Ghost Blues
3-31-1938
New York, New York
Decca
7537 B
Blues and Trouble Has Got Me Down
4-25-1927
St. Louis, Missouri
Okeh
Unissued
Blues In G


(Lonnie Johnson)

2-21-1928
Memphis, Tennessee
Okeh
8575
Blues Is Only A Ghost
2-11-1931
New York, New York
Okeh
8875
Broken Levee Blues
3-13-1928
San Antonio, Texas
Okeh
8618
Careless Love


(Johnson)

11-16-1928
New York, New York
Okeh
8635
Cat You Been Messin' Aroun'
1-12-1932
New York, New York
Columbia 14647-D
Chicago Blues


(Lonnie Johnson)

2-7-1941
Chicago, Illinois
Bluebird
B-8779-B
Crowing Rooster
2-7-1941
Chicago, Illinois
Bluebird
B-8804
Crowing Rooster Blues
3-13-1928
San Antonio, Texas
Okeh
8574
Death Is On Your Track
Piano Accompaniment by Jimmy Foster
(take A)


(Williams)

3-19-1929
New York, New York
Okeh
8691
Death Is On Your Track
Piano Accompaniment by Jimmy Foster
(take C)


(Williams)

3-19-1929
New York, New York
Okeh
Unissued
Death Valley Is Just Half Way To My Home
1-23-1930
New York, New York
Okeh
8768
Deep Sea Blues
4-26-1930
New York, New York
Okeh
8822
Devil's Got The Blues
3-31-1938
New York, New York
Decca
7487
Don't Be No Fool
5-22-1940
Chicago, Illinois
Bluebird
B-8530-B
Don't Drive Me From Your Door
1-23-1930
New York, New York
Okeh
8796
Falling Rain Blues
Piano Accompaniment by John Arnold


(Jessie Johnson / Lonnie Johnson)

11-4-1925
St. Louis, Missouri
Okeh
8253-B
Fickle Mama Blues
8-11-1927
New York, New York
Okeh
8505
Five O' Clock Blues
1-20-1926
New York, New York
Okeh
8417
Flood Water Blues
11-8-1937
Chicago, Illinois
Decca
7397
Fly Right, Baby


(Lonnie Johnson)

2-13-1942
Chicago, Illinois
Bluebird
34-0708-A
Four Hands Are Better Than Two
5-1-1927
St. Louis, Missouri
Okeh
Unissued
Four-O-Three Blues


(Lonnie Johnson)

11-2-1939
Chicago, Illinois
Bluebird
B-8338
Friendless And Blue
3-31-1938
New York, New York
Decca
7487
From 20 To 44
2-13-1942
Chicago, Illinois
Bluebird
B-8980
From A Wash Woman On Up


(Lonnie Johnson)

3-16-1931
New York, New York
Okeh
8898
From Now On Make Your Whoopee At Home


(Lonnie Johnson)

6-11-1929
New York, New York
Okeh
8722
Fussing And Fretting
11-9-1927
New York, New York
Okeh
Unissued
Get Yourself Together


(Lonnie Johnson)

5-22-1940
Chicago, Illinois
Bluebird
B-8530-A
Go Back To Your No Good Man
8-12-1932
New York, New York
Okeh
Unissued
Good Old Wagon
5-14-1926
St. Louis, Missouri
Okeh
8358-B
Got The Blues For Murder Only


(Lonnie Johnson)

11-22-1930
New York, New York
Okeh
8846
Got The Blues For The West End
11-8-1937
Chicago, Illinois
Decca
7445
Handfull O' Keys
12-6-1927
Chicago, Illinois
Gennett
Unissued
Hard Times Ain't Gone No Where


(Lonnie Johnson)

11-8-1937
Chicago, Illinois
Decca
7388 A
Headed For Southland
1-23-1930
New York, New York
Okeh

Heart Of Iron


(Lonnie Johnson)

2-13-1942
Chicago, Illinois
Bluebird
B-9022-A
Hell Is A Name For All Sinners
7-6-1931
New York, New York
Columbia 14667-D
He's A Jelly-Roll Baker


(Lonnie Johnson)

2-13-1942
Chicago, Illinois
Bluebird
B-9006-A
Home Wreckers Blues
7-6-1931
New York, New York
Columbia 14667-D
I Ain't Gonna Be Your Fool
3-31-1938
New York, New York
Decca
7509
I Did All I Could
2-7-1941
Chicago, Illinois
Bluebird
B-8779-A
I Done Tole You
4-25-1927
St. Louis, Missouri
Okeh
Unissued
I Got The Best Jelly Roll In Town – Part 1


(Lonnie Johnson)

1-23-1930
New York, New York
Okeh
8786
I Got The Best Jelly Roll In Town – Part 2


(Lonnie Johnson)

1-23-1930
New York, New York
Okeh
8786
I Have No Sweet Woman Now


(Lonnie Johnson)

5-14-1926
St. Louis, Missouri
Okeh
8411-A
I Have To Do My Time
8-5-1930
New York, New York
Okeh
8909
I Just Can't Stand These Blues
4-23-1930
New York, New York
Okeh
8886
I Love You, Mary Lou
8-5-1927
New York, New York
Okeh
Unissued
I Want A Little Some O' That What You Got
Piano Accompaniment by Jimmy Foster


(Jimmy Foster)

2-27-1929
New York, New York
Okeh
8691
I'm Gonna Dodge the Blues Just Wait and See
8-13-1926
New York, New York
Okeh
8391
I'm Just Dumb
5-22-1940
Chicago, Illinois
Bluebird
B-8564
I'm Nuts About That Gal


(Lonnie Johnson)

8-12-1932
New York, New York
Okeh
8946
I'm Nuts Over You
(But You Just A Teaser)
11-8-1937
Chicago, Illinois
Decca
7397
Decca 48078 B
I'm So Tired Of Living All Alone


(Lonnie Johnson)

3-9-1928
San Antonio, Texas
Okeh
8677
In Love Again
2-7-1941
Chicago, Illinois
Bluebird
B-8748-B
It Ain't What You Usta Be


(Lonnie Johnson)

11-8-1937
Chicago, Illinois
Decca
7427
Decca 48078 A
It Feels So Good – Part 1


(Spencer Williams)

2-18-1929
New York, New York
Okeh
8664
It Feels So Good – Part 2


(Spencer Williams)

2-18-1929
New York, New York
Okeh
8664
It Feels So Good – Part 3


(Spencer Williams)

5-24-1929
New York, New York
Okeh
8697
It Feels So Good – Part 4


(Spencer Williams)

5-24-1929
New York, New York
Okeh
8697
It's Hot – Let It Alone
12-14-1927
Chicago, Illinois
Gennett
6423
Jelly Killed Old Sam
7-6-1931
New York, New York
Columbia 14622-D
Jersey Belle Blues
11-2-1939
Chicago, Illinois
Bluebird
B-8387
Johnson Trio Stomp
1-20-1926
New York, New York
Okeh
8417
Just A Roaming Man
(take A)
2-11-1931
New York, New York
Okeh
8875
Just A Roaming Man
(take C)
3-10-1931
New York, New York
Okeh
8875
Kansas City Blues – Part 1
12-17-1927
Chicago, Illinois
Okeh
8537
Kansas City Blues – Part 2
12-17-1927
Chicago, Illinois
Okeh
8537
Keep It To Yourself
2-7-1930
New York, New York
Okeh
8812
Laplegged Drunk Again


(Lonnie Johnson)

3-31-1938
New York, New York
Decca
7537 A
Layin' On The Strings
11-10-1927
New York, New York
Okeh
Unissued
Lazy Woman Blues


(Lonnie Johnson)

2-7-1941
Chicago, Illinois
Bluebird
B-8748-A
Let All Married Women Alone


(Lonnie Johnson)

11-22-1930
New York, New York
Okeh
8846
Life Saver Blues


(Lonnie Johnson)

11-9-1927
New York, New York
Okeh
8557
Lonesome Ghost Blues
8-11-1927
New York, New York
Okeh
8505
Lonesome Jail Blues


(Lonnie Johnson)

1-19-1926
New York, New York
Okeh
8309-A
Lonesome Road


(Lonnie Johnson)

2-13-1942
Chicago, Illinois
Bluebird
34-0714-A
Long Black Train
8-5-1930
New York, New York
Okeh
8822
Lonnie's Got The Blues
5-13-1926
St. Louis, Missouri
Okeh
8411-B
Love Is A Song
8-12-1932
New York, New York
Okeh
Unissued
Love Story Blues


(Lonnie Johnson)

1-20-1926
New York, New York
Okeh
8282-B
Low Down St. Louis Blues
(take C)
2-11-1931
New York, New York
Okeh
Unissued
Low Down St. Louis Blues
(take E)
3-10-1931
New York, New York
Okeh
Unissued
Low Land Moan


(Lonnie Johnson)

12-12-1927
Chicago, Illinois
Okeh
8677
Man Killing Broad
11-8-1937
Chicago, Illinois
Decca
7445
Mean Old Bed Bug Blues


(Wood)

8-11-1927
New York, New York
Okeh
8497
Men, Get Wise To Yourself
2-9-1932
New York, New York
Okeh
8937
Monkey And The Baboon


(Spencer Williams)

1-8-1930
New York, New York
Okeh
8762
Monkey And The Baboon – Part 2
(take B)


(Spencer Williams)

5-24-1930
New York, New York
Okeh
Unissued
Monkey And The Baboon – Part 2
(take F)


(Spencer Williams)

6-5-1930
New York, New York
Okeh
8802
Mr. Johnson Swing


(Lonnie Johnson)

3-31-1938
New York, New York
Decca
7509
Mr. Johnson's Blues
Piano Accompaniment by John Arnold


(Jessie J. Johnson)

11-4-1925
St. Louis, Missouri
Okeh
8253-A
Mr. Johnson's Blues No. 2


(Lonnie Johnson)

6-11-1929
New York, New York
Okeh
8709
My Heart Don't Cry Out For You Any More
3-14-1929
New York, New York
Okeh
Unissued
My Love Don't Belong To You
8-12-1932
New York, New York
Columbia 14674-D
My Love Is Down


(Lonnie Johnson)

2-7-1941
New York, New York
Victor
20-1890-A
New Falling Rain Blues


(Lonnie Johnson)

3-31-1938
New York, New York
Decca
7461 A
Nile Of Genago


(Lonnie Johnson)

1-20-1926
New York, New York
Okeh
40695-B
No More Troubles Now
9-11-1930
New York, New York
Okeh
8831
Not The Chump I Used To Be


(Lonnie Johnson)

8-21-1931
New York, New York
Okeh
8916
Nothing But A Rat


(Lonnie Johnson)

11-2-1939
Chicago, Illinois
Bluebird
B-8322-A
Oh! Doctor The Blues
8-13-1926
New York, New York
Okeh
8391
Once Or Twice
1-8-1930
New York, New York
Okeh
8812
Playing With The Strings
2-21-1928
Memphis, Tennessee
Okeh
8558
Racketeers Blues


(Lonnie Johnson)

8-12-1932
New York, New York
Okeh
8946
Rambler's Blues


(Lonnie Johnson)

2-13-1942
Chicago, Illinois
Bluebird
34-0708-B
Roaming Rambler Blues


(Wood)

8-12-1927
New York, New York
Okeh
8497
Sam, You Can't Do That To Me


(Lonnie Johnson)

9-11-1930
New York, New York
Okeh
8831
Sam, You're Just A Rat
2-9-1932
New York, New York
Okeh
8937
Searchin' For Flats
12-6-1927
Chicago, Illinois
Gennett
Unissued
She Ain't Right
2-7-1941
Chicago, Illinois
Bluebird
B-8684
She Don't Know Who She Wants
1-23-1930
New York, New York
Okeh
8775
She Just Won't Don't
2-27-1929
New York, New York
Okeh
unissued
She's Dangerous With That Thing
1-12-1932
New York, New York
Columbia 14647-D
She's Making Whoopee In Hell Tonight


(Lonnie Johnson)

1-7-1930
New York, New York
Okeh
8768
She's My Mary
11-2-1939
Chicago, Illinois
Bluebird
B-8322-B
She's Only A Woman
11-2-1939
Chicago, Illinois
Bluebird
B-8363-B
6/88 Glide
10-31-1927
New York, New York
Okeh
Unissued
Sleepy Water Blues
12-3-1931
New York, New York
Okeh
8926
Somebody's Got To Go


(Lonnie Johnson)

2-7-1941
Chicago, Illinois
Bluebird
B-8684-A
Victor
20-1890-B
Some Day Baby


(Lonnie Johnson)

Bluebird
24-0732-B
Something Fishy
(Don't Lie To Me)


(Lonnie Johnson)

11-8-1937
Chicago, Illinois
Decca
7388 B
South Bound Backwater


(Lonnie Johnson)

3-31-1938
New York, New York
Decca
7461 B
South Bound Water
4-25-1927
St. Louis, Missouri
Okeh
8466
Southland Is All Right With Me
2-11-1931
New York, New York
Okeh
8909
St. Louis Cyclone Blues


(Porter Grainger)

10-3-1927
New York, New York
Okeh
8512
Stay Out Of Walnut Street Alley
8-12-1927
New York, New York
Okeh
8618
Steppin' On The Blues
4-25-1927
St. Louis, Missouri
Okeh
Unissued
Stompin' Em Along Slow
2-21-1928
Memphis, Tennessee
Okeh
8558
String Along With Lonnie
11-9-1927
New York, New York
Okeh
Unissued
Sun To Sun Blues
Piano Accompaniment by James P. Johnson
1-19-1926
New York, New York
Okeh
8291-A
Sundown Blues


(Williams)

6-11-1929
New York, New York
Okeh
8754
Sweet Potato Blues


(Smith)

12-13-1927
Chicago, Illinois
Okeh
8586
Sweet Woman You Can't Go Wrong


(Lonnie Johnson)

8-5-1927
New York, New York
Okeh
8512
Sweet Woman, See For Yourself


(Lonnie Johnson)

8-13-1926
New York, New York
Okeh
8435-A
Swing Out Rhythm
11-8-1937
Chicago, Illinois
Decca
7427
That's Love
2-7-1941
Chicago, Illinois
Bluebird
B-8804
The Bull Frog And The Toad
(take C)
5-24-1930
New York, New York
Okeh
Unissued
The Bull Frog And The Toad
(take F)
6-5-1930
New York, New York
Okeh
8802
The Devil's Woman


(Lonnie Johnson)

2-13-1942
Chicago, Illinois
Bluebird
B-9022-B
The Dirty Dozen
2-7-1930
New York, New York
Okeh
8775
The Faults Of All Women And Men
7-6-1931
New York, New York
Columbia 14622-D
The Last Call
2-13-1942
Chicago, Illinois
Bluebird
B-8980
The Loveless Blues
11-2-1939
Chicago, Illinois
Bluebird
B-8338
The New Fallin' Rain Blues
6-11-1929
New York, New York
Okeh
8709
The St. Louis Train Kept Passing By
12-6-1927
Chicago, Illinois
Gennett
6366
The Sun Will Shine In My Doorway Someday
4-25-1927
St. Louis, Missouri
Okeh
Unissued
There Is No Justice
3-17-1932
New York, New York
Columbia 14655-D
There's No Use of Lovin'


(Lonnie Johnson)

8-13-1926
New York, New York
Okeh
8376-A
Tin Can Alley Blues
10-31-1927
New York, New York
Okeh
8524
To Do This, You Got To Know How


(Lonnie Johnson)

8-14-1926
New York, New York
Okeh
40695-A
Tombstone Blues
12-13-1927
Chicago, Illinois
Okeh
Unissued
Treat 'Em Right


(Lonnie Johnson)

4-25-1927
St. Louis, Missouri
Okeh
8484
Trust Your Husband
11-2-1939
Chicago, Illinois
Bluebird
B-8387
Uncle Ned, Don't Use Your Head
12-3-1931
New York, New York
Okeh
8926
Unselfish Love
8-12-1932
New York, New York
Columbia 14674-D
Very Lonesome Blues
Fiddling by James Johnson, Piano by De Loise Searcy


(Lonnie Johnson)

1-19-1926
New York, New York
Okeh
8282-A
Watch Shorty


(Lonnie Johnson)

Bluebird
24-0732-A
Way Down That Lonesome Road
3-13-1928
San Antonio, Texas
Okeh
8574
When A Man Is Treated Like A Dog
12-6-1927
Chicago, Illinois
Gennett
6366
When I Was Lovin' Changed My Mind Blues
1-19-1926
New York, New York
Okeh
8309-B
When You Fall For Some One That's Not Your Own


(Lonnie Johnson)

11-16-1928
New York, New York
Okeh
8635
When You Feel Low Down


(Lonnie Johnson)

2-13-1942
Chicago, Illinois
Bluebird
B-9006-B
Why Should I Grieve After You're Gone
12-8-1927
Chicago, Illinois
Gennett
6423
Why Women Go Wrong


(Lonnie Johnson)

11-2-1939
Chicago, Illinois
Bluebird
B-8363-A
Winnie The Wailer
3-17-1932
New York, New York
Columbia 14655-D
Wipe It Off
(Clarence Williams / Lonnie Johnson)
1-8-1930
New York, New York
Okeh
8762
Woke Up With The Blues In My Fingers
5-2-1927
St. Louis, Missouri
Okeh
Unissued
Woman Changed My Life
With Piano By James Johnson


(Lonnie Johnson)

5-13-1926
St. Louis, Missouri
Okeh
8358-A
Wrong Woman Blues


(Lonnie Johnson)

3-13-1928
San Antonio, Texas
Okeh
8601
You Can't Give A Woman Everything She Needs


(Lonnie Johnson)

6-11-1929
New York, New York
Okeh
8722
You Don't See Into the Blues Like Me


(Lonnie Johnson)

8-13-1926
New York, New York
Okeh
8451
You Drove A Good Man Away
8-13-1926
New York, New York
Okeh
8451

| | |
| --- | --- |
| Artist | Instrument |
| Josh Altheimer | Piano |
| Lil Armstrong | Piano |
| John Arnold | Piano |
| Jimmy Blythe | Piano |
| Blind John Davis | Piano |
| John Erby | Piano |
| Jimmy Foster | Vocals |
| Porter Grainger | Piano |
| Andrew Harris | String Bass |
| Lazy Harris | Piano |
| J. C. Johnson | Piano |
| James Johnson | Banjo, Guitar, Piano, Violin |
| James P. Johnson | Piano |
| Lonnie Johnson | Vocals, Guitar, Harmonium, Kazoo, Violin |
| Jimmy Jordan | Vocals |
| Fred Longshaw | Piano |
| De Loise Searcy | Piano |
| Victoria Spivey | Vocals |
| Roosevelt Sykes | Piano |
| Clarence Williams | Piano, Washboard |
| Spencer Williams | Vocals, Percussion, Scraper |