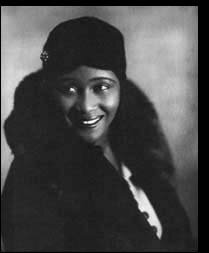 Victoria Spivey  (October 15, 1906 – October 3, 1976) got her start in music at age twelve when she began playing piano in a movie theatre in Houston, Texas. From there she expanded her musical career to playing in saloons and whorehouses. She was was a big fan of the Blues singer
Ida Cox
and modeled her own career after Cox's. In 1926 at the the age of twenty she travelled to St. Louis where Okeh records was on a field trip looking for new acts to record. She recorded her own songs "
Black Snake Blues"
and "
Dirty Woman Blues
" which became a best selling record.
Over the the next two years she was quite a hot item and recorded records almost once a month, often with the accompaniment of great Jazz musicians like Lonnie Johnson, Louis Armstrong, King Oliver, Clarence Williams, Luis Russell and many others, including her sister Addie "Sweet Pease" Spivey.
In 1929 she played a small role in King Vidor's early film musical "Hallelujah". As the Blues craze and the record industry in general hit the skids in the early 1930s, Spivey somehow managed to keep recording and performing unlike almost all of the other Classic Blues singers. She expanded into playing in vaudeville musical revues, including the acclaimed Hellzapoppin' Revue in New York City and recorded and toured with Louis Armstrong and his Orchestra.
Spivey was constantly working, playing countless one-night stands throughout the 1930s and 1940s, but by the l950s, Spivey had left show business, but continued singing in the church choir in her home in Brooklyn. Victoria returned to show business in 1962 when she formed her own record company, Spivey Records. Her first record on the label featured Bob Dylan as an accompanist. So, Spivey's career began again in the early 1960s; she began performing in folk and blues festivals and in nightclubs in and around New York City and continued to record for the rest of her life.

| | | |
| --- | --- | --- |
| Title | Director | Year |
| Hallelujah | King Vidor | 1929 |

Title

Recording Date

Recording Location

Company

A Good Man Is Hard To Find


(Eddie Green)

11-1-1927
New York, New York
Okeh
8565
Any Kind A Man
10-15-1936
New York, New York
Vocalion
3366
Arkansas Road Blues
4-27-1927
St. Louis, Missouri
Okeh
8481
Baulin' Water Blues – Part 1
with Harold Grey


(Victoria Spivey / Anna House)

6-26-1930
New York, New York
Victor
23349-A
Baulin' Water Blues – Part 2
with Harold Grey


(Victoria Spivey / Anna House)

6-26-1930
New York, New York
Victor
23349-B
Big Houston Blues
8-13-1926
New York, New York
Okeh
8401
Black Snake Blues


(Victoria Spivey / Lonnie Johnson)

5-11-1926
St. Louis, Missouri
Okeh
8338-A
Black Snake Swing


(Victoria Spivey)

7-7-1936
New York, New York
Decca
7203 A
Blood Hound Blues


(Victoria Spivey)

10-1-1929
New York, New York
Victor
38570-A
Bluebird
B-8619-A
Blood Thirsty Blues


(Victoria Spivey)

10-31-1927
New York, New York
Okeh
8531
Blue Valley Blues
8-16-1926
New York, New York
Okeh
8389-B
Christmas Morning Blues
(Lonnie Johnson)
10-28-1927
New York, New York
Okeh
8517
Detroit Moan


(Victoria Spivey)

10-15-1936
New York, New York
Vocalion
03405
Dirty T.B. Blues


(Victoria Spivey)

10-1-1929
New York, New York
Victor
38570-B
Dirty Woman Blues


(Victoria Spivey / Lonnie Johnson)

5-11-1926
St. Louis, Missouri
Okeh
8351-A
Don't Trust Nobody Blues
3-20-1931
New York, New York
Victor
1640
Dope Head Blues


(Victoria Spivey)

10-28-1927
New York, New York
Okeh
8531
Dreaming 'Bout My Man
4-21-1931
New York, New York
Victor
Funny Feathers


(Victoria Spivey / R. Floyd)

7-10-1929
New York, New York
Okeh
Funny Feathers Blues (1)


(Victoria Spivey / R. Floyd)

9-24-1929
New York, New York
Victor
8713
Funny Feathers Blues (2)


(Victoria Spivey / R. Floyd)

9-24-1929
New York, New York
Victor
8713
Furniture Man Blues – Part 1


(Spencer Williams / Victoria Spivey)

10-18-1928
New York, New York
Okeh
8652
Furniture Man Blues – Part 2


(Spencer Williams / Victoria Spivey)

10-18-1928
New York, New York
Okeh
8652
Garter Snake Blues


(Victoria Spivey)

10-28-1927
New York, New York
Okeh
8517
Good Cabbage
7-8-1937
New York, New York
Vocalion
3639
Got The Blues So Bad
8-13-1926
St. Louis, Missouri
Okeh
8401
Got The Blues So Bad
3-12-1937
New York, New York
Vocalion
From 1 To 12 (Dirty Dozen)
7-8-1937
New York, New York
Vocalion
3505
Haunted By The Blues
2-4-1930
New York, New York
Victor
38598
How Do You Do It That Way?


(Victoria Spivey / R. Floyd)

7-10-1929
New York, New York
Okeh
8713
How Do You Do It That Way? (1)


(Victoria Spivey / R. Floyd)

9-24-1929
New York, New York
Victor
How Do You Do It That Way? (2)


(Victoria Spivey / R. Floyd)

9-24-1929
New York, New York
Victor
He Want's Too Much
3-20-1931
New York, New York
Victor
Hollywood Stomp


(Victoria Spivey)

10-15-1936
New York, New York
Vocalion
03405
Hoodoo Man Blues


(Victoria Spivey)

8-12-1926
New York, New York
Okeh
Humored And Petted Blues
8-12-1926
New York, New York
Okeh
8389-A
I Ain't Gonna Let You See My Santa Claus
10-15-1936
New York, New York
Vocalion
3366
I Can't Last Long
8-30-1936
New York, New York
Vocalion
Idle Hour Blues


(Victoria Spivey)

4-27-1927
St. Louis, Missouri
Okeh
8464
I'll Never Fall In Love Again
7-7-1936
New York, New York
Decca
7203 B
It's Evil Hearted Me
8-12-1926
New York, New York
Okeh
8410-A
Jelly Look What You Done Done


(Hurston)

11-1-1927
New York, New York
Okeh
8550
Lonesome With The Blues
2-4-1930
New York, New York
Victor
38598
Long Gone Blues


(Victoria Spivey / Lloyd Barnes)

5-13-1926
St. Louis, Missouri
Okeh
8351-B
Low Down Man Blues
3-20-1931
New York, New York
Vocalion
1640
Moaning The Blues


(Victoria Spivey)

10-1-1929
New York, New York
Victor
38546
Bluebird
8619-A
Mosquito, Fly And Flea


(Victoria Spivey)

10-18-1928
New York, New York
Okeh
8634
Murder In The First Degree


(Victoria Spivey)

11-1-1927
New York, New York
Okeh
8581
My Handy Man


(Andy Razaf)

9-12-1928
New York, New York
Okeh
8615
Mr. Freddie Blues


(J.H. Shayne)

10-1-1936
New York, New York
Vocalion
Nebraska Blues
3-20-1931
New York, New York
Vocalion
1606
New Black Snake Blues – Part 1


(Victoria Spivey)

10-13-1928
New York, New York
Okeh
8626
New Black Snake Blues – Part 2


(Victoria Spivey)

10-13-1928
New York, New York
Okeh
8626
New York Blues
2-4-1930
New York, New York
Victor
38584
Nightmare Blues
10-31-1927
New York, New York
Okeh
8581
No More Jelly Bean Blues
Piano by De Lloyd Barnes
Cornet by Pierce Gist


(Victoria Spivey / De Lloyd Barnes)

5-13-1926
St. Louis, Missouri
Okeh
8338-B
No Papa, No!


(Victoria Spivey)

10-17-1928
New York, New York
Okeh
8634
No. 12 Let Me Roam


(Victoria Spivey / Erby)

4-27-1927
St. Louis, Missouri
Okeh
8494
One Hour Mama
3-12-1937
New York, New York
Vocalion
3505
Organ Grinder Blues (A)
(Clarence Williams)
9-12-1928
New York, New York
Okeh
8615
Organ Grinder Blues (C)
(Clarence Williams)
9-12-1928
New York, New York
Okeh
8615
Red Lantern Blues
10-28-1927
New York, New York
Okeh
8550
Santa Fe Blues


(Victoria Spivey)

8-12-1926
New York, New York
Okeh
8410-B
Showered With The Blues


(Victoria Spivey)

2-4-1930
New York, New York
Victor
38584
Spider Web Blues


(Victoria Spivey)

8-12-1926
New York, New York
Okeh
8370
Steady Grind


(Victoria Spivey)

4-27-1927
St. Louis, Missouri
Okeh
8464
Sweet Pease
7-7-1936
New York, New York
Decca
7222 B
T-B Blues


(Victoria Spivey)

4-27-1927
St. Louis, Missouri
Okeh
8494
TB's Got Me


(Victoria Spivey)

7-7-1936
New York, New York
Decca
7222 A
Telephoning The Blues


(Victoria Spivey)

10-1-1929
New York, New York
Victor
38546
The Alligator Pond Went Dry
4-27-1927
St. Louis, Missouri
Okeh
8481
Toothache Blues – Part 1
Piano by Clarence Williams


(Oscar Jefferson)

10-17-1928
New York, New York
Vocalion
3243
Toothache Blues – Part 2
Piano by Clarence Williams


(Oscar Jefferson)

10-18-1928
New York, New York
Vocalion
3243
Trouble In Mind
(Richard M. Jones)
10-1-1936
New York, New York
Vocalion
You Done Lost Your Good Thing Now! – Part 1


(Victoria Spivey / Noble Floyd)

7-3-1929
New York, New York
Okeh
8733
You Done Lost Your Good Thing Now! – Part 2


(Victoria Spivey / Noble Floyd)

7-3-1929
New York, New York
Okeh
8733
Your Worries Ain't Like Mine
11-1-1927
New York, New York
Okeh
8565
You've Gotta Have What It Takes – Part 1
6-26-1930
New York, New York
Victor
38609
You've Gotta Have What It Takes – Part 2
6-26-1930
New York, New York
Victor
38609

| | |
| --- | --- |
| Artist | Instrument |
| Henry "Red" Allen | Trumpet |
| Gene Anderson | Piano |
| Louis Armstrong | Cornet |
| Harold Arnold | Alto Saxophone |
| Charles Avery | Piano |
| Paul Barbarin | Drums |
| De Lloyd Barnes | Piano |
| Burton Brewer | Piano |
| Big Bill Broonzy | Guitar |
| Teddy Bunn | Guitar |
| Mancy Cara | Banjo |
| Lee Collins | Cornet |
| Elmer Crumbley | Trombone |
| John Erby | Piano |
| Georgia Tom Dorsey | Piano |
| Eddie Durham | Trombone |
| Joe Edwards | Trombone |
| Noble Floyd | Trombone |
| Reuben Floyd | Trumpet |
| Pops Foster | Bass |
| Pierce Gist | Cornet |
| Chick Gordon | Saxophone |
| Porter Grainger | Piano |
| Herbert Hannas | Banjo |
| J.C. Higginbotham | Trombone |
| Teddy Hill | Tenor Saxophone |
| Charlie Holmes | Alto Saxophone |
| Lloyd Hunter | Trumpet |
| Eddie Lang | Guitar |
| John Lindsay | Bass |
| George Lott | Trumpet |
| Lonnie Johnson | Guitar, Vocals |
| Will Johnson | Guitar |
| Jo Jones | Drums |
| Arnett Nelson | Clarinet |
| Albert Nicholas | Clarinet |
| King Oliver | Cornet |
| Fred Robinson | Trombone |
| Luis Russell | Piano |
| J.H. Shayne | Piano |
| Omer Simeon | Clarinet |
| Zutty Singleton | Drums |
| Dorothy Scott | Piano |
| Randolph Scott | Trumpet |
| Addie "Sweet Pease" Spivey | Piano |
| Jimmy Strong | Tenor Saxophone |
| Tampa Red | Guitar |
| Bud Washington | Drums |
| Leon Washington | Saxophone |
| Archie Watts | Alto Saxophone |
| Wallace Wright | Tuba |
| Clarence Williams | Piano |