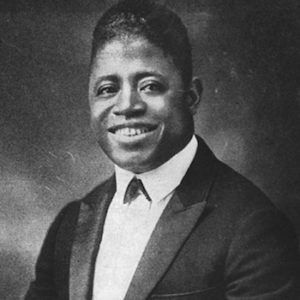 Jazz history books often leave his name out, but Clarence Williams was a major force in the 1920s and '30s and had quite a career; in fact, several overlapping ones. He was a successful businessman, a decent pianist, a cheerful singer, an enthusiastic jug blower, a bandleader, a publisher, a song plugger, an important songwriter, and the organizer of scores of rewarding and fun recording sessions. Most of all, he was a hustler who never tired of publicizing, selling, and making money off of the music he loved. He had a unique life, particularly for an African-American during the first half of the 20th century.
Clarence Williams was born October 6, 1893 (although some reference books listed the doubtful year of 1898) in Plaquemine, Louisiana. Always attracted to show business, he ran away from home when he was 12 to join Billy Kersands' Traveling Minstrel Show.
At first he worked at odd jobs for the show including shining shoes, but his enthusiasm, natural salesmanship, and love of music resulted in him becoming a singer, dancer, and master of ceremonies. When he came off the road, he settled in New Orleans and began to learn piano. Soon he was playing regularly in the Storyville district.
Always an eager and talented businessman, Williams kept busy in New Orleans as a talent provider and manager for the local vaudeville theater, dance, halls and saloons. He began writing songs in 1913 when he was 19. When he received a $1,600 check for a song he had forgotten about, "Brownskin, Who You For?" which had been recorded by a band in New York, he began paying close attention to music publishing.
Williams, who toured with W.C. Handy's group in 1917, also played duos with violinist Armand J. Piron. He and Piron started a music publishing business in New Orleans that was so prosperous that when the time was right, Williams moved up North to set up his own publishing office. After a brief time in Chicago, he permanently relocated to New York.
Williams would soon become one of the most successful African-American music publishers in the country. Among the best-known songs that Williams composed were "Sugar Blues," "Baby Won't You Please Come Home," "Ain't Nobody's Business If I Do," "Shout, Sister, Shout," "My Bucket's Got A Hole In It," "Papa De Da Da," and a pair that he co-composed with the unrelated Spencer Williams: "Royal Garden Blues" and "I Ain't Gonna Give Nobody None Of My Jelly Roll."
In 1921 Clarence Williams married the excellent vocalist Eva Taylor who was able to sing both popular songs of the era and lowdown blues quite effectively in her sweet voice. Her impeccable diction and gentle swing were major assets in selling Williams' songs. They would be happily married for 44 years.
Clarence Williams made his recording debut in 1921 as a singer including recording two versions of "Brown Skin (Who You For?)." The following year he played piano behind Sara Martin and his wife on a few numbers (including "Baby Won't You Please Come Home"), but 1923 is when he became an important recording artist.
With the craze for female blues singers hitting its peak (three years after Mamie Smith started it all with her recording of "Crazy Blues"), Williams managed and played piano for Bessie Smith (accompanying her on her first four sessions), at least until a money dispute ended that association. They later made up and he appeared on some of her later recordings.
Also in 1923, Williams recorded his first two piano solos and recorded on blues dates by Eva Taylor, Esther Bigeou, Mamie Smith, Virginia Liston, Fannie Goosby, Rosetta Crawford, and Margaret Johnson. Most importantly, he led the first in a long series of mostly instrumental dates, heading the Clarence Williams Blue Five. Sidney Bechet is featured on "Wild Cat Blues" and "Kansas City Man Blues" from July 30, 1923 which contain arguably the first significant recorded horn solos in jazz history.