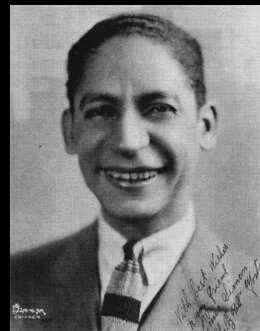 Jelly Roll Morton
(October 20, c. 1890 – July 10, 1941) was the first great composer and piano player of Jazz. He was a talented arranger who wrote special scores that took advantage of the three-minute limitations of the 78 rpm records. But more than all these things, he was a real character whose spirit shines brightly through history, like his diamond studded smile.
As a teenager Jelly Roll Morton worked in the whorehouses of Storyville as a piano player. From 1904 to 1917 Jelly Roll rambled around the South. He worked as a gambler, pool shark, pimp, vaudeville comedian and as a pianist. He was an important transitional figure between ragtime and jazz piano styles.
He played on the West Coast from 1917 to 1922 and then moved to Chicago and where he hit his stride. Morton's 1923 and 1924 recordings of piano solos for the Gennett label were very popular and influential. He formed the band the Red Hot Peppers and made a series of classic records for Victor. The recordings he made in Chicago featured some of the best New Orleans sidemen like Kid Ory, Barney Bigard, Johnny Dodds, Johnny St. Cyr and Baby Dodds.  Morton relocated to New York in 1928 and continued to record for Victor until 1930. His New York version of The Red Hot Peppers featured sidemen like Bubber Miley, Pops Foster and Zutty Singleton.
Like so many of the Hot Jazz musicians, the Depression was hard on Jelly Roll. Hot Jazz was out of style. The public preferred the smoother sounds of the big bands. He fell upon hard times after 1930 and even lost the diamond he had in his front tooth, but ended up playing piano in a dive bar in Washington D.C.
In 1938 Alan Lomax recorded him in for series of interviews about early Jazz for the Library of Congress, but it wasn't until a decade later that these interviews were released to the public. Jelly Roll died just before the Dixieland revival rescued so many of his peers from musical obscurity. He blamed his declining health on a voodoo spell.
For more information about Jelly Roll Morton's life and music you are encouraged to visit Monrovia Sound Studio's Jelly Roll Morton Page


Files will download when you click them. They will not play in media player. Try VLC player or something similar.
Title

Recording Date

Recording Location

Company

After You've Gone


(Henry Creamer / J. Turner Layton)

8-1938
Baltimore, Maryland
Swaggie
JCS-116 (LP)
Animule Dance
(Jelly Roll Morton)
12-14-1939
New York, New York
General
unreleased
R-2567
Animule Dance
(Jelly Roll Morton)
12-16-1939
New York, New York
General
Big Foot Ham
(Jelly Roll Morton)
6-9-1924
Richmond, Indiana
Gennett
5552
Blues (untitled blues song)
(Jelly Roll Morton)
8-1938
Baltimore, Maryland
Swaggie
S-1213 (LP)
Buddy Bolden's Blues
(Traditional arranged by Jelly Roll Morton)
12-16-1939
New York, New York
General
4003-A
Commodore
589 A
Bucktown Blues
(Boyd Senter)
6-9-1924
Richmond, Indiana
Gennett
5515-A
Creepy Feeling
(Jelly Roll Morton)
12-1938
Washington, D.C.
Jazz Man
12 (146)
Don't You Leave Me Here
(Jelly Roll Morton)
12-16-1939
New York, New York
General
4005-A
Commodore
591 A
Fat Meat And Greens
(Jelly Roll Morton)
4-20-1926
Chicago, Illinois
Vocalion
V.1019
Finger Buster
(Jelly Roll Morton)
12-1938
Washington, D.C.
Jazz Man
12 (145)
Frances
(Jelly Roll Morton)
7-8-1929
Chicago, Illinois
Victor
V-38627-B
Freakish
(Jelly Roll Morton)
7-8-1929
Chicago, Illinois
Victor
27565-B
49451-1
Freakish
(Jelly Roll Morton)
7-8-1929
Chicago, Illinois
Victor
V-38527-B
49451-2
Froggie Moore
(Jelly Roll Morton)
April or May 1924
Chicago, Illinois
Paramount
14032B
Grandpa's Spells
(Jelly Roll Morton)
7-18-1923
Richmond, Indiana
Gennett
5218-A
Honeysuckle Rose (1)
(Andy Razaf / Fats Waller)
8-1938
Baltimore, Maryland
Family
SFR-DP 650
Honeysuckle Rose (2)
(Andy Razaf / Fats Waller)
8-1938
Baltimore, Maryland
Swaggie
2-1213 (LP)
Honky Tonk Music
(Jelly Roll Morton)
12-1938
Washington, D.C.
Jazz Man
11 (149)
I Ain't Got Nobody
(Graham / Williams)
8-1938
Baltimore, Maryland
Swaggie
2-1213 (LP)
I Would Do Anything For You
(Hill / Williams / Hopkins)
8-1938
Baltimore, Maryland
Swaggie
2-1213 (LP)
Jelly Roll Blues
(Jelly Roll Morton)
6-9-1924
Richmond, Indiana
Gennett
5552-A
Kansas City Stomp
(Jelly Roll Morton)
7-18-1923
Richmond, Indiana
Gennett
5218-B
King Porter – A Stomp
(Jelly Roll Morton)
7-17-1923
Richmond, Indiana
Gennett
5289-B
King Porter Stomp
(Jelly Roll Morton)
4-20-1926
Chicago, Illinois
Vocalion
A 1020
King Porter Stomp
(Jelly Roll Morton)
8-1938
Baltimore, Maryland
Family
SFR-DF 695
King Porter Stomp
(Jelly Roll Morton)
12-14-1939
New York, New York
General
1020-B
Commodore
591 B
London Blues
(Jelly Roll Morton)
April or May 1924
Chicago, Illinois
Rialto
un-numbered
Mamamita
(Jelly Roll Morton)
4-24-1924
Chicago, Illinois
Paramount
12216
Mamamita
(Jelly Roll Morton)
6-9-1924
Richmond, Indiana
Gennett
5632-B
Mamie's Blues
(Jelly Roll Morton)
12-16-1939
New York, New York
General
4001-A
Commodore
587 A
Melancholy Baby (1)
(Norton)
8-1938
Baltimore, Maryland
Swaggie
2-1213 (LP)
Melancholy Baby (2)
(Norton)
8-1938
Baltimore, Maryland
Family
Michigan Water Blues
(Clarence Williams)
12-18-1939
New York, New York
General
4002-A
Commodore
588 A
Mister Joe
(Jelly Roll Morton)
12-14-1939
New York, New York
General
4004-B
Commodore
590 B
New Orleans Joys
(Jelly Roll Morton)
7-17-1923
Richmond, Indiana
Gennett
5486-B
11538
New Orleans Joys
(Jelly Roll Morton)
7-17-1923
Richmond, Indiana
Gennett
5486-B
11538-A
Organ Interlude
(Jelly Roll Morton)
8-1938
Baltimore, Maryland
Swaggie
JCS-116 (LP)
Original Rags
(Scott Joplin)
12-14-1939
New York, New York
General
4001-A
Commodore
587 A
Pep
(Jelly Roll Morton)
7-8-1929
Chicago, Illinois
Victor
V-38627-A
Perfect Rag
(Jelly Roll Morton)
6-9-1924
Richmond, Indiana
Gennett
5486-A
Seattle Hunch
(Jelly Roll Morton)
7-8-1929
Chicago, Illinois
Victor
V-38527-A
49449-1
Seattle Hunch
(Jelly Roll Morton)
7-8-1929
Chicago, Illinois
Victor
27565-A
49449-2
Shreveport Stomp
(Jelly Roll Morton)
6-9-1924
Richmond, Indiana
Gennett
5590-A
Sporting House Rag (Perfect Rag)
(Jelly Roll Morton)
12-14-1939
New York, New York
Commodore
XFL-14942 (LP)
Stratford Hunch
(Jelly Roll Morton)
6-9-1924
Richmond, Indiana
Gennett
5590-B
Sweetheart Of Mine
(Jelly Roll Morton)
4-20-1926
Chicago, Illinois
Vocalion
B 1019
The Crave
(Jelly Roll Morton)
12-14-1939
New York, New York
General
4003-B
Commodore
589 B
The Pearls
(Jelly Roll Morton)
7-18-1923
Richmond, Indiana
Gennett
5323-B
The Pearls
(Jelly Roll Morton)
4-20-1926
Chicago, Illinois
Vocalion
A 1020
The Pearls
(Jelly Roll Morton)
8-1938
Baltimore, Maryland
Swaggie
JCS-116 (LP)
The Naked Dance
(Jelly Roll Morton)
12-14-1939
New York, New York
Commodore
XFL-14942 (LP)
R-2563
The Naked Dance
(Jelly Roll Morton)
12-16-1939
New York, New York
General
4002-B
Commodore
588 B
R-2571
Thirty-Fifth Street
(Charles Levy)
4-24-1924
Chicago, Illinois
Paramount
12216-A
Tia Juana (Tee Wana)
(Larry Conley / Gene Rodemich)
6-9-1924
Richmond, Indiana
Gennett
5632-A
Tiger Rag
(Nick LaRocca)
8-1938
Baltimore, Maryland
Swaggie
S-1213 (LP)
Tom Cat Blues
(Jelly Roll Morton)
6-9-1924
Richmond, Indiana
Gennett
5515-B
Trees


(J. Kilmer / O. Rasbach)

8-1938
Baltimore, Maryland
Swaggie
SFR-DP 650
Winin' Boy Blues
(Jelly Roll Morton)
12-14-1939
New York, New York
General
4004-A
Commodore
590 A
Winin' Boy Blues
(Jelly Roll Morton)
12-1938
Washington, D.C.
Jazz Man
11 (147)
Wolverine Blues
(Benjamin Spikes / John Spikes / Jelly Roll Morton)
7-18-1923
Richmond, Indiana
Gennett
5289-A

| | |
| --- | --- |
| Artist | Instrument |
| Dick Bird | Trumpet |
| Teddy Smith | Alto Saxophone |
| unknown | Guitar, Bass, Drums |

Title

Recording Date

Recording Location

Company

Dead Man Blues
(Jelly Roll Morton)
10-1926
Chicago, Illinois
QRS
3674
Dead Man Blues
(Jelly Roll Morton)
12-1927
Chicago, Illinois
QRS
06515
Grandpa's Spells
(Jelly Roll Morton)
7-1924
Cincinnati, Ohio
Vocalstyle
50487
Kansas City Stomp
(Jelly Roll Morton)
11-1924
Cincinnati, Ohio
Vocalstyle
50486
King Porter
(Jelly Roll Morton)
7-1924
Cincinnati, Ohio
Vocalstyle
50480
London Blues
(Jelly Roll Morton)
7-1924
Cincinnati, Ohio
Vocalstyle
50479
Mamanita Blues
(Jelly Roll Morton)
11-1924
Cincinnati, Ohio
Vocalstyle
50478
Midnight Mama
(Jelly Roll Morton)
10-1926
Chicago, Illinois
QRS
3675
Mr. Jelly Lord
(Jelly Roll Morton)
7-1924
Cincinnati, Ohio
Vocalstyle
12973
New Orleans Blues
11-1924
Cincinnati, Ohio
Vocalstyle
50508
Shreveport Stomp
(Jelly Roll Morton)
7-1924
Cincinnati, Ohio
Vocalstyle
50481
Soap Suds
(Jelly Roll Morton)
12-1925
Cincinnati, Ohio
Capitol
A-999029-2
Stratford Hunch
(Jelly Roll Morton)
7-1924
Cincinnati, Ohio
Vocalstyle
50485
Sweet Man
(Maceo Pinkard)
12-1925
Cincinnati, Ohio
Capitol
1334
Capitol
2043
The "Jelly Roll" Blues
(Jelly Roll Morton)
7-1924
Cincinnati, Ohio
Vocalstyle
50505
The Pearls
(Jelly Roll Morton)
11-1924
Cincinnati, Ohio
Vocalstyle
50488
Tin Roof Blues
(Elmer Schoebel / Larry Sheilds / Leon Roppolo)
7-1924
Cincinnati, Ohio
Vocalstyle
12974
Tom Cat Blues
(Jelly Roll Morton)
7-1924
Cincinnati, Ohio
Vocalstyle
12983

Dead Man Blues; Jelly Roll Morton Way Out West by Phil Pastras , University Of California Press, 2001
Oh, Mister Jelly: A Jelly Roll Morton Scrapbook complied by William Russell, 1999
Mister Jelly Roll by Alan Lomax, Deull, Sloan and Pearce, 1949
Jelly Roll Morton An Essay in Discography by Thomas Cusack, Cassell & Co., 1952
Jelly Roll Morton by Martin Williams, Cassell & Co., 1962
Mr. Jelly Lord by Laurie Wright, Storyville Publications, 1980