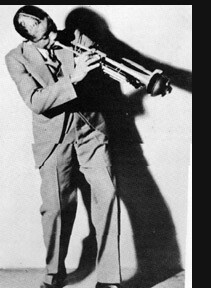 Bubber Miley was the master of the plunger mute. His growling, drunken wah-wah sounding trumpet playing was largely responsible for Duke Ellington 's early success and was the most prominent voice in Duke's bands throughout the years of 1926 to 1928.
He grew up in New York and played professionally starting in 1920. In 1921 he took over Johnny Dunn's spot in Mamie Smith's Jazz Hounds, and toured and recorded with her off and on until 1923.
Miley joined banjoist Elmer Snowden's Washingtonians in 1923 and stayed on when Duke Ellington took over. Miley was influenced by King Oliver, but developed his own distinctive style of playing with mutes and derbys. Miley co-wrote "East St. Louis Toodle-OO" and "Black and Tan Fantasy" and starred on many of Ellington's recordings during the years 1926 to 1928.
Miley's alcoholism made him an unreliable band member, which led Duke to fire him in 1929. He went on to play with Zutty Singleton and toured France with the Noble Sissle Orchestra in 1930. Bubber played in a musical review in 1931, but died the following year of tuberculosis.