Duke Ellington brought a level of style and sophistication to Jazz that it hadn't seen before. Although he was a gifted piano player, his orchestra was his principal instrument. Like Jelly Roll Morton before him, he considered himself to be a composer and arranger, rather than just a musician.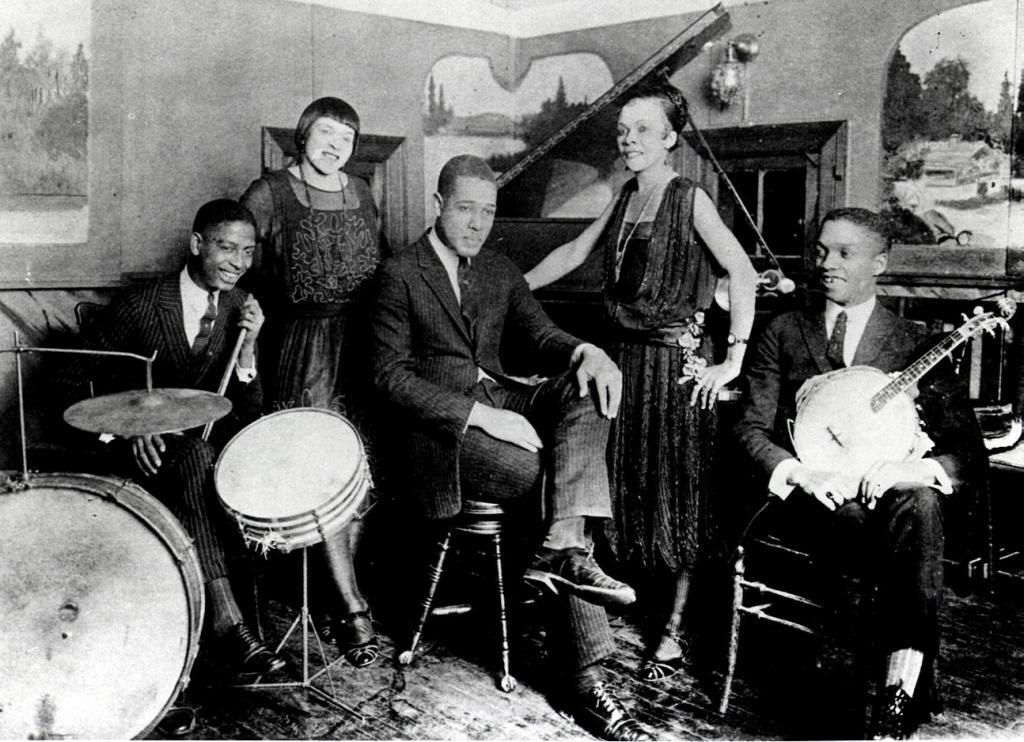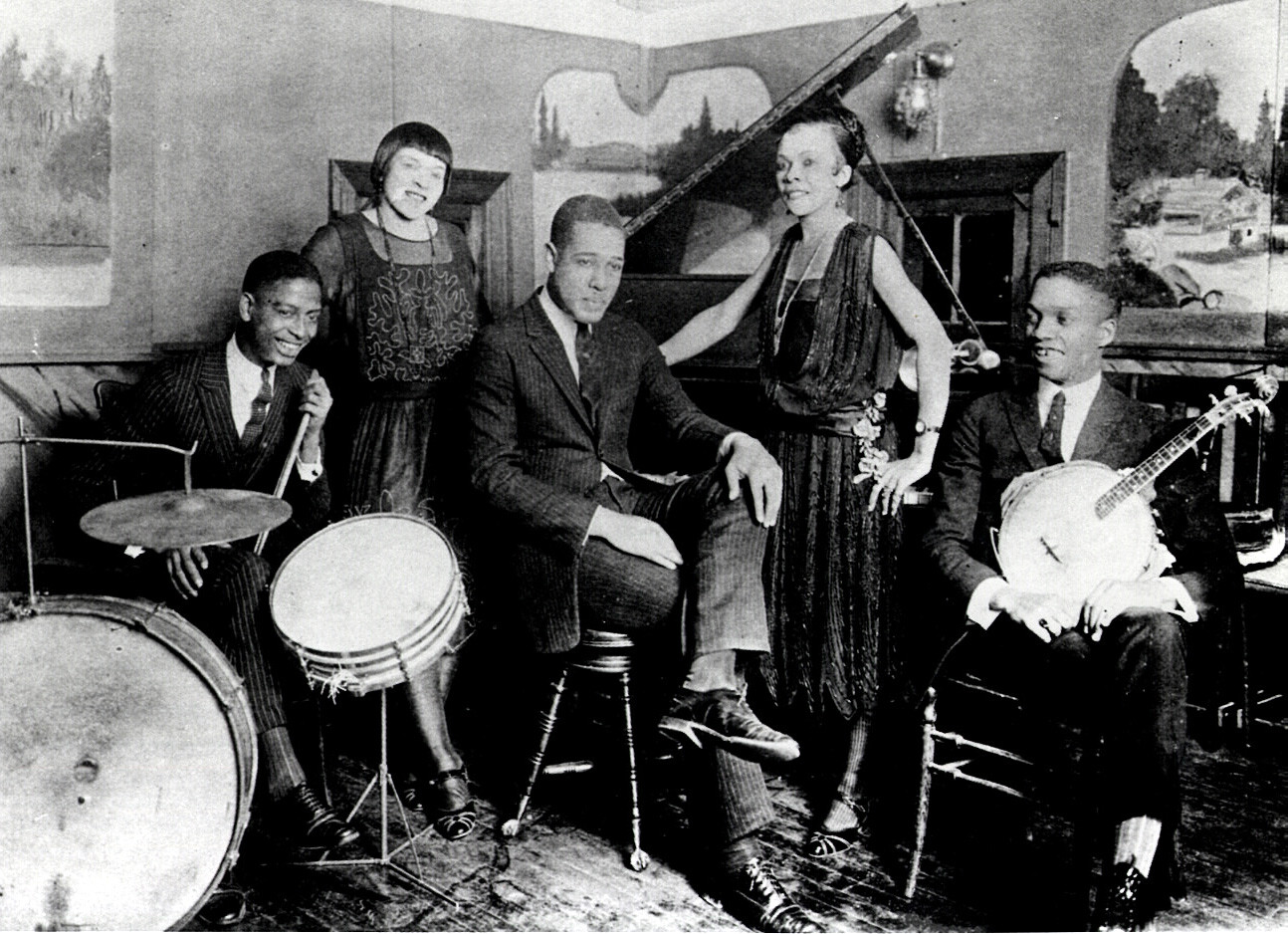 Duke began playing music professionally in Washington, D.C. in 1917. His piano technique was influenced by stride piano players like James P. Johnson and Willie "The Lion" Smith.
He first visited New York in 1922 playing with Wilbur Sweatman, but the trip was unsuccessful. He returned to New York again in 1923, but this time with a group of friends from Washington D.C. They worked for a while with banjoist Elmer Snowden until there was a disagreement over missing money.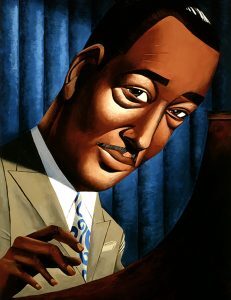 Ellington then became the leader. This group was called The Washingtonians. This band worked at The Hollywood Club in Manhattan (which was later dubbed the Kentucky Club). During this time Sidney Bechet played briefly with the band (unfortunately he never recorded with them), but more significantly the trumpet player Bubber Miley joined the band, bringing with him his unique plunger mute style of playing.
This sound came to be called the "Jungle Sound", and it was largely responsible for Ellington's early success. The song "East St. Louis Toodle-Oo" is a good example of this style of playing. The group recorded their first record in 1924 ("Choo Choo (Gotta Hurry Home)" and "Rainy Nights (Rainy Days)", but the band didn't hit the big time until after Irving Mills became their manager and publisher in 1926.
In 1927 the band re-recorded versions of "East St.Louis Toodle-Oo," debuted "Black and Tan Fantasy" and "Creole Love Call", songs that would be associated with him the for rest of his career, but what really put Ellington's Orchestra over the top was becoming the house band at the Cotton Club after King Oliver unwisely turned down the job.
Radio broadcasts from the club made Ellington famous across America and also gave him the financial security to assemble a top notch band that he could write music specifically for.
Musicians tended to stay with the band for long periods of time. For example, saxophone player Harry Carney would remain with Duke nonstop from 1927 to Ellington's death in 1974. In 1928 clarinetist Barney Bigard left King Oliver and joined the band. Ellington and Bigard would later co-write one of the orchestra's signature pieces "Mood Indigo" in 1930. In 1929 Bubber Miley, was fired from the band because of his alcoholism and replaced with Cootie Williams. Ellington also appeared in his first film "Black and Tan" later that year.
The Duke Ellington Orchestra left the Cotton Club in 1931 (although he would return on an occasional basis throughout the rest of the Thirties) and toured the U.S. and Europe. Unlike many of their contemporaries, the Ellington Orchestra was able to make the change from the Hot Jazz of the 1920s to the Swing music of the 1930s.
The song "It Don't Mean a Thing (If It Ain't Got That Swing)" even came to define the era. This ability to adapt and grow with the times kept the Ellington Orchestra a major force in Jazz up until Duke's death in the 1970s. Only Louis Armstrong managed to sustain such a career, but Armstrong failed to be in the artistic vanguard after the 1930s .
Throughout the Forties and Fifties Ellington's fame and influence continued to grow. The band continued to produce Jazz standards like "Take the 'A' Train", "Perdido", "The 'C' Jam Blues" and "Satin Doll".
In the 1960s Duke wrote several religious pieces, and composed "The Far East Suite". He also collaborated with a very diverse group of musicians whose styles spanned the history of Jazz. He played in a trio with Charles Mingus and Max Roach, sat in with both the Louis Armstrong All-Stars and the John Coltrane Quartet, and he had a double big-band date with Count Basie.
In the 1970s many of Ellington's long time band members had died, but the band continued to attract outstanding musicians even after Ellington's death from cancer in 1974, when his son Mercer took over the reins of the band.
Title

Recording Date

Recording Location

Company

Black Beauty


(Duke Ellington)

10-1-1928
New York, New York
Okeh
8636
Jig Walk


(Duke Ellington)

6-1926
New York, New York
Paramount
Swampy River


(Duke Ellington)

10-1-1928
New York, New York
Okeh
8636
| | | |
| --- | --- | --- |
| Title | Director | Year |
| Black And Tan Fantasy | Dudley Murphy | 1929 |
| Check And Double Check | Melville W. Brown | 1930 |
| A Bundle Of Blues | | 1933 |
| Murder at the Vanities | Mitchell Leisen | 1934 |
| Symphony In Black | Fred Waller | 1935 |
| Hit Parade of 1937 | Gus Meins | 1934 |
| Hot Chocolate | Josef Berne | 1941 |
| Cabin in the Sky | Vincente Minnelli | 1943 |
| Reveille with Beverly | Charles Barton | 1943 |
| Date with Duke | George Pal | 1947 |
| Rock 'n' Roll Revue | | 1955 |
| Anatomy of a Murder | Otto Preminger | 1959 |
Duke Ellington In Person by Mercer Ellington with Stanley Dance, Da Capo Press, 1988

Ellington: The Early Years, Mark Tucker, 1995
Beyond Category : The Life and Genius of Duke Ellington by John Edward Hasse, Wynton Marsalis, 1995, Da Capo Press
The World of Duke Ellington by Stanley Dance, 1981, Da Capo Press
The Duke Ellington Reader by Mark Tucker, 1995, Oxford University Press
Also See:
Sweet Thunder: Duke Ellington's Music in Nine Themes, book review.
Duke Ellington and his Famous Orchestra Live!, article about the Fargo concert, with downloads.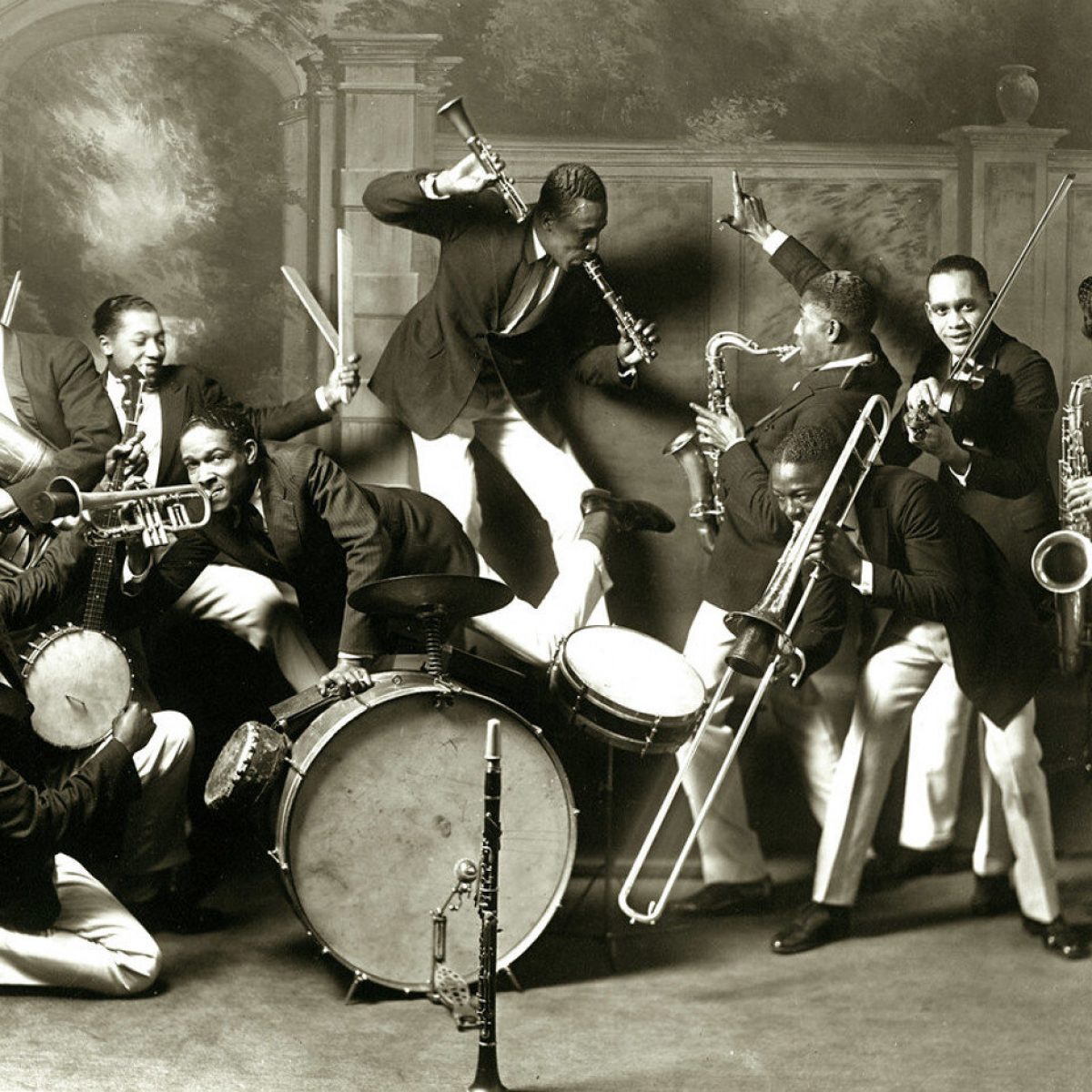 Redhotjazz.com was a pioneering website during the "Information wants to be Free" era of the 1990s. In that spirit we are recovering the lost data from the now defunct site and sharing it with you.
Most of the music in the archive is in the form of MP3s hosted on Archive.org or the French servers of Jazz-on-line.com where this music is all in the public domain.
Files unavailable from those sources we host ourselves. They were made from original 78 RPM records in the hands of private collectors in the 1990s who contributed to the original redhotjazz.com. They were hosted as .ra files originally and we have converted them into the more modern MP3 format. They are of inferior quality to what is available commercially and are intended for reference purposes only. In some cases a Real Audio (.ra) file from Archive.org will download. Don't be scared! Those files will play in many music programs, but not Windows Media Player.