The Lion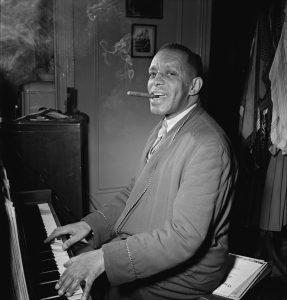 William Henry Joseph Bonaparte Bertholoff Smith was a contradictory but lovable figure, as colorful as his long original name. With his bowler hat, a cigar in his mouth, and an extroverted personality that often found him bragging, Willie "The Lion" Smith could look and act like the stereotype of a tough guy. But his compositions and some of his piano playing were quite lyrical and sensitive. He was also sentimental, a soft touch, and had a generous spirit.
Early Years
Smith was born on November 25, 1897 in Goshen, New York, growing up in Newark, New Jersey, as part of a family that included ten brothers and a sister (if one counted half siblings). His mother was a banjo player who had toured with minstrel shows. Young Willie began playing piano when he was six and, by the time he was 14, he was performing at clubs in Atlantic City and NYC. He later claimed that jazz was born at "the brickyards of New Jersey" rather than in New Orleans. Influenced by the ragtime pianists that he heard, Smith took popular songs and classical melodies and "ragged" them, adding syncopated rhythms and his own melodic (and often virtuosic) improvising.
Smith served in the Army during World War I, from November 1916 until late 1919, seeing action in France. His nickname "The Lion" (which he might have given himself!) came from his bravery while serving as a heavy artillery gunner with the 350th Field Artillery.
The Big Three in Harlem
After his discharge, Willie "The Lion" Smith became a major part of the Harlem jazz scene. He was considered one of the "big three" of stride piano along with James P. Johnson and Fats Waller. In addition to playing regularly in New York clubs, he was one of the feature performers (along with his pals James P. and Fats) at rent parties where they would try to top each other and especially younger upstarts. He developed a very original style with its own chord voicings, and became an important early influence on Duke Ellington, who in 1939 would pay direct tribute with his composition "Portrait Of The Lion." Smith's bravado personality made him a colorful attraction along with his brilliant playing. The Lion's bragging came across as humorous as opposed to Jelly Roll Morton's more abrasive brand and added to his appeal.
First Recordings
Although associated with the 1920s, ironically Willie "The Lion" Smith barely recorded at all until 1933, just a dozen selections. He made two numbers ("That Thing Called Love" and "You Can't Keep A Good Man Down") with Mamie Smith on February 14, 1920, and four other selections (including the pioneering blues hit "Crazy Blues") with her Jazz Hounds in August and September. But, due to the primitive recording quality, his piano is barely audible.
Otherwise, his only other recordings during the era were two numbers apiece with the Gulf Coast Seven (an octet that included trombonist Jimmy Harrison and clarinetist Buster Bailey) in 1925, the Georgia Strutters (which starred cornetist Jabbo Smith and singer Perry Bradford) in 1927, and the Seven Gallon Jug Band during 1929-30. The latter was a pickup group put together by pianist-singer-songwriter and entrepreneur Clarence Williams who was a master at putting together all-star combos.
20's Performances
Smith played throughout the roaring twenties in such clubs as Leroy's, Small's, the Garden of Joy, the Capitol Palace, the Rhythm Club, Hooper's Club, and Pod and Jerry's. At the latter, he had a young white clarinetist named Artie Shaw sit in on a regular basis, encouraging Shaw who spoke highly of the Lion for the rest of his life. A little later on, the Lion informally taught Joe Bushkin and Mel Powell how to play stride piano.
In addition, Smith was part of the Holiday In Dixieland revue during 1922-23, performed and acted in the Broadway play The Four Walls (1927-28), and was actress/singer Nina Mae McKinney's accompanist. Still, if he had dropped out of music before 1938, few would remember Willie "The Lion" Smith.
The 30's Recordings
The Lion made it through the worst years of the Depression by playing his brand of classic jazz piano in Harlem clubs. During 1933-35 he began to finally emerge on records, recording six sessions organized by Clarence Williams (by Williams' Jug Band, the Alabama Jug Band, and the Birmingham Serenaders) and an interracial group headed by Mezz Mezzrow. Although not released until the LP era, Smith also recorded his first unaccompanied piano solo, "Fingerbuster," in 1934. The following year, as "Willie (The Lion) and His Cubs," he headed a quartet of Williams' sidemen on two sessions that, in addition to such numbers as "Breeze (Blow My Baby Back To Me)," "Swing Brother Swing," and "There's Gonna Be The Devil To Pay," included the earliest recording of his most famous composition, the picturesque "Echoes Of Spring."
From 1935 into the 1940s, Smith worked regularly at 52nd Street clubs, leading hot swing combos and taking occasional solo piano pieces. On records, 1936 just brought a lone session with Mezzrow, 1937 found Smith leading three combo dates and beginning an association on records with organist Milt Herth in an unusual trio with drummer O'Neill Spencer that, on 19 selections, found Smith mostly drowned out by Herth's overbearing organ.
However two numbers without Herth (duets with Spencer) from early 1938 introduced Smith's impressionistic originals "Passionette" and "Morning Air." And on November 30 of that year, Smith (on celeste) teamed up with pianist Joe Bushkin and drummer George Wettling for "The Lion And The Lamb" and (with Jess Stacy added on second piano) "Three Keyboards."
Major 40's Recordings
All of this was a prelude to Smith's Commodore recordings of 1939. While James P. Johnson and Fats Waller had recorded numerous classic solo piano performances during the previous 15 years, Smith finally had his debut as a solo pianist on January 10, 1939. He certainly made up for lost time, recording 14 songs on that single day including definition versions of such originals as "Morning Air," "Passionette," "Rippling Waters," "Fingerbuster," and "Echoes Of Spring" plus romps on "Between The Devil And The Deep Blue Sea" and "Tea For Two." If these were his only recordings, Smith's musical legacy would be secure.
However Willie "The Lion" Smith's career had a long way to go. During 1940-42 he recorded with Sidney Bechet, Big Joe Turner, and at the head of an octet. He was on several of the Eddie Condon Town Hall broadcasts in 1944 (all of which are available on Jazzology releases). While he made surprisingly few records during 1944-48, during 1949-50 Smith toured Europe and was a big hit in Paris. He recorded extensively in Paris as a soloist, in a duet with drummer Wallace Bishop, and at the head of a combo that included trumpeter Buck Clayton.
Revival Years
By then Fats Waller was long gone, James P. Johnson was at the end of his career, and such contemporaries as Lucky Roberts and Donald Lambert who were still around were barely on records. The rise of bebop meant that Smith was now often considered a relic of the past even though he was just in his early fifties. While the newer generation of stride masters (Ralph Sutton, Dick Wellstood, Don Ewell, and Dick Hyman) all looked up to the Lion and were happy to claim him as an influence, he was no longer part of the modern music scene.
It really did not matter much. Dixieland had become quite popular and Smith spent much of the decade playing with freewheeling combos, taking his turn getting solos on uptempo romps of songs he had already been playing for 20 years. Whether it was with Henry "Red" Allen, Jimmy McPartland, his own combos, or as part of wild Dixieland jam sessions, Smith dutifully played the warhorses and made a steady living. He was filmed with McPartland and Pee Wee Russell in 1954 for Jazz Dance, a short that showed what some of the rambunctious Dixieland dances were like, and Smith was part of the overloaded but often exciting sessions filmed in 1958 for Art Ford's television series.
Later Recordings
While the other activity kept his bills paid, Willie "The Lion" Smith's solo recordings and concerts were more rewarding. He re-recorded many of the songs from his 1938 Commodore session in 1950 when the label was briefly revived, and also made solo sessions for Blue Circle (1953), Grand-Award (1957's The Legend Of Willie The Lion Smith), Dot (1957), and Good Time Jazz (1958).
In 1965 Smith was one of the featured pianists (along with Duke Ellington, Earl Hines, Mary Lou Williams, George Wein, and Billy Taylor) at a remarkable jazz piano workshop at the Pittsburgh Jazz Festival that was fortunately recorded. A tour of Paris later in the year resulted in two solo piano albums and a tour of Germany the following year (which yielded three albums) was also quite successful. By then Willie "The Lion" Smith had been considered a living legend for over 30 years. The publication of his memoirs Music On My Mind in 1964 added to his mystique.
Piano Duos
During 1966-67, Smith often teamed up with Don Ewell for performances (and two recordings) featuring their two pianos. While it may have seemed to some as if Smith used Ewell to relieve some of the pressure of playing solo piano, the truth is that the Lion had not lost a step. He simply enjoyed Ewell's playing along with the competitive setting. As if to quiet any possible critics, in 1967 as a solo pianist, singer (he never had much of a singing voice), and storyteller, he recorded the lengthy and unaccompanied set called The Memoirs Of Willie "The Lion" Smith. During the program he paid tribute to many of the pianists of the early days; one of his pieces was called "Portrait Of The Duke."
While Smith recorded piano duos with his former student Mike Lipskin and Dill Jones, he was most often heard as a solo pianist in his last years, playing his favorite songs and originals, and enjoying talking to audiences about the old days. His concerts were considered special events. While there were still a fair number of survivors from the 1920s jazz scene, he was the last major early stride pianist. He was also one of the few musicians who could tell first-hand stories about James P. Johnson and Fats Waller, not as a student or fan but as a contemporary. In 1970 and 1971 Smith recorded a pair of classic solo piano albums (Live At Blues Alley and Relaxin') for the Chiaroscuro label that showed that he was still at his musical prime. His last recordings were duets with drummer Jo Jones from 1972 (The Lion And The Tiger).
Willie "The Lion" Smith, who carved out his own place in jazz history, passed away on April 18, 1973 in New York at the age of 75.
Subscription Options
---
Or get the Print Edition with Online Access. To get the print edition of The Syncopated Times use this Paypal link. After you pay you will be issued a coupon for free online access.