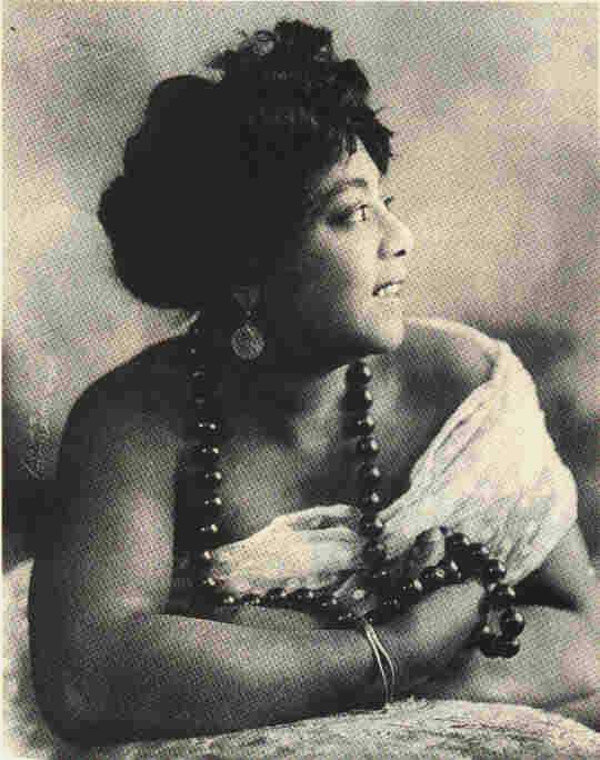 Mamie Smith was the first to record hit blues songs with her versions of
Perry Bradford's
 "
Crazy Blues
", and "
It' s Right Here for You
" on Okeh Records in 1920. The record was a wild success, selling over a million copies in less than a year, and finally ending up selling over two million copies.
After this it dawned on record companies that there was a lot of money to be made selling what were then called "race records" to various minority groups in big cities. The success of "Crazy Blues" prompted other record companies to try to find female blues singers that could match the sales of "Crazy Blues". It was a very important record, because it opened the doors of the recording industry to African-Americans, whether they were Blues, Jazz or popular singers and musicians.
Smith herself really wasn't that much of a Blues singer, she was more of a vaudeville performer, although she included Blues and Jazz numbers as part of her act. She got her start as a dancer at age ten in the vaudeville act the Four Dancing Mitchells and later toured with them as part of the Salem Tutt Whitney and Homer Tutt's show, "The Smart Set".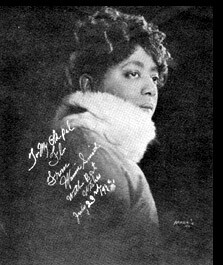 Mamie moved to New York in 1913 with "The Smart Set", decided that she wanted to stay, and quit the show. She started performing as a singer in Harlem at venues such as Baron Wilkin's Little Savoy Club, Leroy's, Edmunds, Percy Brown's and Banks' Place.
Her first recordings were made in early 1920. They were a couple of pop songs "That Thing Called Love" and "You Can't Keep a Good Man Down". They sold well enough and her manager Perry Bradford convinced Okeh Records that there was a market for earthier Blues records aimed at the large number of African-Americans who had migrated to the big cities of the north.
Bradford put together a band he called the Jazz Hounds for Smith that was led at first by cornetist Johnny Dunn and then by Bubber Miley. Smith put on quite a show that included trapeze acts, dancing, comedy, lavish costumes and jewelry as well as music.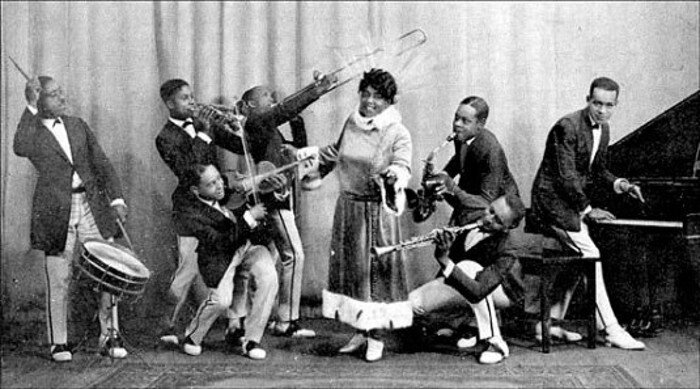 While on tour in 1921 she heard a young Coleman Hawkins playing saxophone in a theatre pit orchestra. Smith asked Hawkins to joined the band, but his family refused to allow him to, because he was just sixteen years old at the time. On her next swing through town in 1922 they onced again asked permission of the family and this time they acquiesced. Hawkins was soon given billing as "Saxophone Boy" and was a popular part of the act.
Smith continued to record for Okeh until 1923. In the 1930s and early 1940s Mamie Smith continued to lead a successful career singing and recording as well as appearing in several films. Mamie set the standard for female blues singers that followed in her foot steps. Nearly every other Classic Blues singer of the 1920s borrowed something from her act or styled themselves to achieve her success.


Title

Recording Date

Recording Location

Company

Do It, Mr. So-And-So


(Myrtle Barger / Lukie Johnson)

8-15-1923
New York, New York
Okeh
40019
Don't You Advertise Your Man


(Jimmy Foster)

2-19-1931
New York, New York
Okeh
8864
Goin' Crazy With The Blues (1)


(Andy Razaf / J.C. Johnson)

8-27-1926
New York, New York
Victor
20210-A
Goin' Crazy With The Blues (2)


(Andy Razaf / J.C. Johnson)

8-27-1926
New York, New York
Victor
20210-A
Golfing Papa


(Raymond)

2-19-1931
New York, New York
Okeh
8915
Good Looking Papa
Piano Accompaniment by Clarence Williams


(Clarence Williams)

7-23-1923
New York, New York
Okeh
4935-A
I Once Was Yours, I'm Somebody Else's Now
8-31-1926
New York, New York
Victor
20210-B
Jenny's Ball


(Reed)

2-19-1931
New York, New York
Okeh
8915
Keep A Song In Your Soul


(Fats Waller / Alex Hill)

2-19-1931
New York, New York
Okeh
8864
Mistreatin' Daddy Blues


(Porter Grainger / Bob Ricketts)

8-15-1923
New York, New York
Okeh
4960-A
My Mammy's Blues


(Reb Spikes)

8-16-1923
New York, New York
Okeh
40019
Plain Old Blues


(Porter Grainger / Mamie Smith)

8-6-1923
New York, New York
Okeh
4960-B
Sweet Virginia Blues


(Andy Razaf / J.C. Johnson)

8-27-1926
New York, New York
Victor
20233-B
That Thing Called Love


(Perry Bradford)

1-10-1920
New York, New York
Okeh
4113-A
What Have You Done To Make Me Feel This Way? (1)


(Andy Razaf / J.C. Johnson)

8-31-1926
New York, New York
Victor
20233-A
What Have You Done To Make Me Feel This Way? (3)


(Andy Razaf / J.C. Johnson)

8-31-1926
New York, New York
Victor
20233-A
You Can't Do What My Last Man Did


(J.C. Johnson / Allie Moore)

7-19-1923
New York, New York
Okeh
4935-B
You Can't Keep a Good Man Down
(Perry Bradford)
1-10-1920
New York, New York
Okeh
4113-B
| | |
| --- | --- |
| Artist | Instrument |
| Dope Andrews ? | Trombone |
| George Bell | Violin |
| Gavin Bushell | Clarinet |
| Harvey Brooks | Piano |
| Cecil Carpenter | Trombone |
| Buddy Christian | Banjo |
| Ed Cox ? | Trumpet |
| Johnny Dunn | Cornet |
| Ernest Elliot ? | Clarinet |
| Porter Grainger | Piano |
| Charlie Irvis | Trombone |
| Mike Jackson | Piano |
| Bubber Miley | Cornet |
| Tom Morris | Cornet |
| Leroy Parker ? | Violin |
| Cutie Perkins | Drums |
| Joe Smith | Trumpet |
| Willie "The Lion" Smith ? | Piano |
| Clarence Williams | Piano |
| | | |
| --- | --- | --- |
| Title | Director | Year |
| Jail House Blues | | 1929 |
| Paradise in Harlem | Joseph Seiden | 1939 |
| Sunday Sinners | Arthur Dreifuss | 1940 |
| Murder on Lenox Avenue | Arthur Dreifuss | 1941 |
| Because I Love You | | 1942 |