In 1919, African-American songwriter and pianist Perry Bradford was sure that there was a market for African-American music aimed at African-American consumers. He had a hard time convincing the record companies in New York of this, but he kept at it and managed to get Okeh records interested in the idea in 1920.
Before this time there had been a handful of successful African-American recording artists such as James Reese Europe and Bert Williams, but their music was aimed more towards the tastes of the White record buying public. Bradford wanted to market the contemporary African-American music, which was Blues and Jazz.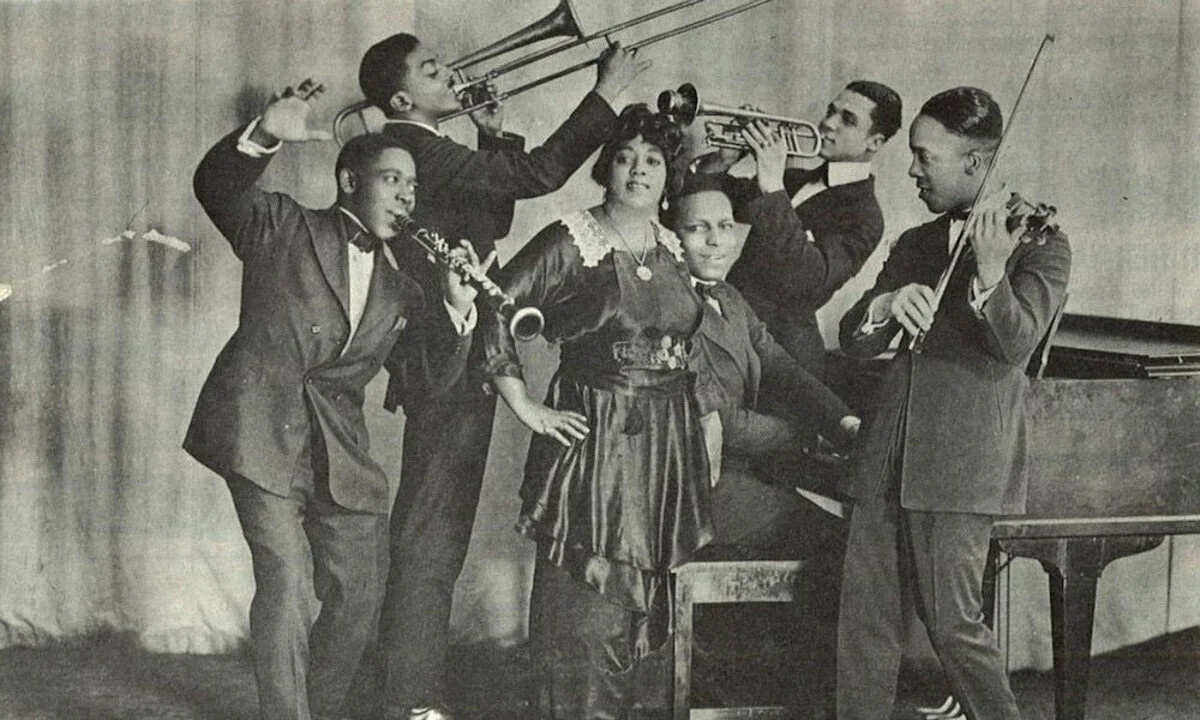 He felt that singer Mamie Smith a star of the musical revue "Maid of Harlem" had the right stuff to reach the African-American audience. Their first try was a couple of Perry Bradford pop songs with a slight Jazz and Blues feel "That Thing Called Love" and "You Can't Keep a Good Man Down". The record sold well enough that Okeh was willing to be a little more adventurous and try some real contemporary African-American music on their next release. The "A" side was a Perry Bradford song called "Crazy Blues", and on the flip side was "It' s Right Here for You".
Okeh played up that fact that this was an African-American singer and band in their advertising and sheet music sales that accompanied the record. The record was a smash hit and some say it ended up selling over a million copies. Almost all other record companies then jumped on the band wagon and started recording African-American Blues and Jazz musicians.
Read: In 1920 Mamie Smith's Crazy Blues paved the way for Black Music

Title

Recording Date

Recording Location

Company

Alabama Blues


(Libbie Williams Mehr)

6-10-1922
New York, New York
Okeh
4658-A
Baby, You Made Me Fall For You
2-22-1921
New York, New York
Okeh
4305
Carolina Blues


(Dave Ringle)

2-14-1922
New York, New York
Okeh
8030
Crazy Blues


(Perry Bradford)

8-10-1920
New York, New York
Okeh
4169-A
Cubanita
10-12-1921
New York, New York
Okeh
8024
Dem Knock-Out Blues


(George Butts)

5-1922
New York, New York
Okeh
4631-A
Don't Care Blues


(Perry Bradford)

11-6-1920
New York, New York
Okeh
4253-B
Don't Mess With Me


(Sam Gold)

12-6-1922
New York, New York
Okeh
4752-B
Doo-Dah Blues


(Fred Roso / Eddie White)

2-16-1921
New York, New York
Okeh
4578-B
Fare Thee Honey Blues


(Perry Bradford)

9-12-1920
New York, New York
Okeh
4194-B
Frankie Blues


(Marion Dickerson)

2-22-1921
New York, New York
Okeh
4856-A
Good Time Ball
9-1924
New York, New York
Ajax
17058-B
Got To Cool My Doggies Now


(Bob Schafer / Babe Thompson / Spencer Williams)

7-14-1922
New York, New York
Okeh
4670-A
I Ain't Gonna Give Nobody None O' This Jelly Roll


(Spencer Williams / Clarence Williams)

12-6-1922
New York, New York
Okeh
4752-A
If You Don't Want Me Blues


(Perry Bradford)

11-5-1920
New York, New York
Okeh
4228-B
I'm Gonna Get You


(Porter Grainger / Bob Ricketts)

12-20-1922
New York, New York
Okeh
4781-B
It's Right Here For You
(If You Don't Get It – 'Tain't No Fault O' Mine)


(Marion Dickerson / Alex. Belledna)

8-10-1920
New York, New York
Okeh
4169-B
Jazzbo Ball


(Marion Dickerson)

2-21-1921
New York, New York
Okeh
4295-A
Just Like You Took My Man Away From Me


(Summer)

9-1924
New York, New York
Ajax
17063
Let's Agree To Disagree


(Mamie Smith / Chris Smith / Jimmy Durante)

10-12-1921
New York, New York
Okeh
4511-A
Lonesome Mama Blues


(Anna Wellker Brown / E. Nickel / Billie Brown)

5-1922
New York, New York
Okeh
4630-A
Lost Opportunity Blues


(Bennett)

9-1924
New York, New York
Ajax
17058-A
Lovin' Sam From Alabam


(Perry Bradford )

11-6-1920
New York, New York
Okeh
4253-A
Mamie Smith Blues


(Mamie Smith / Milo / Rega)

6-10-1922
New York, New York
Okeh
4658-B
Mean Daddy Blues


(Fred Hamburger / Irving Bloom / Jimmy Durante)

5-1922
New York, New York
Okeh
4631-B
Mean Man


(Millard H. Thomas)

12-8-1922
New York, New York
Okeh
4856-B
Mem'ries Of You Mammy


(Perry Bradford)

11-5-1920
New York, New York
Okeh
4228-A
New Orleans


(Vaughn De Leath)

5-1922
New York, New York
Okeh
4630-B
Old Time Blues


(

Johnny Dunn)
2-1-1921
New York, New York
Okeh
4296-A
Rambling Blues
10-12-1921
New York, New York
Okeh
8024
Remorseful Blues


(Gilbert / Rega)

9-1924
New York, New York
Ajax
31662
Royal Garden Blues


(Spencer Williams / Clarence Williams)

1-21-1921
New York, New York
Okeh
4254-B
Shim-Me-Kings Blues


(Porter Grainger)

1-21-1921
New York, New York
Okeh
4254-A
Sighin' Around With The Blues Blues


(Mike Rega)

7-1922
New York, New York
Okeh
4767-B
Strut Your Material


(Bob Smithe)

8-22-1922
New York, New York
Okeh
8036-A
Stuttering


(Maceo Pinkard)

8-15-1922
New York, New York
Okeh
8036-B
That Da Da Strain


(Medina / Edgar Dowell)

7-1922
New York, New York
Okeh
4689-A
That Thing Called Love


(Perry Bradford)

2-1-1921
New York, New York
Okeh
4296-B
The Darktown Flappers Ball


(Bernie Grossman / Irving Maslof)

12-8-1922
New York, New York
Okeh
4767-A
The Decatur Street Blues


(Williams / Hammed)

2-14-1922
New York, New York
Okeh
8030
There's Only One Man
(That Satisfies Me)


(Sam Gold)

2-16-1921
New York, New York
Okeh
4600-B
Those Longing For You Blues


(Frank Westphal)

8-15-1922
New York, New York
Okeh
8072
The Road Is Rocky
(But I'm Going To Find My Way)


(Perry Bradford)

9-12-1920
New York, New York
Okeh
4194-A
"U" Need Some Loving Blues


(Perry Bradford)

2-22-1921
New York, New York
Okeh
4295-B
Wabash Blues


(Dave Ringle / Fred Meinken)

2-16-1921
New York, New York
Okeh
4578-A
What Have I Done?


(Perry Bradford)

2-21-1921
New York, New York
Okeh
4351-B
Wish That I Could But I Can't Forgive You Blues
8-30-1922
New York, New York
Okeh
4689-B
You Can Have Him, I Don't Want Him, Didn't Love Him Anyhow Blues


(William Tracy / Dan Dougherty)

7-14-1922
New York, New York
Okeh
4670-B
You Can't Keep A Good Man Down


(Perry Bradford)

2-1-1921
New York, New York
Okeh
4305-B
You've Got To See Mamma Ev'ry Night (Or You Can't See Mamma At All)


(Billy Rose / Con Conrad)

1-9-1923
New York, New York
Okeh
4781-A

| | |
| --- | --- |
| Artist | Instrument |
| Gus Aiken | Cornet |
| Dope Andrews | Trombone |
| Buster Bailey | Clarinet |
| George Bell | Violin |
| Ernie Bullock | Saxophone |
| Gavin Bushell | Clarinet |
| Herschel Brassfield | Alto Saxophone |
| Norman Buster | Drums |
| Cecil Carpenter | Trombone |
| Johnny Dunn | Cornet |
| Ernest Elliot | Clarinet |
| Jake Frazier | Trombone |
| Herb Flemming | Trombone |
| Bob Fuller | Clarinet |
| Percy Glascoe | Saxophone |
| Porter Grainger | Piano |
| Coleman Hawkins | Alto Saxophone |
| Horace Holmes | Cornet |
| Louis Hooper | Piano |
| George Howell | Drums |
| Harry Hull | Tuba |
| Hutch Hutchinson | Piano |
| Alex Jackson | Baritone Saxophone |
| Chink Johnson | Tuba |
| Addington Major? | Cornet |
| Charles Matson | Piano |
| Bubber Miley | Cornet |
| Curtis Mosby | Drums |
| George Mullen | Cornet |
| Leroy Parker | Violin |
| Cutie Perkins | Drums |
| Mort Perry | Drums, Xylophone |
| Everett Robbins | Piano |
| Mamie Smith | Vocals |
| Willie "The Lion" Smith | Piano |
| Elmer Snowden | Banjo |
| Sam Speed | Banjo |
| Phil Worde | Piano |