The music of early Jazz piano player James P. Johnson, the creator of Harlem Stride Piano, is explored in this award-winning production. Actor Peter Coyote reads from Johnson's recollections and Mark Borowsky expertly traces his career, sharing insights gleaned from a lifetime studying this overlooked American genius.
Play: JAMES P JOHNSON_A Introduction with Peter Coyote, narrator and "Drums"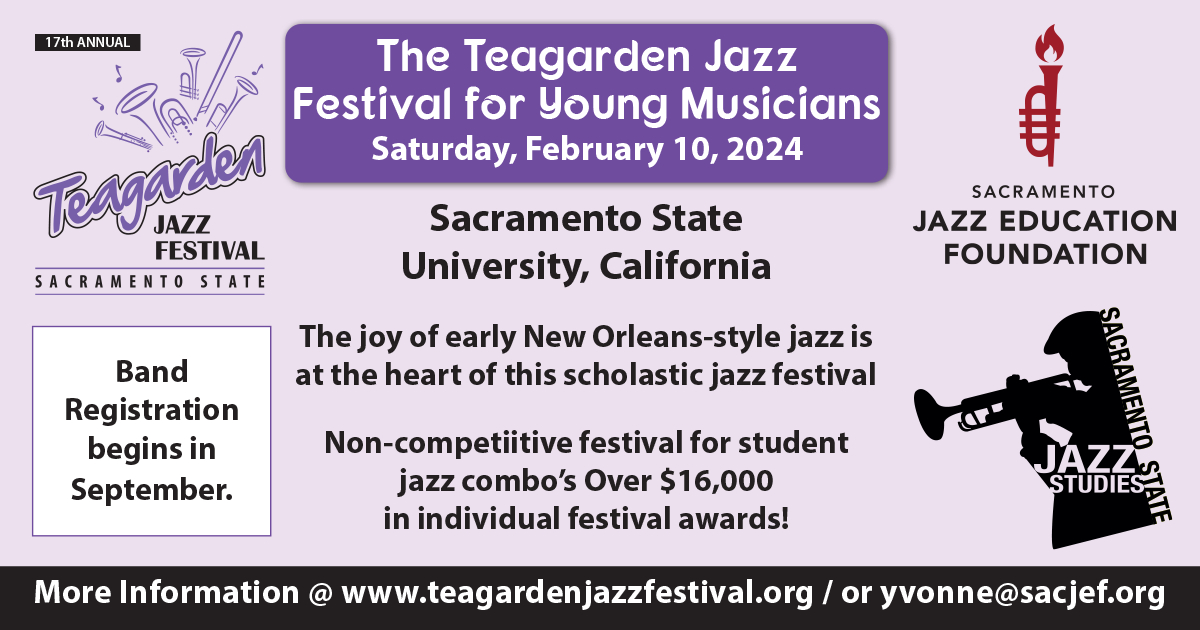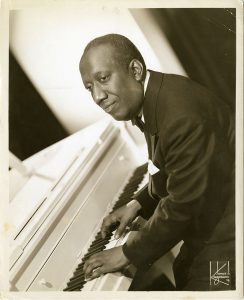 James Price Johnson (1894-1955) should be hailed as one of the greatest composers, jazz musicians and songwriters of American music. Yet despite vast achievements, he remains largely unknown to general audiences.
Johnson was the foremost proponent of Harlem Stride piano and an absolute master of the keyboard with perfect pitch. Laying the cornerstone of jazz piano before 1920, his Stride keyboard style transformed Ragtime into Jazz, strongly influencing pianists Duke Ellington, Count Basie, Art Tatum, and Thelonious Monk. His protege Fats Waller recalled learning more in his first afternoon with James than the previous 10 years.
Johnson's list of collaborators is a who's who of eraly Jazz and Blues: Bessie Smith, Ethel Waters, King Oliver, Sidney Bechet, Eddie Condon. He was in great demand throughout the 1920s, '30s and '40s for recordings as a soloist, accompanist to singers or band pianist. A sober, disciplined, middle-class, church-going family man, he only superficially resembled the larger-than-life personalities of the era's flamboyant piano professionals.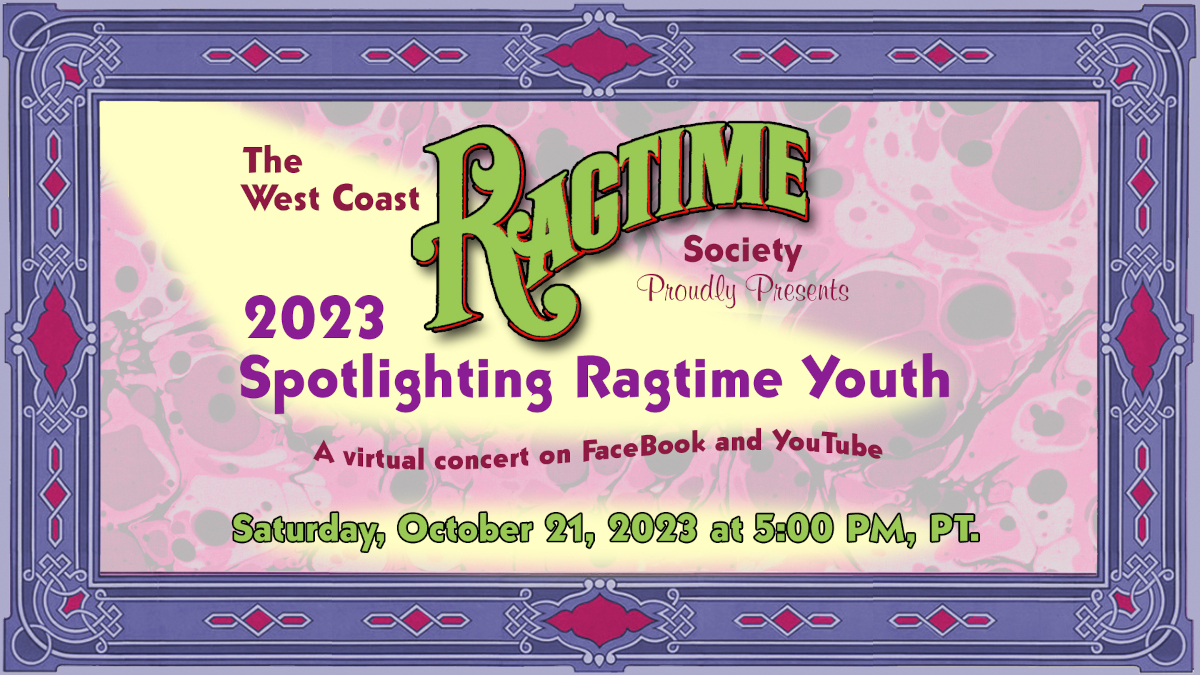 Johnson cut some 55 piano rolls for a half-dozen companies, the finest of their kind. His "Charleston" was the signature tune of the Roaring Twenties. He made hundreds of records for the most important labels of his time, which today confirm his exceptional composing, arranging and pianistic skills that were equal to masters of any musical tradition.
Play: JAMES P JOHNSON_B Charleston, Piano Rolls and Solos 1921-45 
Jersey City Origins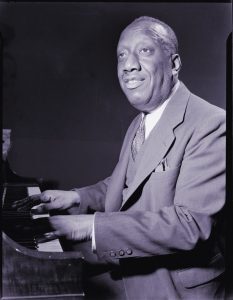 Johnson was raised in Jersey City, New Jersey on, in his own words "an old-time honky tonk street." His first informal job was playing piano in a bordello. Though at the tender age eight he was an innocent who was unaware of the true circumstances.
Located at the convergence of rail lines, Jersey City was a collecting node for African American piano players from the South and Midwest. They were local celebrities on which young James modeled his personal style, recalling: "When we lived in Jersey City I was impressed by . . .  real 'ticklers,' cabaret and 'sportin' house' players. They were my heroes. They led what I thought was a glamorous life; they were welcome everywhere because of their talent. If you could play piano, you went from one house to another. Everybody made a fuss about you. They fed you ice cream and cake, all sorts of food and drinks."
Ragtime in The Jungles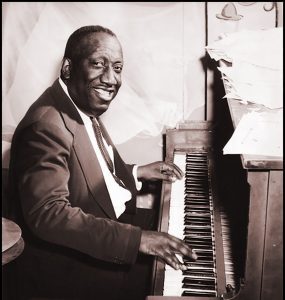 At age 14, Johnson's family moved to the tough San Juan Hill neighborhood of New York on Manhattan Island (located about where Lincoln Center stands today). Nearby was The Jungles — a rowdy entertainment area and nexus of musical currents where young James hung out. Before long, he would be playing for dancers at the famed Jungles Casino where he conceived "The Charleston."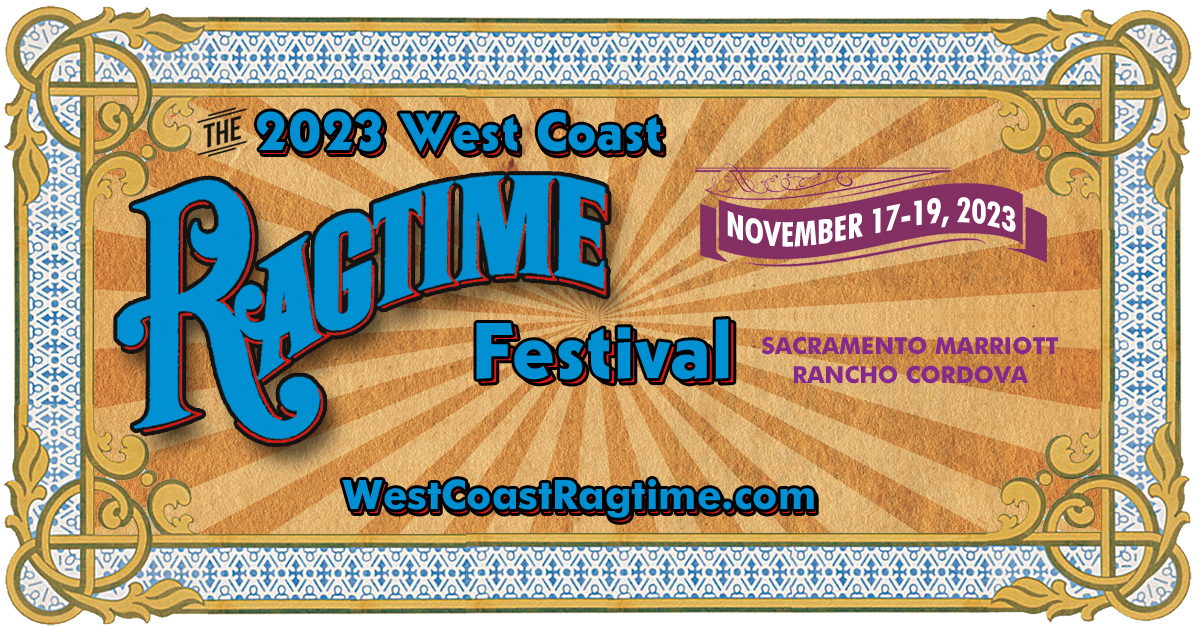 According to Johnson, The Jungles district contained a superlative collection of ivory ticklers who had developed a unique ragtime piano style heard nowhere else. Drawn by work in the plentiful cabarets, theaters and entertainment houses of New York City these piano professionals were flamboyant characters. Each had a distinctive personal style and bag of tricks, each competing to outdo the others in skill, personal flair or swagger.
Though Ragtime was the dominant musical form, in his youth Johnson also heard popular songs, folk and rural music, ethnic dances from the Southeastern United States and remnants of West African ring-shout dances. Importantly, The Jungles was not far from the "legitimate" music of Carnegie Hall, the New York Philharmonic and the top vaudeville palaces of the land.
Johnson said: "The ragtime player had to . . . get orchestral effects, sound harmonies, and all the techniques of European concert pianists who were playing their music all over the city. New York 'ticklers' developed the orchestral piano — full, round, big, widespread chords in tenths, a heavy bass moving against the right hand."
Young James flourished in this rich stew of influences, developing his own piano style. He began a professional career in the Summer of 1912 — in a rickety cabaret just off the beach at Far Rockaway, Queens.
Play: JPJ Borowsky 1920s Pt. 1 Early solos 
Transition from Ragtime to Stride Piano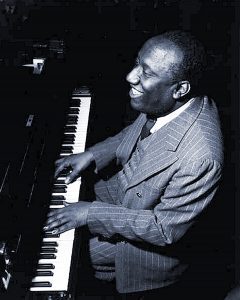 The term 'stride' derives from the left-hand keyboard bass line – which 'strides' from a chord near middle-C to a low note an octave or two below middle-C. Curiously, it's the right-hand figures that create the characteristic rhythmic signature and swing of Stride by pushing or pulling on the rhythms of the left-hand and utilizing a wide range of pianistic devices, some borrowed from classical performance. Transitioning from Ragtime to Jazz, Johnson perfected and exemplified the Harlem Stride method.
Unlike Ragtime from which it evolved, Stride was both a written and improvised form, transmitted aurally. James P. conveyed it directly to his protégé Fats Waller who became the best-known practitioner of Harlem Stride, developing his own distinctive style. Pianist Art Tatum advanced Stride further, adding ornamental runs, dazzling arpeggios and a more sophisticated harmonic vocabulary.
Like Johnson, many of these piano artists didn't even need to see their fingers while playing. They looked around casually conversing with friends or followers while performing or played separate melodies simultaneously with left and right hands.
Stride was generally paced much quicker than Ragtime piano; Johnson often produced dizzying cascades of notes at lightning speed with unsurpassed accuracy. By 1920 his "Carolina Shout" was a jazz piano staple and mastering it was a requirement for any aspiring stride musician.
Play: JPJ Borowsky 1920s Pt. 2 Bessie Smith & Ethel Waters 
Flamboyant Style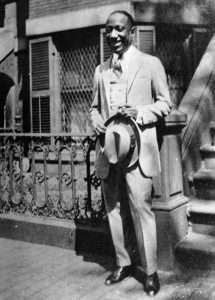 Johnson developed a vast repertoire and reputation, becoming affluent and stylish thanks to royalties from sales of his piano rolls and sheet music. Flaunting the flashy couture expected of his profession, he cultivated a wardrobe of about 25 suits, 15 pairs of custom-made shoes, two dozen silk shirts, silk handkerchiefs, and a gold or silver-knobbed cane.
Piano professionals required a specific set of ostentatious accessories in order to be taken seriously. A dramatic silk-lined overcoat was integral to the presentation of a modern major piano professor. Removed with a flourish, the garment was placed with great ceremony to display the plush silk lining: "We used to wear . . . a coat like a coachman's — blue double-breasted fitted to the waist and with long skirts. We'd wear a light pearl-grey Homburg hat set at a rakish angle, then a white silk muffler and a white silk handkerchief."
Play: JPJ Borowsky 1930s Pt 1 Swinging solos 
African American Overachiever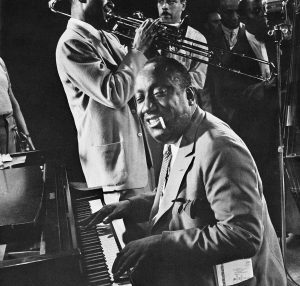 James P. Johnson was one of the grand geniuses of American music in multiple dimensions. Several of his 230 popular songs, like "Old Fashioned Love," became American standards.
His creative partners were the cream of African American cultural overachievers: pianist and impresario Eubie Blake, tunesmith and publisher W.C. Handy and symphonic composer William Grant Still. He composed a one-act blues opera with Langston Hughes, poet-laureate of the Harlem Renaissance.
Play: JPJ Borowsky 1930s Pt 2 Success 
Johnson created, wrote or collaborated on more than a dozen Black musicals and stage revues that were landmarks of African American theater: Keep Shufflin', Messin' Around, Swingin' the Dream, Shuffle Along and Meet Miss Jones. His greatest theatrical success was "Runnin' Wild" (1923) which produced his two most durable hits — "The Charleston" and "(If I Could Be with You) One Hour Tonight" — providing him lifelong income.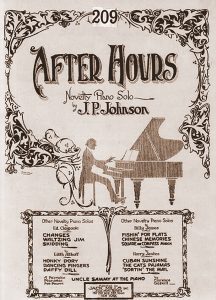 Not yet satisfied, he sought training in classical keyboard technique, music theory, harmony and orchestration. Johnson wrote concertos, suites, symphonies and tone poems — composing 19 orchestral works altogether. Some were played at Carnegie Hall as early as 1928. Others were never performed nor published in his lifetime.
Play: JPJ Borowsky 1930s Pt 3 At his Best
Dean of the Jazz Piano
By the mid-1930s Johnson was vigorously engaged in songwriting and arranging, performing, recording and appearing on radio. He waxed about 400 tunes as a piano soloist, accompanist, bandleader or sideman. In New York City he was featured at John Hammond's Spirituals to Swing concerts at Carnegie Hall in 1938-39, at Café Society Downtown and was widely respected among his musical peers
Play: JPJ Borowsky 1940s Pt 1 Rerecorded Rags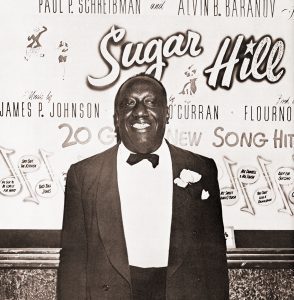 In the early 1940s Johnson suffered a mild stroke (most likely a transient ischemic attack), the first of several. Nonetheless, he continued working a heavy schedule — performing, recording, leading combos, enjoying some measure of recognition and fleeting national fame.
The death of his protégé and dear friend Fats Waller in late 1943 severely depressed Johnson. He went into private mourning for months, before recording eight Waller tunes for Decca in 1944.
Play: JPJ Borowsky 1940s Pt 2 Small Label Jazz 
During the late 1940s, Johnson was featured at prestigious jazz clubs and heard regularly on the radio show of Rudi Blesh. Throughout the 1940s he was paired up with Dixielanders and New Orleans veterans for recording sessions or radio and television broadcasts with Eddie Condon.
JPJ Borowsky 1940s Pt 3 Elder Statesmen of Jazz 
Symphonic Aspirations
It's clear that from the start Johnson tried to fuse jazz with traditional European classical music, seeking over and over again to create a blend. At first, he borrowed or adapted classical themes and motifs: "From listening to classical records and concerts, I would learn concert effects and build them into blues and rags. . . I'd make an abrupt change like I heard Beethoven do in a sonata. Once, I used Liszt's 'Rigoletto' concert paraphrase as an introduction to a stomp."
Johnson retired from performing for a while following the economic collapse of 1929. Seeking broader musical horizons, he took formal training in classical piano technique and mastered music theory, counterpoint, and harmony.
His "Harlem Symphony" was completed in 1932. Shortly afterwards "Symphony in Brown" was copyrighted though never published. "Jassamine Concerto" and "American Symphonic Suite" received smatterings of performance and publication.
Johnson penned his dramatic symphonic poem "Drums" for the 1932 show, Harlem Hotcha, later orchestrated as "Those Jungle Drums" with lyrics by Langston Hughes. Lost for 40 years, the score has been restored and recorded in recent decades.
Play: JAMES P JOHNSON_C Classical influences and Victory Stride
"Yamekraw: A Negro Rhapsody"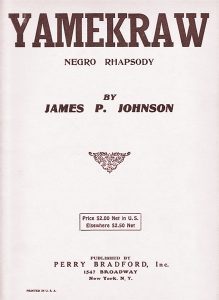 A rhapsody-concerto for piano and orchestra, "Yamekraw" was a creative achievement blending the classical piano concerto format with black musical idioms. The full-scale score was arranged by African American composer William Grant Still. It was dedicated to Yamecraw, a picturesque waterfront district on the outskirts of Savannah, Georgia.
Exuberant and visionary, this was Johnson's most ambitious and successful orchestral work. "Yamekraw" fused symphony orchestra with Jazz, Blues, Stomps and Gospel themes. The first composition of its kind by an African American composer, it premiered at Carnegie Hall with Fats Waller soloist in 1928 just a few years after "Rhapsody in Blue" by his good friend George Gershwin. It was recorded in recent decades by soloist Marcus Roberts with the Lincoln Center Jazz Orchestra (Sony Classical, 1995).
"Yamekraw" was performed again at Carnegie Hall by Johnson in 1945 for a program featuring several of his symphonic works. He waxed a masterful solo piano rendition on four 78 rpm record sides in 1944.
For decades Johnson wrote to conductors and patrons seeking sponsorship for performance of his other large scores and extended works. Sadly, he received only rejections.
Play: JAMES P JOHNSON_D Yamekraw Rhapsody 
Honoring Forgotten Genius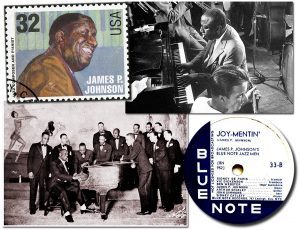 A paralyzing stroke in 1951 ended Johnson's performing career. When he died in 1955, his passing was barely noted. But James P. is not forgotten.
America has slowly come to recognize Johnson's genius. He was inducted into the Songwriters Hall of Fame in 1970 and ASCAP (American Society of Composers, Authors and Publishers) in 2007. His personal papers and scrapbooks are preserved in the Rutgers University Libraries. A century after his birth Johnson's portrait appeared on a United States Postage stamp in a set with nine other jazz greats.
James P. Johnson's native talent was incubated and nurtured in a rich American melting pot. Foundational to Jazz and American popular music, his effervescent keyboard style, pioneering Black musicals, popular songs, and symphonic works propelled African American music into the modern era.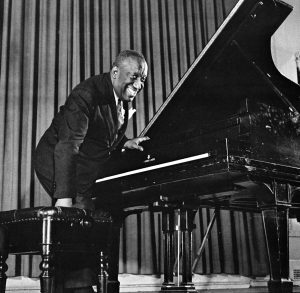 Great thanks to guest narrator Peter Coyote, and Mark Borowsky for his expert insights. Thanks to Hal Smith for assistance.
Sources and further reading:
Black Bottom Stomp: Eight Masters of Ragtime and Early Jazz, Jasen, David A. and Jones, Gene, Routledge, 2002
James P. Johnson: A Case of Mistaken Identity, Brown, Scott E., Scarecrow Press, 1992
James P. Johnson, Giants of Jazz, liner notes booklet, Kappler, Frank, Time Life Books, 1981
LINKS:
New York Times commentary on De Organizer, 2002