While in Davenport for this year's Bix Beiderbecke Memorial Jazz Festival, I had the opportunity to sit down with drummer Hal Smith to discuss his long career. I've known of Hal for a long time, but until fairly recently he had always lived on the West Coast, so my chances to see him were few. Here is a distillation of our 45-minute conversation.
Bill Hoffman: How is it you live in Searcy, Arkansas, not exactly the epicenter of trad, or maybe any, jazz?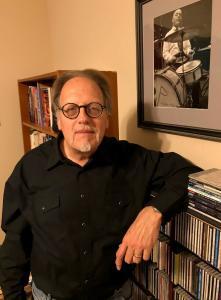 Hal Smith: In 2012, I moved temporarily from San Diego to San Antonio to work with the Jim Cullum Jazz Band. My wife, June, stayed behind to finish working her final year with the University of California at San Diego. She planned to join me in San Antonio as soon as she retired. However, I left the Cullum band just before she was due to retire. We were concerned about the cost of living in Southern California without either of us having a steady income. We considered moving to several different places, then I happened to find a real estate website which showed a house for sale in Searcy — literally right behind the house where June's sister lives. We sold our place in San Diego and moved to Searcy in 2014. However, I am only eight hours away from New Orleans, nine hours from Austin and about the same from Chicago. I work frequently in N.O. with Kris Tokarski, Tim Laughlin, and Banu Gibson; in Austin with Floyd Domino, and occasionally in Chicago with Andy Schumm. I also drive to miscellaneous gigs in the Southwest, Deep South, and Midwest.
You play with a number of bands playing different styles of music. Do you have a favorite style, and what makes it your favorite?
My favorite is often mislabeled Chicago style, which originated in the '20s. It has many rhythmic devices like stop and go, the flare, explosion, and the origins of shuffle rhythm. As a drummer you can't just keep straight time; you must be aware of everything that's going on in the band and be prepared to follow what the others are doing. That's what makes it so exciting for me. When I think of Chicago style, I think of Frank Teschemacher, Jimmy McPartland, Bud Freeman, Gene Krupa, Eddie Condon, and Joe Sullivan.
Among those you named, Krupa was the only drummer.
There were other drummers, but he got on the records and they didn't. I also like the Kid Ory style because the rhythm section is so great and the front line works together so well.
Your website says you took up drumming in 1963, so you've been at it for 56 years. What got you into drumming?
I started on trombone, but when my parents decided I needed braces, I needed to find something else! They were supportive of my musical interest so they encouraged me to try drumming. And here I am!
Who were your idols/mentors in your youth?
They're not all drummers. Wayne Jones is my pre-eminent drummer mentor. I also got to hear Ben Pollack, Nick Fatool, and Fred Higuera in person; they were all great influences. Other mentors include Frank Powers, Bill Mitchell, Butch Thompson, and Bob Helm, to name just a few.
What did you do before becoming a full-time musician?
I have a degree in Journalism. At the time I got out of school, everyone was trying to scoop the next Watergate. I had trouble breaking into the field. So I worked in a print shop in California and then in Portland, Oregon, where we had moved. Then in 1978 I had an opportunity to play music full-time in the Bay Area, so I took it and have been at it ever since. I have also been able to use my journalism background as a writer. I have written for the Mississippi Rag, the Syncopated Times predecessors West Coast Rag and American Rag; the British publication Just Jazz, the Bulletin of the Hot Club of France and many sets of liner notes. Since the late '90s I have written for AFCDJS' (America's Finest City Dixieland Jazz Society in San Diego) Jazz Rambler and just started writing a few articles for the Syncopated Times itself. In previous years, I also wrote for the San Francisco Traditional Jazz Foundation's Frisco Cricket. Last year I wrote quite a few articles for the Charles N. Huggins Project. That webpage is part of the San Francisco Traditional Jazz Foundation Collection, hosted by Stanford University Libraries. I enjoyed writing about a lot of the musicians I knew in the Bay Area, as well as first generation musicians who performed there and jazz clubs such as Hambone Kelly's, Earthquake McGoon's and Club Hangover. I had a great team to work with; especially my friend Clint Baker.
You are known as a serious scholar and researcher of early jazz. I'd like to explore that more fully. What got you into it, and what information you've created from your research?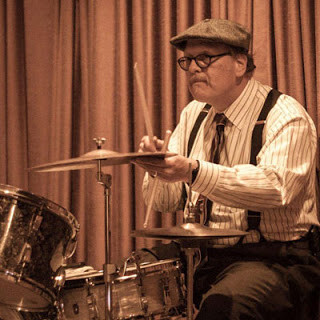 I learned a great deal initially from liner notes, starting in 1962. LPs of that era mentioned the earlier pioneers, but finding the original records wasn't easy. I had to wait until I could find LP reissues by the likes of Morton or Oliver before I could start accumulating the information on these pioneers.
There were notable jazz critics who wrote liner notes, like George Avakian and George T. Simon. Are there any of those who stood out in your estimation?
Certainly Avakian. There was also Lester Koenig who owned the Good Time Jazz and Contemporary labels, whose writing was extremely interesting. Jax Lucas, whom I got to know years later, wrote for Downbeat. He was a drummer, so I was attracted to his comments about the drummers I liked.
You are a faculty member at Banu Gibson's jazz camp. Do you do any other camps, and what do you enjoy most about them?
This was only my second year with Banu. Before that, I was one of the founders of the San Diego Jazz Camp (now run by Ed Adam and Clint Baker) in 1995. A lot of the format they follow is based on my recommendations. At Banu's, I enjoyed leading ensembles and helping the other instrumentalists—not just the drummers—with their roles in an ensemble. This year, a highlight was doing a presentation on the history of jazz drumming with a trio made up of myself, Kris Tokarski, and Dan Levinson. Rather than play recordings from the '20s, where the drums were often hard to hear, I'd demonstrate the style in person. Playing live with a trio, we went from ragtime to the dawn of the Swing Era, with Dan re-creating the styles of Jimmie Noone, Teschemacher, and Omer Simeon, and Kris did Earl Hines, Jelly Roll Morton, and Joe Sullivan. As a matter of interest, my On the Levee band just played at the Evergreen festival in Colorado. In just a few sets, Kris was channeling Morton, Don Ewell, and Hines to perfection. It was not note-for-note imitations; it was inhabiting those styles.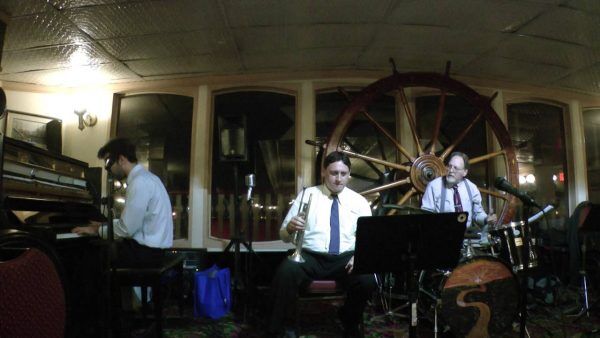 What was your first exposure to vintage jazz?
My first exposure to live jazz was at Disneyland in 1962. My parents took me to hear the Firehouse Five + 2. I was hooked before the first chorus was over. Earlier, my father had some piano 78s that I had listened to. And as this was the tail end of the revival, you could still hear ragtime on the radio and see jazz bands on TV. Many stores sold Dixieland, banjo music, and honky-tonk piano records; not always high-end labels, but the music was good. And a little bit later, I got to hear Louis Armstrong, Ben Pollack, and Kid Ory live at Disneyland.
You mentioned that your wife is a rhythm guitarist.
She's the best I've ever played with. While we lived in San Diego, she was a secretary at UCSD. We played together in some local groups, but she found it overwhelming to come home after work and then go out on gigs.
Now that she's retired, does she have any interest in going on the road with you?
She has the desire, but we have cats that don't travel well. We can ask her family to look after them for a day or two, but not longer than that. I do wish she'd start playing guitar again. She's even straightened me out a couple times when I was straying away from the original tempo!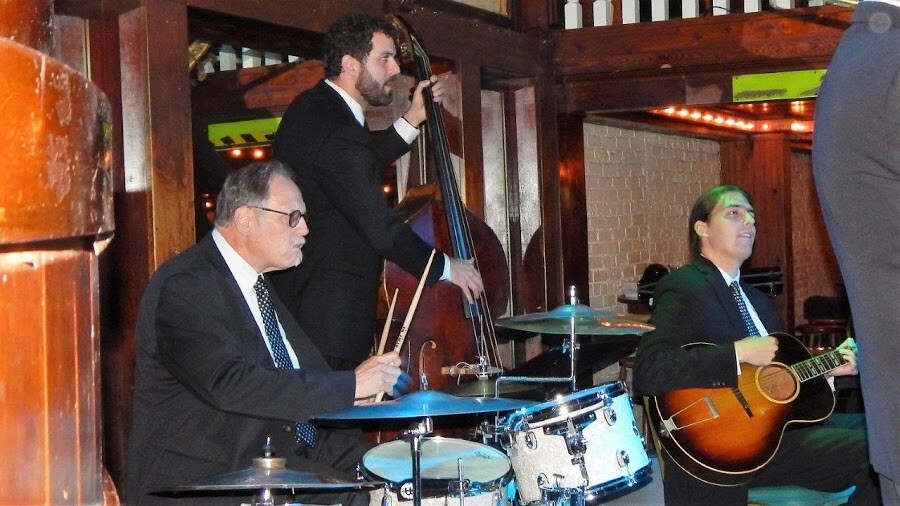 Why do you prefer working with a trio (clarinet, piano, and drums) versus a larger band?
Some of my favorite recordings from the classic era are trios. It's more work for me when there's no bass or guitar, but not that hard if the pianist has a strong left hand. Today I enjoy playing in trios with Tim Laughlin and David Boeddinghaus, Dan Levinson, Andy Schumm, or Kim Cusack with Kris Tokarski and Dave Bennett and Jeff Barnhart (as I'm doing here at the Bix). All the things I like about the classic era, I get to hear and play with those combinations.
Another one of my favorite musicians is Colin Hancock, with whom I've worked recently. I've corresponded a lot with Colin's drummer (in the Original Cornell Syncopators), Noah Li. We've talked about old styles—what's this drummer doing on this tune, how do you do this?—I love his enthusiasm for the older styles, and he does a great job of playing them.
Yes, I'm very impressed with him, too. He's very understated. You know he's competent, but you don't sense that he's so deeply versed in the music.
I like drummers whom you know are there but they aren't stepping on anyone. I put guys like Kevin Dorn, Alex Hall, and Josh Collazo in that category.
That's the mark of a good drummer—making the band "work" but not stealing the show. How do you regard some of the classic '20s drummers like Stan King and Chauncey Morehouse?
King is one of my favorites. Morehouse and Vic Berton are in a similar vein, and are influences on me when I get to play in Bix-style bands. I'm also a great admirer of Josh Duffee—as a person as well as a drummer.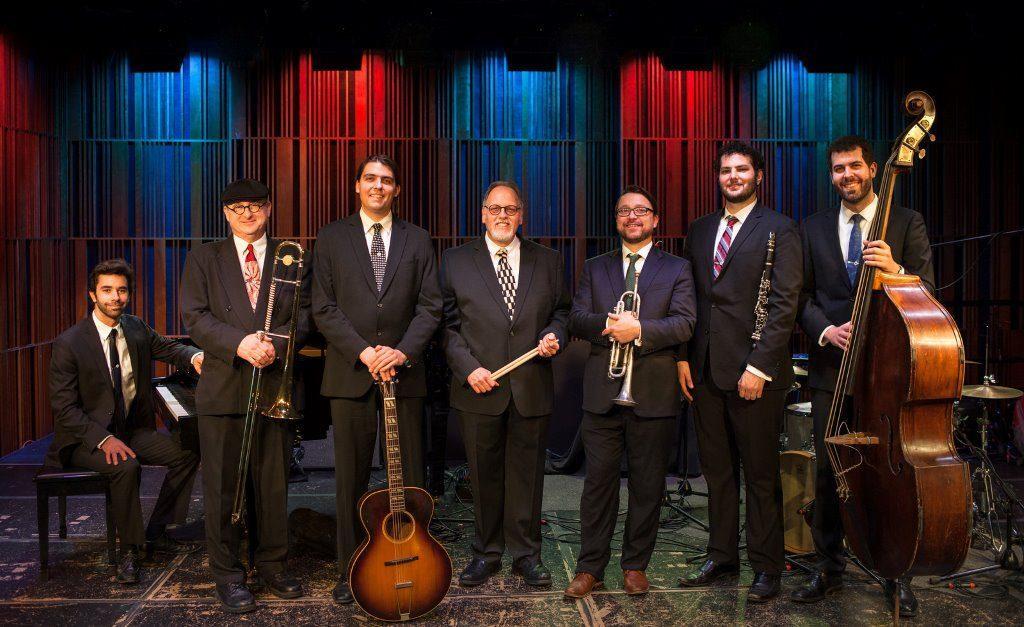 How do you put bands together?
I'd rather play with an existing band, assuming it fits the occasion, than trying to put together a group that hasn't worked as a group before. I don't hire people that I don't think are compatible musically or personally. I want practical, pragmatic musicians. For example, for On the Levee, I wanted an Ory-style band. The musicians I picked know the style, enjoy playing it, and most of them happen to live in New Orleans so that rehearsals and local gigs are easy to set up. One who doesn't live in New Orleans is Clint Baker. But he knows exactly what to do with the group. And when Clint is not available, we have been lucky to have Charlie Halloran (another New Orleanian) on trombone. I would also enjoy leading groups that perform the music of Jelly Roll Morton or Fats Waller, and I have led several bands that concentrate on the Eddie Condon style. Otherwise, I work quite a bit with Tim Laughlin, Banu Gibson, and Kris Tokarski in New Orleans; with Floyd Domino's All-Stars and a Count Basie-style big band led by Brooks Prumo in Austin. I also work once a year at the Redwood Coast Music Festival in a Western Swing band co-led by Dave Stuckey and, of course, I like to work with Jeff Barnhart whenever possible. He really knows how to put bands together!
Well, we've certainly covered a lot of ground here. Thanks so much for taking the time to speak with me.
---
Visit Hal Smith online at halsmithmusic.com for CDs, upcoming gigs, and more.