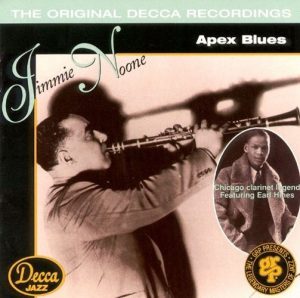 Jimmie Noone (1895-1944) was one of the great clarinetists to emerge from New Orleans. Compared to Sidney Bechet and Johnny Dodds, Noone had a softer tone and a comparatively relaxed style, becoming an influence on Benny Goodman and many of the clarinetists of the 1930s. After spending a long period (1920-26) working with Doc Cook's Gingersnaps in Chicago, he formed his own group to work regularly at the Apex Club.
Noone's Apex Club Orchestra was quite unusual and unique for not only did it have a frontline of the leader's clarinet and Joe Poston's alto, but it featured Poston (who occasionally switches to clarinet) playing the melody throughout Noone's solos. Poston never had a chance to solo by himself but he played constantly throughout each performance except when Noone's already-masterful pianist Earl Hines was in the spotlight. The "orchestra" (which was really a quintet or sextet) also featured Bud Scott on banjo and guitar, and drummer Johnny Wells. Noone led similar groups for several years with Lawson Buford added on tuba and Zinky Cohn (who sounded exactly like Hines) taking over the piano chair in 1929.
There are several Jimmie Noone compilations but a good one to start with is Apex Blues which was put out by GRP/Decca over 20 years ago. Most of the selections are from 1928 with a few included from the next two years. Among the highpoints are "I Know That You Know," "Four Or Five Times," "Every Evening," the famous "Apex Blues," "My Monday Date," "Oh Sister, Ain't That Hot," "Chicago Rhythm," "My Daddy Rocks Me With One Steady Roll" (with May Alix on the vocal), and the original version of "Sweet Lorraine."
Apex Blues
(GRP/Decca GRD-633, 20 selections, TT = 57:59)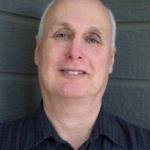 Since 1975 Scott Yanow has been a regular reviewer of albums in many jazz styles. He has written for many jazz and arts magazines, including JazzTimes, Jazziz, Down Beat, Cadence, CODA, and the Los Angeles Jazz Scene, and was the jazz editor for Record Review. He has written an in-depth biography on Dizzy Gillespie for AllMusic.com. He has authored 11 books on jazz, over 900 liner notes for CDs and over 20,000 reviews of jazz recordings.
Yanow was a contributor to and co-editor of the third edition of the All Music Guide to Jazz. He continues to write for Downbeat, Jazziz, the Los Angeles Jazz Scene, the Jazz Rag, the New York City Jazz Record and other publications.