The Candy Jacket Jazz Band is home to several of today's West Coast stars of swing led by drummer Josh Collazo. They specialize in original compositions paying homage to the originals of the 30s and 40s but settled pleasantly in the jazz present. "From Bop to Swing", a track off their 2016 self-titled debut, points the direction many younger musicians are now traveling away from jazz programs rutted in the later conceptions of jazz. That journey is represented several times over in the band itself.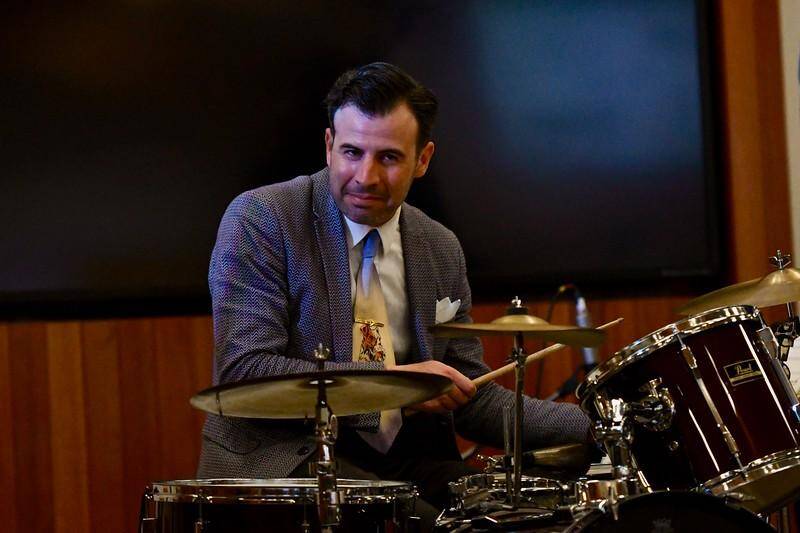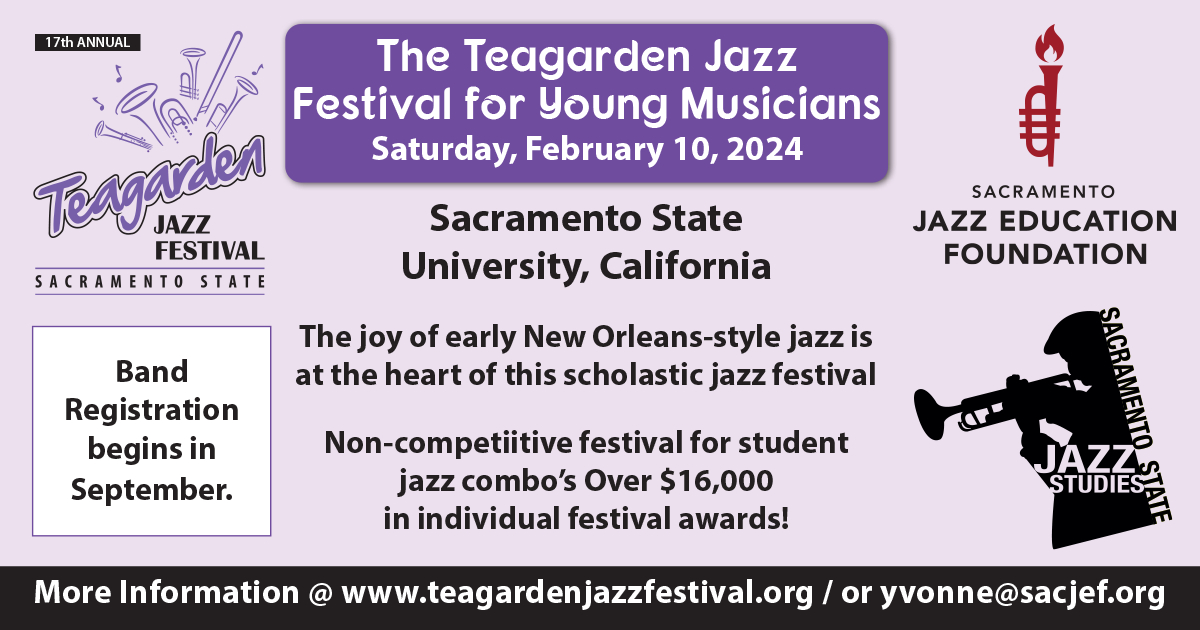 Now in his late 30s, Josh Collazo has played with a series of traditional jazz and swing bands since he was 18. The bands he is most associated with, including Jonathan Stout & his Campus Five, the Carl Sonny Leyland Trio, and Dave Stuckey & the Hot House Gang, come up again and again in the biographies of Candy Jacket members. Several also have associations with the rock/folk success story Edward Sharpe & the Magnetic Zeros. So I don't repeat myself; if you assume an association with these bands for the other members of the group you won't often be wrong.
In 2016 Collazzo decided to form a band around the original compositions he was writing and recruited his longtime musical collaborator Albert Alva to co-arrange them with the growing Balboa and Lindy Hop community in mind. Tight arrangements, appropriate tempo, and short run times strike a balance both the dancer and listener can appreciate. Each member brings his own personality into the band and has the skill to do so.
Alva has played saxophone on cruises and tours with notables like Micheal Feinstein, Ann Hampton Calloway, and Ken Peplowski. He has also done extensive studio work including on Rosemary Clooney's Grammy-nominated final album. He worked with Benny Carter and had a long association with the drummer Louie Bellson. He teaches youth jazz bands and can be heard in New Orleans Square at Disneyland.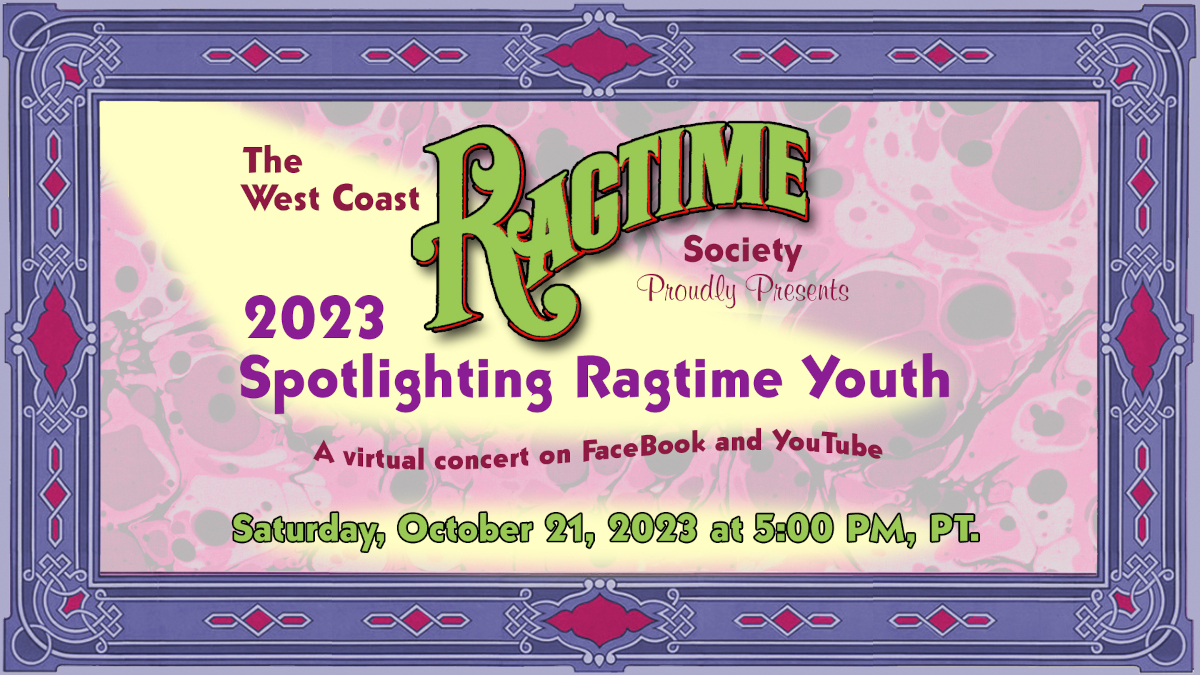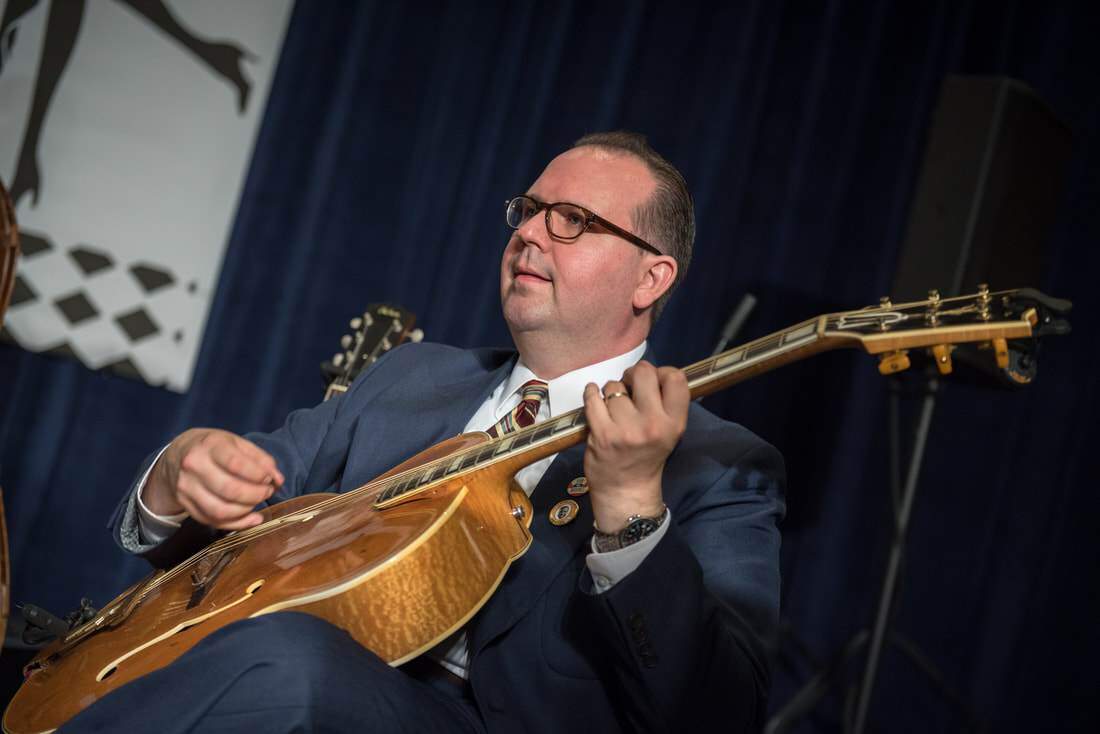 Guitarist Jonathon Stout was listed as a guest on two tracks of the first Candy Jackets album but now has graduated to full member. In addition to leading his own several bands at the countries top swing events, he has played in many others including with Michael Gamble and his Rhythm Serenaders.
Stout has a dancer's perspective on the music, having been part of the winning team at the 2002 National Jitterbug Championships, and he continues to DJ swing events as well as performing at them. He has also investigated all aspects of pre-bebop jazz guitar, even releasing a new album of solo guitar work exploring the forms. He shares his deep understanding of the music from the stage using his band to demonstrate the differences between Swing, pre-Swing Jazz, and post-Swing straight-ahead jazz to the gathered dancers.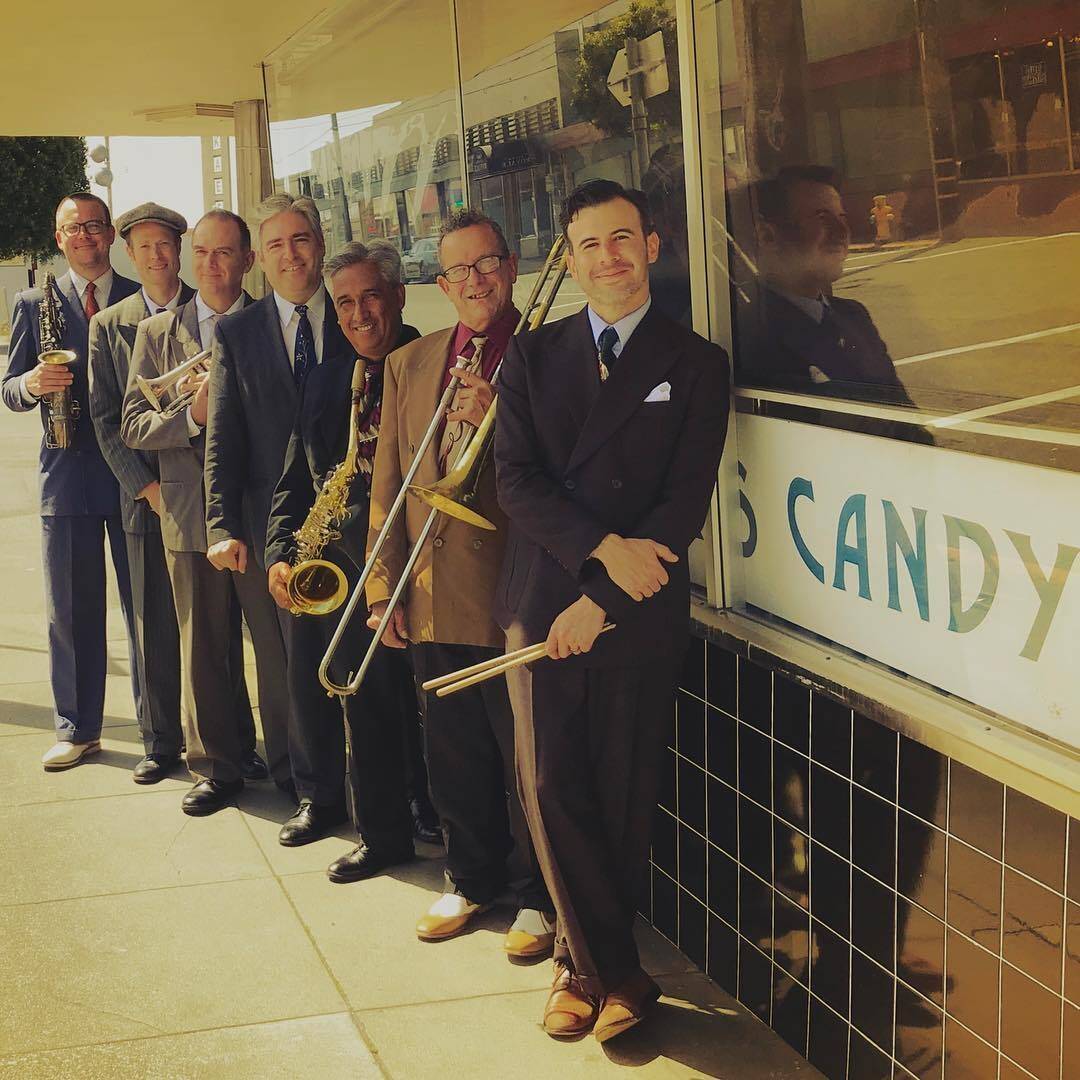 Bryan Shaw who has provided a personal and lyrical trumpet to ensembles with artists like Dave Frishberg,  Bucky Pizzarelli, Rebecca Kilgore, Dan Barrett, Evan Arntzen, and  Ehud Asherie is the primary trumpet on the first Candy Jacket album. On the second album Corey Gemme, a "guest" on the first album, has stepped into that role, playing cornet.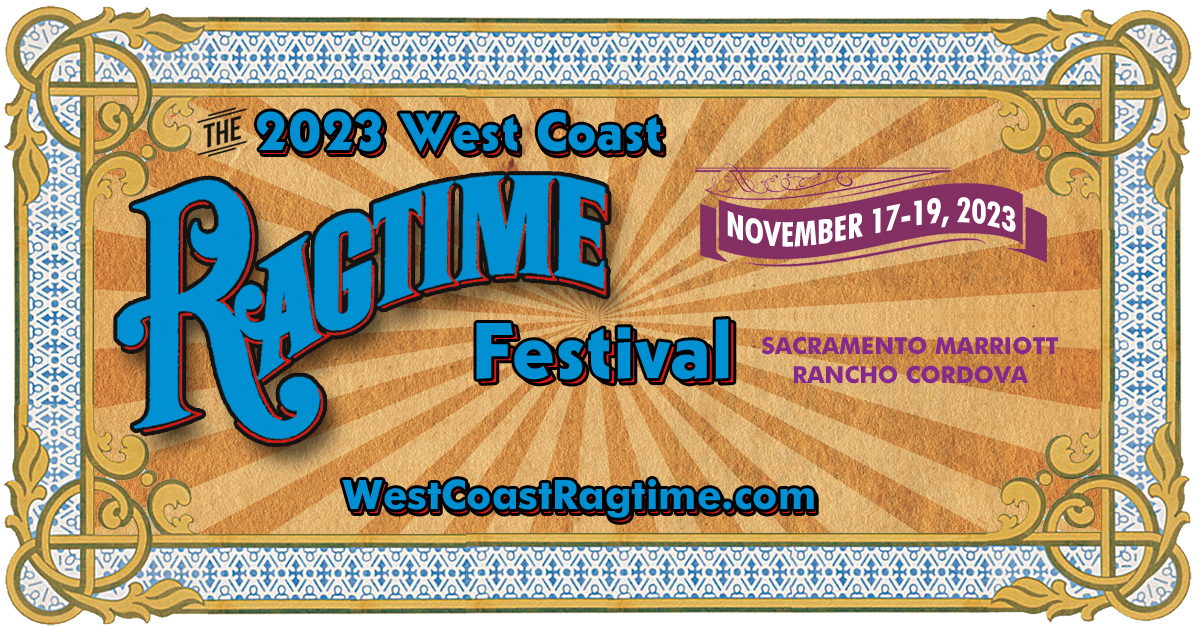 Gemme, in a long career, has played with The Black Swan Jazz Band, Jim Cullum's Happy Jazz Band,  The High Sierra Jazz Band, The Titan Hot Seven, and Banu Gibson. He currently appears with a number of bands around Southern California including Janet Klein and Her Parlor Boys, Ginger and The Hoosier Daddys,  Lizzy and The Triggermen, and leads several of his own, including one featuring his original material.
Bassist Seth Ford-Young brings a mountain of cool to the band, having started as a young man in the Washington DC punk scene and performing over the years with The Flaming Lips, Mumford & Sons, Jack Johnson, Nels Cline,  T-Bone Burnett, and Tom Waits, all while developing a fine traditional and Gypsy jazz pedigree. He was on Keenan Mckenzie's 2017 album of originals Forged in Rhythm, which I loved. 
Nate Ketner has been playing reeds professionally since he was 19 years old.   He has performed with hot groups including the Reynolds Brothers, Meschiya Lake and the Little Big Horns, and the long-running Bluestreet Jazz Band. He's another one who can be found playing at Disneyland.
The pianist Chris Dawson has a cult following among jazz aficionados. His playing is dynamic, inventive, and swinging, the product of intense musical investigations. He received formal instruction in ragtime as a child and was playing restaurant gigs at age 11. He expanded his area of learning in high school and college graduating from the USC Jazz Department in 1990. In the decades since he has recorded his own widely praised albums and with notables including  Dan Barrett, Jim Cullum, Ed Polcer, and Alan Vache.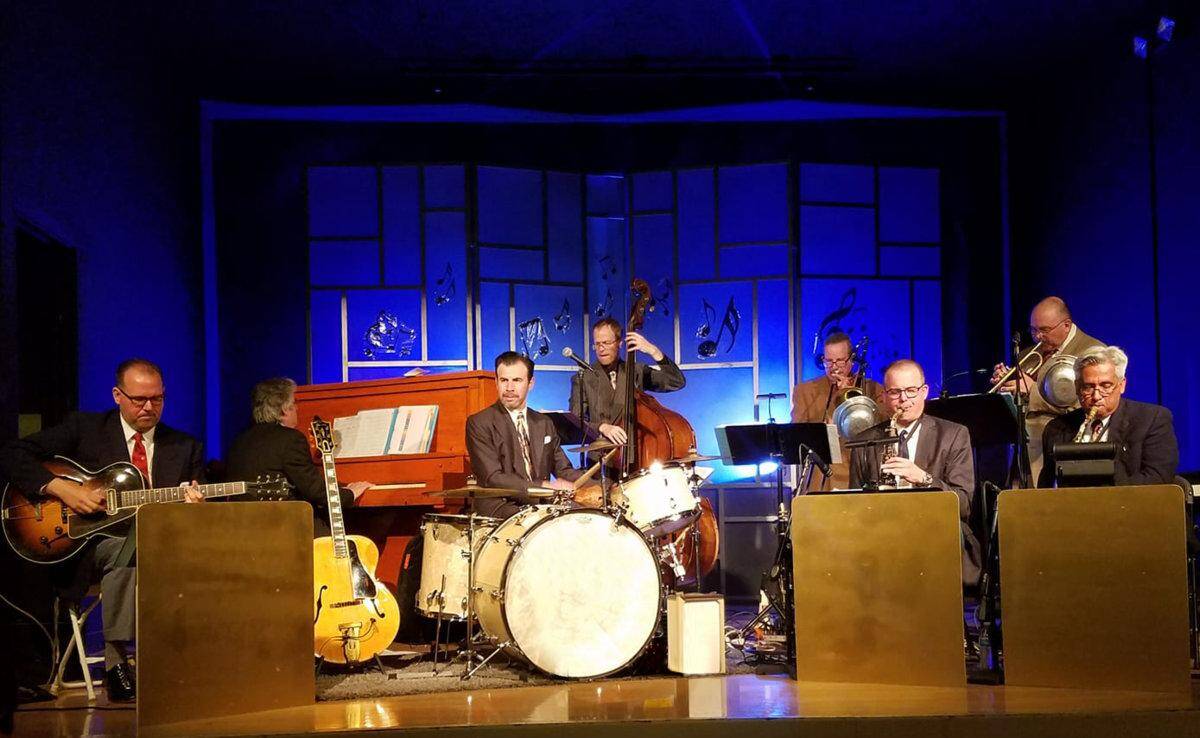 Their trombonist, Dan Weinstein, is the nephew of Latin jazz pioneer Mark Weinstein and has worked extensively in early jazz styles, sometimes on violin, for several decades. He has also worked, as many near Hollywood have, on movie scores and with stars like Neil Diamond and Jerry Lee Lewis (in their late careers.)
I don't usually supply bios for every member of a band in my reviews, but usually, I don't need to. Many groups are "all-star" but The Candy Jacket Jazz Band is a uniquely successful project. Instantly in the top tier of bands delighting both jazz purists and dance enthusiasts.  They've played top dance events like Lindy Focus, and The International Lindy Hop Championships, and also gotten rave reviews at The Redwood Coast Music Festival. With this level of musicianship, I expect to see them on more festival lineups in the near future.
The albums themselves are both divine. The band has a sound that is very much their own, a product of their joint musicianship rather than a nod to a particular luminary of the past. The feel to me captures the daring optimism and creativity of Raymond Scott, but with a kicking rhythm section. This is face forward swing music, a breath of springtime in the style. There is nothing simple about the arrangements, they highlight the soloists behind creative instrumentations while keeping the dancers graceful and grateful.
On the self-titled first album the opening track, "Don't Trip",  is a perfect intro to the band and the rest of what you'll hear. "Here's the Deal" and "March of the Candy Jackets" are both panoramas pulling the full potential out of four minutes.  "Relume the Riff" is full of grin-worthy soloing. The album is packed with new, artistically ambitious, danceable, pre-bop jazz.
The title track to their new album Unstuck In Time, released in December, is beautifully conceived and executed. Another track "Candy Jacket" provides the best theme song any band has had in 70 years. While the first album benefited from having the top picks off Josh Collazo's accumulated "pile" of originals the band is more cohesive as a unit two years in. I especially enjoyed "Lost in the Fog"  a creative vehicle for the front line's best efforts and a fascinating listen. "Off You Go" is an uptempo romp I'd have trouble keeping up with on the dance floor but they thoughtfully cool down from there with a low and slow, "Into The Sun" to close out the album.
I wouldn't recommend one album over the other. If you want to support the best efforts of artists keeping swing a living art form you should buy both.