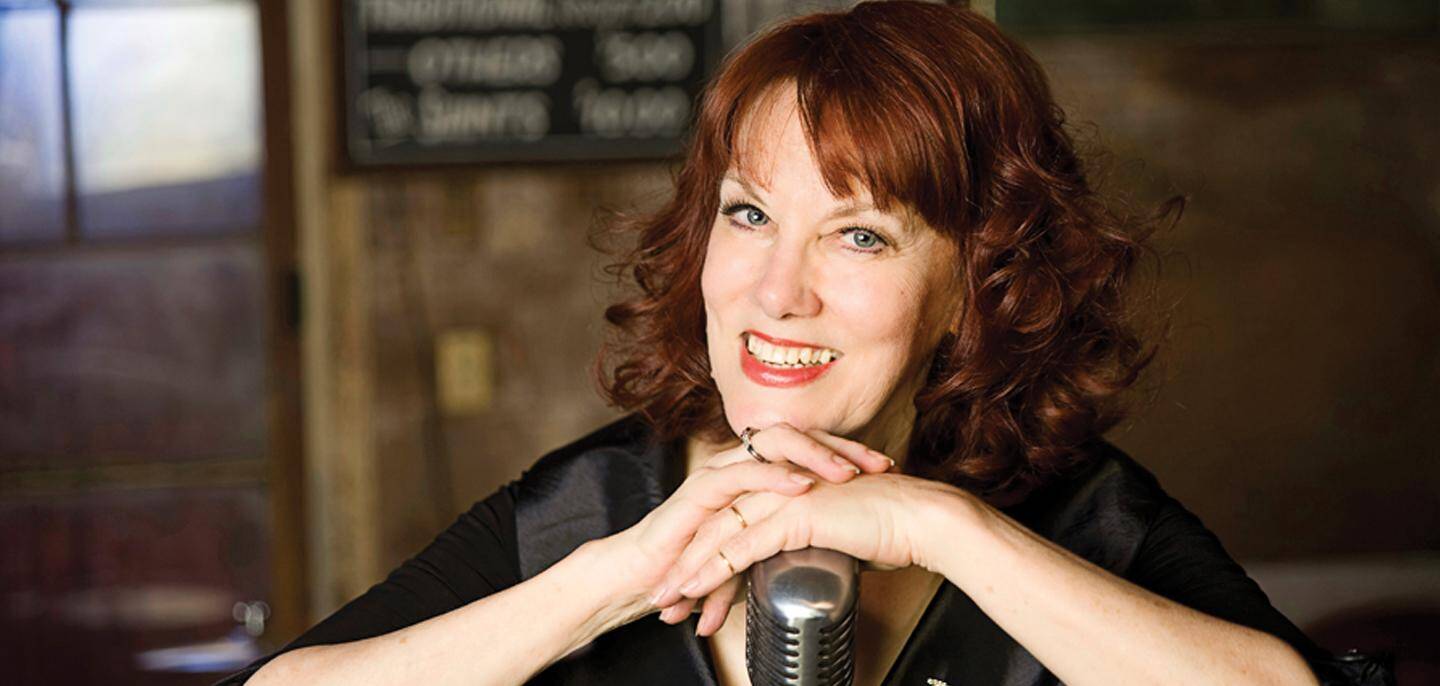 Banu Gibson: First Lady of the Bayou
The name Banu (pronounced "Bah-new") means "lady" in Persian. Other sources say the name comes from "Peri-Banu," a genie-woman mentioned in Arabian Nights. A person so named is characterized as "being of a pleasant, easy-going, friendly nature" – certainly an apt description of Banu Gibson who has been performing since the age of three.
I first heard her sing in 1981 when she and her band were appearing at & Mo' Jazz, which was located behind The Court of Two Sisters on Royal Street in the French Quarter of New Orleans. My wife and I were sitting in a bar when my brother joined us, saying, "There's a band across the street with two tubas." That sounded interesting so we made the move, only to discover that what he had seen from the street was the reflection of Banu's tuba player sitting in front of a large floor-to-ceiling mirror.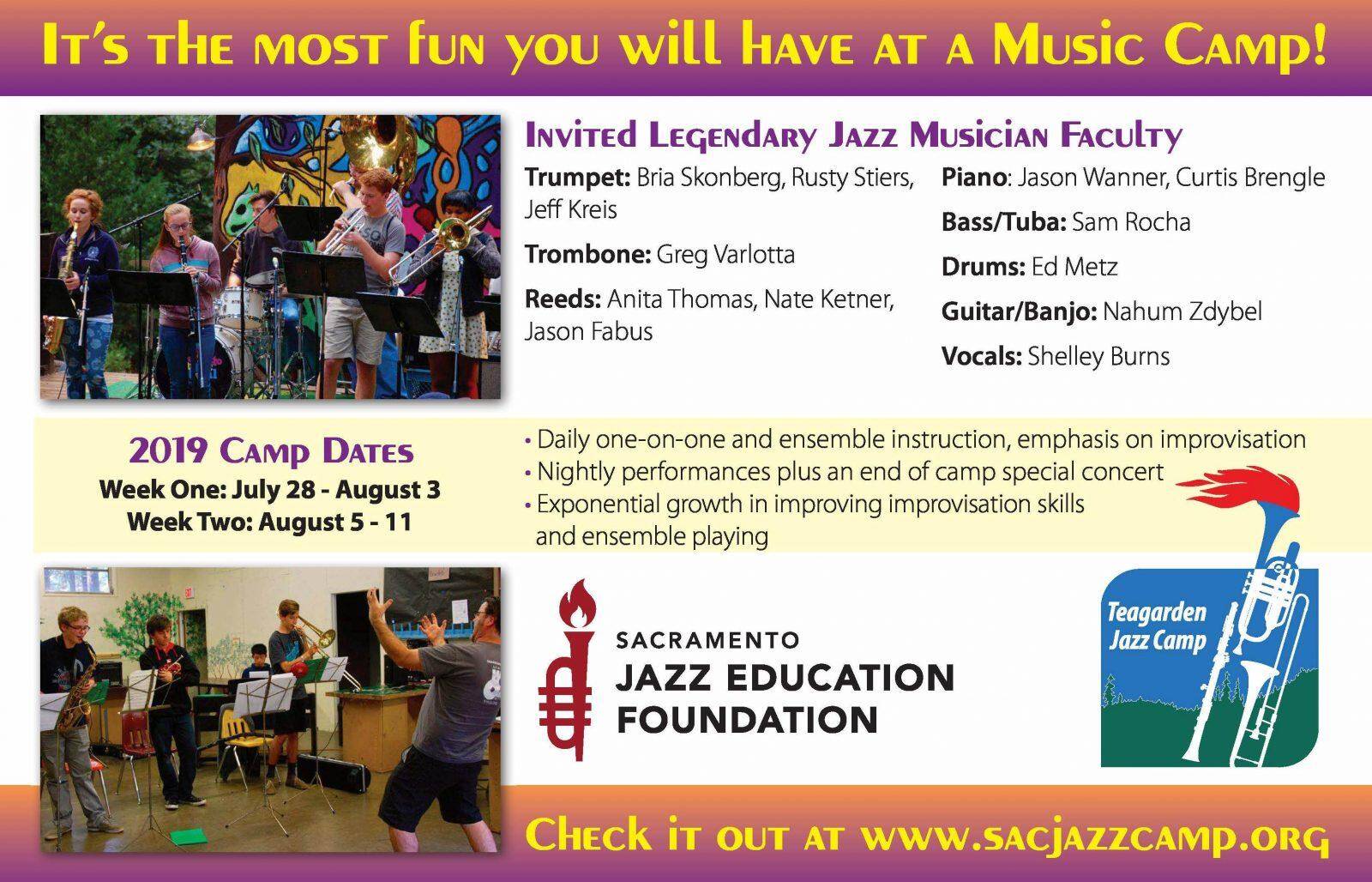 I've even interviewed her when she was splashing about in a swimming pool at a Scottsdale resort. This talented lady from Dayton, Ohio is always great copy and always puts on an entertaining show. As the Arizona Daily Star wrote following one of her performances, "Banu will give you the best time you can have in a room full of people."
Banu learned her craft through years of working on the road, performing in saloons, theaters and festivals, on cruises, leading her own band, appearing on television, and recording. She studied dance and voice as a pre-teen and majored in music and theater in college. "From the earliest age, I knew I would be in the arts somehow," she said.
– Working at Jackie Gleason's Bar –
One of her first jobs was hoofing and singing in Jackie Gleason's Joe the Bartenders Room at the Miami Beach Hilton. It was there that she got her first exposure to classic jazz listening to Dixieland trumpeter Phil Napoleon and his Emperors (and later Don Goldie) who were part of a Roaring '20s show.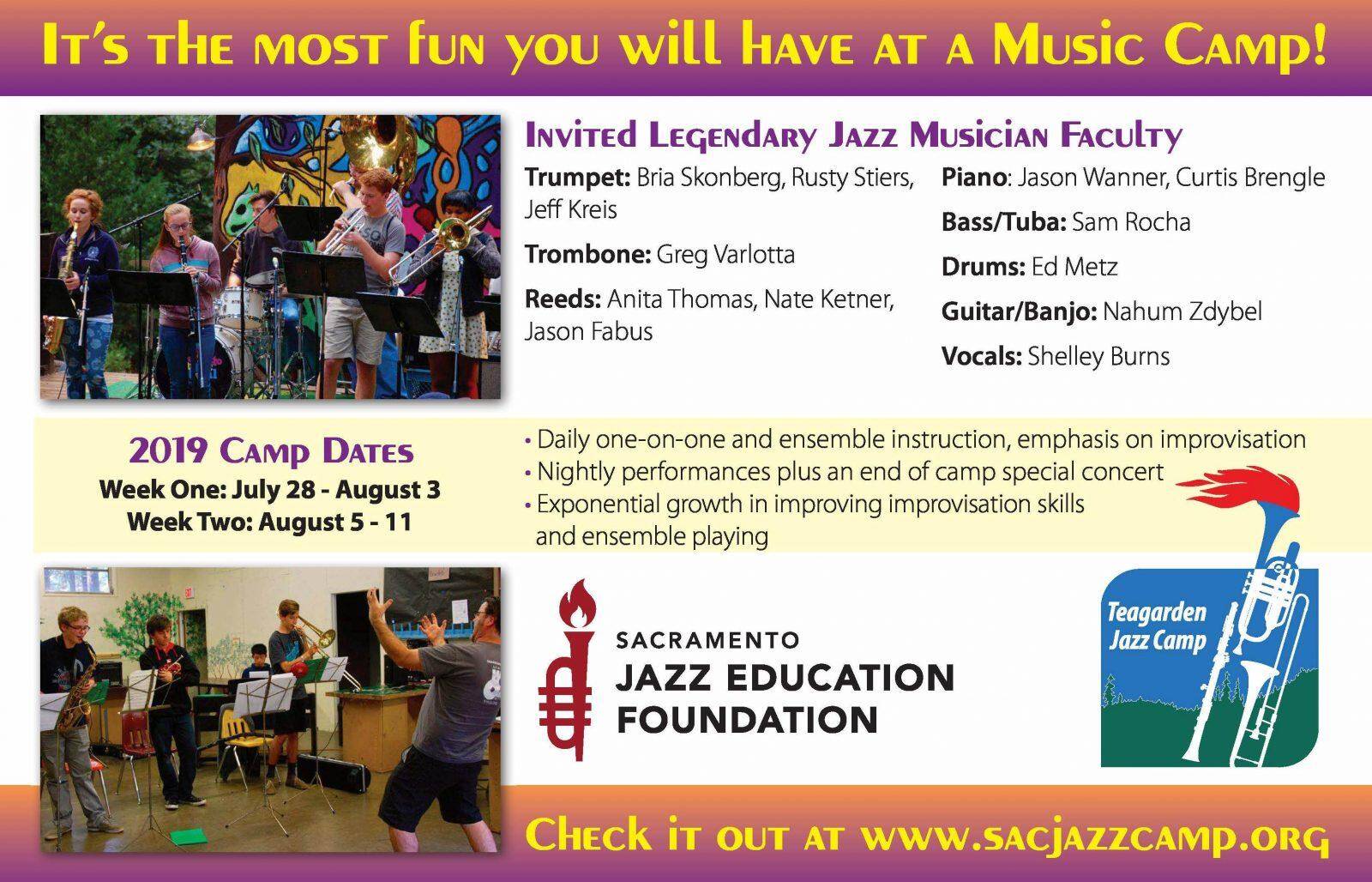 Banu said Jackie Gleason used his reputation as drinker to keep interruptions by fans to a minimum. When he was in-house, he would call out tunes for the bandleader and order three or four shots which were placed on his table, but not consumed. Whenever a fan approached him for an autograph, he would go into his drunk routine, thereby limiting conversation.
She next moved to New York City and spent three years traveling throughout the United States, Canada and Cuba with Your Father's Mustache. "We did everything," she remembered. "Paint store openings, warm-up for the Ed Sullivan Show, the opening act for Danny Thomas, and even a birthday party for the Brooklyn Bridge held on the bridge."
– California and Disneyland –
The opportunity to sing and dance in a show at Disneyland (called "Class of '27") took her to California where she choreographed and helped write comedy material for the five shows that were performed daily. She had stayed in touch with a banjo player, Buzz Podewell who was working on his PhD at New York University. When he completed his thesis, he received an offer to join the theater department at Tulane University which he accepted. Banu soon joined him in New Orleans, and the two married, eventually having a son and a daughter.
(A member of the Tulane faculty for nearly 40 years, Dr. Podewell was a prolific man of the theater, who directed productions ranging from children's stories to William Shakespeare's plays. He succumbed to lung cancer in March of 2013.)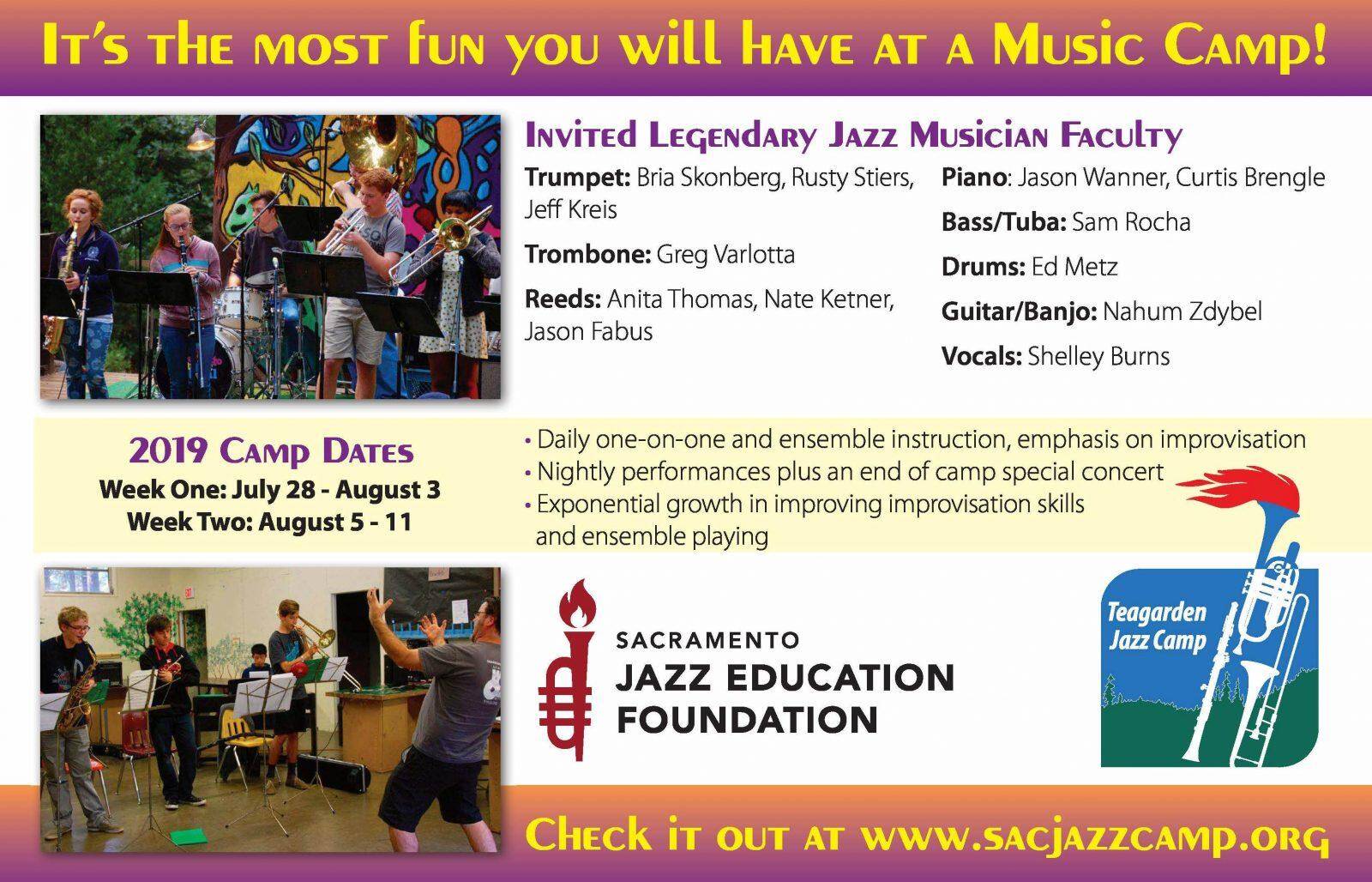 It wasn't long before Banu was singing with the city's top bands: Dukes of Dixieland, Jack London's Bayou Jazz Band and Connie Jones's Crescent City All-Stars. She started playing the banjo at her husband's suggestion who told her she would always work if she could play the banjo. She was not enthusiastic about the instrument at first, but soon learned Tenor Tuning, which had a 1920's sound and picked up the guitar in 1986 at the behest of David Boeddinghaus.
When she formed her New Orleans Hot Jazz Orchestra in 1981, the goal was no loftier than to be a working Bourbon Street saloon band. Within a few years, it became obvious that the talents of this remarkable lady and her band were not just to be heard by French Quarter tourists. They soon were introduced to a much wider audience with appearances on Joan Lunden's nationally-syndicated TV show and two PBS programs, the Dixieland Jazz from New Orleans series and Riverboat Ragfest, the later winning a local Emmy Award in St. Louis.
– "This Broad Can Sing!" –
Banu was vocalist on another PBS show, Great Chefs of New Orleans and toured Europe with the legendary Wild Bill Davison. "Fortunately for me, it was when Bill had stopped drinking, but I still gave him a wide berth," she said. "Bill's take was 'This broad can sing.'" She has performed with the Boston Pops, at the Hollywood Bowl and at the Playboy Jazz Festival. "I didn't have any great plan for all this to happen. It was like I was on a musical yellow brick road and was lucky to have been able to take advantage of one opportunity after another."
"My model has been the Louis Armstrong-Fats Waller school of performers which puts the emphasis on great music and great entertainment. These are not two separate issues, but part of a total package. You have to project what you are doing and engage the audience. To make that connection, they have to feel that they are part of the show. I give a bit of background or history when I introduce tunes, which helps the audience better relate to and appreciate that particular song."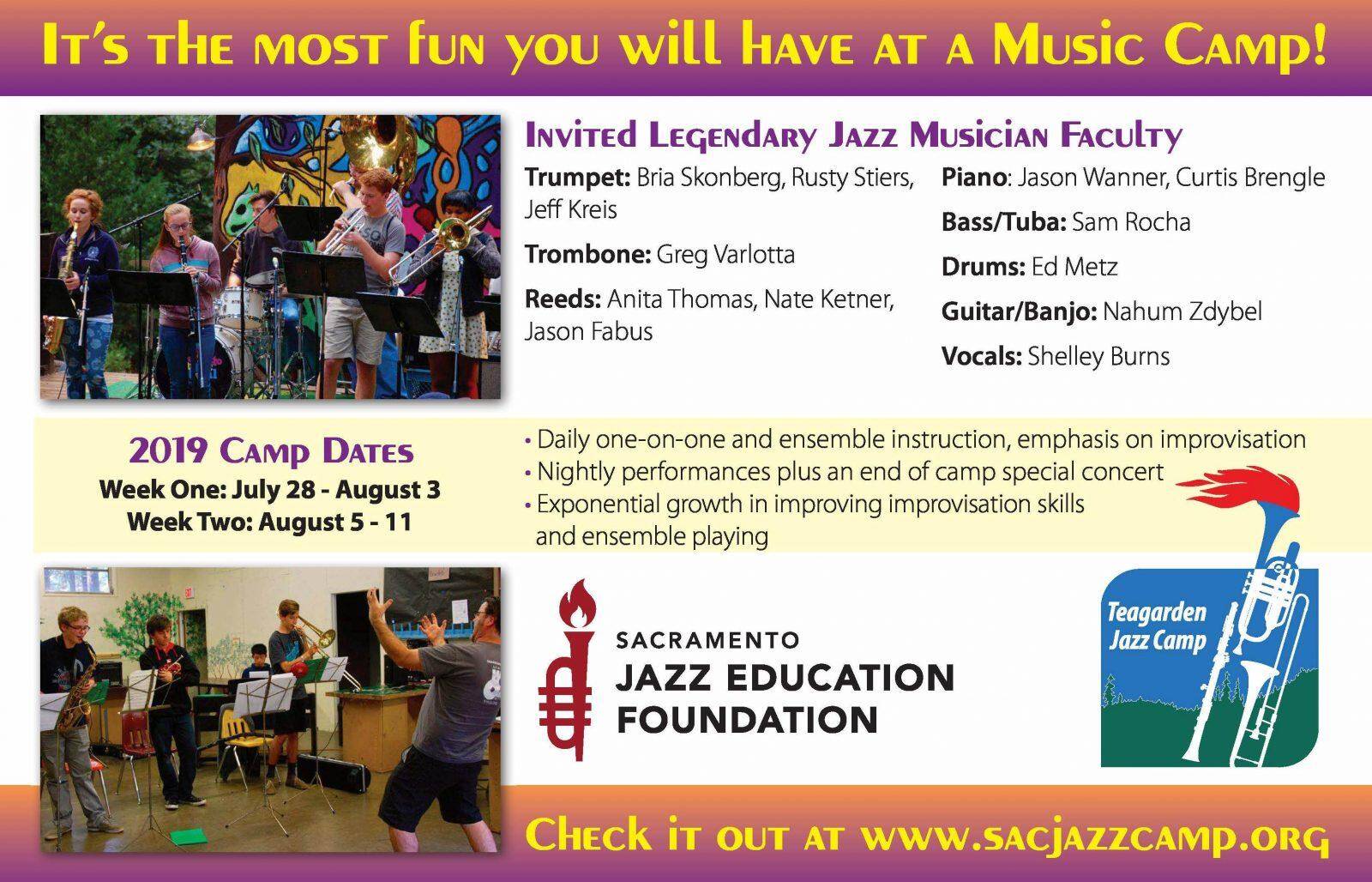 Asked what singers have influenced her, she replied, "Everybody. I'm a sponge. I like the 'big belters' like Bessie Smith and Sophie Tucker along with Billie Holiday, Ethel Waters, Fred Astaire for his phrasing, even Fanny Brice." David Boeddinghaus, who has been Banu's pianist-arranger for the past 30-plus years, calls her "a wonderful singer, a very upbeat person who explores a wide range of songs and who incorporates humor in her performances."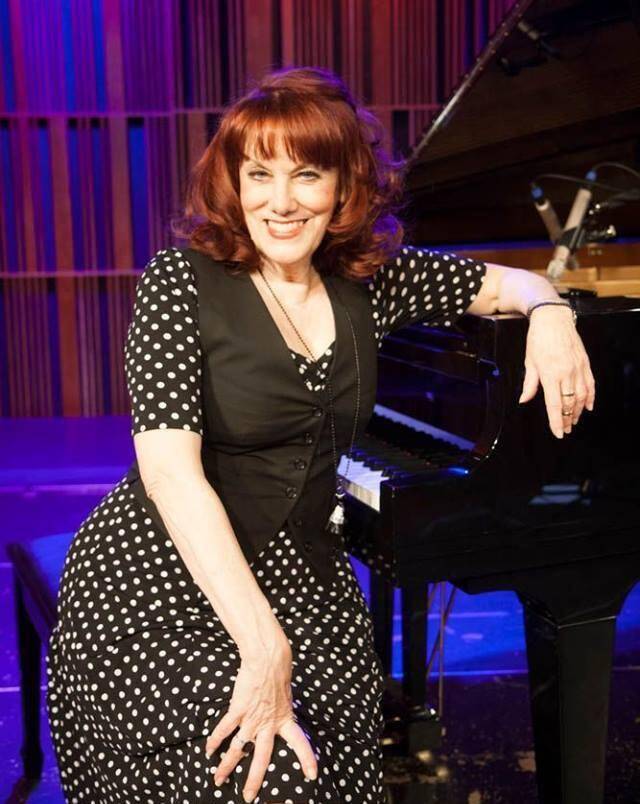 Trombonist David Sager mentions her sense of rhythmic timing, her ability to present songs from America's golden age of popular music in fresh and inventive ways, her great love of what she is doing, and being a genuine person both on and off the stage. A review of a Banu Gibson appearance with a symphony orchestra pointed out, "She is an extremely likable performer with a full-hearted, natural, unpretentious style and a voice which she alters freely to fit the material. She trumpeted "Muddy Waters" in a gutty style that paid tribute to Bessie Smith. In the upper reaches of ballads, she showed a sweet soprano. She's a former dancer and when she isn't singing, can't keep her feet still as if trying to break into a dance."
– Co-directs Jazz Camp –
Since 2010, Banu has been co-director of the New Orleans Traditional Jazz Camp that has attracted aspiring jazzers of all ages and skills for five days of group classes, individual lessons, evening jam sessions and tours of local jazz clubs. One of the first things she does at her jazz camp is to march her students around the French Quarter. To her, learning the notes is easy, but learning the feel is harder – and a lot more important
"When you listen to the traditional jazz repertoire over the years, you realize that it just got faster," she explains.
"People forget that it used to be dance music, and that if you can't dance to it, you're playing the wrong tempo. Most of these students have never second-lined, so we start marching them around the Quarter in the heat. They start playing at full speed, and I'm thinking, "Oh my God, they're going to drop dead from the heat if they keep up that tempo. But they soon slow down to a normal gait, and within a couple blocks they're hitting the natural tempo that gives them the true New Orleans feel. It really comes from walking and dancing in the streets. Otherwise, it would be roadkill."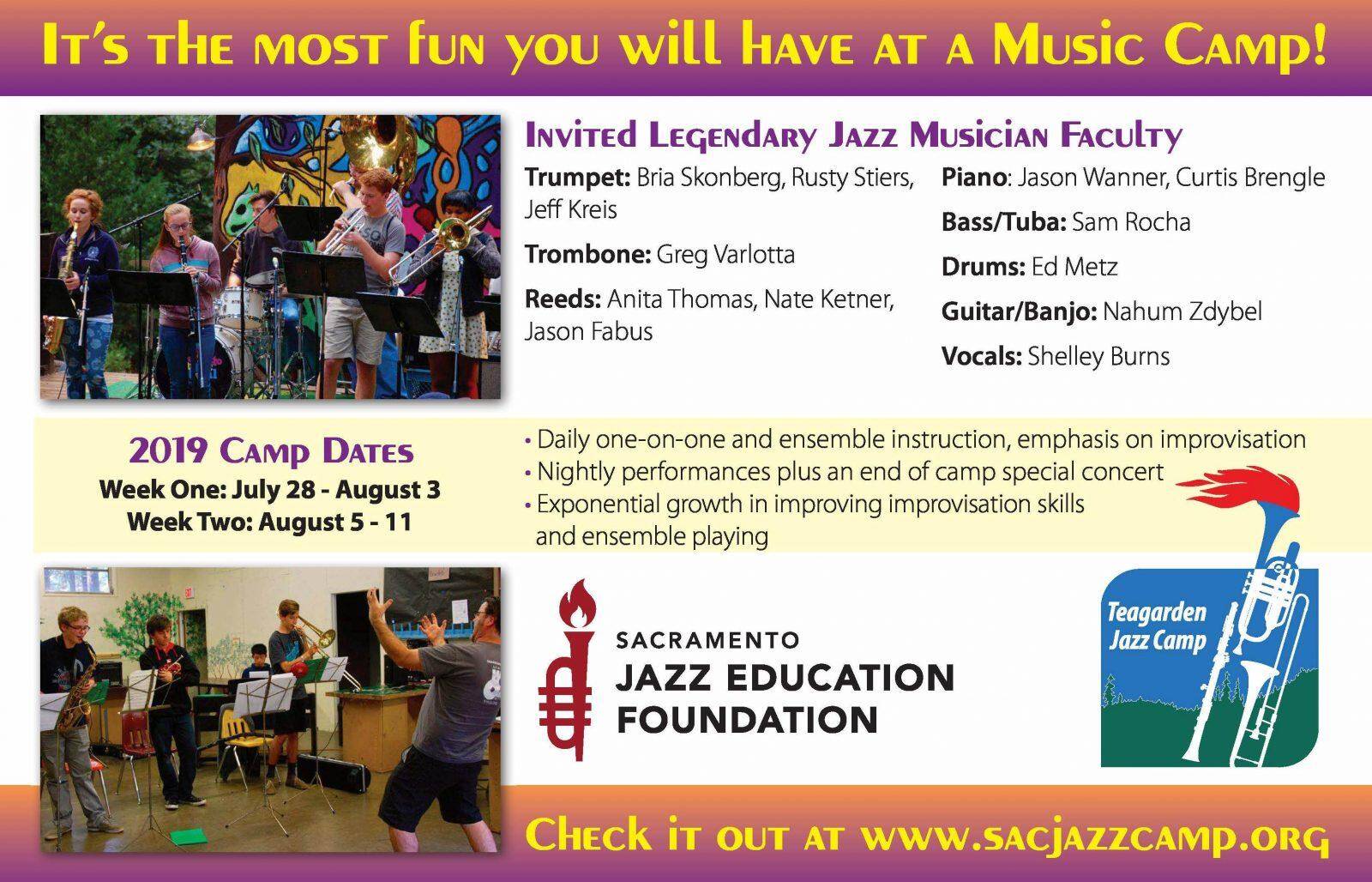 Also Read: Traditional Jazz Camps for Adults- A Guide, by Banu Gibson
Banu Gibson- By Myself, Album Review
---
Portions of the above profile appear in Jazz Beat: Notes on Classic Jazz by Lew Shaw (Copyright 2013 by AZtold Publishing, Scottsdale Arizona). Updates and additions have been made by the author.
---
Where we can link directly to an artist, publisher, or record label when mentioning an item we do so. For items where this is not possible, we link to Amazon. "As an Amazon Associate we earn from qualifying purchases."