They All Played Ragtime (Alfred A. Knopf, Ltd., 1950) by Rudi Blesh and Harriet Janis is a wonderful story of our ragtime heritage. There have been a series of posts on the Internet recently regarding the book, and the posts appear to me to be conflicted as the writers discuss the value of this first major book on ragtime. So, I've decided to blow the dust off my old 1950 copy and weigh in here, from my experience.
In 1971, when I began thinking about a ragtime festival in Sedalia, I had only a vague awareness of Scott Joplin and I began looking for information, pre-Internet. Having been a bit of a bibliophile I contacted a St. Louis used book seller of my acquaintance and he procured TAPR for me at the then outrageous price of $20. (Little did I know I was going to extract a literal wealth of information from that already used copy.) Speaking of first acquaintance with the book, Max Morath recently told me he got his first copy of TAPR from Bob Darch who rode around with a case of the books in his old pick-up truck stowed under his old Cornish piano.
What are now determined to be the inaccuracies of TAPR were unknown to me then. I only recall how the book lifted my new awareness of ragtime to a level of excitement and enthusiastic action. The book inspired me and to this day I can recall my amazement when I read about buildings and streets I walked and drove every day. I suddenly realized that the old building about to collapse at 114 E. 5th was where a major event in American music history occurred on August 10, 1899- the Joplin-Stark contract signing to publish the Maple Leaf Rag. Later that year Rudi wrote the lengthy biography for The Collected Works of Scott Joplin, edited by Vera Brodsky Lawrence (New York Public Library, 1971) and that furthered my excitement even more.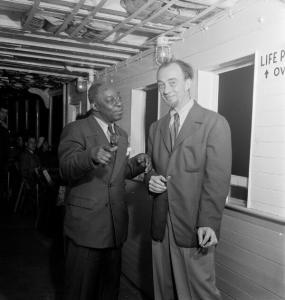 When I met Rudi Blesh a few months later, I felt as if I was meeting Joplin's Boswell. Rudi was the age I am now though he was much more active then than I am today. My memories of Rudi and our correspondence back in the 1970s are a gift I treasure very much. Thanks to Max Morath, Rudi was an important part of the first festival and my wife Karen, and I thoroughly cherish knowing both of them.
A fond first festival memory is of William Bolcom and Rudi visiting backstage during a concert. When I read of their early relationship as teaching colleagues at Queens College in the 1960s and the great story of Bolcom's interest in Joplin's opera Treemonisha, their Sedalia meeting took on new meaning for me. Rudi's grandson tells the story in his book Rudi and Me: The Rudi Blesh Story Told By His Grandson (Ragtime Society Press, 2013), "One day in 1966, Bill poked his head into Rudi's office area and asked, 'What's this I hear about a Joplin opera?' Many date the modern Ragtime revival from that meeting." Rudi actually had copies of Joplin's printed score Lottie Joplin had given him back in the 1940s.
Whatever status Rudi's work with Harriet Janis on They All Played Ragtime is determined by others to have today, in 1971 it was the impetus for Sedalia's ragtime festival, and it made Rudi and Harriet Janis legendary figures for me.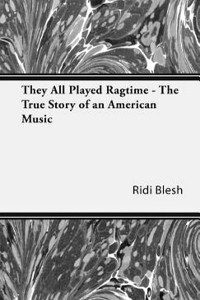 To my chagrin, I recently saw a copy of a 2018 edition of TAPR on eBay with only Rudi listed as the author and I want to comment about the unfortunate omission of Harriet Janis' name. I remember Rudi speaking at length about all the research Harriet had done on the book and the important role she had played in getting it to the publisher. According to Rudi's New York Times obituary, the two "crisscrossed the country documenting the rise of ragtime." Blesh and Janis (Rudi called her "Hansi") lived together for 20 years until her death in 1963. They collaborated on many books and articles primarily on modern art, ragtime, and jazz.
Max Morath has reminded me many times that Rudi told him that the title was "Hansi's" idea and he wonders if it wasn't based on Edward B. Marks' books, They All Sang: From Tony Pastor to Rudy Vallee (Viking, 1934) and They All Had Glamour: From the Swedish Nightingale to the Naked Lady (Messner, 1944). Max quoted Rudi, "The book was 'Hansi's idea, she had the perseverance to accomplish all the research." However, Max goes on to say that Rudi then put all her work into a readable narrative, "He had the mind of a fine novelist."
I am reminded from stories Max has told and from grandson Carl Hultbert's book how very special Rudi and "Hansi's" relationship was after all their years together. They were a remarkable couple and it has been mentioned that their story will be worth telling someday.
The two began Circle Records in 1946 and when they moved from San Francisco to New York, Rudi began a jazz radio program and later began his teaching career, all the while he seemed to be constantly writing.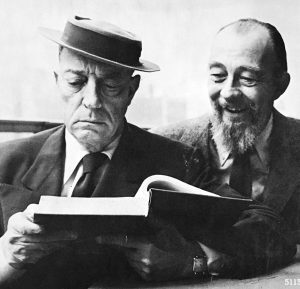 I have recounted in earlier articles about Rudi's contribution of a copy of Joplin's printed score of Treemonisha to Sedalia. My personal treasure is a copy of the biography he gave me that he published on Buster Keaton titled Keaton (McMillan, 1966).
Knowing Karen and I traveled to Cape Cod every summer, Rudi invited us to visit him at his Hillforge Farm in Gilmanton, New Hampshire, on our way. One of my regrets is that we weren't able to take him up on his invitation because illness caused him to call and cancel the invitation.
I knew Rudi as a kind and gentle man who seemed to be excited to see a Joplin ragtime festival in Sedalia. He seemed full of energy but when I saw him next briefly at the Joplin Stamp First Day of Issue Ceremony in 1983, he had aged (though I heard he took in everything at the festival, day and night). And as his grandson wrote of him, as ever, "Rudi was gracious, witty, disarming, instructive, authoritative, charming…the ragtime man."
As for the modern discussion of the value of They All Played Ragtime, well, it jumpstarted, enthused and inspired the Great Ragtime Revival that was to come. It informed generations of ragtime aficionados about the basic personalities and elements of ragtime and it is still doing so today. It appeals because it is written as a narrative, a story really, that we ordinary folks have thoroughly enjoyed all these years. It is still in print in the U.S. and the U.K. and I predict it will continue to be for many years to come.
Yes, indeed more recently there have been some amazingly well researched books written about the major figures and about the music itself. I listed my favorites in another article. As much as I am impressed by some of the more recent volumes and awed by the authors who researched and wrote them, for me, They All Played Ragtime is like an old folk-song that has been orchestrated until it is considered part of the classical repertoire. I would rejoice in listening to a modern full orchestration by, say, John Williams. However, it would still be the old song I would hum in my reverie.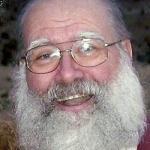 Larry Melton was a founder of the Scott Joplin Ragtime Festival in 1974 and the Sedalia Ragtime Archive in 1976. He was a Sedalia Chamber of Commerce manager before moving on to Union, Missouri where he is currently helping to conserve the Ragtime collection of the Sedalia Heritage Foundation. Write him at [email protected]