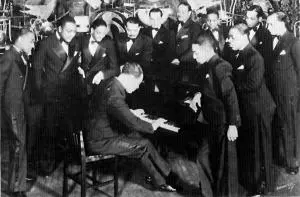 Duke Ellington's stay at the Cotton Club has become one of the enduring legends of Jazz. Movies, songs and books have celebrated the orchestra's residency at the club which was located on the second floor of 644 Lexington at the corner of West 142nd Street in the Harlem section of New York City.
It all began late in May of 1927 when Andy Preer who had been leading the house band at the Cotton Club died. In looking for a replacement the first choice was King Oliver's band, but they were not offering enough money for Oliver's taste and he turned down the job. The gig went to Duke Ellington and his men.
The Cotton Club was owned by a consortium of mobsters led by bootlegger Owney Madden. The club's decor was modeled after the old South of plantations and slavery, hence the name The Cotton Club. The club was also segregated, only Whites were allowed in the audience, while the waiters and entertainers were all African-American, with the exception of occasional guest star appearances.
The show was a musical revue which featured dancers, singers, comedians and variety acts, as well as Duke's band which supplied music for the floor show and singers. The Orchestra also played independently for dancing pleasure of the audience.
There were two floor shows a night at midnight and 2am. What made Duke Ellington and his Cotton Club Orchestra famous were the weekly broadcasts on radio station WHN. These broadcasts were heard all over the country and gave Ellington national exposure.
The band's first stay at the club began on December 4th, 1927 and continued until June 30th, 1930. They returned in September and October of 1930 and again in January of 1931. They were at the club in February of 1932 and in the spring of 1933 and appeared there for the last time in 1937 and 1938 in the club's new location downtown.
Title

Recording Date

Recording Location

Company

A Night At The Cotton Club Part 1
Cotton Club Stomp / Misty Morning
(Johnny Hodges / Harry Carney / Duke Ellington)
(Arthur Whetsel / Duke Ellington)
4-12-1929
New York, New York
Victor
741029
A Night At The Cotton Club Part 2
Goin' To Town / Freeze And Melt
(Bubber Miley / Duke Ellington)
(Dorothy Fields / Jimmy McHugh)
4-12-1929
New York, New York
Victor
741029
Arabian Lover


(Dorothy Fields / Jimmy McHugh)

5-3-1929
New York, New York
Victor
V-38079
Awful Sad


(Duke Ellington)

10-20-1928
New York, New York
Brunswick
6805
Bandanna Babies


(Dorothy Fields / Jimmy McHugh)

11-15-1928
New York, New York
Victor
V-38007-B
Black Beauty


(Duke Ellington)

8-1929
New York, New York
Anthologie du Jazz
Black And Tan Fantasy


(Bubber Miley / Duke Ellington)

8-1929
New York, New York
Anthologie
du Jazz
Black And Tan Fantasy (With Choir)


(Bubber Miley / Duke Ellington)

8-1929
New York, New York
Anthologie du Jazz
Blue Again


(Dorothy Fields / Jimmy McHugh)

11-26-1930
New York, New York
Victor
22603
Breakfast Dance (Every Day)


(Duke Ellington)

11-14-1929
New York, New York
Victor
V-38115
Cotton Club Stomp


(Duke Ellington / Johnny Hodges / Harry Carney)

5-3-1929
New York, New York
Victor
V-38079
Diga Diga Doo


(Dorothy Fields / Jimmy McHugh)

11-15-1928
New York, New York
Victor
V-38008-B
Doin' The Frog


(Dorothy Fields / Jimmy McHugh / Dan Healy)

12-29-1927
New York, New York
Vocalion
1153
Doin' The Voom Voom


(Bubber Miley / Duke Ellington)

1-8-1929
New York, New York
Brunswick
4345
Doin' The Voom Voom (1)


(Bubber Miley / Duke Ellington)

1-16-1929
New York, New York
Victor
V-38035
Doin' The Voom Voom (2)


(Bubber Miley / Duke Ellington)

1-16-1929
New York, New York
Victor
V-38035
Double Check Stomp


(

Barney Bigard / Wellman Braud / Johnny Hodges)
4-11-1930
New York, New York
Victor
V-38129-A
Echoes Of The Jungle
6-16-1931
Camden, New Jersey
Victor
22743
Flaming Youth (1)


(Duke Ellington)

1-16-1929
New York, New York
Victor
V-38035
Flaming Youth (2)


(Duke Ellington)

1-16-1929
New York, New York
Victor
V-38035
Goin' To Town


(Bubber Miley / Duke Ellington)

11-20-1928
New York, New York
Okeh
8675
Harlemania


(Dorothy Fields / Jimmy McHugh)

2-18-1929
New York, New York
Victor
V-38045
High Life


(Duke Ellington)

1-16-1929
New York, New York
Victor
V-38036
Hittin' The Bottle


(Ted Koeler / Harold Arlen)

10-2-1930
New York, New York
Victor
23016


63360-1

Hittin' The Bottle
(From Earl Carroll's "Vanities")
Vocal refrain by Dick Robertson


(Ted Koeler / Harold Arlen)

10-2-1930
New York, New York
Victor
23016-A


63360-2

Hot Feet


(Dorothy Fields / Jimmy McHugh)

3-7-1929
New York, New York
Victor
V-38065-A
I Can't Give You Anything But Love


(Dorothy Fields / Jimmy McHugh)

10-30-1928
New York, New York
Victor
V-38008-A
I Can't Give You Anything But Love


(Dorothy Fields / Jimmy McHugh)

11-10-1928
New York, New York
Victor
V-38008-A
I Must Have That Man


(Dorothy Fields / Jimmy McHugh)

11-15-1928
New York, New York
Victor
V-38007-A
I'm So In Love With You
(Duke Ellington / Irving Mills)
11-21-1930
New York, New York
Victor
23041
I'm So In Love With You


(Duke Ellington / Irving Mills)

1-8-1931
New York, New York
Clarion
5391-C
I Was Made To Love You


(Charles Tobias / Harold Veo / Doris Tauber)

4-11-1930
New York, New York
Victor
V-38130
Japanese Dream


(Dorothy Fields / Jimmy McHugh)

2-18-1929
New York, New York
Victor
V-38045
Jazz Lips (Zonky Blues)


(Duke Ellington)

11-14-1929
New York, New York
Victor
V-38129-B
Jungle Nights In Harlem


(Duke Ellington)

6-4-1930
New York, New York
Victor
23022-B
Keep A Song In Your Soul


(Fats Waller / Alex Hill)

1-16-1931
New York, New York
Victor
22614-A
Limehouse Blues


(Douglas Furber / Philip Braham)

6-16-1931
Camden, New Jersey
Brunswick
22743
Louisiana


(Andy Razaf / Harry Brooks / J.C. Johnson)

10-17-1928
New York, New York
Brunswick
4110
March Of The Hoodlums


(Hoagy Carmichael)

11-14-1929
New York, New York
Victor
V-38115
Memories Of You
(From Lew Leslie's "Blackbirds of 1930")
Vocal refrain by Dick Robertson


(Andy Razaf / Eubie Blake)

10-2-1930
New York, New York
Victor
23017-A
Mississippi


(Vincent Youmans)

9-16-1929
New York, New York
Victor
V-38089
Misty Mornin'


(Duke Ellington Arthur Whetsol)

11-22-1928
New York, New York
Okeh
8662
Misty Morning


(Duke Ellington Arthur Whetsol)

5-3-1929
New York, New York
Victor
V-38058-A
Mood Indigo


(Barney Bigard / Duke Ellington / Irving Mills)

12-10-1930
New York, New York
Victor
22587-A
My Gal Is Good For Nothing But Love


(Fats Waller / Andy Razaf)

4-11-1930
New York, New York
Victor
V-38130
Nine Little Miles From Ten-Ten-Tennessee


(Al Sherman / Al Lewis / Con Conrad)

11-21-1930
New York, New York
Victor
22586


64812-1

Nine Little Miles From Ten-Ten-Tennessee


(Al Sherman / Al Lewis / Con Conrad)

11-21-1930
New York, New York
Victor
22586


64812-2

No Papa No
(Victoria Spivey)
10-30-1928
New York, New York
Victor
26310


48103-1

No Papa No


(Victoria Spivey)

10-30-1928
New York, New York
Victor
LPV-568


48103-2

Old Man Blues
6-4-1930
New York, New York
Victor
23022-A
Red Hot Band


(Dorothy Fields / Jimmy McHugh / T. Healy)

12-29-1927
New York, New York
Vocalion
1153
Rockin' In Rhythm


(Duke Ellington / Irving Mills / Harry Carney)

1-16-1931
New York, New York
Okeh
8869


404804-1

Rockin' In Rhythm


(Duke Ellington / Irving Mills / Harry Carney)

1-16-1931
New York, New York
Okeh
8869


404804-2

Sam And Delilah
(From the musical comedy "Girl Crazy")


(George Gershwin / Ira Gershwin)

1-16-1931
New York, New York
Victor
23036-B
Same Train
8-1929
New York, New York
Anthologie
du Jazz
Saratoga Swing


(Barney Bigard)

5-3-1929
New York, New York
Victor
V-38058-B
Saturday Night Function


(Barney Bigard / Duke Ellington)

1-16-1929
New York, New York
Victor
V-38036
Shout 'Em, Aunt Tillie


(Duke Ellington / Irving Mills)

7-4-1930
New York, New York
Victor
23041
Sloppy Joe (1)


(Barney Bigard)

3-7-1929
New York, New York
Victor
V-38065-B


49769-1

Sloppy Joe (2)


(Barney Bigard)

3-7-1929
New York, New York
Victor
V-38065-B


49769-2

Stevedore Stomp


(Duke Ellington / Irving Mills)

3-7-1929
New York, New York
Victor
V-38053-A
Swanee Shuffle


(Irving Berlin)

9-16-1929
New York, New York
Victor
V-38089
Sweet Dreams Of Love


(Duke Ellington / Irving Mills)

7-4-1930
New York, New York
Victor
V-38143


62192-1

Sweet Dreams Of Love


(Duke Ellington / Irving Mills)

7-4-1930
New York, New York
Victor
V-38143


62192-2

Sweet Jazz Of Mine


(Duke Ellington)

7-4-1930
New York, New York
Victor
V-38143


62194-1

Sweet Jazz Of Mine


(Duke Ellington)

7-4-1930
New York, New York
Victor
V-38143


62194-2

That Lindy Hop
(From Lew Leslie's "Blackbirds of 1930")


(Andy Razaf / Eubie Blake)

10-2-1930
New York, New York
Victor
23016-B
The Blues With A Feeling


(Duke Ellington)

11-20-1928
New York, New York
Okeh
8662
The Dicty Glide


(Duke Ellington)

3-7-1929
New York, New York
Victor
741029


49767-1

The Dicty Glide


(Duke Ellington)

3-7-1929
New York, New York
Victor
V-38053-B


49767-2

The Duke Steps Out


(Duke Ellington / Johnny Hodges / Cootie Williams)

8-1929
New York, New York
Anthologie
du Jazz
The Mooche


(Duke Ellington / Irving Mills)

10-17-1928
New York, New York
Brunswick
4122
The Mooche


(Duke Ellington / Irving Mills)

10-30-1928
New York, New York
Victor
V-38034-A
The River And Me


(Harry Warren / Al Dubin)

1-16-1931
New York, New York
Victor
22614-B
Tiger Rag (Part 1)
(Nick LaRocca)
1-8-1929
New York, New York
Brunswick
4238-A


E-28940-A

Tiger Rag (Part 1)


(Nick LaRocca)

1-8-1929
New York, New York
Brunswick
4238-A


E-28940-B

Tiger Rag (Part 2)


(Nick LaRocca)

1-8-1929
New York, New York
Brunswick
4238-B


E-28941-A

What Good Am I Without You


(Duke Ellington)

11-26-1930
New York, New York
Victor
741068
What Good Am I Without You


(Duke Ellington)

12-10-1930
New York, New York
Victor
22586
When A Black Man's Blue


(Duke Ellington)

11-26-1930
New York, New York
Victor
22587-B
When A Black Man's Blue


(Duke Ellington)

12-10-1930
New York, New York
Victor
22587-B
You're Lucky To Me
(From Lew Leslie's "Blackbirds of 1930")
Vocal refrain by Dick Robertson


(Andy Razaf / Eubie Blake)

10-2-1930
New York, New York
Victor
23017-B
| | |
| --- | --- |
| Artist | Instrument |
| Smith Ballew | Vocals |
| Barney Bigard | Clarinet, Tenor Saxophone |
| Wellman Braud | Bass |
| Chick Bullock | Vocals |
| Teddy Bunn | Guitar |
| Harry Carney | Clarinet, Alto and Baritone Saxophone |
| Baby Cox | Vocals |
| Duke Ellington | Piano |
| Sid Garry | Vocals |
| Goody Goodwin | Vocals |
| Sonny Greer | Chimes, Drums, Vocals |
| Fred Guy | Banjo |
| The Hall Johnson Choir | Vocals |
| Otto Hardwick | Alto and Soprano Saxophone |
| Johnny Hodges | Clarinet, Alto, and Soprano Saxophone |
| Rudy Jackson | Clarinet, Tenor Saxophone |
| Freddy Jenkins | Trumpet |
| Lonnie Johnson | Guitar |
| Joe Nanton | Trombone |
| Frank Marvin | Vocals |
| Louis Metcalf | Trumpet |
| Bubber Miley | Trumpet |
| Irving Mills | Vocals |
| Benny Paine | Vocals |
| Dick Robertson | Vocals |
| Billy Smith | Vocals |
| Billy Taylor | Tuba |
| Juan Tizol | Valve Trombone |
| Ozzie Ware | Vocals |
| Arthur Whetsel | Trumpet |
| Cootie Williams | Trumpet, Vocals |
| Harry White | Trombone |
The Cotton Club by Jim Haskins, Hippocrene Boooks, 1977