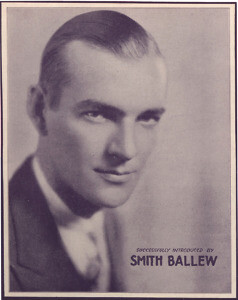 Smith Ballew was born in Palestine, Texas on January 21, 1902, the youngest of five children born to Mr. and Mrs. W.Y. Ballew. He studied arts at Sherman High School and Austin College before his interest in music was really sparked.
It was at the University of Texas that he began to be involved in music. There together with his brother Charles Robert Ballew, he become entranced with jazz music. Smith Ballew's major concerns were with playing guitar and banjo, and he had undertaken formal studies in music, as well as woodshedding his talents by learning jazz styles from a negro musician who lived close to town.
At the University of Texas, Smith and Charlie Bob met clarinet player and bandleader Jimmy Maloney, who invited them to join "Jimmy's Joys". Such was their success that by 1923 they headed to California, where the band recorded for Golden Records. The discs sold like hot cakes back at university on their return.
So far Smith Ballew had not crooned a single note; banjo was his main instrument. Then followed work with his own band the "Texajazzers" which worked around in Texas, and then in other states.
By 1927, the band had exhausted its energies and Smith Ballew joined forces with pianist Dick Voynow. They called themselves the Wolverines Orchestra. At this stage Smith Ballew had been seen by Ben Pollack while they were in Chicago. Pollack invited Ballew to join and play banjo. Inevitably, singing was added to the young and handsome Texan's portfolio, and the rest is history.
Ted Fio Rito asked Smith Ballew to join his band and go to New York, and he landed in the big city to find no job and no money. Early in 1928 he busked the streets of New York, and was discovered by Tommy and Jimmy Dorsey who introduced him to Joe Venuti, Arthur Schutt and others.
He found a network with them, and met up with his old friends, the Mayhew Brothers. Suddenly he was hired by orchestra leader Fred Rich to play at the Astor Hotel, and began working with Meyer Davis on records and radio. Then he recorded 'Was It A Dream?' in a concert arrangement with the Dorsey Brothers.
Okeh offered a contract, and manager Tom Rockwell teamed Smith Ballew with Jean Goldkette who put together the orchestra. The southern rhythms of the band included some Texan friends, and great luminaries of the epoch. Much of the repertoire were sweet arrangements but oh, the 'hot' charts!
The band enjoyed great success and Smith Ballew recorded with the best musicians in New York. Red Nichols, Joe Venuti, Eddie Lang, Bix Beiderbecke, Frankie Trumbauer, the Dorsey Brothers, are just a few of the great musicians that Smith Ballew worked and recorded with.
So prolific was Smith Ballew's recorded output that he was in demand with every record label in New York, and worked with just about every bandleader in that city. This included the great Duke Ellington, and others such as Leo Reisman, Ben Selvin, Sam Lanin, the Dorsey Brothers, Joe Venuti, Frankie Trumbauer and Ben Pollack.
The Depression Years had a twofold impact on Smith Ballew and his career. He lost heavily in his financial investments in 1930, in a second wave of crashes after the famous 1929 fiasco. But he was working regularly, albeit, the New York based record companies were requesting less session time due to several smaller companies closing business, and radio and personal appearances were reduced as strings were drawn tighter.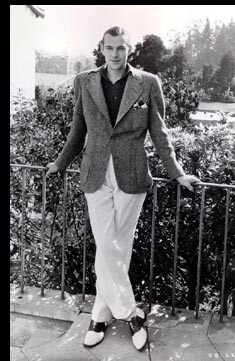 Whyte's Restaurant closed in New York (the owners lost everything and committed suicide), Salzman's dropped the orchestra and radio link-up, and Smith Ballew had to turn business around. Columbia and Crown Records were virtually the only labels documenting the Ballew Orchestra.
At times it boasted Venuti and Lang as well as the Van Eps Brothers (George and Bobby) in the rhythm section. As well as Johnny 'Scat' Davis on trumpet, Peter Pumiglio on alto saxophone and clarinet, and Dee Orr on drums. The orchestra added a trombone which had previously not been present in the arranging style of the Ballew band. This role was taken at times by Tommy Dorsey, Ted Raph, Glenn Miller and Abe Lincoln, the latter being the regular player on record dates and location jobs.
Then came a new orchestra in 1932, put together by Glenn Miller whom Smith Ballew knew well from early Ben Pollack days going back to 1927. This band featured Bunny Berigan on trumpet, and Chummy MacGregor on piano.
The orchestra toured to New Orleans late in 1932 and such was the success at 'Club Forrest' they did not return until late in 1933. On the band's return, it broke up and Smith Ballew had little work.
He recorded with musicians who were loyal to him during the New Orleans tour including trumpet player Stew Pletcher, and drummer Ray McKinley. Victor Young put together the rest of the recording sessions at American Recording Company (ARC). One memorable session included fellow Texans (and family friends) the Teagarden Brothers.  Jack played a lovely solo on "Forbidden Lips" issued on Melotone 13029.
As Victor Young was enticed to Join Decca as Musical Director by Jack Kapp late in 1934, some of the studio session work for Smith Ballew's Orchestra was taken over by the new ARC House Director, the much talented Russ Morgan.
Glenn Miller continued to assist Smith Ballew throughout 1934 where possible, but demands were becoming greater on this bandleader- to-be. The Dorsey Brothers Orchestra took Number One priority, to be overtaken by newcomer Ray Noble who had arrived from England with his Manager/drummer Bill Harty and vocalist Al Bowlly.
Smith Ballew's Orchestra took third and last position with Glenn Miller's time management. The final farewell for Smith Ballew as an orchestra leader was at a session for Columbia in April 1935. The four titles were released as 'Glenn Miller and his Orchestra' for the first time (Smith Ballew stated that this was an acknowledgement on his part to long-time friend Glenn Miller for his contributions to Ballew when he was bandleader). The band was really Smith Ballew's nightly working outfit, but included musicians who were to star with the new Ray Noble Orchestra.
As well, Bunny Berigan shone in solos with this band and Smith Ballew sang the now-classics "Moonlight On The Ganges" and "A Blues Serenade," issued on Blue Wax Columbia 3051-D. Shortly thereafter, Smith Ballew surrendered to changing demands and dissolved his orchestra, which was a hallmark of style in New York, and headed west to Los Angeles. 
Victor Young had arranged that Smith Ballew be offered the role of Compere in the Hollywood-based Radio Show Shell Chateau in 1936. Victor was Musical Director for Decca Records and N.B.C. Radio in Hollywood (Smith Ballew worked extensively on records with Victor Young; they had been friends since 1926 when Victor played violin in the Ted Fio Rito Band).
The program, which was a high-rating Saturday night show, featured the best musical talent, feted sports celebrities and acclaimed Hollywood actors. In fact, Smith Ballew was carving out a name for himself as an actor when Sol Lesser invited Ballew to do a series of 'B' Westerns for Twentieth Century Fox as a singing cowboy. These have become cult movies in their own right.
Smith Ballew retired from movie making in the early 1950's and concentrated on a new career in public relations with jet aeroplane maker General Dynamics and stayed with them until he retired in 1967. He died in his home state of Texas on May 2, 1984. Smith Ballew was 82 years of age.
By Geoffery J. Orr, Author of Texas Troubadour: A Bio-Discography Of The Life And Times Of Smith Ballew, ISBN Number 0-94079-50-2, Exact Science Press Melbourne, (1985)
The complete Okeh, Columbia and Crown recordings of Smith Ballew and his Orchestra are available on three CDs from Crystal Stream Audio. Additionally I am selling three other CDs of Grey Gull recordings, all containing very rare selections with Smith Ballew. This is the first time much of the material has been re-issued.

Smith Ballew and his Orchestra

| | | |
| --- | --- | --- |
| Title | Director | Year |
| Rambling 'Round Radio Row #5 | Jerry Wald | 1933 |
| Palm Springs | Aubrey Scotto | 1936 |
| Racing Lady | Wallace Fox | 1936 |
| Western Gold | Howard Bretherton | 1937 |
| Roll Along, Cowboy | Gus Meins | 1937 |
| Roll Along, Cowboy | Gus Meins | 1937 |
| Rawhide | Ray Taylor | 1938 |
| Panamint's Bad Man | Ray Taylor | 1938 |
| Hawaiian Buckaroo | Ray Taylor | 1938 |
| Gaucho Serenade | Frank McDonald | 1940 |
| The Man Who Walked Alone | Christy Cabanne | 1945 |
| Drifting Along | Derwin Abrahams | 1946 |
| Tex Granger | Derwin Abrahams | 1948 |
| The Mutineers | Jean Yarbrough | 1949 |
| I Killed Geronimo | John Hoffman | 1950 |
| The Red Badge of Courage | John Huston | 1951 |