The Jean Goldkette Orchestra featured some of the best White Jazz musicians of the 1920s. According to almost all that saw them when they played live they were a force to be reckoned with. The 1926/27 version of the orchestra featured Bix Beiderbecke, Frankie Trumbauer, Jimmy and Tommy Dorsey, Eddie Lang and Joe Venuti.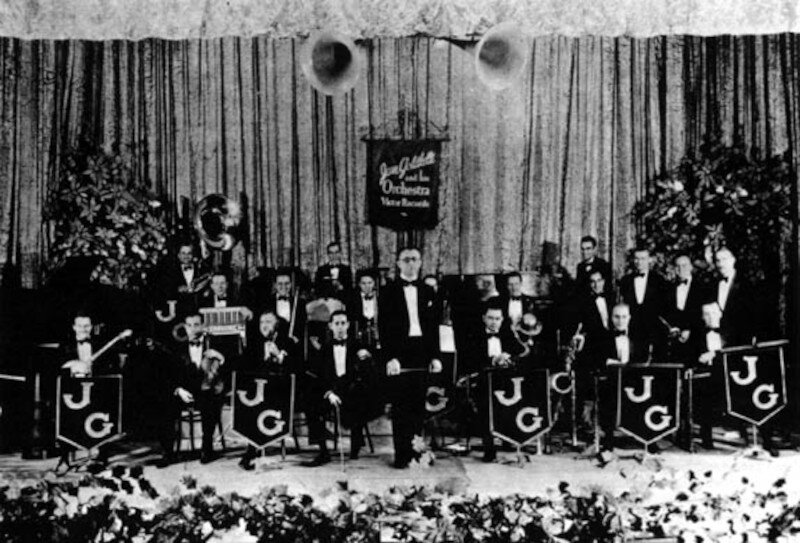 When the band started to have financial problems, Paul Whiteman hired most of the above mentioned musicians. Bix Beiderbecke had a hard time with the Goldkette Orchestra. He was fired for his inability to read music and then re-hired after he learned enough music to get by.
**Bonus: listen to a radio excerpt from one of the orchestras managed by Jean Goldkette in July 1929: The Eskimo Pie Orchestra. **
Thanks to Dennis Pereyra for his help with this page.

Title

Recording Date

Recording Location

Company

A Lane in Spain


(Al Lewis / Carmen Lombardo)

2-3-1927
Camden, New Jersey
Victor
20491-B
Adoration


(Felix Borowski)

11-25-1924
Detroit, Michigan
Victor
unissued
After I Say I'm Sorry
(What Can I Say?)


(Donaldson / Lyman)

1-28-1926
New York, New York
Victor
19947-B
An Old Italian Love Song
(Vocal Refrain by Van Fleming)


(Harrison / Hirsch / Sosnik / Keithley)

7-27-1929
Chicago, Illinois
Victor
22123-B
Behind the Clouds
(From Warner Bros. Picture "Gold-diggers of Broadway")


(Al Dubin / Joe Burke)

2-3-1926
New York, New York
Victor
19965-B
Birmingham Bertha
(From Warner Bros. Picture "On With The Show")


(Grante Clarke / Harry Akst)

7-27-1929
Chicago, Illinois
Victor
22077-B
Blue River
Vocal Refrain by Lewis James


(Alfred Bryan / Joseph Meyer)

9-15-1927
New York, New York
Victor
20981
Can You Blame Me?
(Cause I Fell In Love With You?) (1)


(Joe Goodwin / Larry Shay )

1-17-1929
Chicago, Illinois
Italian
HMV R-14132
Can You Blame Me?
(Cause I Fell In Love With You?) (4)


(Joe Goodwin / Larry Shay )

1-17-1929
Chicago, Illinois
Victor
21871
Clementine
From New Orleans)


(Henry Creamer / Harry Warren)

9-15-1927
New York, New York
Victor
20994-A
Cover Me Up With Sunshine
(And Feather My Nest With Love)
Vocal refrain by Frank Bessinger


(Mort Dixon / Ray Henderson)

10-15-1926
New York, New York
Victor
20588-B
Cover Me Up with the Sunshine of Virginia


(Young / Lewis / Meyer)

3-28-1924
Detroit, Michigan
Victor
19317-B
Dinah


(Sam M. Lewis / Joe Young / Harry Akst)

1-28-1926
New York, New York
Victor
19947-A
Dinah (mono version from stereo recording)


(Sam M. Lewis / Joe Young / Harry Akst)

1958
New York, New York
RCA Camden
Don't Be Like That (2)
Vocal refrain by Harold Strokes


(Gottier / Tobias / Pinkard)

11-23-1928
Chicago, Illinois
Victor
21805-B
Don't Be Like That (3)


(Gottier / Tobias / Pinkard)

11-23-1928
Chicago, Illinois
Victor
unreleased
Drifting Apart


(Gus Kahn / Ted Fiorito)

2-3-1926
New York, New York
Victor
19975
Eileen


(Victor Arden)

3-27-1924
Detroit, Michigan
Victor
19327
For Old Times' Sake


(Buddy De Sylva / Lew Brown / Ray Henderson)

6-26-1928
Chicago, Illinois
Victor
21527
Fox Trot Classique
"From the Land of the Sky Blue Water" – To a Wild Rose"


(Cadman / MacDowell)

3-28-1924
Detroit, Michigan
Victor
19345-B
"Gimme" a Little Kiss, Will "Ya"? Huh?


(Turk / Smith / Pinkard)

4-23-1926
Camden, New Jersey
Victor
20031-A
Gonna Meet My Sweetie Now (3)


(Benny Davis / Jessie Greer)

1-31-1927
New York, New York
Victor
25354-B
Here Comes the Show Boat (2)


(Billy Rose / Maceo Pinkard)

12-14-1927
Kansas City, Missouri
Victor
unreleased
Here Comes the Show Boat (4)


(Billy Rose / Maceo Pinkard)

12-14-1927
Kansas City, Missouri
Victor
21166-B
Honest and Truly


(Fred Rose / Leo Wood)

11-25-1924
Detroit, Michigan
Victor
19528
Hoosier Sweetheart
Vocal refrain by Ray Muerer


(Goodwin / Ash / Basketle)

2-2-1927
New York, New York
Victor
20471-B
Hush-a-Bye
Vocal Refrain by Frank Bessinger


(Frank X. Galvin / Robert E. Spencer)

10-12-1926
New York, New York
Victor
20270-A
I Didn't Know


(Williams / Jones)

11-24-1924
Detroit, Michigan
Victor
unissued
I'm Gonna Meet My Sweetie Now (2)


(Benny Davis / Jessie Greer)

1-31-1927
New York, New York
Victor
20675-B
I Want to See My Tennessee


(Jack Yellen / Milton Ager)

11-24-1924
Detroit, Michigan
Victor
19548-B
Idolizing
(Vocal Refrain by Frank Bessinger)


(Messenheimer / Abrahamson / West)

10-12-1926
New York, New York
Victor
unissued


36813-1

Idolizing
(Vocal Refrain by Frank Bessinger)


(Messenheimer / Abrahamson / West)

10-12-1926
New York, New York
Victor
20270-B


36813-2

I'd Rather Be the Girl in Your Arms (Than The Girl In Your Dreams)
Vocal Refrain by Frank Bessinger


(Harlen Thompson / Harry Archer)

10-15-1926
New York, New York
Victor
20273-A
If I Lost You


(Harrison / Kassel / White)

7-9-1928
Chicago, Illinois
Victor
21689
I'm Looking Over a Four-Leaf Clover (1)
Vocal Refrain by Billy Murray


(Dixon / Woods)

1-31-1927
New York, New York
Victor
I'm Looking Over a Four-Leaf Clover (4)
Vocal Refrain by Billy Murray


(Dixon / Woods)

1-31-1927
New York, New York
Victor
20466-B
In My Merry Oldsmobile (Fox Trot) (1)


(Vincient Edwards / Gus Edwards)

5-23-1927
Camden, New Jersey
Victor
Special Record
For Private Use Only
In My Merry Oldsmobile (Fox Trot) (2)


(Vincient Edwards / Gus Edwards)

5-23-1927
Camden, New Jersey
Victor
Special Record
For Private Use Only
In My Merry Oldsmobile (Waltz)


(Vincient Edwards / Gus Edwards)

5-16-1927
Camden, New Jersey
Victor
Special
In The Evening


(Walter Donaldson)

3-27-1924
Detroit, Michigan
Victor
19308-A
It's the Blues (No. 14 Blues)


(Porter Grainger / Jean Goldkette / Crozier)

3-27-1924
Detroit, Michigan
Victor
19600-A
Just a Little Kiss From a Little Miss


(Eddie Kuhn)

12-14-1927
Kansas City, Missouri
Victor
21150-B
Just Imagine (1)


(Buddy De Sylvia / Lew Brown / Ray Henderson)

7-9-1928
Chicago, Illinois
Victor
unreleased
Just Imagine (2)


(Buddy De Sylvia / Lew Brown / Ray Henderson)

7-9-1928
Chicago, Illinois
Victor
unreleased
Just Imagine (4)
(From "Good News")


(Buddy De Sylvia / Lew Brown / Ray Henderson)

7-12-1928
Chicago, Illinois
Victor
21565
Just One More Kiss


(Harry Owens / Reggis Montgomery)

10-15-1926
New York, New York
Victor
20300-B


36831-2

Just One More Kiss


(Harry Owens / Reggis Montgomery)

10-15-1926
New York, New York
Victor
unissued


36831-3

Just One More Kiss


(Harry Owens / Reggis Montgomery)

10-15-1926
New York, New York
Victor
unissued


36831-4

Lonesome and Sorry


(Benny Davis / Con Conrad)

4-23-1926
Camden, New Jersey
Victor
20031-B
Look At the World and Smile (1)
(from the Musical Play, "Yours Truly")


(Anne Caldwell / Raymond Hubbell)

2-1-1927
New York, New York
Victor
Look At the World and Smile (2)
(from the Musical Play, "Yours Truly")


(Anne Caldwell / Raymond Hubbell)

2-1-1927
New York, New York
Victor
20472-B
Look At the World and Smile
(2 – slowed version)
(from the Musical Play, "Yours Truly")


(Anne Caldwell / Raymond Hubbell)

2-1-1927
New York, New York
Victor
20472-B
Look At the World and Smile (3)
(from the Musical Play, "Yours Truly")


(Anne Caldwell / Raymond Hubbell)

2-1-1927
New York, New York
Victor
My Blackbirds Are Bluebirds Now (2)
vocal refrain by Van Fleming


(Irving Caesar / Cliff Friend)

11-23-1928
Chicago, Illinois
Victor
21805-A
My Blackbirds Are Bluebirds Now (3)


(Irving Caesar / Cliff Friend)

11-23-1928
Chicago, Illinois
Victor
unreleased
My Ohio Home


(Gus Kahn / Walter Donaldson)

12-12-1927
Kansas City, Missouri
Victor
21166-A
My Pretty Girl (1)


(Charles Fulcher)

2-1-1927
New York, New York
Victor
20588-A
My Pretty Girl (2)


(Charles Fulcher)

2-1-1927
New York, New York
Victor
My Pretty Girl (mono version of stereo recording)


(Charles Fulcher)

1958
New York, New York
RCA Camden
My Sweetheart


(Kahn / Conley / Rodemich)

3-27-1924
Detroit, Michigan
Victor
19313
Painting the Clouds With Sunshine
(From Warner Bros. picture "Gold-diggers of Broadway")
(Vocal refrain by Frank Munn)


(Al Dubin / Joe Burke)

6-14-1929
New York, New York
Victor
22027-A
Play Me Slow


(Milt Hagen / Charles O'Flynn)

11-25-1924
Detroit, Michigan
Victor
19664
Proud of a Baby Like You (1)
(Vocal refrain by Keller Sisters and Lynch)


(Schoenberg / Stevens / Helmick)

1-28-1927
New York, New York
Victor
Proud of a Baby Like You (4)
(Vocal refrain by Keller Sisters and Lynch)


(Schoenberg / Stevens / Helmick)

1-28-1927
New York, New York
Victor
20469-B
Remember


(Seymour Simone / Buddy Fields)

11-24-1924
Detroit, Michigan
Victor
19548-A
Roses


(Tobias / Tobias)

4-22-1926
Camden, New Jersey
Victor
20033
Rosette


(Newman / Lombardo)

6-26-1928
Chicago, Illinois
Victor
21527
She's Funny That Way
Vocal Refrain by Van Fleming


(Neil Moret / Richard Whiting)

1-17-1929
Chicago, Illinois
Victor
21853-A
Slow River (2)


(H.M. Meyers / C.M. Schwab)

5-6-1927
Camden, New Jersey
Victor
25354-A
Slow River (4)


(H.M. Meyers / C.M. Schwab)

5-6-1927
Camden, New Jersey
Victor
20926-B
So Tired
Vocal refrain by "Hoagy" Carmichael


(Arthur Sizemore / George A. Little)

12-12-1927
Kansas City, Missouri
Victor
21150-A
HMV
B 5479
Sorry and Blue


(Ebel / Ebel)

2-4-1926
New York, New York
Victor
19962
Sunday
Vocal refrain by Keller Sisters and Lynch


(Miller / Cohn / Stein / Kreuger)

10-15-1926
New York, New York
Victor
unissued


36829-2

Sunday
Vocal refrain by Keller Sisters and Lynch


(Miller / Cohn / Stein / Kreuger)

10-15-1926
New York, New York
Victor
20273-B


36829-3

Sunny Disposish (2)
(from "Americana")


(Ira Gershwin / Phil Charig)

2-3-1927
New York, New York
Victor
20493-B
Sunny Disposish (3)
(from "Americana")


(George Gershwin / Charig)

2-3-1927
New York, New York
Victor
20493
Sweethearts on Parade (1)
Harold Stokes, Director
Vocal refrain by Van Fleming


(Carmen Lombardo)

11-19-1928
Chicago, Illinois
Victor
21800-A
Sweethearts on Parade (5)
Harold Stokes, Director
Vocal refrain by Van Fleming


(Carmen Lombardo)

1-14-1929
Chicago, Illinois
Victor
21800-A
Take a Good Look at Mine
Vocal refrain by Harold Stokes


(Phil Ponce / Dan Dougherty)

1-14-1929
Chicago, Illinois
Victor
21889-B
That's Just My Way Of Forgetting You
Vocal refrain by Jean Napier


(Buddy De Sylvia / Lew Brown / Ray Henderson)

7-13-1928
Chicago, Illinois
Victor
21590-B
That's What Puts the "Sweet" in Home, Sweet Home
Vocal refrain by Harold Stokes


(Lowry / Gordon / Newman)

11-21-1928
Chicago, Illinois
Victor
21800-B
Tip-Toe Through the Tulips With Me
(From Warner Bros. picture, "Gold-diggers of Broadway")


(Al Dubin / Joe Burke)

6-14-1929
New York, New York
Victor
22027-B
What's the Use of Dreaming?
11-25-1924
Detroit, Michigan
Victor
19664
Where The Lazy Daisies Grow


(Cliff Friend)

3-27-1924
Detroit, Michigan
Victor
19308-B
Withered Roses
Vocal refrain by Van Fleming


(Garland / Gillespie / Shay)

11-23-1928
Chicago, Illinois
Victor
21804-B
Ya Comin' Up https://syncopatedtimes.com/wp-content/uploads/2020/11/lookat2s.mp3Tonight, Huh?
(From F.B.O. picture, "Gang War")
Vocal refrain by Wynken – Blynken – Nod


(Sherman / Lewis / Lyman)

1-14-1929
Chicago, Illinois
Victor
21889-A

| | |
| --- | --- |
| Artist | Instrument |
| Earl Baker | Trumpet |
| Harry Bason | Piano |
| Frank Bessinger | Vocals |
| Dewy Bergman | Piano |
| Bix Beiderbecke | Cornet |
| Reggie Blyleth | Clarinet, Alto Saxophone, Tenor Saxophone |
| Sterling Bose | Cornet, Trumpet |
| Tex Brewster | Trumpet |
| Steve Brown | String Bass |
| Vernon Brown | Trombone |
| Hoagy Carmichael | Piano, Cornet, Vocals |
| Bill Challis | Arranger |
| Lou Congo | Piano |
| Jack Cordaro | Clarinet, Tenor Saxophone |
| Volly de Faut | Clarinet, Alto Saxophone |
| Jimmy Dorsey | Clarinet, Alto Saxophone |
| Tommy Dorsey | Trombone |
| Fuzzy Farrar | Trumpet |
| Van Fleming | Banjo, Guitar, Vocals |
| Joe Galbraith | Banjo |
| Harold George | Brass Bass |
| Red Ginsler | Trombone |
| Jean Goldkette | Piano, Leader |
| ? Gorner | Violin |
| Joe Griffith | Vocals |
| Art Gronwall | Piano |
| Irish Henry | Tuba |
| Joe Hooven | Trumpet |
| Charles Horvath | Drums |
| Pee Wee Hunt | Trombone |
| Bob Hutsell | Clarinet, Alto Saxophone |
| Carroll Huxley | Piano |
| The Keller Sisters | Vocals |
| Eddie Lang | Guitar |
| Ray Lodwig | Trumpet |
| Al Lynch | Vocals |
| Frank Magine | Vocals |
| Frank Marvin | Vocals |
| Gertrude Mathews | Vocals |
| Lucile Mathews | Vocals |
| Carl Mathieu | Vocals |
| Paul Mertz | Piano |
| Mel Miller | Drums |
| Ray Muerer | Vocals |
| Chauncey Morehouse | Drums |
| Russ Morgan | Arranger, Director |
| Frank Munn | Vocals |
| Billy Murray | Vocals |
| Don Murray | Clarinet, Alto Saxophone |
| Jean Napier | Vocals |
| Nat Natoli | Cornet, Trumpet |
| Beanie Neibaur | Trombone |
| Steve Orr | Drums |
| Kay Palmer | Vocals |
| Danny Polo | Clarinet, Baritone Saxophone |
| Ray Porter | Clarinet, Alto Saxophone, Tenor Saxophone, Vocals |
| Howdy Quicksell | Banjo |
| Herb Quigley | Drums |
| Bill Rank | Trombone |
| Itzy Riskin | Piano |
| George Rose | Banjo, Guitar |
| Doc Ryker | Clarinet, Alto Saxophone |
| Ben Schriebman | Violin |
| Lorin Schulz | Trombone, Vocals |
| Myron Schulz | Violin, Leader, Vocals |
| Andy Secrest | Cornet |
| Seymour Simons | Vocals |
| Dale Skinner | Clarinet, Tenor Saxophone |
| James Stanley | Vocals |
| Harold Stokes | Piano/Accordion, Leader, Vocals |
| Bob Strong | Clarinet, Alto Saxophone |
| Larry Tice | Clarinet, Alto Saxophone, Tenor Saxophone |
| Frankie Trumbauer | C-Melody Saxophone |
| Joe Venuti | Violin, Vocals |
| Spiegle Willcox | Trombone, Vocals |
| George Williams | Clarinet, Alto Saxophone |
| Frank Wilson | Vocals |
| Greta Woodson | Vocals |
| Earl Wright | Violin |
| Victor Young | Violin |