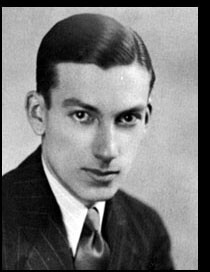 Hoagy Carmichael is remembered today as one of America's great composers of popular songs. Several of his tunes, like "Star Dust", "Georgia on My Mind" ,"Up The Lazy River", "Lazybones", "Skylark" and "Heart and Soul" have become standards which are still widely performed. ["Skylark" example is the Gene Krupa version, "Heart and Soul" is the Larry Clinton version.]
While studying to be a lawyer at Indiana University, Hoagy wrote a couple tunes for a band called Curtis Hitch's Happy Harmonists. The songs were "Washboard Blues" and "Boneyard Shuffle" and they were recorded in 1924 for Gennett records with Carmichael on piano.
Through his association with this band he meet Bix Beiderbecke, who was a member of the Wolverine Orchestra at that time. The two became close friends and the Wolverines went on to record Carmichael's "Riverboat Shuffle". Music publisher Irving Mills heard the Wolverine's record and wrote Carmichael asking if his company could publish the song, to which Hoagy agreed.
Carmichael himself led several other sessions at Gennett, where he recorded the first version of "Stardust" in 1927. But Carmichael took a job in Florida as a law clerk after graduating. While there, he unexpectedly heard a recording of his song, "Washboard Blues", by Red Nichols and his Five Pennies. He had been unaware that the song had been re-recorded. It was then that he decided to abandon law and become a musician. Carmichael returned to Indiana and resumed his music career.
Several of his friends, including Bix, were playing in Paul Whiteman's Orchestra by this time. Whiteman was familiar with some of Carmichael's Gennett recordings and also went on to record Hoagy's "Washboard Blues" in 1927. Hoagy sings and plays piano on the track and it holds up as one of the Whiteman Orchestra's best performances. In 1930 Isham Jones and his Orchestra had a huge hit with a ballad version of Stardust.
By 1935 Hoagy was working in Hollywood as a songwriter and he also became a character actor, appearing in over twenty films throughout his career. In 1941 he had a number one hit with the song "Huggin' & Chalkin". In 1951 he won an Oscar for his song "In the Cool, Cool, Cool of the Evening" that was performed by Bing Crosby in Paramount's Here Comes the Groom. In 1956 Carmichael recorded an excellent LP called Hoagy Sings Carmichael on the Pacific Jazz Label.
The record placed Hoagy back into a no-nonsense Jazz setting for the first time in years and featured several West Coast Jazz musicians including Art Pepper on alto saxophone. In 1959 and 1960 he was a regular on the western TV series Laramie. In the 1960s he composed two orchestral works, "Brown County In Autumn" and "Johnny Appleseed" which were unsuccessful. He never resumed his songwriting career after the failure of these two works.
For additional information on Hoagy Carmichael's life and music you are encouraged to visit The Hoagy Carmichael Collection at the Indiana University Digital Library


Title

Recording Date

Recording Location

Company

Cosmics


(Hoagy Carmichael)

12-6-1933
New York, New York
Victor 24484
Don't Forget To Say No, Baby
5-11-1938
Los Angeles, California
Decca 18397
Lazy Bones


(Johnny Mercer / Hoagy Carmichael)

9-13-1933
New York, New York
Victor 24402
Judy


(Sammy Lerner / Hoagy Carmichael)

5-11-1938
Los Angeles, California
Decca 18396
Hong Kong Blues


(Hoagy Carmichael)

5-11-1938
Los Angeles, California
Decca
18395 A
Snowball


(Hoagy Carmichael)

9-13-1933
New York, New York
Victor 24402
Star Dust


(Mitchell Parish / Hoagy Carmichael)

12-6-1933
New York, New York
Victor 24484
Star Dust


(Mitchell Parish / Hoagy Carmichael)

5-11-1938
Los Angeles, California
Decca
18395 B
Washboard Blues


(Hoagy Carmichael / Fred B. Callahan / Irving Mills)

1-16-1934
New York, New York
Victor
unissued

| | | |
| --- | --- | --- |
| Title | Director | Year |
| Anything Goes | Lewis Milestone | 1936 |
| Topper | Norman Z. McLeod | 1937 |
| Hoagy Carmichael | John Murray Anderson | 1939 |
| Small Fry | Dave Fleischer | 1939 |
| Pacific Blackout | Ralph Murphy | 1941 |
| Hoppity Goes to Town | Dave Fleischer | 1941 |
| Hong Kong Blues | Sam Coslow | 1942 |
| Hands Across the Border | Joseph Kane | 1943 |
| To Have and Have Not | Howard Hawks | 1944 |
| Johnny Angel | Edwin L. Marin | 1945 |
| The Perfect Marriage | Lewis Allen | 1946 |
| Canyon Passage | Jacques Tourneur | 1946 |
| The Best Years of Our Lives | William Wyler | 1946 |
| Screen Snapshots Series 25, No. 10: Famous Fathers and Sons | Ralph Staub | 1946 |
| Night Song | John Cromwell | 1948 |
| Johnny Holiday | Willis Goldbeck | 1949 |
| Here Comes the Groom | Frank Capra | 1951 |
| The Las Vegas Story | Robert Stevenson | 1946 |
| Belles on Their Toes | Henry Levin | 1952 |
| Timberjack | Joseph Kane | 1955 |
| Tähtisumua | Reino Helismaa | 1961 |
| Hatari! | Howard Hawks | 1962 |
| The Wheeler Dealers | Arthur Hiller | 1963 |

Stardust Melody; The Life And Music Of Hoagy Carmichael by Richard M. Sudhalter, Oxford University Press, 2002
The Stardust Road by Hoagy Carmichael, University of Indiana Press, 1946
Sometimes I Wonder by Hoagy Carmichael and Stephen Longstreet, Farrar, Straus, and Giroux, 1965