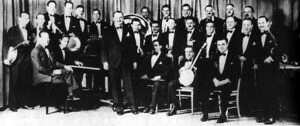 Paul Whiteman and his Orchestra was the most popular band of the 1920s and represented the apex of jazz to the general public. Over the years, critics and some musicians like Eddie Condon, have not had kind words to say about the band and have tended to represent Whiteman as a bad influence on the music in his attempts to "Make a lady out of Jazz".
The title of "The King Of Jazz" which Whiteman was billed as seems somewhat politically incorrect these days, but in the 1920s he dominated the scene and hired the best White hot musicians like Bix Beiderbecke, Frankie Trumbauer, Eddie Lang, Joe Venuti, Jack Teagarden and many more to play in his band.
 Paul Whiteman greatly enriched American music by commissioning George Gershwin to write Rhapsody In Blue which became his orchestra's signature tune. He also "discovered" Bing Crosby and featured him in Paul Whiteman's Rhythm Boys, and gave the career of Hoagy Carmichael a boost, by recording several of Hoagy's songs early in his career. Jazz singer Mildred Bailey also rose to fame in the orchestra in the 1930s.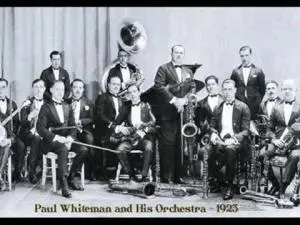 So, what was it that has led Whiteman's name to be dragged through the mud in the annals of Jazz history? Paul Whiteman being the most popular Jazz band leader of the Jazz Age is blamed for the racism in America that denied African-American musicians the credit that they deserved in the history of Jazz.
If there is such a thing as the "King of Jazz" the title belongs to Louis Armstrong, although that may not have been clear to most people in the 1920s. Whiteman is also criticized for not hiring African-American musicians to play in his band, but this argument ignores the commercial realities of the period.
Paul Whiteman was clearly not a racist. He commissioned Duke Ellington to write for his modern music series, recorded with Paul Robeson and Billie Holiday, and hired Don Redman as an arranger in the 1930s and was generally held in high regards as a person by musicians both Black and White.
The worst that can be leveled at Whiteman was that he was a businessman. His band was wildly successful financially, and quite often his music sounds commercial and sweet, especially when compared to the top African-American Jazz bands of the era.
Despite that, Whiteman made some very good Jazz records in the 1920s such as San, Washboard Blues, Mississippi Mud, Whiteman Stomp, Wang Wang Blues and I'm Coming, Virginia.
His interest in making symphonic Jazz led the way for generations of Jazz musicians as diverse as Miles Davis, Gil Evans, The Modern Jazz Quartet and Wynton Marsalis, who may not directly cite Whiteman as an influence, but have certainly walked down the path that he blazed at points in their careers.
Also Hear: Paul Whiteman On The Air
Thanks to Dennis Pereyra for making this page possible.
Additional thanks go to Dave Bartholomew, Dave Dixon, Owen Miller, Peter Pellbring, Richard Unger, James Gallup and Scott and Mark of Vintage Music Company for their help with the recordings on this page. 
Click Here For The Discography
| | |
| --- | --- |
| Artist | Instrument |
| Oscar Alder | Violin |
| Durelle Alexander | Vocals |
| Bob Alexy | Trumpet |
| The American Quartet | Vocals |
| Maurice Ancher | Violin |
| Al Armer | Brass Bass, String Bass |
| Harry Azinsky | Violin |
| Mildred Bailey | Vocals |
| Della Baker | Vocals |
| Elsie Baker | Vocals |
| George Bamford | Clarinet, Tenor Saxophone, Flute |
| Roy Bargy | Piano, Arranger |
| George Barnes | Guitar |
| Max Barr | Violin |
| Harry Barris | Piano, Vocals |
| Jack Barsby | Brass Bass |
| Teddy Bartell | Trumpet |
| Franklyn Baur | Vocals |
| Bix Beiderbecke | Cornet |
| Jack Bell | Flute |
| Walter Bell | Bassoon |
| Bunny Berigan | Trumpet |
| Vic Berton | Drums |
| Saul Blumenthal | Violin |
| Benny Bonacio | Clarinet, Bass Clarinet, Alto Saxophone |
| Abe Borodkin | Cello |
| Herb Borodkin | Viola |
| Perry Botkin | Guitar |
| John Bowman | Violin, Viola |
| Jimmy Brierly | Vocals |
| Jerry Brooks | Trumpet |
| Steve Brown | String Bass |
| The Brox Sisters | Vocals |
| Henry Busse | Trumpet |
| Billy Butterfield | Trumpet |
| Hale Byers | Clarinet, Flute, Soprano Saxophone, Alto Saxophone, Bass Saxophone |
| Bobby Byrne | Trombone |
| Al Caiolla | Guitar |
| Al Campbell | Vocals |
| Vincent Capone | Flute |
| Hoagy Carmichael | Guest Piano, Vocals |
| Edmund Carradi | Violin |
| Jim Cassidy | Trombone |
| Bill Challis | Piano, Arranger |
| Fritz Ciccone | Guitar |
| Don Clark | Clarinet, Soprano Saxophone, Alto Saxophone |
| Helen Clark | Vocals |
| Norman Clark | Vocals |
| Murray Cohan | Oboe |
| Leon Cohen | Saxophone |
| Fred Cook | Violin |
| John Cordaro | Clarinet, Bass Clarinet, Alto Saxophone, Baritone Sax, Tenor Saxophone |
| Bing Crosby | Vocals |
| Frank Croxton | Vocals |
| Rube Crozier | Clarinet, Soprano Saxophone, Alto Saxophone, Tenor Saxophone, Bassoon, English Horn, Flute |
| Boyce Cullen | Trombone, Vocals |
| Bob Cusumano | Trumpet |
| Chick Dahlsten | Trombone |
| Bernard Daly | Clarinet, Alto Saxophone |
| Danny d'Andrea | Clarinet, Alto Saxophone, Tenor Saxophone |
| Ken Darby | Vocals |
| Ramona Davies | Piano, Vocals |
| Vaughn de Leath | Vocals |
| Clarke Dennis | Vocals |
| Phil Dewey | Vocals |
| Kurt Dieterle | Violin |
| Vic d'Ippolito | Trumpet |
| Jimmy Dorsey | Clarinet, Alto Saxophone, Baritone Saxophone, Cornet |
| Tommy Dorsey | Trombone, Trumpet |
| Art Drellinger | Tenor Saxophone |
| Al Duffy | Violin |
| Jack Eaton | Violin |
| Walt Edelstein | Violin |
| Abe Edison | Cello |
| Joan Edwards | Vocals |
| N. M. Fargarson | Flute |
| Max Farley | Clarinet, Alto Saxophone, Flute |
| Morey Feld | Drums |
| Harold Feldman | Various Reeds |
| Frank Ferara | Steel Guitar |
| Herman Fink | Drums |
| Bob Fishelson | Trumpet |
| George Ford | Flute |
| The Four Modernaires | Vocals |
| Fred Fradkin | Violin |
| Anthony Franchini | Guitar |
| Sal Franzella | Clarinet, Alto Saxophone |
| Izzy Friedman | Clarinet, Alto Saxophone, Tenor Saxophone |
| Jack Fulton | Trombone, Vocals, Vocaphone |
| Al Gallodoro | Clarinet, Bass Clarinet, Alto Saxophone |
| Frank Gallodoro | Various Reeds |
| Charles Gaylord | Violin, Vocals |
| Paul Geil | Trumpet |
| George Gershwin | Piano |
| Wilfred Glenn | Vocals |
| Fred Glickman | Violin |
| Harry Goldfield | Trumpet |
| Larry Gomar | Drums, Vibraphone |
| Ross Gorman | Clarinet, Alto Saxophone |
| Tommy Gott | Trumpet |
| Gloria Grafton | Vocals |
| Vincent Grande | Trombone |
| Emanuel Green | Violin |
| Irving Greenwald | Alto Saxophone |
| Ferdie Grofe | Piano, Arranger |
| Jose Gutierrez | Trombone |
| Wilbur Hall | Trombone, Guitar, Banjo, Vocals |
| Charles Harrison | Vocals |
| Lenny Hartman | Tenor Saxophone |
| John Hause | Vocals |
| John Hauser | Vocals |
| Herbie Haymer | Tenor Saxophone |
| Lennie Hayton | Piano, Celeste |
| Chester Hazlett | Clarinet, Bass Clarinet, Soprano Saxophone, Alto Saxophone |
| Peggy Healy | Vocals |
| Walter Hegner | Various Reeds |
| Sammy Heiss | Brass Bass |
| Julius Held | Violin |
| Gus Helleberg | Brass Bass |
| Jack Henderson | Tenor Saxophone |
| V. Hold | Vocals |
| Billie Holiday | Guest Vocals |
| Allan Holt | Vocals |
| Frank Howard | Vocals |
| Fritz Hummel | Trombone |
| Mildred Hunt | Vocals |
| Ena Indermauer | Vocals |
| Lewis James | Vocals |
| Buster Johnson | Trombone |
| Howard Kay | Violin |
| Nat Kazebier | Trumpet |
| Monty Kelly | Trumpet |
| Eddie King | Organ, Sleigh Bells |
| The King's Jesters | Vocals |
| The King's Men | Vocals |
| Manny Klein | Trumpet |
| Olive Kline | Vocals |
| Carl Kress | Guitar, Banjo |
| Don Lamond | Drummer |
| Otto Landau | Violin |
| Eddie Lang | Guitar, Banjo |
| Jeannie Lang | Vocals |
| Henry Lange | Piano |
| Bob Lawrence | Vocals |
| Rollo Laylan | Drums |
| Skip Layton | Trombone |
| Min Leibrook | Bass Saxophone, Brass Bass |
| Craig Leitch | Vocals |
| W. Lennartz | Cello |
| Frank Leoncavallo | Cello |
| Jack Lesberg | String Bass |
| Sam Lewis | Trombone |
| Rosa Linda | Piano |
| Fud Livingston | Clarinet, Tenor Saxophone |
| Mundell Lowe | Guitar |
| Warren Luce | Slide Whistle |
| Bud Lynn | Vocals |
| Tom Macey | Clarinet, Alto Saxophone |
| Frank Magnoni | Violin |
| Matt Malneck | Violin, Viola |
| Wingy Manone | Vocals |
| Charles Margulis | Trumpet |
| George Marsh | Drums |
| Chet Martin | Drums |
| Hal Matthews | Trombone |
| Roy Maxon | Trombone |
| Red Mayer | Clarinet, Tenor Saxophone, Alto Saxophone, Flute, Piccolo, Oboe, Bassoon |
| Bob Mayhew | Trumpet, Cornet |
| Jack Mayhew | Alto Saxophone, Soprano Saxophone |
| Nye Mayhew | Alto Saxophone, Soprano Saxophone |
| ??? Mazzuchi | Violin |
| Ray McDermott | Clarinet, Tenor Saxophone |
| Harold McDonald | Drums, Vibraphone |
| Murray McEachern | Trombone |
| Red McKenzie | Vocals |
| Hal McLean | Clarinet, Soprano Saxophone, Alto Saxophone, Oboe |
| Norman McPherson | Brass Bass |
| Johnny Mercer | Vocals |
| Art Miller | String Bass |
| Dolly Mitchell | Vocals |
| Miff Mole | Trombone |
| Joe Mooney | Piano-Accordion |
| Don Moore | Trumpet |
| Jimmy Morreale | Trumpet |
| Gus Mueller | Clarinet, Alto Saxophone |
| Lambert Murphy | Vocals |
| Billy Murray | Vocals |
| Nat Natoli | Trumpet |
| Larry Neill | Trumpet |
| Dave Newman | Violin |
| Red Nichols | Trumpet |
| Red Norvo | Xylophone |
| Rudy Novak | Trumpet |
| Donald Novis | Vocals |
| Phil Ohman | Piano |
| Pierre Olker | Brass Bass |
| S. Pasternack | Viola |
| Ben Pellman | Violin |
| Leonard Pennario | Piano |
| Harry Perella | Piano, Celeste |
| Mario Perry | Piano-Accordion, Violin |
| Leo Pevsner | Violin |
| Fred Pfaff | Brass Bass |
| The Pickens Sisters | Vocals |
| Max Pilzer | Violin |
| Eddie Pinder | Trumpet |
| Mike Pingitore | Banjo, Guitar |
| Vincent Pirro | Piano-Accordion, Piano |
| Milton Prinz | Cello |
| Herb Quigley | Drums |
| Bill Rank | Trombone |
| Casper Reardon | Harp |
| Harry Reser | Banjo |
| Milt Rettenberg | Celeste |
| The (New) Rhythm Boys | Vocals |
| The (Original) Rhythm Boys | Vocals |
| Aldo Ricci | Violin |
| Gladys Rice | Vocals |
| Tom Richley | Drums |
| Al Rinker | Vocals |
| Paul Robeson | Vocals |
| Willard Robison | Piano |
| Willie Rodriguez | Drums |
| Ruth Rogers | Vocals |
| The Rollickers | Vocals |
| The Romancers | Vocals |
| Tony Romano | Guitar |
| The Rondoliers Quartet | Vocals |
| Joe Rosenblatt | Cello |
| Sam Rubinowitch | Saxophone |
| Joe Rushton | Bass Saxophone |
| Mischa Russell | Violin |
| Art Ryerson | Guitar |
| Tom Satterfield | Piano, Cello |
| Jules Schacter | Violin |
| Harold Schaer | Tenor Saxophone |
| Bill Schumann | Cello |
| Bill Seckler | Vocals |
| Andy Secrest | Cornet |
| Artie Shapiro | String Bass |
| E. Lyle Sharpe | Clarinet, Alto Saxophone, Tenor Saxophone |
| Ed Shaughnessey | Drums |
| Elliott Shaw | Vocals |
| Frank Siegrist | Trumpet |
| Frank Signorelli | Piano |
| Charlie Small | Trombone |
| Ed Smalle | Vocals |
| Elmer Smithers | Trombone |
| Southern Fall Colored Quartet | Vocals |
| John Sperzel | Brass Bass, Vocals |
| Robert Spokaney | Violin |
| Ed Stannard | Clarinet, Alto Saxophone |
| Charles Strickfaden | Clarinet, Alto Saxophone, Baritone Saxophone, Tenor Saxophone, Oboe, English Horn |
| Harry Struble | Violin |
| Dana Suesse | Piano |
| Irene Taylor | Vocals |
| Charlie Teagarden | Trumpet |
| Jack Teagarden | Trombone, Vocals |
| Allan Thompson | Trombone |
| George Tjordy | Violin |
| Mabel Todd | Vocals |
| Gilbert Torres | Guitar |
| Mike Trafficante | Brass Bass, String Bass |
| Ricky Trent | Trumpet |
| Frankie Trumbauer | C-melody Saxophone, Soprano Saxophone, Alto Saxophone, Bass Saxophone, Clarinet, Bassoon |
| Raymond Turner | Piano, Celeste |
| Jean Vance | Vocals |
| Joe Venuti | Violin |
| Frank Victor | Guitar |
| The Vocordians | Vocals |
| Don Waddilove | Trumpet |
| Eddie Wade | Trumpet |
| Carl Wagner | Brass Bass |
| Harry Walker | Viola |
| Bart Wallace | Trumpet |
| Ezell Watson | Saxophone |
| Buddy Weed | Piano |
| Jerry Weiner | Saxophone |
| Alvy West | Clarinet, Alto Saxophone |
| George Wettling | Drums |
| Bob White | Drums |
| Paul Whiteman | Leader, Conductor, Violin |
| Earl Wild | Piano |
| Herb Winfield | Trombone |
| Austin "Skin" Young | Violin, Vocals |
| Sam Zimberlist | Viola |
| Sol Zimberlist | Cello |
| Fritz Zimmerman | Yodeling |
| Moe Zudecoff (Buddy Morrow) | Trombone |
| | | |
| --- | --- | --- |
| Title | Director | Year |
| King Of Jazz | John Murray Anderson | 1930 |
| Thanks A Million | Roy Del Ruth | 1935 |
| Strike Up the Band | Busby Berkeley | 1940 |
| Atlantic City | Ray McCarey | 1944 |
| Rhapsody in Blue | Irving Rapper | 1945 |
| The Fabulous Dorseys | Alfred E. Green | 1947 |