A household name during the 1920s, Paul Whiteman led the most popular orchestra of the decade. He expertly mixed together occasional jazz pieces with semi-classical works, sweet and hot vocals, novelties, waltzes, and first-class dance music. His large ensemble featured many of the most technically skilled musicians of the time, he paid his sidemen well, and he was known for always putting on a good show. But there was that title ("The King Of Jazz") that has resulted in his musical contributions being largely written-off through the years and the bandleader (whose last name is ironic) being thought of by some who know little about him as a racist.
"The King Of Jazz" was coined by a press agent in the early 1920s and the title stuck to Whiteman. If it had been the much more accurate "The King of the Jazz Age," there would have been few quarrels for Whiteman led the most commercially successful band of the roaring '20s. But for the "King of Jazz" title to be given to a white musician who never took a jazz solo instead of Louis Armstrong, Jelly Roll Morton, or any of a dozen other African-American jazz greats hurt Whiteman's reputation despite his contributions to American music and the jazz age.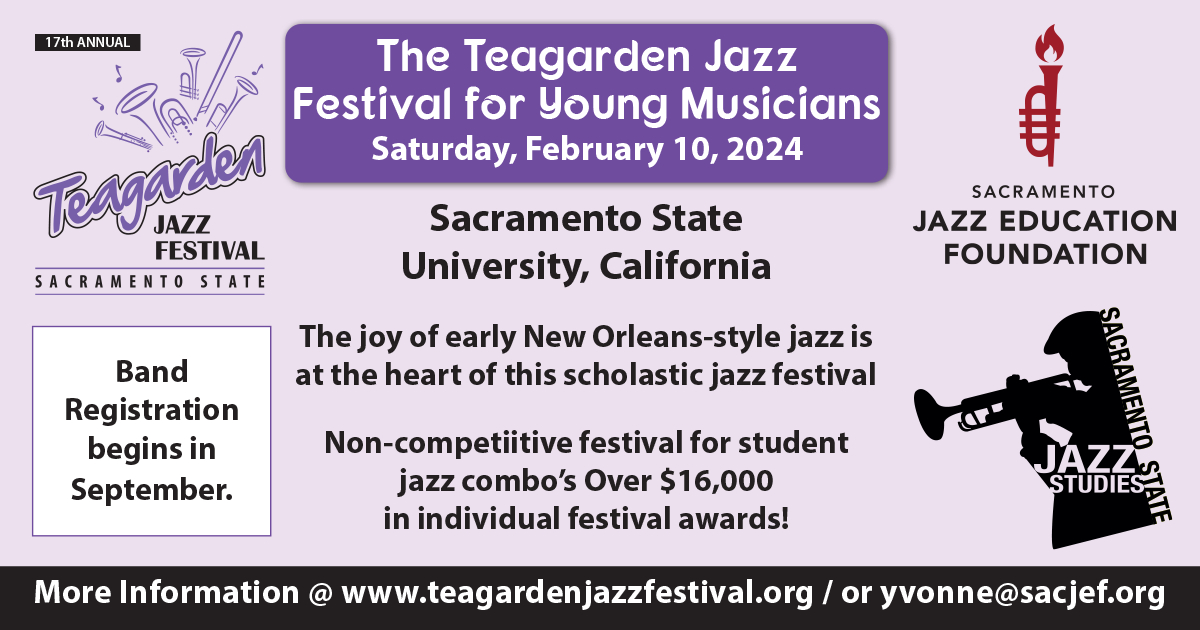 Paul Whiteman was born March 28, 1890, in Denver, Colorado. His father Wilberforce J. Whiteman, was a highly respected music teacher whose later students included Jimmie Lunceford and his mother had been an opera singer. The younger Whiteman began playing viola when he was seven, was trained as a classical musician, and performed with the Denver Symphony Orchestra during 1907-14. He worked in San Francisco for a few years (including with the San Francisco Symphony Orchestra), briefly served in the Navy where he gained experience conducting a 12-piece band, and in 1918 began leading his own dance band at San Francisco's Fairmont Hotel.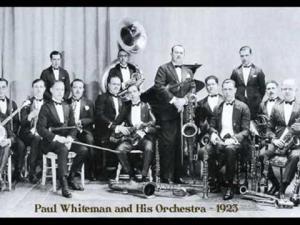 From the start, Paul Whiteman knew what he wanted to do with music. He stated that he wanted to "make a lady out of jazz." Feeling that jazz, as played by the Original Dixieland Jazz Band and the many bands that it influenced during 1917-22, was a bit barbaric, wild and jarring, Whiteman sought to develop a music that was more "civilized," danceable, and connected to Western classical music while also being wholeheartedly American.
Whiteman took his orchestra (a nine-piece group) to Los Angeles later in 1918, returned to San Francisco, and spent time in Atlantic City before moving to New York in 1920. At his first three recording sessions, all from August, 1920, Whiteman's group recorded six numbers that were released. Three were big hits ("Whispering," "Wang Wang Blues," and "Japanese Sandman") while two others ("Avalon" and "Anytime, Anyday, Anywhere") became standards partly due to his version. Paul Whiteman was on his way to the top.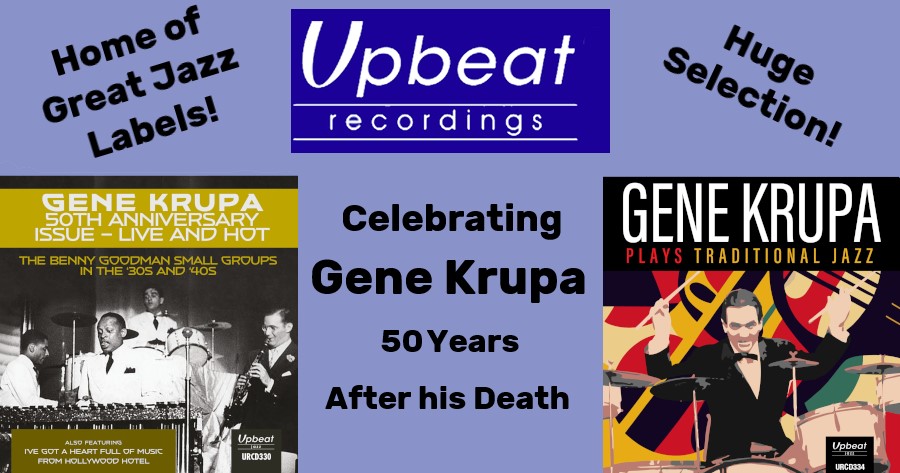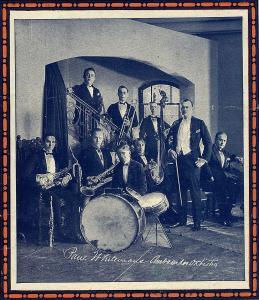 The music on those recordings and the many to follow during 1921-22 was mostly jazz-inspired dance music. Trumpeter Henry Busse, who was featured on 1922's "Hot Lips," was the most prominent soloist and his sound was jazzy although in time his unchanged style would become quite dated. Busse was also in the spotlight on "When Day Is Done" which was Whiteman's personal favorite of his recordings. Other key early musicians were the reed players Ross Gorman, Don Clark, and Hale Byers, and banjoist Mike Pingitore who was part of Whiteman's band from the beginning to the end. But no sideman was more important than arranger Ferde Grofé who was also one of the band's two pianists. Grofé was among the very first significant jazz arrangers, a force in dividing the increasingly expanding orchestra into brass and reed sections.
In 1922, Whiteman's recordings helped popularize "Three O'Clock In The Morning" and "Stumbling." In 1923 the Paul Whiteman Orchestra (which was up to 14 pieces) toured Europe, returning there in 1926.
On Feb. 24, 1924 Whiteman's concert at Aeolian Hall, which was billed as "An Experiment In Modern Music," introduced George Gershwin's "Rhapsody In Blue," with the composer heard on piano. Their initial acoustic recording of "Rhapsody In Blue" is a true delight while being quite primitive with slap-tonguing saxophones, colorful (and jazz-oriented) clarinet and trumpet passages, and Gershwin on piano improvising some of his playing; it makes all the later electrical recordings of this piece (including Whiteman's standard version from 1926) sound quite sober in comparison. In later years Whiteman also introduced Gershwin's "Concerto In F" and "An American In Paris."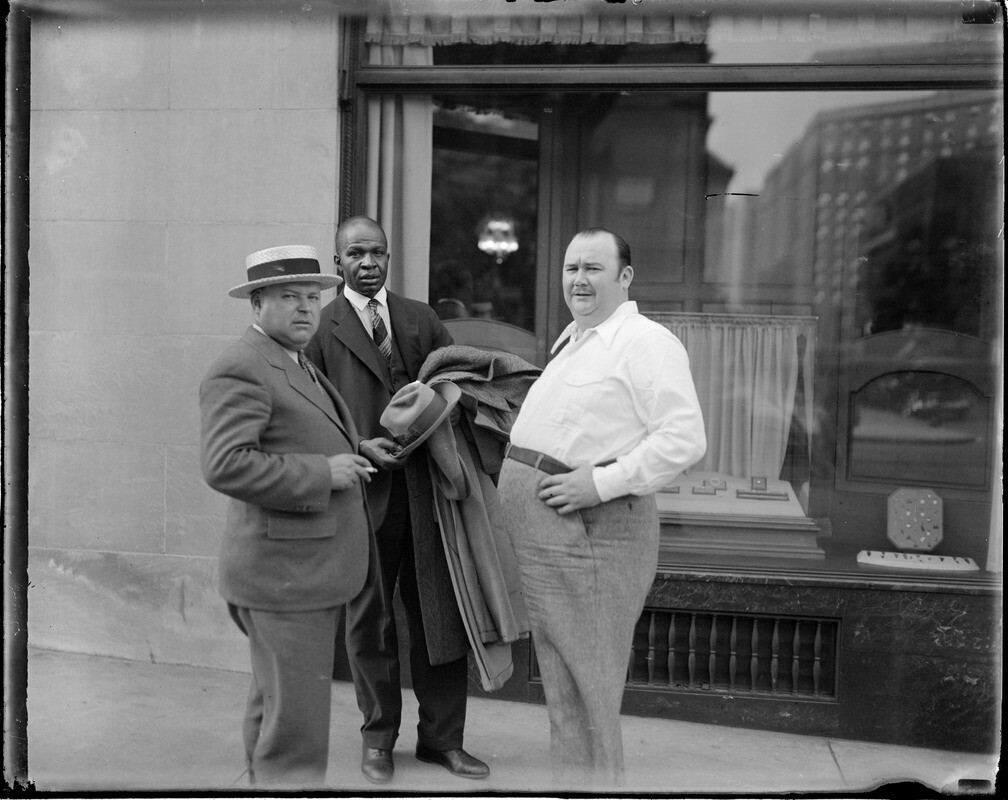 In 1926, Paul Whiteman's orchestra was at 16 pieces but sometimes ballooning up to 26 (including a full string section) for special recordings. It was during that year that the "King of Jazz" began to realize that his orchestra was lacking in the jazz department, so he started to recruit additional talent.
Cornetist Red Nichols, trombonist Tommy Dorsey, and Jimmy Dorsey on alto and clarinet all spent periods with the orchestra. Whiteman hired a pair of promising jazz singers (Bing Crosby and Al Rinker) and teamed them with pianist-singer Harry Barris, featuring them as the Rhythm Boys, the first significant jazz vocal group. And he recorded Hoagy Carmichael for the debut of "Washboard Blues" which was Bix Beiderbecke's first recording with the orchestra.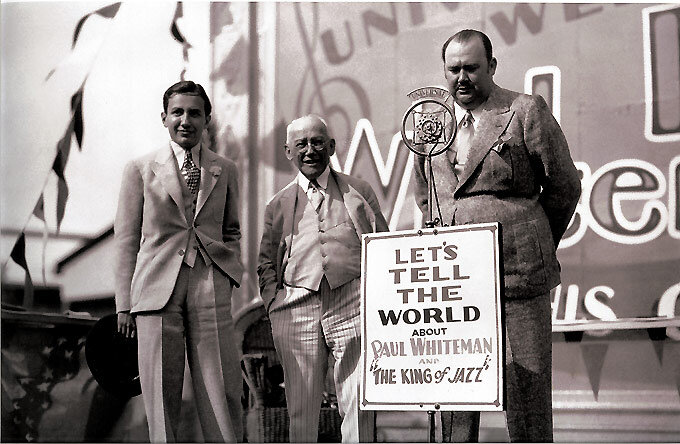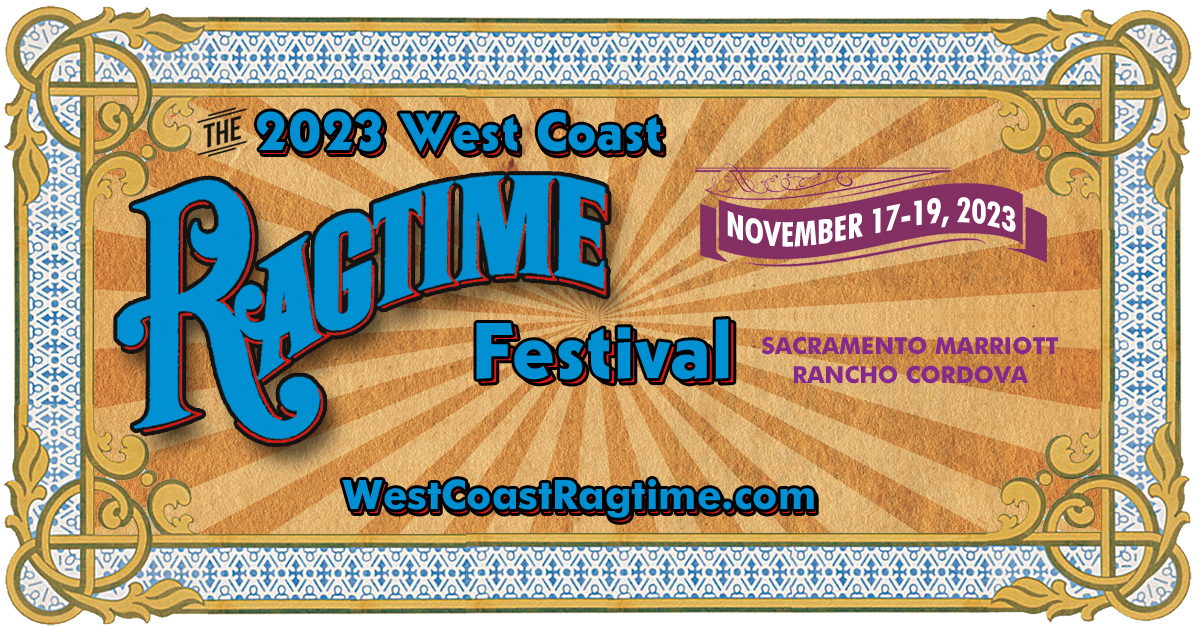 In the fall of 1927, after both the Jean Goldkette Orchestra and the short-lived Adrian Rollini big band failed, Whiteman hired many of their best players including cornetist Beiderbecke, C-melody saxophonist Frankie Trumbauer, trombonist Bill Rank, bass saxophonist Min Leibrook, and arranger Bill Challis. While he would never have a freewheeling jazz band, Whiteman now had some of the top white players of the 1920s, using their talents on selective recordings for variety, particularly on those that Challis arranged.
The 1928-29 period found Paul Whiteman at the peak of his success. By 1929 he had four trumpeters, four trombonists, six reed players, six strings, two pianos, banjo, guitar, bass sax, tuba, bass, drums and up to six vocalists to choose from. At a time when most big bands consisted of 11 or 12 musicians, Whiteman had 34.
Among his best jazz recordings of the time were "Changes," "San," "Back In Your Own Backyard," "There Ain't No Sweet Man That's Worth The Salt Of My Tears," "From Monday On," "Mississippi Mud," "You Took Advantage Of Me," and "'Tain't So, Honey Tain't So." However those titles (most of which featured Beiderbecke and Trumbauer) were only a small sampling of Whiteman's wide-ranging repertoire.
One of the oddest recordings was of "Sweet Sue" which was turned into an overly dramatic and tightly arranged production number that included a difficult-to-sit-through high-voiced male singer. But in the middle of the performance, everyone drops out and Bix Beiderbecke (backed just by the rhythm section) takes a hot chorus that almost makes it all worthwhile.
Unfortunately Beiderbecke's health problems and alcoholism resulted in him being forced to depart in late-1928. Whiteman wisely hired Andy Secrest, a young cornetist who could sound just like Bix. When Beiderbecke returned a few months later, Whiteman had two Bixes to choose from for a time before the real Bix permanently left.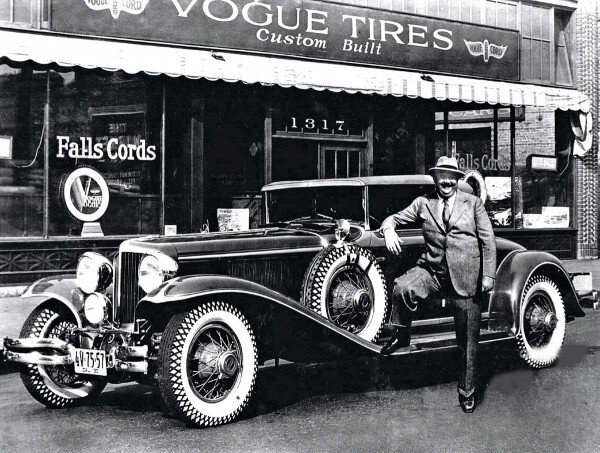 Paul Whiteman was so popular that it was decided to make a Hollywood film about his career. Unfortunately no one bothered to prepare a script by the time Whiteman and his full aggregation arrived in Hollywood in 1929, resulting in an expensive vacation. When a second and more successful attempt was made in 1930, Bix Beiderbecke was no longer in the band. The film, The King Of Jazz, was notable for being in color and for its high production values, but it is a mess.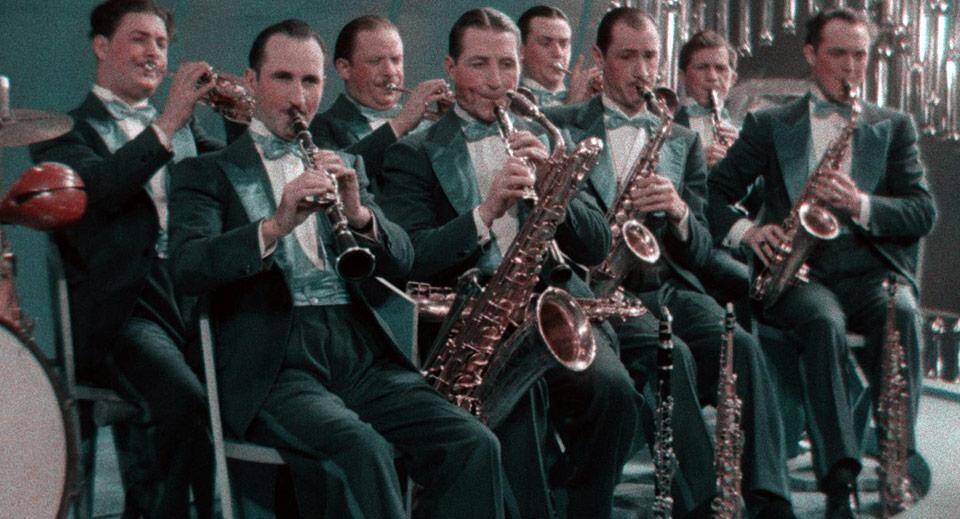 While there is a priceless 90-second performance by violinist Joe Venuti and guitarist Eddie Lang (who were temporarily members of the orchestra), the Rhythm Boys singing a medley of "Mississippi Mud" and "I Left My Sugar Standing In The Rain," a worthwhile "Happy Feet," and trombonist Wilbur Hall's humorous comedy routine, most of the rest of the film is tedious.
After returning to New York in mid-1930, due to the Depression, Paul Whiteman reluctantly decided to drastically cut back on the size of his orchestra, dropping the Rhythm Boys, Venuti, Lang and others to get down to 17 pieces. With the jazz age rapidly ending, Whiteman continued working but was less prominent in the 1930s, often thought of as a nostalgia act. Whiteman did record Ferde Grofé's most significant work, "The Grand Canyon Suite," in 1932. But with the rise of the swing era in 1935, his music was a bit lost in the shuffle although there were some bright moments.
In 1931, Mildred Bailey became the first female singer to be featured regularly with an orchestra when she worked with Whiteman. Red McKenzie and pianist Ramona were among the featured singers with Whiteman in 1932 but were followed by a long list of forgettable vocalists in the 1930s.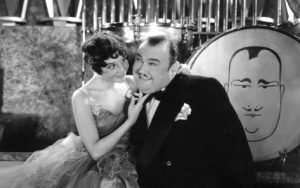 Among Whiteman's more notable sidemen of the decade were Bailey's future husband xylophonist Red Norvo, trumpeter Bunny Berigan (although he was underutilized and only took a few solos during 1933-34), trombonist Miff Mole, trombonist Jack Teagarden, and trumpeter Charlie Teagarden.
Jack Teagarden, seeking to ride out the Depression, signed a five-year contract with Whiteman at the beginning of 1934 but soon regretted it. Although he had some features with Whiteman, Teagarden lost the opportunity to be the leader of the nucleus of the disbanded Ben Pollack Orchestra, a spot that was soon filled by Bob Crosby.
A regular on radio, Paul Whiteman may not have been thought of any longer by the general public as a leader in jazz, but he remained a major name. He appeared in such movies as Thanks A Million (1935), Strike Up The Band (1940), Rhapsody In Blue (1945) and The Fabulous Dorseys (1947), always playing himself.
Despite breaking up his orchestra once in the late 1930s, Paul Whiteman kept leading bands until 1942. That year he utilized Billie Holiday on his recording of "Travelin' Light," Jack Teagarden and Johnny Mercer on "The Old Music Master," and cut a swinging version of "I've Found A New Baby." But at 52 he was largely finished.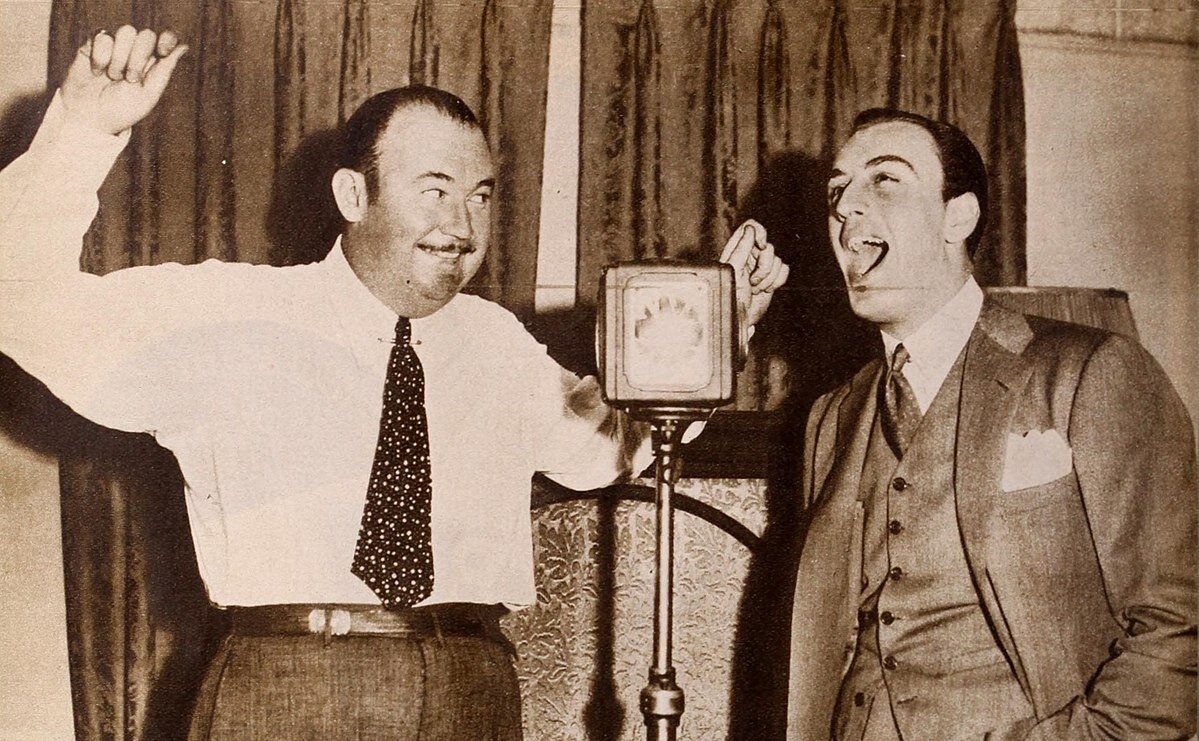 Whiteman spent his later years as a guest conductor of the works of George Gershwin (including many versions of "Rhapsody in Blue"), an occasional guest on television, the host of the amateur hour Paul Whiteman's Teen Club (1949-54), sponsoring a few recordings, having some rare reunions with band members, running a farm in New Jersey, and in semi-retirement.
Paul Whiteman passed away on Dec. 29, 1967, in Doylestown, Pennsylvania at the age of 77. He may not have been the "King of Jazz," but he left behind some rewarding music and a musical legacy of his own. For much more information about his life, I highly recommend the two massive volumes of Paul Whiteman – Pioneer In American Music (1890-1930) and (1930-67) by Don Rayno which are available from Scarecrow Press.
---
Photos from Wikicommons (PD).